Chicago Bulls:

Joe Johnson
April, 24, 2013
4/24/13
10:00
AM CT
By Mike Mazzeo
Special to ESPNNewYork.com
Archive
EAST RUTHERFORD, N.J. --
Brooklyn Nets
shooting guard
Joe Johnson
did not practice Wednesday due to plantar fasciitis (left foot) and will be listed as a game-time decision for Game 3 of the Eastern Conference quarterfinals against the
Chicago Bulls
on Thursday night.
Read the entire story
.
May, 6, 2011
5/06/11
11:27
PM CT
ATLANTA -- How can the Bulls go from allowing Joe Johnson and Jamal Crawford to combine for 56 points in Game 1 to just two points combined in the second half of Game 3?
[+] Enlarge
Kevin C. Cox/Getty ImagesJoe Johnson hit 4-of-12 shots in Friday's losing effort.
The answer is simple as far as Tom Thibodeau and his players are concerned. They're starting to play the type of defense that made them so good throughout the regular season.
"I think the edge was there," Bulls forward Luol Deng said. "The word that you guys love to use. It was there tonight. Defensively, we had a lot of energy, guys coming in just playing hard."
What will surely get lost in the glare of Derrick Rose's 44-point game is the fact that Deng, Keith Bogans and Ronnie Brewer, among others, played sharp defense throughout the night.
"I thought our defense was great tonight," Bulls guard Kyle Korver said. "After the first game, when Johnson and Crawford went off on us, it showed us how good we have to be on defense. Even in that game, we were there, they just hit a lot of great shots. They're the type of guys that, once they hit a couple, they can just really get it going. I think we've done a great job of loading up to them, of taking away their strengths, of making other guys take shots that maybe they don't really want to take. And we're going to have to keep doing that."
No extra motivation: Much was made about Crawford's comments after Game 2, in which he said, "If that's their best shot, we're in good shape," but the Bulls didn't seem too concerned about them -- before or after Friday night's game.
"We're not really worried about what anybody else says," Bulls center Joakim Noah said. "We're not worried about what the media says. We're just focused on our locker room and what we think of each other and what our coaches think. If we stick together through good times and through hard times, we feel like we'll have a better chance at this thing."
The Toe Show: Carlos Boozer only scored six points and grabbed six rebounds in 22 minutes of action on Friday night, fueling even more speculation that he should sit down -- but the veteran forward continues to say his toe doesn't feel any worse than it did before and he should remain on the court.


"It's about the same," he said after the game. "Just playing through it. Don't worry about my toe, I'm OK. We just care about winning, that's all we want to do."
The last word: "Thibs has preached one game at a time. We are brain-washed. One. Game. At. A. Time. One. Game ... We were in here just focused on Game 3. We did what what we had to do to win. Obviously we had to come back here and get at least one. But we'd like to get both. And now that's we've got Game 3, we can think about Game 4," -Korver, on his team's mindset heading into Game 4.
May, 3, 2011
5/03/11
10:41
AM CT

By Jon Greenberg
ESPNChicago.com
Archive
CHICAGO -- After listening to the defeated
Chicago Bulls
on Monday night, I thought U2 just broke up.
"We gotta get back to playing with the Edge," I thought they kept saying.
Oh, they were saying
an
edge, not the Edge.
In any event, the out-of-tune Bulls could have used a couple guitars to throw in front of
Joe Johnson
's mug, because the Bulls' hands and bodies, and certainly their heads, weren't good enough to shut down the famous "Iso Joe Show."
Read the entire column
.
May, 3, 2011
5/03/11
1:47
AM CT

By Michael Wilbon
ESPNChicago.com
Archive
CHICAGO -- A critic could lose his edge trying to find fault with the
Chicago Bulls
... until Monday night.
Rarely had the Bulls done anything wrong. They didn't lose three straight games all season. They had, by any reasonable count, six or seven bad nights in a regular season that lasts 5 ½ months. The Bulls came closer to reaching their maximum potential than any team in the NBA this season, which is why Tom Thibodeau was named the league's Coach of the Year Monday and why
Derrick Rose
will be named MVP any time now.
But a critic can have a field day between now and Wednesday night, because the Bulls violated the first tenant of big-time competition: they didn't respect the opponent. The Bulls probably wouldn't admit it, but the Hawks knew it, and so did pretty much anybody who's seen the two teams play all season.
An Atlanta team in desperate need of a shot of confidence got it from the most unlikely source: its opponent. The Bulls decided to join Game 1 in progress, after the
Atlanta Hawks
had built a 10-point lead and began to feel good about themselves. Once interested, the Bulls cruised into the lead, then became passive once again, and the Hawks, probably relieved, found themselves hanging tough with a team they'd been battered by in two late regular-season games.
Read the entire column.
May, 2, 2011
5/02/11
9:42
PM CT
CHICAGO -- Let's take a quick look at how the
Atlanta Hawks
stunned the
Chicago Bulls
103-95 in Game 1 of the Eastern Conference semifinals Monday night at the United Center.


How it happened:
The Hawks shot well throughout most of the game and simply outplayed the Bulls. They were more consistent from the opening tip.
Joe Johnson
torched the Bulls' defense for 34 points, shooting 12-for-18 from the floor.
Jamal Crawford
came off the bench to score 20 points.
Derrick Rose
, who will be named league MVP on Tuesday afternoon according to a source, struggled most of the night and simply couldn't find his shot. He was just 11-for-27 from the floor for 24 points and, like his teammates, looked frustrated throughout the game.
What it means:
Everyone, myself included, figured the Bulls would roll through this series. It sure seemed like the Bulls played with that lackadaisical attitude Monday night. There was no edge to their game, on either end of the floor, and they repeatedly got out-hustled to loose balls. To make matters worse for the Bulls, Rose tweaked his already sprained left ankle on the last play of the game. The Hawks suddenly have confidence after Game 1 that they can win this series, especially if Rose has to miss any length of time.
Stat of the night:
The Hawks shot 51 percent from the field.
What's next:
The Bulls will be back on the practice floor Tuesday afternoon as they prepare for Game 2 on Wednesday night. Rose's MVP ceremony isn't going to be nearly as happy as it could have been.
July, 4, 2010
7/04/10
4:12
PM CT
By ESPN.com news services
ESPNChicago.com
Archive
Free agent
Joe Johnson
is staying with the
Atlanta Hawks
, his agent said in a blog published in the Huffington Post website on Sunday.
Arn Tellem, Johnson's agent, said that Johnson was impressed with the team's commitment to him and agreed to accept the club's six-year contract offer.
Read the entire story
.
July, 1, 2010
7/01/10
11:24
AM CT
By ESPN.com news services
ESPNChicago.com
Archive
The
Atlanta Hawks
were prepared to offer free-agent-to-be
Joe Johnson
a maximum six-year contract when the Hawks and Johnson's representatives met Thursday morning in Los Angeles, league sources told ESPN The Magazine's Ric Bucher.
Johnson's representatives were also scheduled to meet with the Knicks and Heat as well, but Johnson's first choice is to stay in Atlanta, a source told ESPN.
Read the entire story.
May, 11, 2010
5/11/10
6:23
PM CT
ATLANTA -- Atlanta Hawks guard Joe Johnson said Monday that he hasn't even started thinking about all the possibilities surrounding his free agency this summer, but he didn't sound like someone who was very enthused about the possibility of staying in Atlanta.
Read the entire story.
April, 6, 2010
4/06/10
11:30
PM CT
When the
Chicago Bulls
start recruiting all the prized free agents this summer, they should just throw in a tape of the their awful 79-74 loss to the
Milwaukee Bucks
on Tuesday night with the following message: We need you ... badly.
[+] Enlarge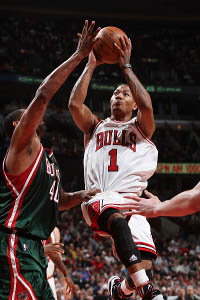 Gary Dineen/NBAE via Getty ImagesDerrick Rose was frustrated all night by the Bucks' defense.
After a first quarter in which the Bulls scored 27 points,
Vinny Del Negro
's group managed just 47 (24 in the second and third quarters combined) for the rest of the game. The offensive execution was terrible. The Bucks forced
Derrick Rose
into six turnovers and continually flustered him all night. With Rose struggling to even find an open look, the Bulls simply didn't know where else to turn when the game came down to the wire.
They didn't have an answer.
"The bottom line is that they made plays down the stretch, they made some shots," Del Negro said. "We didn't. You're not going to beat many teams scoring 74 points ... it was not a solid 48 minutes for us."
There's no denying the Bulls blew a golden opportunity. The
Toronto Raptors
, the team they trail by one game for the final playoff spot in the East, had already lost. With a win, the Bulls would have controlled their own destiny, considering they play the Raptors on Sunday.
But all of that is beside the point. Whether the Bulls actually make the playoffs this year is mostly irrelevant because they don't have enough talent on the roster to win a championship, let alone a first-round series against the
Cleveland Cavaliers
.
The bigger picture in this game, and in this season, is that they simply don't have a consistent second scoring option to go alongside Rose.
When a team shuts down the All-Star point guard, it shuts down the Bulls.
Kirk Hinrich
and
Luol Deng
are solid players, but neither has proven to be the type of scorer who can continually knock down big shots down the stretch when Rose is off. They went a combined 2 for 10 during the fourth quarter of Tuesday's game and a combined 10 for 33 on the night.
"We weren't making shots," Rose said, trying to describe the offensive woes. "Turnovers ... We weren't passing the ball enough, me making poor decisions. Everyone just couldn't get in a groove today. Nobody could get in the right groove to pull the team along. That's why we struggled. We haven't played this way in a while."
For all the scrutiny that
Ben Gordon
faced during his time in Chicago, and especially after severely underachieving over the first year of his new mega-deal with the
Detroit Pistons
, I would have still rather he have been out on the floor late if I were a Bulls fan.
Gordon has proven that he has the ability to make shots late in games. There isn't another player on the Bulls' roster who has proven he can do that aside from Rose, and he is just starting to become that type of player this season.
The Gordon ship has sailed already though, and the debate as to whether the Bulls should have kept him is pointless. The only way for this organization to truly turn things around is to find another proven scorer to go alongside Rose. After watching this game, and this season,
John Paxson
and Gar Forman can't take no for an answer.
LeBron James
,
Dwyane Wade
,
Chris Bosh
,
Joe Johnson
, a dead-eye perimeter shooter of some kind. One of them has to end up in a Bulls uniform this summer.
Do whatever it takes, guys.
If you don't, you are going to end up seeing even more games like Tuesday.
And I promise you, you will not like what you see on that tape.
December, 20, 2009
12/20/09
12:47
AM CT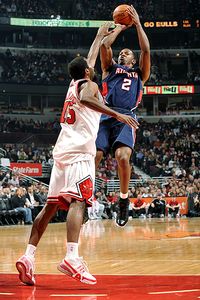 Randy Belice/NBAE/Getty Images
Joe Johnson will be a free agent, and did his best to make his case to the Bulls on Saturday.
Joe Johnson held his own personal meet-and-greet for prospective buyers at the United Center on Saturday night.
The soon to be free-agent did his best to remind the Bulls that he should be one of the players they consider signing this summer. Johnson had 40 points, six rebounds and four assists but came up just short in the end, missing a three-pointer that would have tied the game.
After it was over, I asked the Bulls point guard Derrick Rose, and probable free-agent recruiter, if he would like to play with Johnson down the line.

"Any one of them. Any one of them stars," he said with a smile. "But I wouldn't mind playing with him."
Did you show him Chicago would be a good place to play?, another reporter asked.
"I hope so," Rose said. "He's a helluva player. I'd love to play with him, but we'll just have to see."
For his part, Johnson said before the game that he enjoys playing in Chicago, but didn't seem to care that he was part of maybe the best free-agent class of all time.
"I don't worry about who's in the free agency [class]," he said. "I just worry about myself right now. When that comes then we'll cross that bridge when we get to it."
Thomas back to contact: Bulls coach Vinny Del Negro said before the game that he plans to allow injured forward Tyrus Thomas to practice a little harder on Sunday. Thomas has been out since early November due to a fractured forearm and has only been participating in non-contact drills up to this point.
"Maybe a little two-on-two [Sunday]," Del Negro said. "See how he feels. He's been doing some non-contact shooting stuff. But [he'll try] some contact, see how he feels. And then after that happens, I'll have a better gauge what we're thinking."