April, 24, 2014
Apr 24
4:45
PM CT
By Staff
ESPNChicago.com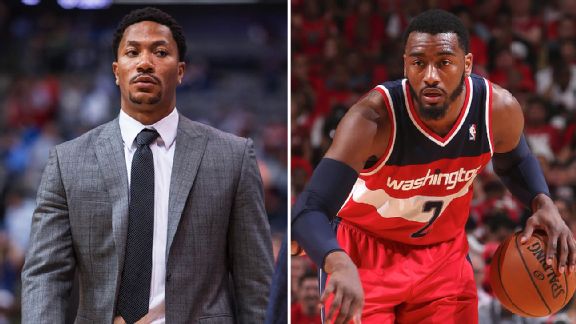 USA Today Sports, Getty Images When healthy, Derrick Rose and John Wall are two of the quickest players in the NBA.
Every week, Nick Friedell is joined by two other ESPN writers to weigh in on three questions that are on the minds of Chicago Bulls followers.
1. Who would you rather build your team around right now, Derrick Rose or John Wall?
Friedell:
Even the most ardent Rose supporter would probably have to admit that Wall is the better option right now. That's because Wall is an All-Star who has recently proven that he can stay on the floor. Rose has only played 50 games in the past three seasons, and nobody is quite sure what kind of player he'll be when he does return. Wall is still getting better, and nobody knows if Rose will ever reach the MVP level he was at before his first knee injury.

Jon Greenberg, ESPNChicago.com columnist:
It's easy to say Wall because he's on the floor right now. Rose's injury spell has drastically altered his reputation. As Thibs would say, it's a make-or-miss league. When you miss this much time, people forget. So I'd still stick with Derrick. Maybe I'm stubborn like Rose and Thibodeau, but I still think he has another six or seven years of top-flight basketball left. Maybe more. In his brief return to action, Rose showed he still had that nasty first step and could still explode toward the rim. The timing hadn't come back all the way, but you were getting a sense it was close. Rose's most recent knee injury isn't anywhere near as serious as the ACL tear. He'll be back to normal much quicker. Wall is a very, very good point guard, but I just don't think he has Rose's ceiling. Then again, he's out there playing, so maybe that's good enough.
Scoop Jackson, ESPN.com columnist:
Wall is the easy choice to say right now since we haven't seen Derrick play at peak level in 2 ½ years. I don't know if it's fair or possible to answer that question "accurately" without being a prisoner of the moment. But for the sake of conversation, I'll say Rose. Whereas Wall is a great, soon-to-be elite player in the league, Derrick (when healthy) is special. Like, LeBron/KD special.
---
2. What's happened to Joakim Noah's defense in this series?
Friedell:
Noah has always had a problem against big centers. Notably,
Dwight Howard
and
Roy Hibbert
. Nene fits that mold, but the difference early in this series is that Nene has been able to knock down jumpers and bang down low. The reality for the Bulls is that this just isn't a good matchup for him, but I do expect him to play better.
[+] Enlarge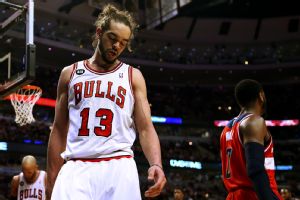 Mike DiNovo/USA TODAY SportsDefensive Player of the Year Joakim Noah has struggled to contain the Wizards' Nene through two games.
Greenberg:
Well, Nene is a tough cover. He can shoot, and he can muscle inside.
Marcin Gortat
can get baskets, too. Noah is uniquely valuable because he can switch on screens and disrupt pick-and-rolls. But when the Wizards are making midrange jumpers, what can you do? Noah deserved his award because it was emblematic of the team's defensive success. But he's not a one-man lockdown defender. He's just the captain of a very mobile, very frustrating defense. That defense is simply getting worked by the multifaceted Wizards offense.
Jackson:
It's still there, it's just under the microscope because we are focusing on his "matchup" with Nene as opposed to what he's doing overall inside of the team's defense. Noah is not a shut-down defender, he's a team defender. He roams, and he is one of the best help-defenders in the league, as witnessed on his contest of the
Bradley Beal
shot that could have won the game in regulation for the Wizards. Judging Jo's defense on his individual matchup (he honestly should be guarding center Gortat, not power forward Nene) is not a true indication of how he's playing D or if his D has disappeared.
---
3. What should the Bulls do about their struggles to score in the fourth quarter?
Friedell:
The sad part for Thibodeau is he doesn't have many choices.
D.J. Augustin
can score, but once
Trevor Ariza
switched onto him, he was a non-factor. The only other move Thibodeau could make is to play
Mike Dunleavy
more down the stretch. Obviously, he doesn't trust him as much defensively, but Dunleavy is a solid defender and can hit shots. It's time for Thibodeau to try something different in the final few minutes.
[+] Enlarge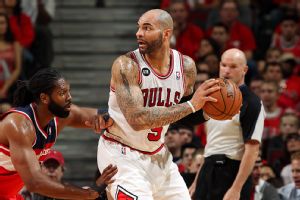 Gary Dineen/NBAE/Getty ImagesWould Carlos Boozer in the fourth quarter make a difference for the Bulls?
Greenberg:
Score more points? Seriously, the only options are either try to insert Dunleavy for
Kirk Hinrich
/
Jimmy Butler
or figure out a way to free Augustin from Trevor Ariza, or any other bigger defender the Wizards stick on him. The first is problematic because the Bulls need Hinrich to run the point when Augustin is getting dogged by big defenders, and they need Butler to defend Bradley Beal or Ariza.
Carlos Boozer
is a more popular option, given his ability to get buckets. Do you sub out
Taj Gibson
or Noah then? Maybe for a few minutes just to see if Boozer is feeling it. Perhaps Thibodeau can just do some offense/defense substitutions late in the game. Or maybe the answer is subbing out Butler, who played the entire 53 minutes last game, or Augustin before crunch time so they can be a little fresher in the last five or six minutes. With Nene in his grill, Noah can't run his point-center offense. Hinrich isn't a takeover scorer late in the game. Maybe the answer is there are no easy solutions with a limited roster.
Jackson:
Make Butler shoot. Make Dunleavy shoot. Run plays for
Tony Snell
. Use
Jimmer Fredette
. Put Boozer in, put him on the blocks and let him either score, get to the line or create double teams to kick the rock out to shooters. Anything. Yes, the Bulls are at times an offensively challenged team, but we can't sit here and act as though they don't have options to score. I know it is hard for coaches to break out of their mental cycles in playoff series, but every team has 12 players for a reason. Sometimes you just gotta use them.
April, 18, 2014
Apr 18
9:25
PM CT
DEERFIELD, Ill. -- Tom Thibodeau doesn't want to see
Washington Wizards
guard
John Wall
racing up and down the floor over the next couple of weeks. He wants Wall's speed to be controlled -- the Wizards' transition game to be neutralized. In order to do that, Thibodeau and his players know that they must do something that few teams have been able to do this season: Slow down Wall in the open floor.
[+] Enlarge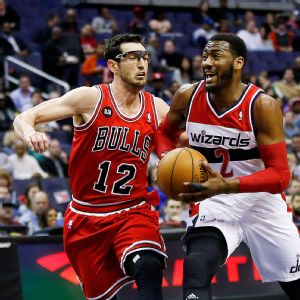 Geoff Burke/USA TODAY SportsTom Thibodeau will lean on veteran guard Kirk Hinrich to stay in front of John Wall.
"It's unique," Thibodeau said, when asked how to prepare for Wall's speed. "You have to be ready. Your offense is a big part of it -- having floor balance, being committed. Every aspect of your defense has to be five guys tied together. You're not going to slow him one-on-one. We need five guys sprinting back, making him play in a crowd. He still has the ability to make good plays. His speed is terrific. Makes and misses, they push it hard. We have to be ready for that."
That means that
Kirk Hinrich
is going to be charged with setting a defensive tone in this series. The veteran guard, who played with Wall in his rookie season, is going to be the man Thibodeau leans on to stay in front of the All-Star guard. It's a challenge that Hinrich believes he and his teammates will be ready for.
"We have to be good as a team in transition," Hinrich said. "You have to get guys back and form a wall and [be] low to the ball and try to slow him down. It's easier to talk about it than do it."
Forming a wall to beat Wall will be a focal point of Thibodeau's defensive plan in this series.
Confidence is solid:
The Bulls are not feeling cocky as they head into Game 1 Sunday night, but they do feel confident. They aren't making any grandiose predictions about how far they'll go in the postseason, but they do believe that if they play together that it will be tough for any team to beat them.
"It's one game at a time, one play at a time," Bulls forward
Taj Gibson
said. "We feel that we have an opportunity to do something special. We believe in the locker room, we believe in going far, but it'll all come down to one play at a time, really. In the playoffs, everything gets really shrunk down to how hard guys play, knowing the play calls and aggression. It's a lot of heart. That's the main thing. Without those things, you're really going to have a rough night."
The last word:
Thibodeau isn't buying into the notion that the Wizards don't have much playoff experience. While they haven't been to the playoffs in several years as a group, he did note that many guys have played in important games before.
"I think they have a lot of experience also. When you're young like Wall and
[Bradley] Beal
, they have college experience where they played in big pressure games. The rest of their team is experienced.
[Marcin] Gortat
has been around and been in a lot of big games.
Andre Miller
has been in a lot of big games. They have a number of guys --
Al Harrington
is another -- that have been in big games. That team is well put together. They've got a good blend of young and old. You can't overlook the importance of having veterans on your team. They've done that. When you look at their second unit, and it's Andre Miller, a
[Martell] Webster
, a Harrington, a Nene -- those guys can start for a lot of teams."
April, 2, 2013
4/02/13
12:35
PM CT
January, 30, 2012
1/30/12
8:17
PM CT
WASHINGTON, D.C. --
Derrick Rose
says the turf toe injury which has bothered him for several weeks is not an issue at the moment.
"I don't feel it anymore," Rose said before Monday night's game against the
Washington Wizards
. "My biggest thing now is just getting rest, that's the biggest thing. My toe is all right. I've been getting treatment on it, so I'm fine with that. It's just getting rest and getting the proper sleep in time."
Rose, who originally dealt with turf toe two seasons ago, re-aggravated the injury on Jan. 10 against the
Minnesota Timberwolves
. He tried to play through the injury, but has now missed five games because of it this season. He played a season-high 44 minutes during Sunday's loss to the Heat.
Rose changes diet:
The reigning MVP noted during pregame that he has changed his diet this season. The candy that he used to inhale has been replaced by a lot of chicken.
"I've been making sure I've been eating good," Rose said. "I stopped eating sweets as much. Getting rest, sleeping, just laying around in my bed getting sleep. Eating-wise, I'm only eating chicken. I don't eat beef, pork or fish. I think I've been eating OK."
Rose vs. Wall in a race? :
Rose is usually regarded as one of the fastest players in the league from end to end. One of the only players most experts believe might beat Rose in a race down the floor is Wizards guard
John Wall
. So who is faster?
"He is, man," Rose said with a smile. "He's younger. He is definitely."
Bulls head coach Tom Thibodeau isn't sure who would win the race, but he knows how important solid point guard play is in the league.
"That would be some race," Thibodeau said. "Those guys are special. All I know is if you can get one, get one."
November, 14, 2010
11/14/10
12:14
AM CT

By Jon Greenberg
ESPNChicago.com
Archive
CHICAGO -- As
Derrick Rose
practiced his corner 3-pointer an hour and a half before Saturday's game against the
Washington Wizards
, he was unexpectedly crowded by a bunch of guys in sweaters and sportcoats hanging around the visiting bench.
He looked over, a bit confused, and kept shooting.
Why was the media invading his space?
Read the entire story
.
November, 12, 2010
11/12/10
11:17
AM CT
[+] Enlarge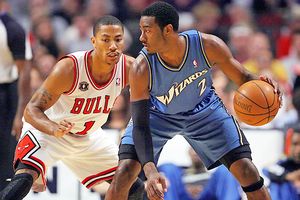 Dennis Wierzbicki/US PresswireDerrick Rose and John Wall begin their rivalry on Saturday at the United Center.
Two of the top young point guards in the NBA commence their rivalry on Saturday at the United Center as John Wall brings the Wizards to face Derrick Rose and the Bulls.
Both stars played one collegiate season for John Calipari and both were No. 1 overall picks.
Rose, who is in his third year, already has an impressive resume that includes: Rookie of the Year award; All-Star berth and World Championship.
Wall, a rookie, was third-youngest player in NBA history to post a triple-double.
November, 12, 2010
11/12/10
10:41
AM CT

By Jon Greenberg
ESPNChicago.com
Archive
Derrick Rose knows the comparisons between him and John Wall are out there, and he's ready to see how Wall looks in their first regular-season matchup. Rose had 18 points and five assists in their preseason matchup, while Wall had 11 and six.
Read the entire story.
October, 8, 2010
10/08/10
9:10
PM CT
CHICAGO -- After seven productive seasons in Chicago, it was understandably strange for
Kirk Hinrich
to walk into the visitor's locker room at the United Center.
"[I've] not ever seen it before," he said as his Wizards got ready to face the Bulls. "This is the first time. [It's] a little weird, but it was weird to put on this uniform the first time too, but I got over that. We're young, but we've got a lot of enthusiasm and guys are trying to do the right things."
Hinrich, who was traded earlier in the summer so that the Bulls could clear enough cap space to go after
LeBron James
,
Dwyane Wade
and
Chris Bosh
, has to be pleased with at least one aspect of playing with the Wizards -- the team's head coach, Flip Saunders, is actually saying his first name correctly. Former Bulls head coach Vinny Del Negro repeatedly called the veteran guard, "Kurt" during press conferences.
[+] Enlarge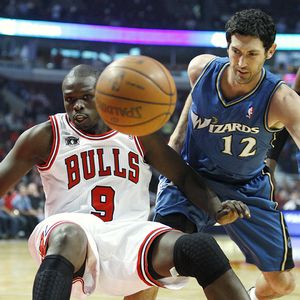 AP Photo/Nam Y. HuhKirk Hinrich returned to the United Center in a Wizards uniform to battle Luol Deng and the Bulls.
"Some people just can't say it correctly, I guess," Hinrich joked.
Aside from the pronunciation change, Hinrich seems to be doing fine in his new role with the Wizards. He definitely misses Chicago, (in fact he still plans to live in the area during the offseason) but he has accepted the fact that the United Center is no longer his home.
Here are a few more of his thoughts prior to the game.
On being traded by the Bulls: "I was a little bit shocked. A little bit shocked. I don't know why, but for whatever reason it caught me off guard. Obviously, initially, you have mixed emotions and everything like that, but I was able to get over it fairly easily and realize I had an opportunity in front of me to have a fresh start out in Washington and it's been really good so far."


On Wizards rookie point guard, and number one pick, John Wall: "I think he has the ability to be a great player in this league. Already, he's proven that he's going to be pretty dang good right off the bat, and he's got that special type of athleticism you don't see very often at the point guard position."


On the similarities between Rose and Wall: "They're both a special type of athletes. Obviously, they're different, personalities and things like that, but it's still so early, it's hard to tell. Everybody asks me, 'Compare the two, compare the two,' but it's so early right now. John has the ability to definitely be a great player in this league."

Wall vs. Rose, part I: Speaking of Wall, he seemed excited about the chance to square off against Rose in a professional game.

"He's an All-Star-type player," Wall said of Rose, "So all I can do is try to hold my own against him and just keep getting better every game and prepare myself to get to the level he's at."

Like Rose did for the past two seasons, Wall said he has gotten a lot of advice from Hinrich over the past few weeks.

"They help me a whole lot," Wall said of Hinrich and fellow Wizards guard Gilbert Arenas. "Especially with my confidence, if I miss a couple shots they're telling me to keep it going. I'm learning as much as I can from Kirk, especially on the defensive end, he's a great guard, and how they guard the pick and roll very well."

Thibs isn't pleased with the rebounding: Coming into Friday's contest, the Bulls had been outrebounded 96-62 over the past two games. It's a number that new head coach Tom Thibodeau obviously isn't happy with and is trying to correct. When asked the reason the Bulls have been so bad, after the led the league in rebounding last season, he had this to say:

"Probably reaction to the ball, fight," he said. "When you look at the rebounding, I thought Joakim for his minutes rebounded extremely well. I thought Kurt [Thomas] did a really solid job on the boards, and [Omer] Asik was very good in short minutes. So, it's the same story, the more you go the more you get, right now we're standing and watching, not reacting. And the other problem [on Thursday], I thought as the game went on we started leaking out. We can't do that. We're small. We've got to be a gang rebounding team. If we don't rebound with all five, we'll have problems."

Injuries: Ronnie Brewer (sore hamstring) and C.J. Watson (sore quad) both sat out alongside Carlos Boozer (broken finger).
May, 20, 2010
5/20/10
10:30
PM CT
By Nick Firedell
ESPNChicago.com
Archive
No matter what John Wall does during his NBA career he will always be compared to
Derrick Rose
.
And vice versa.
The pair has a lot of similarities. Most notably, they are both dynamic point guards and they both played for John Calipari in college. Rose at Memphis and Wall at Kentucky. Throughout the past season, Rose was asked about Wall and how his game compared to that of the Bulls' All Star. Rose was always very complimentary and it seemed like he was looking forward to facing off against Wall at some point in the NBA.
That time is coming very soon.
Wall, who is expected to be drafted by the Wizards with the No. 1 pick later next month, was in town on Thursday for the draft combine and spoke highly of Rose and his game.
"He's a great player and a great person," Wall said of Rose. "I talked to him, asked him for advice this year because I know he's been through the same things that I've been through. Some stuff you can ask him about and some stuff you can't, but we've got a good relationship."
The Wall-Rose rivalry is one that a lot of basketball fans have been looking forward to for a while now. Both players are so explosive and can make so many things happen off the dribble that you get the sense that they may be squaring off in All Star Games for a long time.
Wall realizes that Rose's work ethic is the thing that is helping him create a name for himself in the league right now.
"He's getting better," Wall said. "He made the All Star team this year. They're saying he's putting in the work in the gym to get better year by year."
As for the speculation surrounding any kind of Wall-
LeBron James
package deal, Wall had this to say:
"That would be pretty big, [playing with] one of the top players in the NBA," he said. "If it happens, it happens. If not, I've got to prepare myself to face against him next year. He's a monster on the court. If you get a guy like that on your team he can help you out with so much."
No matter where James lands this summer, Wall's biggest help may be the advice he gets from Rose. The Bulls' point guard has already accomplished all the things that Wall would like to do, and he's blazed a trail for young point guards that Wall would be happy, and wise, to follow.
March, 24, 2010
3/24/10
8:26
PM CT
The
Chicago Bulls
have finally snapped their 10-game losing skid, but do they have enough time to hop back into the playoff chase now? Being two and a half games back with just 12 left to play, the odds are against
Vinny Del Negro
& Co., but did anyone really think the Bulls would actually win five in a row during their cross-country road trip in January?
Exactly.
So, who knows how this season is going to play out? In the meantime, let's dip back into the mailbag and see what's going on. As usual, judging by the amount of questions I get regarding this summer's free agent class, I'm not sure how many people really care about how this season ends up anyway ...
[+] Enlarge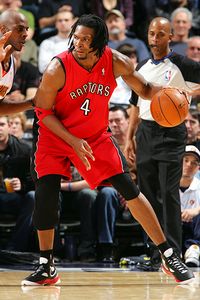 Rocky Widner/NBAE/Getty ImagesThough fans may want to see LeBron James in a Bulls uniform next season, they may be more likely to get Chris Bosh.
I don't want to talk about the playoffs. What about next season -- who do they spend the money on? I think LeBron is tired of the Midwest and looking East. Bosh seems like the best fit ...
Gordy B (Evanston )
Gordy,
Like I've been saying all year, I don't think LeBron is leaving Cleveland. It's my own personal belief. I think his situation is too good there and that team is too close to winning a title. Sure, if he came to Chicago the Bulls would be, too, but I still don't think he is going to leave his hometown team. As for the best fit question, I've gone back and forth with this one, but after seeing both
Dwyane Wade
and
Chris Bosh
play live a few times this year I'd have to say Bosh would be the best fit. He would provide the Bulls with another major presence down low and probably 20 points and 12 rebounds every night.
More than that, though, I've seen Wade coast his way through a few games this season. He doesn't seem to play as hard as he possibly can all the time and with his style of play I don't think his body is going to last through the length of a max deal. I'm not saying Bosh would be the same player six years from now either, but I don't think he would break down as fast. He would give you the same effort every night and would compliment
Derrick Rose
and
Joakim Noah
very well.
Who do you think will have a better NBA career, Derrick Rose or John Wall?
Chris (Houston, Texas)
Ah, yes. The John Wall question. Another one I get at least once a week. I actually asked Derrick about this last week and he just laughed. Seriously, who knows how these guys careers' will unfold right now? Rose is still just 21 years old. Wall is just 19. They are both ridiculously talented. Can't we just wait and see? No ... OK, if I had to pick one guy right this second it would be Rose because I think his supporting cast is only going to get better. Noah, Deng, a possible free agent ...
But again, who knows? Wall could go to the Nets and they may somehow be able to lure LeBron away. I doubt it -- but it's an idea that has been floating around out there.
All right everybody, thanks for all the questions. I will talk to you guys next week.
Why does everyone keep talking about free agents and forgetting the Bulls? Rose, Deng, Noah, Gibson and [James Johnson] plus one or two max depending on [Kirk Hinrich] and other contracts. Why would a star not want to play in this city with that core? That's a great core for the next 7-10 years.
Chris (Chicago)
Chris, I don't think anybody has forgotten the Bulls. I think most people realize what a great core the team has and most teams around the league are scared that the organization, (and the city), have a chance at attracting one of the top free agents this summer.
With the whole free agency thing coming up,can you really see the Bull's being so unlucky as to not land a superstar (i.e. chris bosh or LeBron James)? Are [the Bulls] more in tune for a Joe Johnson, Carlos Boozer ... instead?
Patrick (Rancho Cucamonga, Calif.)
Ah, so I take it you don't think Johnson and Boozer are superstars, Patrick. I'd tend to agree, but that doesn't mean they wouldn't be good fits on this team. Both would fit in well with the Bulls' core at the moment. Having said that, I don't know if I would call it unlucky if the Bulls didn't land James, Wade or Bosh. Again, I don't think James and Wade are leaving their respective cities. Bosh may end up in Chicago, but the Bulls will be fighting the Raptors, the Heat and several other teams for his services.
I think the Bulls will eventually land someone, but the odds of it being one of those top-tier guys aren't as high.
Nick, keep up the good work.What's up with the way the coaching staff has been handling James Johnson lately? It seems that even when he plays well in the first half or has a favorable matchup in which he is having success he is still stuck on the bench in the second half. I'm sure they have some cliche answer about not making mistakes or something like that but bottom line is that he has been playing well.
Joey G. (Los Angeles, Calif.)
Obviously, there are a lot of James Johnson fans out there. I've gotten this question several times over the last week. I think the key is that the coaching staff is finally starting to develop more trust in Johnson. He has dropped about 20 pounds over the last few months and appears to have a renewed focus on basketball. If he works hard in the summer and proves to the organization that he wants to get on the floor more, I think he's got a chance to become a solid rotation contributor.