Chicago Bulls:

Jrue Holiday
May, 4, 2012
5/04/12
12:00
PM CT
Philadelphia 76ers guard Jrue Holiday said Friday that the Chicago Bulls are "really different" without Derrick Rose, but he doesn't expect another flat effort from the Bulls in Game 3 on Friday.
Read the entire story.
May, 3, 2012
5/03/12
5:45
PM CT
By
Donald Hunt
| ESPNChicago.com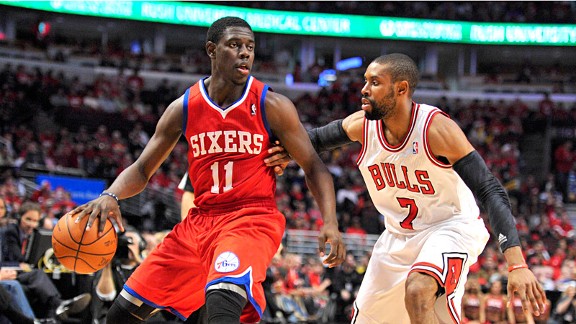 Rob Grabowski/US PresswireJrue Holiday took advantage of the absence of Derrick Rose to score 26 points.
There are a lot of reasons the
Philadelphia 76ers
defeated the
Chicago Bulls
in Game 2. But the play of Sixers guard
Jrue Holiday
was the biggest reason the series is tied 1-1 heading into tomorrow night's game at the Wells Fargo Arena in Philadelphia.
Holiday scorched the Bulls for 26 points on 11-for-15 shooting from the field. He shot 3-for-3 from 3-point range. He handed out six assists. He also played 41 minutes. Holiday did a better job of knocking down the open shots in the second game despite scoring 17 points in Game 1.
"I think the shots are pretty much the same," Holiday said. "The shots fell in the second game. The first game they kind of went in and out. I look more to set people up. It comes down to: I need to be aggressive. If I'm aggressive, scoring, that's going to open things up for everyone else."
Holiday did open things up in the backcourt, particularly for shooting guard
Lou Williams
and second-year guard
Evan Turner
. Williams tallied 20 points on 8-for-13 shooting from the field. Turner notched 19 points on connecting on 8-of-15 shots.
Although Holiday played a splendid game offensively, Sixers coach Doug Collins was very impressed with his defense on 6-foot-7 shooting guard
Richard Hamilton
, who moves extremely well without the basketball.
"We didn't want Evan chasing Rip," Collins said. "We thought Jrue would be a better guy chasing Rip. We wanted to obviously keep Dre [
Andre Iguodala
] on Luol [Deng]. Evan does a good job of guarding the ball. Evan, at this stage of his career, to me, does a better job on the ball than he does chasing. That's something he didn't do in college. Also, that puts him in a position so when that ball does go up, he can go back and rebound it.
"When you're guarding a guy like Rip Hamilton, it's such a team effort. The guy is so smart. This guy is a champion. When he uses those screens, he knows where he wants to go. He knows who he wants to get involved with having to play him. So for us to get him to go where we want him to go, it sort of becomes a battle of wills."
The playoffs are a game of adjustments. In the first game, Hamilton had 19 points and shot 6-for-7 from the field, 6-for-6 from the free throw line and 1-for-1 from 3-point range in 27 minutes. In the second contest, he was limited to 10 points on 4-for-10 shooting from the field.
"As this series goes on, the X's and O's, all those things you talk about, the adjustments and the tape you watch and everything," Collins said, "it comes down to the will to get the ball where you're supposed to get it. The will to go get that rebound. The will to go and get that 50-50 ball. It's just the little things along those lines."
The Bulls are playing without their star guard,
Derrick Rose
, who is lost for the postseason with a torn ACL. Rose is the reigning MVP. He's one of the elite players in the NBA. The Sixers were able to take advantage of his absence in Game 2.
The next two games are huge for the Sixers. They're both at home. Rose generated a lot of excitement when he came out to half court at the beginning of the second at the United Center. Holiday anticipates an enthusiastic crowd in Philly.
"I'm pretty sure it's going to be just like it was for Chicago," Holiday said. "Like that first game, and even when Derrick Rose came out that second game. You see how crazy it was. You have great fans. That's what we like."
May, 1, 2012
5/01/12
11:43
PM CT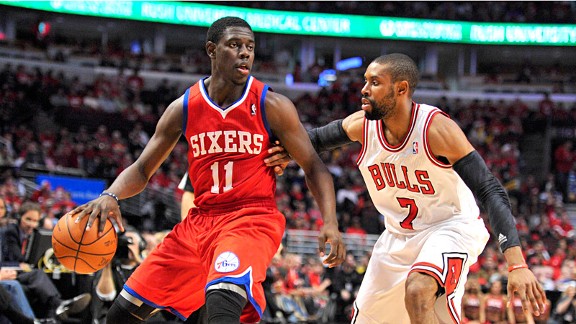 Rob Grabowski/US PresswireJrue Holiday scored 26 points on 11-of-15 shooting in Game 2 on Tuesday.
CHICAGO – Whoever he matched up against,
Philadelphia 76ers
guard
Jrue Holiday
expected to be a difference-maker against the
Chicago Bulls
in Game 2 of their Eastern Conference quarterfinal series.
Whether the injured
Derrick Rose
would have allowed Holiday to go off for a career night Tuesday can't be known, but Holiday couldn't have played much better against the Bulls' point guard tandem of
C.J. Watson
and John Lucas III. Holiday scored a career playoff-high 26 points on 11-of-15 shooting, dished out six assists and didn't have a turnover in the 76ers' 109-92 win over the Bulls to even the series.
"I guess the explanation would be 'playoffs,' " said Holiday, who scored a career-high 30 points in a loss to the Bulls earlier in the season. "You know what I mean? This is the stage we dream to be on. This is what we did for the regular season to be here. Playing against the best team in the East, somebody has to step up.
"That's unfortunate [about Rose], but we expect to play like this every game [whether] Derrick's there or not. We want to come out and push like we did."
May, 1, 2012
5/01/12
1:42
PM CT
CHICAGO --
Philadelphia 76ers
coach Doug Collins believes his team will have to overcome an emotional start by the
Derrick Rose
-less
Chicago Bulls
in Tuesday's Game 2 if they are to even their Eastern Conference quarterfinals playoffs series.
[+] Enlarge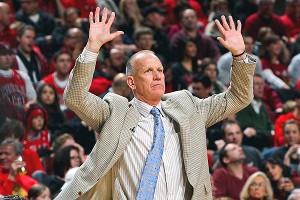 Gary Dineen/NBAE/Getty ImagesDoug Collins is ready for an emotional Bulls team at the start of Game 2.
Tuesday will mark the first playoff game the Bulls will be without Rose, who suffered a season-ending ACL tear in his left knee in Game 1. The Bulls won the game 103-91 and own a 1-0 lead in the series.
"I think it's going to be a very emotional night," Collins said following Tuesday's shootaround. "Is (Rose) going to be here tonight? Is he going to talk to the media for the first time? Is he going to be out here on the bench with his teammates?
"To me, there's going to be a lot of emotion that's going into it. That's why I told our guys we have to be poised to start this game. There's going to be a flurry of activity, and you got to ride through that."
Collins believes the rest of the game will get easier if the 76ers can hang with the Bulls through the first five minutes.