Chicago Bulls:

Kevin Love
January, 27, 2014
Jan 27
1:03
PM CT
CHICAGO --
Minnesota Timberwolves
All-Star
Kevin Love
is confident that his training partner,
Derrick Rose
, will come back stronger than ever after his latest knee injury.
[+] Enlarge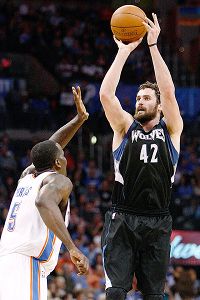 AP Photo/Alonzo AdamsKevin Love feels for his offseason training partner Derrick Rose.
Love, who has dealt with several serious injuries of his own, believes the
Chicago Bulls
star just needs a little luck to stay on the floor.
"I just think in a lot of ways you've just got to be lucky," Love said after Monday's shootaround. "We've gone through a lot of things with injuries, and we've been able to be relatively healthy this year. I have no doubt in my mind that he'll come back and be D-Rose."
Love and Rose have spent several summers training with personal trainer Rob McClanaghan in Santa Monica, Calif. Love was impressed by what he saw from Rose as he prepared for the season.
"He's one of the hardest workers in the game," Love said. "And that's why he's one of the best players in the game. He worked extremely hard, but he also worked extremely smart, too. There were a lot of things he did with his body to make sure that he was good to go. And also, he took certain days off and then hit it hard the next day. He's an extremely efficient hard worker, and I admire a guy like that."
Love said he hasn't had a chance to speak with Rose yet, but he can understand what he is going through.
"I'm sure like most people I'm just kind of giving him a little space, because it's tough to go through serious injuries like that," Love said. "I went through some of that last year with my hand and my knee. So I know that it's very tough, but Derrick's the kind of guy that's going to do everything he can to get back on the floor 100 percent as quickly as he can."
Timberwolves point guard
Ricky Rubio
can also empathize with what Rose is dealing with. He tore his ACL in March 2012 and had to go through the tedious process of rehab as he made his way back. Luckily for Rubio, he isn't dealing with another season-ending knee surgery as Rose is.
"It's painful," Rubio said of Rose's situation. "You know how it feels when you go down once. But when you go down twice it has to be hard. But all I can say is I know he's a warrior and he wants to come back and he's going to do it. And the best of luck for him."
As for Monday's game, the Bulls may be even more short-handed than usual. Center
Joakim Noah
is out with the flu and did not participate in Monday's shootaround. Veteran guard
Kirk Hinrich
(hamstring) is "likely out," according to Bulls coach Tom Thibodeau. Hinrich has missed the past week because of the injury, and his status for the Bulls' upcoming West Coast swing remains in limbo.
Love respects the way the Bulls continue to find ways to win despite all the injuries.
"They really persevere," Love said. "They play hard. Thibodeau's a great coach; he gets these guys to play every single night, no matter who they have on the team on any given night."
April, 25, 2013
4/25/13
10:43
AM CT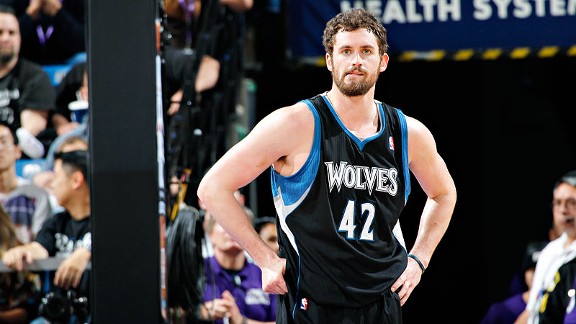 Rocky Widner/NBAE/Getty ImagesWould the addition of Kevin Love put the Bulls over the top against the Heat?
CHICAGO -- In the midst of the
Chicago Bulls
' preparations for Game 3 against the
Brooklyn Nets
on Thursday, Grantland's Bill Simmons offered up a reminder that no matter what happens over the next few weeks, the Bulls always must keep an eye on the future.
It's a reminder that the Bulls front office didn't need because it's been their motto throughout this season without
Derrick Rose
and myriad of injuries to key players.
In the second part of
Simmons' annual ranking of the NBA's top 50 players
, he comes to the 20th spot on his list:
Kevin Love
of the
Minnesota Timberwolves
.
He references the fact that Love has an opt-out clause in his current deal that would allow him to become a free agent after the 2014-2015 season. That's when the Bulls become involved, with Simmons noting that Love would very likely opt out of his deal. Simmons believes the Bulls are the likeliest suitor for Love:

"The Bulls have big contracts to make the trade work (Luol Deng on the enticing side, Carlos Boozer on the less enticing side); they're loaded with assets like Jimmy Butler (no. 49 on this year's list), the rights to Mirotic (a high lottery pick if he entered this year's draft), and the rights to Charlotte's future no. 1 pick (top-10 protected in 2014, top-eight protected in 2015, unprotected in 2016); and they're a big-market contender with a superstar in house (so they could keep Love for the long haul).
Simmons doubts the Wolves could turn down a deal that includes Boozer, Butler, Mirotic and the Charlotte pick.
There are a lot of different layers to this proposal. Let's break them down individually.
March, 30, 2012
3/30/12
1:23
PM CT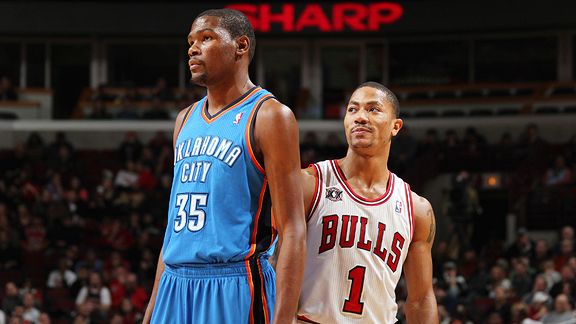 Joe Murphy/NBAE/Getty ImagesDerrick Rose likes the Thunder's Kevin Durant as MVP this season.
DEERFIELD, Ill. --
Chicago Bulls
guard and reigning NBA MVP
Derrick Rose
said Friday he believes Oklahoma City's
Kevin Durant
is the front-runner for this season's award.
"KD is playing great," Rose said. "I'm hearing about what he's doing, hearing about how he's playing. The numbers speak for itself, how he's working out this summer, and he's playing great basketball.
"(
Kevin Love
) K-Love been putting in work, too, but I think KD."
Durant averages 27.7 points, 8.1 rebounds, 3.5 assists, 1.5 steals and 1.2 blocks for the Western Conference-leading Thunder.
Rose is unlikely to repeat as MVP due to missed time this season. He has sat out 17 games because of a variety of injuries and could miss his eighth straight on Friday against the
Detroit Pistons
. He's a game-time decision.
January, 10, 2012
1/10/12
8:31
PM CT
MINNEAPOLIS -- Chicago Bulls center Joakim Noah did not have a shot attempt in Monday night's win over the Detroit Pistons, but Tom Thibodeau insists he's not concerned about his young center.
"The thing for him, to me, he's got to run the floor, rebound, play great defense," Thibodeau said before the game. "That's when he's at his best. When he's doing those things, his offense will come. He's a great runner of the floor, he's a great screener. He's a playmaker. So he can help us in a lot of different ways. He doesn't necessarily have to score. His scoring will come around, I'm confident in that. I just want him to think about his defense and his rebounding."
Does Thibodeau think the emotional Noah is starting to feel sorry for himself?
"He's fine," Thibodeau said. "It will come. He's already proven the type of rebounder he is. He's had some foul trouble to deal with and he'll be fine."
Thibs a fan of Love and Rubio: Like most critics around the NBA, Thibodeau is impressed by what he's seen from Ricky Rubio and Kevin Love.
"Great feel for the game. Great vision," he said of Rubio. "He keeps the ball moving for them. They put a lot of pressure on you. They've got great speed back there. Their bigs can shoot, they spread you out. But he's got a great feel for the game."


As for Love, Thibodeau sounds like a man who would love to coach the big man one day.


"Obviously, I thought he had a great year last year," Thibodeau said. "Each year in the league he's gotten better. You can see his confidence. He's an all-around player. He's getting to the line nine times a game. Obviously, he's a lot more comfortable with his three [point shot]. Now he's taking five threes a game, shooting 40 percent. He's got great post moves inside, the shot fake. His rebounding is just uncanny. Every game starts and it seems like in the first five minutes he already has six or seven rebounds. I think it's just his relentless pursuit of the ball. He's a multiple effort guy. He's a tough matchup."
Watson and Hamilton still out: Thibodeau said before the game that C.J. Watson (elbow) and Rip Hamilton (groin) were both improving, but neither played on Tuesday night.
While Hamilton remains day to day, Thibodeau reiterated that there is no timetable for Watson at the moment, although Watson has discussed possibly coming back early next week, if not sooner.
"I want to see him go through practice first," Thibodeau said. "He's doing a lot more. Once he can get through practice, then he'll be ready to go. But he's feeling a lot better."
March, 30, 2011
3/30/11
1:35
PM CT
Minnesota Timberwolves All-Star forward Kevin Love said Wednesday he'll be a game-time decision against the Chicago Bulls after missing the last three games with a strained left groin.
Read the entire story.