Chicago Bulls:

Kurt Rambis
April, 28, 2012
4/28/12
3:55
PM CT
ESPNSteinLine

Marc Stein


And then Croatia barely musters an 81-78 escape today against Andray Blatche and the Philippines. Nearly a big upset from the jump here
45 minutes ago

ESPNSteinLine

Marc Stein


FIBA World Cup off to rousing start. Been second-guessing myself having Croatia down at No. 10 in yesterday's Power Rankings. And then ...
47 minutes ago

ESPNSteinLine

Marc Stein


Ray Allen himself, mind you, has been saying for weeks that he's still deciding whether or not to play next season, let alone choose where
about an hour ago

ESPNSteinLine

Marc Stein


Clippers in the mix as well. Dallas has also pursued Ray Allen this summer. LeBron's Cavs, of course, still badly want the sharpshooter, too
about an hour ago

ESPNSteinLine

Marc Stein


One more Spurs rumble with Team USA v Finland now seven hours away: Reigning champs, I'm told, trying to barge into Ray Allen Sweepstakes
about an hour ago

jadande

J.A. Adande


Erstwhile Disembodied Voice RT @TheWrap: 'The View': MSNBC's Bill Wolff In as EP http://t.co/YDcmqbufoO http://t.co/aUI1vkjxSO
about 4 hours ago

NazrMohammed

Nazr Mohammed


In Lex for a Bday party and a guy just said to me "U look like a skinny Nazr Mohammed. I'm his biggest fan. Did u play ball? Me- Nope! Lol
about 10 hours ago

NazrMohammed

Nazr Mohammed


Hope u have him buckets lol RT @ruthriley00: Played pick up at the student center, the guy guarding me: "did ... http://t.co/ZNsua1YxRx
about 10 hours ago

ESPNSteinLine

Marc Stein


Spurs, I'm told, still determined to re-sign Aussie C Aron Baynes but also like Mexico's Ayon, who's among top free agents in FIBA World Cup
about 14 hours ago

ESPNSteinLine

Marc Stein


Interesting rumble just dribbled in on eve of FIBA World Cup: Reigning champs San Antonio have registered interest in Mexico's Gustavo Ayon
about 14 hours ago

ESPN_RobKing

Rob King


My colleague offers her thoughts. http://t.co/pkiU3VwuN6
about 15 hours ago

JoakimNoah

Joakim Noah


Downtown Peace March #ChicagoStandUp @CobeWilliams @Duce5x2 http://t.co/bGLZqKH0C6
about 19 hours ago

ESPNSteinLine

Marc Stein


Something tells me I'm not gonna be able to see my guys @miketirico, @PatrickMcEnroe &@bgtennisnation call Sela v Dimitrov here in Espana
about 20 hours ago

ESPNSteinLine

Marc Stein


Here at Turkey's practice w/ESPN tag team of Holtzman & Witalka. Just watched a couple players whose team got scored on asked to do push-ups
about 22 hours ago

ESPNSteinLine

Marc Stein


RT @masonplumlee: With @AndreDrummondd at the Guggenheim #bilbao http://t.co/sN3Zu1pLl3 (OR MAYBE IT WAS THESE GUYS WHO BROKE THE NEWS)
about 22 hours ago

ESPNSteinLine

Marc Stein


And why wait 'til training camp when you can do Power Rankings today? FIBA WC edition from the committee (of one) - http://t.co/BfxBAjsPHy
about 22 hours ago

ESPNSteinLine

Marc Stein


The CORRECT link for my neighbor @franfraschilla and his list of the 25 must-see players in this FIBA World Cup - http://t.co/oq9FhFr2bj
about 22 hours ago

ESPNSteinLine

Marc Stein


Klay Thompson, meanwhile, broke the news that Team USA has a team trip to the Guggenheim scheduled today
about 22 hours ago

ESPNSteinLine

Marc Stein


DRose will back up Kyrie Irving vs. Finland. "I'm feeling good right now," Bulls star says. Likens 5 games in 6 days to "AAU-type schedule"
about 22 hours ago

ESPNSteinLine

Marc Stein


DRose after practice today: "I know the questions are going to come and [are] going to be there the whole year, so I can't get tired of it"
about 22 hours ago
50 GREATEST JORDAN MOMENTS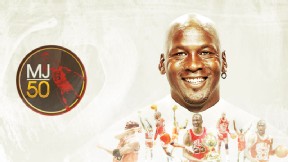 ESPN Chicago takes a look at the 50 greatest moments in Michael Jordan's career. Gallery

ABOUT THIS BLOG

Nick Friedell
Nick Friedell is the Chicago Bulls beat reporter for ESPN Chicago. Friedell is a graduate of the S.I. Newhouse School of Public Communications at Syracuse University and joined ESPNChicago.com for its launch in April 2009.

Doug Padilla
Doug Padilla joined ESPN Chicago in July 2009 and covers the White Sox and Bulls for ESPNChicago.com and ESPN Radio 1000.
BLOG ARCHIVE:
CATEGORIES:
2013-14 CENTRAL STANDINGS
PODCASTS
Carmen & Jurko: Michael Kaplan
Play Podcast ESPN chief medical correspondent Dr. Michael Kaplan discusses whether there is reason to be concerned over Derrick Rose reportedly experiencing soreness in his knees.
Tom Penn, NBA
Play Podcast ESPN NBA analyst Tom Penn talks about the Cavaliers' addition of Shawn Marion, whether Cleveland will be the team to beat in the East and more.
Brian Windhorst, NBA
Play Podcast ESPN NBA Insider Brian Windhorst covers the potential Timberwolves-Cavaliers trade, LeBron James' weight loss, Derrick Rose's performance with USA Basketball and Doug McDermott's potential.