Chicago Bulls:

Lance Stephenson
July, 8, 2014
Jul 8
1:04
PM CT

By Nick Friedell
ESPNChicago.com
Archive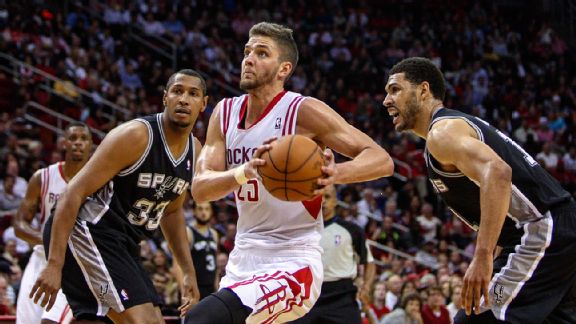 Troy Taormina/USA TODAY SportsChandler Parsons, a second-round pick in 2011, is in for a big payday this summer.
As the basketball world awaits a decision from the top stars in the NBA, the
Chicago Bulls
have to continue planning for the future despite the uncertainty of the present.
If
Carmelo Anthony
does not sign in Chicago, the Bulls are going to have a lot of choices to make in a short amount of time. Like many teams, the Bulls have money to spend but there is a lot of competition to land second- and third-tier free agents. Once the first big dominoes of free agency fall when
LeBron James
and Anthony make their decisions, everything else will come down quickly.
The Bulls have several contingency plans in order and they must act decisively if they are left at the alter by Anthony.
With that in mind, here are a few of the options Gar Forman and John Paxson will have to consider if Anthony passes on the Bulls:
It always seemed like Houston would end up matching whatever offer materialized for the restricted free agent. But if the Rockets end up landing
Chris Bosh
, maybe the game changes for a team like the Bulls. At 25, Parsons is sure to have many suitors -- the interesting aspect of his deal, as my colleague
Tim MacMahon from ESPNDallas.com noted
, is that any team that signs Parsons to an offer sheet may then have to wait three full days to see if the Rockets would match the offer.
If James still hasn't made his decision in a few days and Bosh is waiting to see what happens, would a team like the Mavericks or Bulls be willing to gamble on signing Parsons to the offer sheet, in the event that Anthony picks a team?

There are a lot of moving pieces in this scenario, but it's hard to envision the Bulls making that choice knowing that they may not end up with any of their targets if they tie up their money in the offer for three days and then Houston ends up matching anyway.
Parsons would fill a huge need for the Bulls in the form of outside shooting, but would the Bulls be willing to create enough cap space to land him? According to ESPN capologist Larry Coon, the Bulls would have about $13 million in available cap space if they use the amnesty provision to eliminate the final year of
Carlos Boozer
's deal and trade
Mike Dunleavy
. With Nikola Mirotic's arrival looming on the horizon, the Bulls wouldn't even come close to offering Parsons a competitive offer if Mirotic wants somewhere between $6 million and $8 million.
As Coon noted, the Bulls can't offer Parsons the same kind of "poison pill" contract the Rockets offered former Bull
Omer Asik
because Parsons has already been in the league for three years and is not bound to the same contract restrictions. Plus, if the Mavericks, or another team swoop in to sign Parsons to a big offer sheet, then the Bulls are out of contention anyway. Parsons is a close friend of Bulls center and fellow Florida product
Joakim Noah
, but that tight bond probably isn't going to be enough to bring him to Chicago.
Gasol
Gasol's name has been on the Bulls' radar for a while. The front office flew out to meet with Gasol last week in Los Angeles and he seems to be at the forefront of any non-Anthony contingency plan. As with Parsons, there are a lot of teams contending for his services. The Bulls don't figure to offer Gasol nearly as much as the Lakers will, but they can sell playing on a team that believes it has a legitimate chance to contend next season in the much weaker Eastern Conference. Still, landing Gasol is going to be tough because of the quality of suitors in the hunt for him.
Stephenson
The mercurial 23-year-old Pacers swingman has already turned down a five-year, $44 million deal from Indiana and
ESPN.com's Chris Broussard reported
Monday that the two sides are still "far apart on a deal." I still don't believe the Bulls will make a serious run at Stephenson because of his documented ability to upset a locker room, but if they whiff on other names, he remains a possibility, especially if the Pacers can't come to terms with him.
Deng
Don't hold your breath for a Deng reunion with the Bulls. Deng already turned down a three-year, $30 million deal last season. He and his camp were not happy with how the Bulls approached the contract process and there are still lingering feelings on both sides. Plus, adding Deng after potentially missing out on Anthony & Co. would not satisfy a fan base that already knows what kind of team the Bulls are with Deng in the fold.
Ariza
The
Washington Wizards
swingman would fit into the Bulls' system on many levels. He is a solid defender and can knock down open jumpers -- as evidenced by some of his performances in the Wizards' first-round playoff win over the Bulls. Washington would still like to re-sign him, but he could be an answer if the Bulls are willing to splurge a little.
As the Bulls' front office tries to filter through all the scenarios, the big problem they have is the same one every team is dealing with. Many organizations have a lot of money to spend this summer.
As the Bulls learned in the past with Carlos Boozer, and others, teams usually have to overpay in free agency. That's why it's more imperative than ever for the Bulls to target one big free agent and lock him up right away if Anthony isn't ready to come to Chicago. The Bulls aren't going to have time to wait and see what happens in a crowded marketplace.
July, 3, 2014
Jul 3
7:05
PM CT

By Nick Friedell
ESPNChicago.com
Archive
CHICAGO --
Carmelo Anthony
remains the apple of the
Chicago Bulls
' eye. The organization continues to hope that Anthony turns down the financial security of a max offer, or near-max offer, from the
New York Knicks
as he makes his final decision on where to play in the coming days. While the Bulls remain confident in the recruiting pitch they gave to Anthony, Bulls officials understood that it was always going to be toughest to convince Anthony to leave New York. The feeling from many within the organization after Tuesday's pitch is that this is a two-team race between the Knicks and the Bulls.
The question, as has been the case all along, remains whether Anthony is willing to leave millions of guaranteed dollars on the table in order to chase a championship in Chicago. With the help of ESPN salary capologist Larry Coon, the Bulls' numbers, in regards to an Anthony deal, stack up this way. If the Bulls keep a preferred core of
Derrick Rose
,
Joakim Noah
,
Taj Gibson
and rookie
Doug McDermott
intact, they will be able to offer Anthony roughly $17 million next season. What that also means is they'd have to fill up the rest of the roster with a majority of minimum-salary players.
While the Bulls are holding out hope that Anthony decides to join forces with Rose and Noah, the feeling from several sources remains that Anthony will decide to stay with the Knicks. With that in mind, let's take a look at the next few options the Bulls will have if they do indeed miss out on their top target.
1. Make a push for Kevin Love again
The Bulls have kicked the tires on a Love deal with the
Minnesota Timberwolves
for several years. If they don't land Melo, expect them to make some more calls to Timberwolves coach and president of basketball operations Flip Saunders to see if they can work something out. Since Love wasn't moved before the draft, there's a solid chance that Saunders will try to persuade Love to stay one more time before potentially dealing him before the trade deadline in February.
2. Go for Gasol
The Bulls were scheduled to meet with
Pau Gasol
on Thursday in Los Angeles as he ponders his own future, according to ESPN.com's Marc Stein and Ramona Shelburne. Having made a little more than $19 million last season, Gasol figures to be in line for a pay cut, but interested teams have to figure out just how much of one he's willing to take. From the Bulls' perspective, Gasol would fill a need as a back-to-the-basket offensive weapon and a solid presence in a tight locker room. According to Coon, if the Bulls
amnesty
Carlos Boozer
and deal away veteran
Mike Dunleavy
, they would have roughly $13 million in available cap space.
With a number of high-quality teams
pitching for Gasol's services
-- and the fact that the Lakers can still offer big money -- the Bulls need to make a strong financial offer and tie it around the fact that they are ready to contend for a title right away. Even then, that might not be enough depending on the other offers Gasol figures to get.
3. Bring Nikola Mirotic over
[+] Enlarge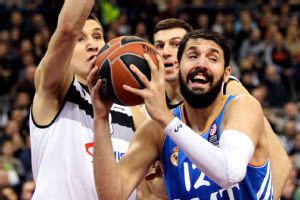 AP Photo/Darko VojinovicMirotic's Bulls future is bright, but he would be no substitute for Anthony if the team decided to sign him for the upcoming season.
There's been a lot of speculation regarding Mirotic's status in recent days, a fact that hasn't gone unnoticed by the Bulls front office as it tries to figure out its next move. For the moment, Mirotic's status with the Bulls this season is uncertain. The organization had always hoped it could land Mirotic for the midlevel exception, but now, in order to bring him over, it'll have to dip into its cap space to make it happen. Is Mirotic worth $7 million to $8 million per year? How much of an impact would he be able to have during his first season in the NBA? The Bulls remain high on Mirotic, but the idea that his addition would put the Bulls that much closer to a championship in his first season in the league is far-fetched at best.
4. Worst-case scenario
If the Bulls fail in Options 1-3, the frustration of the fan base will permeate throughout every aspect of the organization. Assuming they don't find any takers for a Boozer sign-and-trade, the Bulls could still amnesty the final year of his deal and move Dunleavy -- but what would they do with the $13 million left in cap space?
Lance Stephenson
appears to be a last-ditch possibility. I don't believe he would work well in coach Tom Thibodeau's locker room, but he has the type of talent that could continue to blossom in the right situation. The Bulls will keep tabs on
Chandler Parsons
, a good friend of Noah's, but it's hard to believe the Rockets will let him walk as a restricted free agent -- especially if they don't land Anthony or
LeBron James
.
The Bulls' biggest problem is the same one it faced as free agency began: There are some solid names and possibilities on this list, but if it doesn't land Anthony or Love, the organization can't feel confident in the notion that it would start the upcoming season as a legitimate title contender.