October, 21, 2014
Oct 21
9:00
AM CT

By Nick Friedell
ESPNChicago.com
Archive
COLUMBUS, Ohio -- Tom Thibodeau does not believe it's fair to try to compare
LeBron James
to other players at this point in his career. After all, James is still just 29 years old and doesn't appear to be slowing down anytime soon. But that doesn't mean the veteran coach can't heap some heavy praise on James and his prolific, all-around game.
[+] Enlarge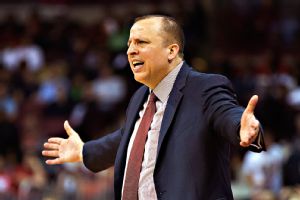 Greg Bartram/USA TODAY SportsTom Thibodeau is just 2-8 against LeBron James as a head coach.
"Obviously, what he's done has been great," Thibodeau said Monday before the Bulls' game against the
Cleveland Cavaliers
. "I think it would be unfair to him to judge him now. I think when you're judging greatness, it's having the ability to judge it over a long period of time. Until he's done, we won't know ultimately, but he's right up there with the all-time best. When you look at it, to do it year after year, he doesn't miss many games, he's been very durable. He's a great competitor, and he makes his team win."
Thibodeau would know. Although he had some success against James during his time as an assistant with the
Boston Celtics
, Thibodeau is just 2-8 in the playoffs against James as a head coach. He knows James has the rare ability to make a play even when the defense can be drawn up perfectly.
"He's a great player," Thibodeau said. "[There's] not many things he hasn't seen. Sometimes you could do it perfectly, and he still can hurt you. The idea is you want to make him work for what he gets, but you can't do it at the expense of leaving everyone else open. The challenge when you're guarding somebody like that is you're helping with him, but you're also getting back to the other guys. It requires multiple efforts and challenging shots and finishing your defense. When you're dealing with a star that passes the ball like that, what it does is it makes everyone else a lot better. He tests you in every different way."
James' test is one Thibodeau knows the Bulls must be prepared for this season. Although he does not like seeing him on the opposite end of the floor, Thibodeau appreciates how good James has become. He knows that in order to be the best, the Bulls are eventually going to have to get through the best player in the league.
"If you're a competitor, I think that's what you want," Thibodeau said. "When you're facing great teams and great coaches, that's what makes it challenging. We know it's not about one guy -- it's about the team. Same for us. When you're facing a great team, it requires you to make sure that you're committed to playing as a team. If we stray off and try to do it individually, we'll be in trouble."
In listening to Thibodeau speak about James, it's also clear the domineering head coach is appreciative of how James goes about his business. Thibodeau likes that James thinks for himself and does what he believes is right. That's why he never seemed shocked James came back to Cleveland for the second time earlier this summer.
"The one thing about LeBron is he stays true to himself," Thibodeau said. "I don't think he gets wrapped up in criticism or praise. He does what he thinks is right. He made a bold decision to leave. He made a bold decision to come back. But ultimately, he did what he felt was best for him and his family. I've got great respect for him as a competitor."