Chicago Bulls:

Lindsey Hunter
March, 5, 2010
3/05/10
5:55
PM CT
March, 4, 2010
3/04/10
5:51
PM CT
DEERFIELD, Ill. --
Lindsey Hunter
knew that his tenure as the NBA's elder statesman wasn't going to last forever.
[+] Enlarge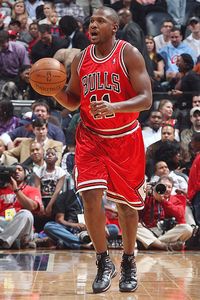 Scott Cunningham/NBAE/Getty ImagesThe Bulls released Lindsey Hunter to make room on their roster for Chris Richard.
That's why the 17-year veteran didn't break down or get emotional when the news of his release from the Bulls became official on Wednesday morning.
"Unbelievable," Hunter said, discussing his run in the NBA. "Never in a million years would I have thought that I would play as long as I have. It was truly a blessing for me. Every situation I've been in was great for me. I never look back at one situation and say I regret anything. Basketball has truly blessed me in that aspect and I'm real, real thankful for that."
Hunter said he wasn't surprised by the Bulls decision and that the team was upfront about him through the whole process. You got the sense that he knew once
Joakim Noah
went down for an extended time period with plantar fasciitis that he was probably the odd man out. The ironic thing is that Hunter's job description won't change much even though he's not technically on the roster anymore.
"[My duties] will be pretty much the same since I've been here," he said. "This is kind of the start of me re-inventing myself the second time. Nothing new."
Hunter will continue to serve as a mentor to
Derrick Rose
and it's likely that he will start on the path towards becoming a head coach in the near future for some team.
"There's not much I can tell [Derrick] now," he said laughing. "I still share things with him. Always try to keep him encouraged. And to grow into that leadership role that he's become [comfortable with]. Now we have some more young guys that need that type of help. It's just not limited to Derrick. It's everybody who's on this team that I try to help any way I can."
The 39 year old has been replaced on the active roster by
Chris Richard
, who has already been with the Bulls once this season and is expected to take most of the minutes created by Noah's absence.
"I was hoping [I'd be back]," Richard said. "I can't say I knew because you never know the situation. It worked out. So, I'm back and I just got to keep playing."
Richard has been staying in shape by playing with the Tulsa 66ers of the NBDL. "I played in maybe three games," he said. "I did OK. Wasn't great, but I did OK. Stayed in shape and hopefully I can carry over or do better than I did before I left."
The Florida alum, who won a championship there with Noah, admitted that it was a bit of a struggle getting used to the D-League lifestyle once again.
"It was a little bit tough for me to go back down there, but I went," he said. "I just took it and I went and I just continued to play hard. Time went past and now I'm back. And now I just have to make the best of this opportunity."
March, 2, 2010
3/02/10
4:39
PM CT
DEERFIELD, Ill. -- The Chicago Bulls will sign Chris Richard for the rest of the season.


Richard, a second-year center from Florida, appeared in five games last month for the Bulls, averaging 2.2 points and 4.6 rebounds.


"We're going to bring Chris Richard back and bring another big guy back, hopefully [Wednesday]," Bulls head coach Vinny Del Negro said after practice Tuesday. "But we need our guys to get healthy. One guy's not going to control the glass for us. I think it's going to help. Chris did a good job when he was here. He knows what we're doing. He's a good kid. So we'll get him back in here [Wednesday]."


February, 6, 2010
2/06/10
7:47
PM CT

By NICK FRIEDELL
ESPNChicago.com
Archive
Chicago Bulls
veteran guard
Lindsey Hunter
didn't get into specifics about
Tyrus Thomas
' one-game suspension, but Hunter, now in his 17th season, spoke in general terms about his teammate.
"As human beings we all get frustrated with everything in life in different situations, but you can't act out in your frustrations," Hunter said before Saturday's game against the
Miami Heat
. "At some point, you have to grow up and be a man about it, or a woman about it. Life is full of trials and tribulations. If you get frustrated every time you have [a problem] then you're going to live a pretty frustrated life."
Asked whether Thomas still has some growing up to do, Hunter said, "Of, course. We all do. We all have areas in our life we need to grow up in. As long as you realize it and you constantly work on those things, eventually you conquer your own demons. I think that's a battle within [Thomas] has to work on."
Hunter said Thomas, the fourth overall pick in the 2006 NBA draft, still has a chance to become a great player in the NBA.
"He has a really high ceiling," Hunter said. "He has the potential to be as good as he wants to be and it's just a matter of him taking initiative to realize what he is, what he brings to the table, slowing himself down and put his game in a box."
Hunter stopped short of saying the suspension will serve as a wake-up call for Thomas.
"We all struggle with different things," Hunter said. "Maybe it's a different process for him than it is for somebody else. We all do things in our own time and our own way. Maybe this will help him understand that he needs to get beyond some things."
January, 26, 2010
1/26/10
10:27
PM CT
OKLAHOMA CITY -- Derrick Rose was spooked.
He sat at his locker on Monday night listening to what was being said around him and didn't like what he was hearing.
Was the hotel that he and his Chicago Bulls teammates would be staying at in Oklahoma City really ... haunted?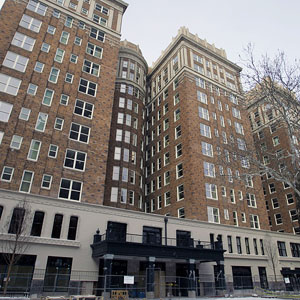 AP Photo/Sue Ogrocki
Some say the Skirvin Hotel in Oklahoma City is haunted, but it didn't prevent the Bulls from getting a good night's sleep.
Depending on whom you ask, the answer may very well be yes.
For years, there have been tales floating around that the Skirvin Hilton is haunted by a ghost of a maid who worked at the hotel in the 1930s who leapt to her death with her infant child. A version of the story says the woman jumped after the hotel's owner, W.B. Skirvin, locked her in a room on the hotel's top floor. Skirvin supposedly had an affair with the woman and was the father of the baby.
This story gained even more prominence in recent weeks after the New York Knicks blamed a loss to the Thunder on the fact that many members of the team couldn't get a good night's sleep at the Skrivin because they were convinced that ghosts were hovering around.
"I definitely believe it," Knicks forward Jared Jefferies told the New York Daily News. "The place is haunted. It's scary."
So will the Bulls be affected the same way? Only time will tell. But I can tell you that the smile that is usually etched on Taj Gibson's face turned upside down when we started talking about the possibilities of ghosts.

"Now you got me worried, man," the rookie from USC said. "I hope not, but I'll have to wait and see, I guess."
Bulls veteran Lindsey Hunter has seen everything in his NBA career, so the possibility of a ghost didn't seem to bother him that much.
"I don't know," the 39-year-old Hunter said when asked if he believed all the stories. "I'm interested to see though."
Hunter is more interested than most because he can't wait to have fun with some of his teammates.
"Especially some of these [scared] guys. Some of these veterans are [scared]," Hunter said. "Like Luol [Deng], I'm glad you told me. I'm going to tell him, 'You know the hotel's going to be haunted.' He'll be scared to death."
If the Bulls' winning streak disappears on Wednesday night when they face the Oklahoma City Thunder, now you'll know.
Kevin Durant is scary ... but not as scary as a ghost.