November, 24, 2013
11/24/13
7:06
PM CT
LOS ANGELES -- Tom Thibodeau entered Staples Center on Sunday morning looking like he always does -- like a man on a mission. The veteran coach confidently walked into the hallway and toward the visitor's locker room wearing a suit and rolling a small suitcase behind him. The man who loves his work, and loves a challenge, had plenty of both staring him in the way considering his
Chicago Bulls
were about to play without
Derrick Rose
yet again, and they were going to do so against a talented
Los Angeles Clippers
squad. As Thibodeau strode toward his next stop, a small security guard tried to stand in his way and asked to see a credential.
"I'm the coach," Thibodeau said as he kept going right past the notoriously stringent Staples Center security team. "I don't have a credential."
[+] Enlarge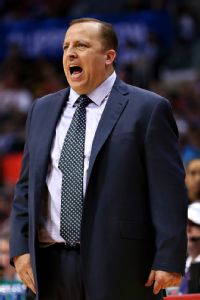 Stephen Dunn/Getty ImagesTom Thibodeau maintains the Bulls have "more than enough to win with," but Chicago's bench is weaker than it has ever been during his tenure as head coach.
That was the highlight of Thibodeau's day. It all went downhill from there.
A few hours later, after his team had been embarrassed by the Clippers in the form of a 39-point defeat, Thibodeau tried to remain positive. He tried to remind his team that everything would be OK without Rose again -- only the players' faces and actions told a different story. The Bulls looked and played like an emotionally beaten-down group on Sunday, and even Thibodeau, despite all his bravado, knows it.
"I think we're all capable of doing better," he said. "This isn't on one player or two players. This is on me. It starts with me, and that's where the blame should be."
Thibodeau's sentiment is heartfelt, but reality tells a different story. The Bulls simply can't overcome the loss of Rose again. Sunday's game served as an example of what is to come over the next few weeks and months. There are only so many times a coach and a team can go to an emotional well. The Bulls played well last season because of the preparation they put in before the season without Rose. They knew he wasn't coming back for a long time, and they knew they had to rely on each other to figure out a solution.
This time, they didn't have that luxury. Rose's latest injury will be even more jarring to this season's team because they don't have the depth to sustain his loss. Last season's Bulls team was built to win
without
Rose; this season's squad was built to win
around
him. That's why it's so hard for his teammates to come to grips with the fact he is likely going to miss a long stretch of time.
"It's more [like] your little brother being hurt," Bulls forward
Luol Deng
said of Rose's absence. "I think that's [why] everyone's head's down. It's not so much that we don't believe in each other, and we're going to fight. It's just that's a good kid, and he worked so hard. And we've seen him work hard and be the first one to practice every day and [the] last one to leave and encouraging everybody. Just coming back and making everyone believe that we got a chance to do something special, and when he took a hit like that, it's hard. Even the people that don't know him had a hard time hearing that. And the people that know him just know how much work he put into it."