Chicago Bulls:

Memphis Grizzlies
October, 7, 2013
10/07/13
9:52
PM CT
ST. LOUIS -- Let's take a quick look at how the
Chicago Bulls
earned a 106-87 win over the
Memphis Grizzlies
on Monday night at Scottrade Center.
How it happened:
Carlos Boozer
had 16 points and four rebounds to lead the Bulls to their second win in a row in the preseason.
Kirk Hinrich
and
Taj Gibson
each scored 15, while
Derrick Rose
and
Luol Deng
each added 13 points.
What it means:
This wasn't the prettiest game in the world, but Tom Thibodeau has to be pleased with the defensive intensity his team showed at various points, especially in the second half. They were active and forced Memphis into plenty of turnovers.
Clearly the most important factor in this game was that Rose looked like his old self again. He played with a burst throughout the night while racing up and down the floor. There's still some rust Rose has to knock off, especially at the foul line, but he looks comfortable and confident on the floor again.
Hits:
Jimmy Butler
only had nine points, but he made several nice defensive hustle plays and was active going to the rim.
Misses:
The Bulls had 17 turnovers.
Stat of the night:
In his second game in more than 17 months, Derrick Rose's line went like this: 23:01, 3-for-8 from the field, 1-for-1 from beyond the arc, 6-for-10 from the free throw line, four rebounds, three assists, three steals, one turnover and 13 points.
What's next:
The Bulls head off to Rio de Janeiro on Tuesday night. They face off against the
Washington Wizards
on Saturday night.
January, 20, 2013
1/20/13
12:06
AM CT
CHICAGO --
Joakim Noah
, the heart and soul of the
Chicago Bulls
, sat on the bench for the final 22:53 of Saturday night's 85-82 overtime loss to the
Memphis Grizzlies
.
Why?
"Just a coach's decision," Bulls coach Tom Thibodeau said.
Was Noah hurt?
"He's fine," Thibodeau said. "Coach's decision."
Was Noah tired?
"Coaching decision," Thibodeau said again.
[+] Enlarge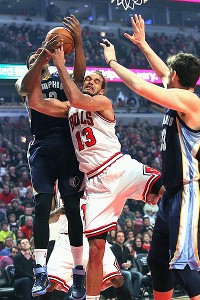 Dennis Wierzbicki/USA TODAY SportsJoakim Noah had 10 points and five rebounds before being benched for the game's final 23 minutes against the Grizzlies.
Nobody will be talking about the fact that the Bulls lost this game over the next few days. The only thing fans will wonder about is whether there is some sort of friction between the team's star center and its coach. Thibodeau opened up that possibility by benching Noah throughout most of the second half and then telling everybody Noah was physically fine.
So was Thibodeau sending a message to Noah?
I don't think there's any doubt about that. Thibodeau said after the game that he was just riding the group that brought the Bulls back from a 17-point deficit, and that part is true. He has done that in the past. What was most surprising -- and most telling -- was when
Taj Gibson
fouled out in overtime, Thibodeau opted to put little-used backup
Nazr Mohammed
into the game, not Noah. Thibodeau has made it a hallmark of his tenure not to call out any player publicly, but plenty of fans will read between the lines of his answer in regards to why he stuck with the group of
Carlos Boozer
,
Nate Robinson
,
Marco Belinelli
,
Jimmy Butler
and Gibson so long as a challenge to Noah.
"Just the spirit, fight," Thibodeau said, when asked what he liked about that group. "We knew it was going to be a tough game coming in, and that's the way they play, a credit to them. You have to stay disciplined. You can't allow frustration to take you away from what you're trying to get done out there. It's one of those things, you got to keep battling and battling and battling. In the end, whatever's necessary, that's what you have to do to win. You got to get in the fight, it's physical. You can't get thrown around. And when you're getting smacked you've still got to be able to get your job done."
Noah didn't get that chance. After starting 5-for-5 from the field and scoring 10 points in the first quarter, it looked as if he hit a wall, and he did not score a single point after that. Maybe all the minutes he's been playing lately finally caught up to him? Maybe Thibodeau wanted to see more from him? Maybe Noah has a nagging injury the coaching staff doesn't want to divulge? Maybe he was just having a bad night? Whatever it was, Thibodeau sent a message to his leader and captain -- he needs more, even on nights when Noah doesn't have much more to give.
"Thibs just wants effort," Gibson, a close friend of Noah, said. "There's no excuses. You just got to go out there and do your job. That's the one thing about our team, we're not an excuse kind of team. We're not going to have it that way because it takes all of us as a whole to get through and make it to the playoffs. It's just one game. There's plenty more games to go. I know we're a team, we're sticking together, we're going to follow his lead, but at the same time we're just going to keep playing. One guy goes down, we just got to step up."
A few teammates said they had spoken briefly to Noah, but didn't elaborate on the conversation. The emotional big man left the locker room before reporters were allowed in, marking the first time in recent memory he's left the locker room without speaking to reporters.
Everybody can have a bad night, and maybe that's all it is, but Thibodeau's decision will hover over the Bulls for a while. With
Derrick Rose
out and
Luol Deng
nursing a hamstring injury, Noah is the unquestioned leader of the Bulls. How he responds to the benching will go a long way in determining how the next month turns out for Thibodeau and company.
"I think he was just so amped up to play in the game," Gibson said of Noah. "But you just got to go with what coach feels and learn from it and keep pushing. I think Joakim's been doing a great job all year long, and he's going to continue to learn from this game and keep pushing."
After this incident, Thibodeau better hope Noah doesn't start pushing the wrong way.
January, 19, 2013
1/19/13
10:23
PM CT
CHICAGO -- Let's take a quick look at how the
Memphis Grizzlies
earned an 85-82 overtime win over the
Chicago Bulls
on Saturday night at the United Center.


How it happened:
The Bulls outscored the Grizzlies by 13 points in the fourth quarter but couldn't finish the job in overtime. Playing in place of
Luol Deng
(hamstring),
Jimmy Butler
scored 18 points and pulled down eight rebounds.
Carlos Boozer
had yet another double-double, scoring 17 points and grabbing 14 rebounds.
Joakim Noah
had 10 points and five rebounds but was benched for the final 22:53 of the game.
What it means:
The Bulls looked tired but battled back from a 17-point deficit and almost won the game -- but nobody will remember that. The only thing anyone will recall from this game is that Noah didn't play down the stretch. Bulls PR said during overtime that it was a coach's decision, but for Noah to sit that long and for
Nazr Mohammed
to come in after
Taj Gibson
fouled out late, it leads to a lot speculation about a potential injury. It will be interesting to see how Bulls head coach Tom Thibodeau explains the situation after the game.
Hits:
Gibson had a solid game off the bench, scoring 10 points and pulling down 12 rebounds.
Misses:
Rip Hamilton and
Marco Belinelli
combined to go just 5-for-16 from the field.
Nate Robinson
was 5-for-15 and missed several big shots in overtime.
Stat of the night:
The Bulls scored just 25 points combined in the second and third quarters.
What's next:
The Bulls take on the
Los Angeles Lakers
on Monday night.
January, 19, 2013
1/19/13
2:11
AM CT
BOSTON -- The
Chicago Bulls
have been down the same road so many times during the past 2½ seasons that they've started to create a new path of their own. They don't need a map to find their way out of trouble; they just rely on old experiences for guidance.
When one of their stars goes down, they usually find somebody else to step up. That was the case again Friday late in the third quarter, when
Luol Deng
re-injured his right hamstring. Instead of panicking, the Bulls pulled together and found a way to pull out a thrilling 100-99 overtime win over the
Boston Celtics
.
How did they do it?
"We step up by committee," said Bulls forward
Carlos Boozer
. "That's always been our motto since we got together 2½ years ago. We step up by committee."
"Everybody comes in and has to do a little bit more," he said. "And if Lu has to be out, I know Marco [Belinelli]'s up for the challenge. I know Jimmy [Butler]'s up for the challenge. And the rest of us are, too. We do it by a collective effort."
Boozer should know: He continues to lead the charge. He racked up yet another double-double Friday night, with 19 points and 20 rebounds. But as he pointed out, it was Butler and Belinelli who stepped up when it mattered most.
Butler came in for Deng and scored 13 points, making several huge plays in overtime. It was exactly the type of performance his teammates knew he could handle and one that will surely give him confidence in the future.
"It was nice to know that my teammates have faith in me," Butler said, "to give me the ball whenever I'm open and know that I can go down there and guard and come and back and score another basket. That's big for my confidence. To tell you the truth, in my head I was just like, 'Do what Lu does. Do what Lu does."
That was a sound strategy ... and one Belinelli also perfected, just before game's end. Like Deng did in Toronto on Wednesday night in overtime, Belinelli knocked down a jumper with a few seconds left in the extra period (which was significantly more difficult, considering he was falling down) that gave the Bulls a win.
Teammate
Taj Gibson
soaked Belinelli with a celebratory ice bath in the shower.
"If you make the game winner with this team, with the Chicago Bulls, it's a different feeling," the Italian guard said. "I feel like so happy right now."
The downside
The only damper on this night for the Bulls was the fact that Deng might be sidelined for a little while. Bulls coach Tom Thibodeau will be heavily second-guessed for playing Deng -- who re-injured the hamstring he hurt Wednesday -- if Deng has to miss an extended amount of time. But the Bulls still have confidence they can win even if Deng joins
Derrick Rose
on the injured list.
"If that's the case then, yeah, we do," Boozer said, regarding the prospect of losing Deng. "Unfortunately for our team, we've been here before; this isn't something new for us. We've had important guys out -- whether it be Derrick, whether it be Lu, whether it be Jo, whether it was me a couple years ago. So we have belief in our team that we can keep playing and we can keep winning."
Rip is ready
Thibodeau has repeatedly held veteran guard
Richard Hamilton
to a strict limit of 15 to 20 minutes of playing time since he returned from injury last month. But he let that go Friday night when Deng got hurt, and Hamilton delivered. In 33 minutes of play, Hamilton scored 20 points.
"It's crazy because after the third quarter, usually I'm done," Hamilton said. "But with Luol going out I was like, 'Man, it's probably a chance [Thibodeau] would put me back in the game.' And [assistant coach
Adrian Griffin
] came out to me in the fourth quarter, he was just like, 'Hey, man, stay ready because coach is going to put you back into the game.' It was just one of them things. We didn't expect it going into the game, but with the circumstances, with Lu going out, he put me back in."
Hamilton is ready to play even more minutes if Thibodeau decides to keep going to him in the near future.
"I can," he said. "That ain't a problem. That's just something that Thibs wants to do. That's one of the things that he talked about when I first came back. He asked me and I was like, 'Yo, I can play. I'm good.' And he was like, 'I'm going to keep your minutes ... whatever, whatever.' I was just like, 'Hey, whatever he needs me to do, that's what I'm going to do.'"
The last word
Thibodeau, on whether a win on the road over a team like the Celtics can help the Bulls find the consistency they've been looking for:
"I think that's a media thing. I don't think any one game is any more important than another. I think you have to play tough on the road. I think you have to be physically tough, mentally tough, you've got to play smart. But then you can't be looking backwards; we can't be thinking about the Celtics when we're getting ready for Memphis. We have to know Memphis. When that ball goes up [Saturday] night, we got to be ready to go."
December, 17, 2012
12/17/12
11:26
PM CT
MEMPHIS -- The
Chicago Bulls
' offense stunk Monday night.
[+] Enlarge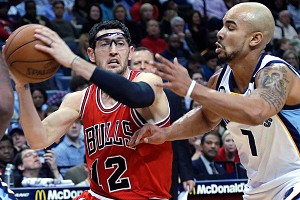 AP Photo/Daniel JohnstonKirk Hinrich returned to the lineup on Monday, but hit just 2 of 8 shots for four points.
There's no way to sugar coat how bad Tom Thibodeau's bunch shot the ball, especially in the second half. The Bulls' 71 points was their lowest output in almost five years, since scoring just 67 against the
Minnesota Timberwolves
on Jan. 30, 2008. It was brutal for Thibodeau to watch. His arms flailed and his face looked disgusted throughout from the second quarter on considering the Bulls scored just 51 points over the final 36 minutes.
Luol Deng
and
Marco Belinelli
, two of the offensive stalwarts of the past few weeks, combined to go just 8-for-29 from the field.
Carlos Boozer
had a solid night in the box score with 16 points and 13 rebounds, but he missed 10 shots. As a team, the Bulls shot just 37.3 percent from the field. The
Memphis Grizzlies
are one of the best defensive teams in the NBA and proved why against the Bulls, although they didn't fare much better offensively, shooting 37.5 percent.
December, 17, 2012
12/17/12
9:26
PM CT
MEMPHIS -- Here's a quick look at how the
Memphis Grizzlies
earned an
80-71 victory
over the
Chicago Bulls
on Monday night at FedEx Forum.


How it happened:
Mike Conley
led the Grizzlies with 17 points, four rebounds and four assists, while
Zach Randolph
added 10 points and 15 rebounds in a defensive struggle that had to be tough for Tom Thibodeau to watch because of his team's lack of offensive execution.
Carlos Boozer
led the Bulls with 16 points and 13 rebounds.
What it means:
The Bulls' offense struggled badly. They couldn't get any rhythm going and couldn't make shots down the stretch. The bigger issue for Thibodeau is the play of
Kirk Hinrich
. The veteran guard returned to the floor after missing almost a week because of a left knee bruise and struggled. He was just 2-for-8 from the field and looked a step slow most of the night in 31 minutes. He has battled five different injuries throughout the season, but what has to be of even greater concern for Thibodeau is that Hinrich's shot has inconsistent most of the season. He doesn't seem to have confidence in his shot and that showed again on Monday night. With the way
Nate Robinson
and
Marquis Teague
have been playing recently, it will be interesting to see if Thibodeau decides to let Hinrich play his way out of the slump or if he opts to play Robinson and Teague heavier minutes. It's not all Hinrich's fault the Bulls lost, but Thibodeau can't afford to leave Hinrich out there if he can't find his shot given their already limited offensive options.
Hits:
Jimmy Butler
had eight points in a productive 17 minutes off the bench.
Misses:
Aside from Hinrich's struggles,
Marco Belinelli
and
Luol Deng
weren't much better in this one combining to go 8-for-29 from the field.
Stat of the night:
The Bulls shot just 37 percent from the field.
What's next:
The Bulls are right back at it Tuesday when they take on the
Boston Celtics
.
October, 10, 2012
10/10/12
12:02
AM CT

By Scott Powers
ESPNChicago.com
Archive
CHICAGO -- Thirty-two-point-seven seconds was all the time
Chicago Bulls
rookie guard
Ryan Allen
and his older brother
Memphis Grizzlies
veteran guard
Tony Allen
shared on the United Center court on Tuesday.
There was nothing special in terms of basketball that occurred during that span. They guarded each other for three possessions, but neither touched the ball and then the first-half clock expired. Ryan didn't see the court again the rest of the evening.
Yet, with it being Ryan's first NBA game, the two brothers having never faced each other at any level and both being from Chicago, the few moments they did have together Tuesday were some of the greatest for the two brothers and their mother, Ella.
"It was awesome," said Ella, who cheered for both teams behind the Grizzlies' bench. "It was really awesome. I was like on 10. To see both of my babies out there on the floor together, I'm like, what an accomplishment, the greatest accomplishment you can make.
"I never even fathomed (that would happen.) I never even thought this would happen on nobody's earth. I just never thought it would happen, but it did. I thank God for it. It was awesome."
January, 1, 2012
1/01/12
11:39
PM CT
CHICAGO -- The Chicago Bulls' 104-64 destruction of the Memphis Grizzlies on Sunday night was such a laugher that Bulls' head coach Tom Thibodeau, who rarely ever sits down during a game, actually planted himself on the bench. Midway through the third quarter. The difference on Sunday night, as it will be throughout the course of the season for Thibodeau's bunch, is that the Bulls once again proved that they are among the deepest teams in the league.
[+] Enlarge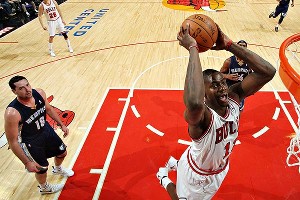 Gary Dineen/Getty ImagesRonnie Brewer tied for a team high with 17 points in Sunday's rout.
Rip Hamilton was a late scratch because of a groin injury. No problem. Ronnie Brewer inserted himself in the lineup and dropped 17 points on the Grizzlies, thanks in part to a much improved 3-point shot.
C.J. Watson hurts his elbow early in the fourth quarter. No problem. John Lucas III comes out of nowhere to score eight points in 10 minutes. The Bulls' bench depth was a reoccurring theme throughout last season and one of the biggest reasons the team led the league with 62 regular-season victories. It's also one of the reasons why the Bulls are so confident they can have the same kind of success this year.
"I think we're the deepest team in the NBA," Bulls center Joakim Noah bluntly said after the game. "I think Omer [Asik] has been playing great for us. Taj Gibson, Kyle Korver, all these guys I feel could be starters. I feel like it definitely takes our team to a whole 'nother level when you bring in the second unit and they're very good."
That is the key for the Bulls. They don't just have extra bodies who fill space on the bench throughout the year. They have several players who could easily be starters for other teams throughout the league. It's a luxury that other NBA teams would love to have.
"I think that we're pretty deep with the guys that we have," Bulls point guard Derrick Rose said. "I think that everybody on our team knows their role. I'll just say that. Where when they come in, they know their job. They work hard. Everybody on our team works hard from the starters to the bench players to the coaches. Right now, it's just paying off for us."
It continues to pay off in a big way almost every night. When the Bulls need a spark, all Tom Thibodeau has to do is turn his head around and send in one of the reserves. In a condensed, lockout-shortened season like the one the Bulls are going through right now, it's the difference between good teams and great ones. The Bulls feel like they have in the latter category.
"You need everybody," Thibodeau said. "As it worked out, our bench has played very effectively in short minutes. Tonight, Ronnie Brewer stepped in and he has played well since the preseason."
In many ways, Brewer represents the riches the Bulls have from the reserve unit. He could have sulked when the Bulls signed Hamilton before the season, but he seems to be motivated by the move. The veteran continues to spend hours working on his three point shot and that work is paying off. Brewer is playing as well now than at any point last season.
"We know what guys can do," he said. "You don't want to look at other teams and downplay what they got, and what they can contribute, but I seriously think from the starting five and then the Bench Mob that we bring in we might be one of the deepest teams. You saw tonight. John Lucas, [Brian Scalabrine], Jimmy Butler, they came in and didn't miss a beat. They defended, they rebounded and knocked down shots."
As we learned last year, when Brian Scalabrine's name can be seen in a box score, that's a pretty good indication that the bench has done its job.
January, 1, 2012
1/01/12
9:31
PM CT
CHICAGO -- Let's take a quick look at how Chicago Bulls rolled to an easy 104-64 win over the Memphis Grizzlies on Sunday night at the United Center.


How it happened: The Bulls were dominant from the opening tip. They didn't seem to miss a beat, despite the fact that Rip Hamilton sat out the game because of a strained groin. Carlos Boozer had 17 points and 11 rebounds while Derrick Rose chipped in 16. The game was over by halftime and gave the Bulls' starters a chance to get some much needed rest. This was by far the best defensive effort the Bulls have given all year.
What it means: The Bulls proved two things on Sunday night. First, they are probably the deepest team in the league. Even without Hamilton (and C.J. Watson, who injured his left elbow early in the fourth quarter), they crushed the Grizzlies. Every healthy player provided something -- even Brian Scalabrine, who had an assist, much to the fans' delight. Secondly, when the Bulls play the type of lockdown defense they played on Sunday night, they can beat almost any team in the league. Granted, the Grizzlies weren't at full strength, especially after Memphis forward Zach Randolph left in the first half with a right knee contusion, but the Bulls played the kind of defense they played last year. That fact will make Tom Thibodeau very happy.
Stats of the night: The Grizzlies shot 27 percent from the field in the first half. 30 percent for the game. The Bulls had 48 points in the paint compared to just 26 for the Grizzlies.
What's next: The Bulls face off against the Atlanta Hawks on Tuesday night. They'll be looking for their fourth win in a row.
March, 25, 2011
3/25/11
11:45
AM CT
January, 17, 2011
1/17/11
2:42
PM CT
MEMPHIS, Tenn. -- Let's take a quick look at how the
Chicago Bulls
pushed past the
Memphis Grizzlies
96-84 on Monday afternoon at FedEx Forum.


How it happened:
Derrick Rose
went off for the first triple-double of his career, racking up 22 points, 10 rebounds and 12 assists.
Kyle Korver
had another big game game hitting six three-pointers and finishing with 22 points.
Luol Deng
added 28 points of his own as the Bulls won their third game in a row. The big key for the Bulls was that their defense was strong for most of the day. The Grizzlies struggled to find their range, shooting just 38 percent from the field.
What it means:
Rose wasn't sure how his team would fare without
Carlos Boozer
and
Joakim Noah
on the floor, but he was confident they would figure it out. They did. He picked up his first triple-double, and the defense was on point most of the day. With Rose on the floor, the Bulls have the chance to win any game they play no matter who is playing.
Stat of the day:
The Bulls were 11-for-23 from behind the arc. The Grizzlies were just 1-for-7.
What's next:
The Bulls finish off a four-games-in-five-nights stretch Tuesday night when they host the
Charlotte Bobcats
. After so many games in a row, and without Noah and possibly Boozer again, it will be interesting to see how much gas Tom Thibodeau's team has left in the tank.
January, 16, 2011
1/16/11
4:28
PM CT
March, 4, 2010
3/04/10
11:57
PM CT
The
Chicago Bulls
have entered a brand new world.
Without
Joakim Noah
, they are obviously a different team -- one that struggles in the post, struggles to grab rebounds and struggles to find energy on a consistent basis. They did all of those things on Thursday night as they gave away a 17-point lead and ended up giving away a very winnable game to the
Memphis Grizzlies
in a 105-96 loss.
[+] Enlarge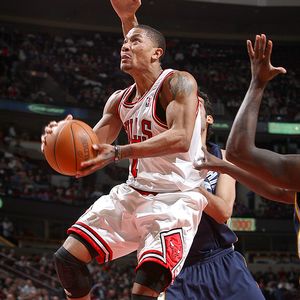 Gary Dineen/NBAE via Getty ImagesDerrick Rose chipped in 20 points in the Bulls' loss to the Memphis Grizzlies on Thursday.
It would be easy to look at the numbers and see how the Grizzlies were able to come back and win. They shot 53 percent from the field and out-rebounded the Bulls 46-31. The most glaring thing about Noah's absence, though, is not something you'd be able to pick up from a statistic.
That's because Noah, the team's emotional leader, provides so much energy that feeds his teammates during the game. He's the guy who provides the spark for the Bulls when they are in need of one, as they were several times on Thursday night.
Without Noah in the lineup, the Bulls have to pull off the most difficult of basketball feats.
They have to figure out a way to win while the heart of their team sits on the bench in street clothes with a brace on his foot.
"It's the worst, man," Noah said of having to watch his teammates struggle without him. "I want to be out there and I want to play. At the same time if it's to play for five minutes and not be able to play the rest of the game, there's no [point]. It doesn't make sense. It's just tough right now, a tough loss. Obviously, of course I want to be out there. It's hard not to be. But I got to do what I got to do."
It's clear to anyone who has watched the Bulls this season, including the players, that Noah's presence is something that the team simply couldn't lose.
"That's a player you can't replace," Bulls point guard
Derrick Rose
said. "He's a good player. We're hoping that he comes back soon. We know his injury is going to keep him out for a while, but we can't use that as an excuse. We still got to go out there and play the game."
Even Rose admits that there really isn't another player who can replicate the passion that the big center provides.
"He's that type of guy," Rose said. "When he comes in he's always talking, always doing effort plays to give us extra possessions out there. Right now we've just got to find a way without him out there."
Rookie forward
Taj Gibson
echoed Rose's sentiments. He admitted that he notices a difference in the team's energy without Noah on the floor "especially in the fourth quarter when it's time to bring it home.
"We just need that kick and [Thursday] night you could just feel it," Gibson said. "Sometimes you play the game so much you can sense something in the air, you've got a vibe when your team is just not pulling through right now. We got to pick it up. Guys can talk it, like 'Come on, let's go. Let's go.' But it takes action on the court. It was tough. We didn't pull through towards the end. And it's frustrating."
What has to be especially troubling for
Vinny Del Negro
& Co. is that Noah provided exactly the type of vocal presence that Gibson said was lacking on Thursday night.
"It's been frustrating," the Bulls coach admitted before the game. "But you can't let that sink in. You just got to keep battling and fighting. No excuses. There's no question. Talent, size. Having Jo out there, we're a different team. That's just the way it is. Every team's got to fight through it. Some have more injuries than others. You just got to keep on battling. Our guys are staying together. They've handled a lot of adversity this year. We got 22 games and we've just got to keep battling and fighting."
Without Noah, that's going to be an excruciatingly painful hill to climb.
"I'm just trying to get ready as fast as I can," Noah said of his possible return. "[Thursday night] was definitely a tough loss. Games like this are games that we really need to win, especially at this time of year. But we can't get discouraged. We got a lot of tough games coming up so we just got to get ready. I'm just trying to do the things I can control and get back there as soon as I can -- hopefully sooner than later."
If Noah's return doesn't come soon for the Bulls, they won't have to worry about a later.
This season will be over and the possibility of a playoff berth will have slipped away.