Chicago Bulls:

Mike Krzyzewski
November, 12, 2013
11/12/13
3:53
PM CT
CHICAGO -- The Champions Classic at the United Center is so big that even
Chicago Bulls
coach Tom Thibodeau is going to try and leave the confines of his office at the Berto Center on Tuesday so that he can be in attendance.
It's rare that college games create this kind of buzz so early in the season but that's exactly what has happened, even within the Bulls locker room, because of the teams in play. When Michigan State faces off against Kentucky and Duke squares off against Kansas, there will be plenty of interested eyes on those games from within Thibodeau's locker room.
Carlos Boozer
,
Mike Dunleavy
Jr. and
Luol Deng
all played at Duke under Mike Krzyzewski. Thibodeau served as an assistant under Krzyzewski on Team USA's staff last summer.
Derrick Rose
played for Krzyzewski on Team USA in 2010.
Rose played for John Calipari when Calipari was the coach at Memphis and
Marquis Teague
played for Calipari just a couple of seasons ago at Kentucky.
Nazr Mohammed
is a proud Kentucky alumnus and
Kirk Hinrich
played at Kansas. All those connections are part of the reason many players plan to join their coach at the United Center on Tuesday night.
November, 11, 2013
11/11/13
11:40
PM CT
CHICAGO -- It appeared to be no coincidence that on the night
Mike Dunleavy
showed up for the
Chicago Bulls
with 10 key fourth-quarter points, somebody else important in Dunleavy's development was making his presence felt as well on Monday.
Duke coach Mike Krzyzewski was inside the United Center as Dunleavy had his best game in a Bulls uniform, helping to prevent a potential
Cleveland Cavaliers
rally with a pair of late field goals, including a 3-pointer, and five free throws. Chicago pulled away for a 96-81 victory.
Dunleavy is now 11 years removed from his days at Duke, but the instinct to impress his former coach remains strong.
"It's nice having the good Duke vibes around, other than my teammates in Carlos [Boozer] and Luol [Deng]," Dunleavy said.
Those Duke vibes were strong as the entire current Blue Devils team was on hand Monday night, one day before it was scheduled to take the same United Center court for a doubleheader that also featured fellow college basketball powerhouses Michigan State, Kentucky and Kansas.
Krzyzewski met with his former players before the game, while Dunleavy waited for the final 12 minutes to make his mark. He finished the night with 15 points, four rebounds and two assists in 24 minutes, finally looking like the player the Bulls thought they were getting in the offseason.
"I thought there in the third quarter there was a sequence where we got into a little bit of a rhythm and then I thought Mike did a very good job in the fourth quarter for us," Bulls coach Tom Thibodeau said.
October, 16, 2013
10/16/13
5:17
PM CT
Team USA coach Mike Krzyzewski found it an easy decision to add Tom Thibodeau to his staff this summer, thanks to a scouting report from two of his former
Duke Blue Devils
.
Luol Deng
and
Carlos Boozer
gave him the lowdown on how Thibodeau motivates them and the rest of the
Chicago Bulls
day in and day out.
"Before the announcement was made about him being one of the assistants I asked my guys who played for him. I have a couple guys who've played for him in Chicago, and they love him," Krzyzewski told ESPNChicago's Nick Friedell on Tuesday. "They say, 'Coach, we're unbelievably prepared. He's the best. We fight for him and we know he'd fight for us.'"
May, 3, 2013
5/03/13
7:13
PM CT
By
Staff
| ESPNChicago.com
Carlos Boozer
and
Luol Deng
in college, said the culture coach Tom Thibodeau has created with the
Chicago Bulls
is the reason the team is able to deal so well with injuries.
"I think Thibodeau is one of the great coaches in basketball," Krzyzewski said Friday on "Mike & Mike In The Morning." "He's developed a culture of tough character.
"I know Carlos obviously really well, I've coached him, I coached Luol, those kids ... they just have great character. And the Bulls are a blue-collar team in a blue-collar town, and I think it's one of the great stories right now in the NBA, what the Bulls are doing.
"I think they have a philosophy that they don't talk about being sick all year. They don't talk about being hurt all year, so when the moment of truth comes in the playoffs, they're already accustomed to a certain way of living."
Krzyzewski said the Bulls' personality fits that of the city.
"My older brother is a retired Chicago fire captain," he said. "He worked for 38 years and never missed a day of work. To me, that's how the Bulls are. That's how they live. And so when they get to the playoffs, it doesn't matter. Who do we have out there? We're going to go out there and we believe we're going to win, and those fans react to that because that's the type of town it is."
Duke coach Mike Krzyzewski, who coached
May, 14, 2012
5/14/12
2:43
PM CT
Coach Mike Krzyzewski said Monday that not having the injured
Derrick Rose
will be a "big loss" for Team USA in its defense of the gold medal at the London Games this summer.
Read the entire story
.
July, 22, 2010
7/22/10
10:34
PM CT
LAS VEGAS --
Derrick Rose
was asked again on Thursday afternoon if he would ever consider leaving Chicago the way
LeBron James
left Cleveland earlier this season. And in as many words, as he told me on Wednesday, he had the same response:
Why would I?
"It would be bigger for me to win another championship [in Chicago] than to win somewhere else," he said. "The city would love me. It would be bigger for me to even get to the second round, so imagine a championship."
Rose taking tips:
Denver Nuggets
point guard
Chauncey Billups
has always spoken highly of Rose's talents, so it should come as no surprise that Rose is taking as much advice as he can from the NBA veteran.
"Chauncey, he's a veteran guy, if anything I try to learn that speed isn't everything," Rose said. "With him, he gets things done using basic little moves, using his strength and using his experience on the court and I know it's going to take me a long time to get used to it, but I think that I should be there one day."
Coach K showing no favoritism:
I asked Team USA head coach Mike Krzyzewski if it meant any more to him that Rose, like himself, was a Chicago native. The longtime Duke head coach stressed that he wasn't about to play any favorites.
"I just know Derrick very well because of his Chicago roots," Krzyzewski said. "But it doesn't mean any more to me for Derrick to be here than
Russell Westbrook
or
Stephen Curry
because I like all of them. There's no favoritism or anything like that. Even if I like the Bulls or whatever ... Everyone's treated the same, they all have USA on their jerseys."
February, 10, 2010
2/10/10
1:26
PM CT
[+] Enlarge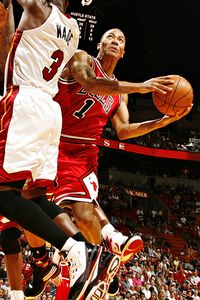 Issac Baldizon/Getty ImagesDerrick Rose saw one of his career goals realized when he was named to the U.S. national team roster.
Derrick Rose has said many times that he would love to be on the Olympic team for the 2012 London Games.


Now he will get his chance to prove that he belongs on the team.


The Chicago Bulls point guard was one of 27 players named to the U.S. national team roster on Wednesday. Rose and the rest of the group will head to Las Vegas for a mini training camp in July, and the roster will be pared down from there as the team gets ready for the World Championships this summer.


"I think we've taken a step up from the pool that we had in the last quad," U.S. coach Mike Krzyzewski said during a conference call Wednesday. "It's exciting to see this many people interested in being part of the program."


Obviously, one of those people is Rose.


"Yeah, that's something I would love to play [in]," Rose told me in November, regarding the possibility of playing on the Olympic team. "Hopefully, they have me on the team."


It was clear to Krzyzewski that the 21-year-old is only getting better and truly wants to be part of the National team.


"He's improved a great deal," Krzyzewski said of Rose's progression. "He's having a sensational year, especially in this second half [of the season] in bringing the Bulls back into playoff contention."


Rose's passion for the national program made an impression on the head coach.


"Derrick has made a commitment to us by being on the select team," he said. "He was there this past summer. Having these type of [national] teams get these younger players involved, then they feel the spirit and they also feel that we want them. They feel like they belong.


"One of the great sights in the last quad was leaving one of the little high school gymnasiums in Las Vegas and at the end of the practice seeing 25-30 NBA players from the Olympic team and from the select team all on that little court at the same time and building the camaraderie. We believe that Derrick has felt that, and he's a welcome addition to the pool."