Chicago Bulls:

NBA lockout
November, 27, 2011
11/27/11
4:02
PM CT
By
ESPN.com news services
November, 26, 2011
11/26/11
7:44
AM CT
NEW YORK -- NBA owners and players reached a tentative agreement early Saturday to end the 149-day lockout and hope to begin the delayed season on Christmas Day.
Read the entire story
.
November, 25, 2011
11/25/11
6:46
PM CT
By
ESPN.com news services
NEW YORK -- NBA owners and players resumed talks Friday aimed at ending the 148-day lockout in time to save the league's Christmas Day schedule.
That deadline has created a sense of urgency because the Dec. 25 schedule is traditionally a showcase for the league. This season's three-game slate was to include
Miami
at
Dallas
in an NBA Finals rematch, plus MVP
Derrick Rose
leading
Chicago
into Los Angeles to face
Kobe Bryant
and the
Lakers
.
Read the entire story
.
August, 26, 2011
8/26/11
2:59
PM CT
Chicago Bulls
guard
Kyle Korver
is quick with a joke when asked what he's been doing since the NBA lockout began on July.
"Well, I haven't been to the Berto Center, I'll tell you that" he quipped during a phone conversation on Friday.
Korver, who is in Utah for the weekend doing various charity events for his foundation, doesn't sound optimistic that the NBA season will start any time soon.
[+] Enlarge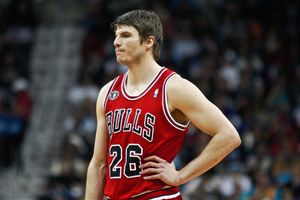 Derick E. Hingle/US PresswireDon't count on Kyle Korver playing overseas during the NBA lockout.
"I have not heard many good things," he said. "I haven't heard a real sense of urgency to be honest. It feels like the owners have it set in their minds what they're going [to want] ... they haven't budged one bit. It's hard to negotiate when only one side is willing to negotiate, and that's what it feels like right now. If you're on the other side of a negotiation and you know the other side's not budging, how do you really talk to them?
"It's not going well ... for sure, it looks like the season's not going to start on time. It's really frustrating because the NBA's never been more successful. It's never made more money. From [the players'] standpoint, you don't understand why ... how do you lose money? I don't understand. The NBA made like $2.4 billion this year. So that's frustrating. Especially coming off a year where your team did well and you want to keep building on that, and you're being locked out and not being able to play."
Korver knows that the camaraderie the Bulls had last season is one of the major reasons why the team was so successful, and he doesn't want the group to lose that during the lockout. That's why, like several of his teammates, he is trying to coordinate workouts for the team on the West Coast which would take place over the next month or two.
"A lot of guys are playing on national teams or playing overseas. I think Derrick's [Rose] been playing a couple exhibitions, so until those kind of wind down, we obviously can't really do it," Korver said. "But there has been talk about meeting up somewhere in California. L.A. or Santa Barbara or somewhere and having some kind of team meetings, team workouts. You want to be ready. And we have a team that relies on chemistry, and we want that chemistry to be there. That's definitely something we'll be getting into in the next month or so."
That drive to succeed is one of the messages Bulls coach Tom Thibodeau wanted to continue to instill in Korver, and others, before the lockout hit.
"He basically said that we've got to bring more than we brought last year," Korver said. "We got a taste of what it can be ... We got a lot of young guys who can keep getting better. And that's basically what he was preaching. He wants us to do a lot of the same of what we did last year, just do it better. Coming into camp in great shape is going to be a really good thing. There's a lockout, there's going to be a lot of downtime. Don't let yourself slide. And whenever the time comes, be ready to go."
That's what Korver has been trying to do. He has split his time between Chicago, working with Dave Vitel of Loyola University (formerly the
Minnesota Timberwolves
strength and conditioning coach) and California, working with Marcus Elliot at the P3 training facility in Santa Barbara.
"I'm down there working out, trying to stay ready in case this season does start," Korver said. "I'm treating it like the season's going to start in a month, even though it doesn't look real good. Just getting ready in case it does happen."
In the meantime, Korver's got plenty of other things going on his life at the moment.
He got married just a couple weeks ago in Chicago and is looking forward to spending some time with his new bride.
"It's a big step in life, but I'm ready," he said. "I found the girl that I wanted to marry, so it's good."
As for a possible move overseas to play while the lockout continues, don't bank on it.
"When I go to Europe, I want to sit on beaches and have amazing dinners and red wine," he said with a laugh. "I don't want to go there and play basketball."
Contrary to popular belief, Korver doesn't seem to think there's a job overseas for every NBA player that wants one.
"I really don't think the opportunity's there for everybody like everybody seems to think there is," he said. "If something great came up, obviously you would look at it and probably take [it]. You only get to play basketball at a professional level for so long. You got to find something else to do. You get a little old. But I'm not actively [searching for a job overseas]. I just got married. I'm going to enjoy that and get ready for this basketball season. I still have hope that it's going to happen. We'll kind of see from there.
"If you're an All-Star, I think you can go over there and make some pretty good money, but if you're not, there's only so many teams that are reliable to pay. If something comes across, obviously you look at it, and if it's a good deal you probably take it. But I don't have my agent scouring Europe for a contract for me."
That's a far cry from the attitude of Korver's former
Utah Jazz
teammate
Deron Williams
, who was the first big-name NBA player to sign a deal with a club overseas (Besiktas in Turkey).
"He's been thinking about this for like a year," Korver said of Williams. "It's something that he's really wanted to do. I think he wants to go there for the basketball. He wants to [have] the window of when he can play and play at a high level. And he wants to take advantage of it. I think he sees the bigger picture; both for himself from a marketing standpoint and also, he has a young family. And to have your kids overseas at a younger age and obviously taken well care of and [having] school over there, I think it's a great experience for them. He's got four kids. So he's really excited about it."
Korver is excited about the present. He and Williams are scheduled to host the 'Dodge Barrage' Charity Dodgeball Tournament on Saturday and the Bulls sharpshooter recently started a new project which he is excited about called 'RAIN' (Renewing and Inspiring Neighborhoods).
"We found a neighborhood that we want to try and change, try to help," he said. "We went and knocked on their doors, and we asked them if we could paint their houses, redo their roofs, redo their landscaping, pour a new sidewalk. Today we have 120 volunteers coming to help out for five or six hours later on today ... [Saturday] we've got dodgeball, so it just makes for a really good weekend."
June, 29, 2011
6/29/11
1:25
PM CT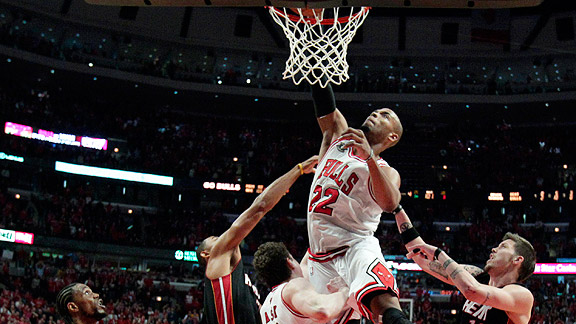 AP Photo/Nam Y. HuhTaj Gibson took major strides last season, and he's talking to Tom Thibodeau about how to improve.
CHICAGO -- Each member of the Bulls organization knows their world is going to feel a little differently on Friday morning, and they're all planning accordingly. The dreaded NBA lockout is expected to hit on Friday, which means that players cannot have contact with anyone within the organization, a fact that they've discussed among themselves since the season ended last month.
That's why several players have already discussed plans to work out with each other over the next few months, at least until the labor situation is figured out.
"Yeah, we talked about it," Bulls forward
Taj Gibson
said recently on the "Waddle and Silvy" show on ESPN 1000. "I talked about it with
Carlos Boozer
], I'm heading down to Miami for a little to work out with him. I talked about it with
Keith Bogans
[last Thursday] night. One thing [is] my team has been in contact with each other. I see Luol [Deng] and I talk to Luol a lot, but it's really gonna come down to us staying in contact with each other and work something out."
New Bulls draft pick
Jimmy Butler
reiterated the same sentiment during his introductory press conference on Monday afternoon.
"I just expect to work out," Butler said, while discussing the possibility of a work stoppage. "Maybe at IMG [sports agency]. I've been talking with [former Marquette teammates] Wes [Matthews] and maybe him and Lazar [Hayward], maybe out in LA. Maybe continue to get better every day. Never take a day off, like I always say, and when the NBA's here, I have to be ready."
Like Gibson, Butler mentioned how important he thought it would be to work out and learn from his teammates during this time. That was undoubtedly music to the ears of Bulls GM Gar Forman. While Forman didn't want to discuss specifics regarding the potential lockout, he did acknowledge that the Bulls' roster is made up with the types of players who would go out of their way to work out with each other if they are locked out of the Berto Center.
"We like our group," Forman said. "And I think we've got a close knit group. And we've got guys that genuinely like each other and spend time with each other. We've also got guys that are workers. And we've already had a number of guys in the Berto Center that have started their offseason conditioning and skill work and those type of things. We've got guys that are motivated to get better and, I think, guys that it hurt when we lost that last series [to Miami in the Eastern Conference finals]. And I think we'll have a group that will be ready to go when we get back together."
That's the message Bulls head coach Tom Thibodeau is obviously trying to impart to his players as well.
"Thibs has been having a lot of meetings," Gibson said. "He's been bringing a lot of guys in. Me and
Omer Asik
] have been down there a lot, especially working out with Thibs and the other [members of the] coaching staff. You never know if there's gonna be a lockout, but we just wanted a chance to get closer to the coaching staff and learn some more."
For Gibson, each moment with Thibodeau and his staff is important to him. He knows the coach wants him to take another step in his game next season and he realizes he needs to soak up all the time he can with him before Friday.
"I had a good year, that's what [Thibodeau] said," Gibson recalled of his meeting. "He told me he was proud of me. He told me, 'You could take it to the next level.' He said, 'This summer, I want you to work on your game a little harder and just think of what it felt like to get to the Eastern Conference finals and lose. You don't wanna feel that feeling again and then our team will be better.' We will be more experienced, and he just said he wants me to be more of a leader next year seeing how last year was so much of a learning process. But he said next year he expects guys to understand what they have to do on the court and be role models and leaders."
Given the type of character the Bulls have, that shouldn't be a major issue. The bigger issue for the players and coaches will be how they're going to survive the next few months without seeing each other almost every day.