Chicago Bulls:

NBA schedule
December, 22, 2011
12/22/11
9:21
PM CT

By Nick Friedell
ESPNChicago.com
Archive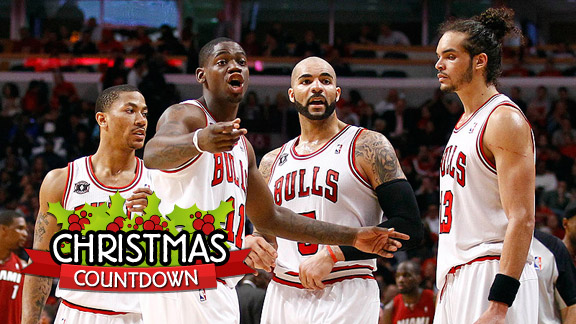 Mike DiNovo/US PresswireThe Bulls face a rigorous 66-game schedule these next four months.
The Chicago Bulls will face the same kind of challenges that every other team faces this season when it comes to the schedule. It's brutal. There is a game almost every day and most days off will be spent on airplane going to another city. It is the kind of 66-game sprint that no coach or player wants to deal with. Having said that, the Bulls are confident they can handle the extra pressure; they may very well have the deepest team in the league. With that in mind, let's take a quick look at the Bulls' schedule and try to figure how they will fare during this shortened regular season.
December
25 @ Lakers, Win: Whether Kobe Bryant plays or not, the Lakers still won't have Andrew Bynum, who is suspended. The Bulls simply have more talent right now.

26 @Warriors, Loss: The Bulls always seem to struggle in Oakland. That won't change as they play their first back to back.

29 @Kings, Win: Who is going to stop Derrick Rose in Sacramento? Nobody.

30 @Clippers, Loss: Vinny Del Negro gets some revenge as Chris Paul and Blake Griffin have too much energy for the Bulls.

January
1 Vs. Grizzlies, Win: The Bulls make a few extra plays down the stretch in a very exciting game.
3 Vs. Hawks, Win: That
Joe Johnson
contract makes the
Carlos Boozer
deal look great.
4 @ Pistons, Win: Rip Hamilton wins his homecoming game.
6 @ Magic, Loss:
Dwight Howard
always gives the Bulls problems. He should still be in a Magic uniform for this one.
7 @ Hawks, Win: Noah comes out to make a point against his old college teammate
Al Horford
.
9 Vs. Pistons, Win: The Pistons are not very good.
10 @ Timberwolves, Win: Carlos Boozer has another big night against an up-and-coming Wolves' team.
11 Vs. Wizards: Win, The Wizards stink.
13 @ Celtics Loss. Scal gets another huge ovation. Bulls take a loss.
14 Vs. Raptors, Win:
James Johnson
's new hairdo is almost as bad as his new team.
16 @ Grizzlies, Loss: Memphis gets some revenge after an early-season loss.
17 Vs. Suns, Win:
Steve Nash
will be hoping he gets traded right around this time.
20 @ Cavs, Win:
Kyrie Irving
is good. Derrick Rose is a lot better.
21 Vs. Bobcats, Win:
Michael Jordan
wishes he could trade teams.
23 Vs. Nets, Win:
Deron Williams
loses to Rose again.
25 Vs. Pacers, Win: Bulls win another slugfest against Indiana.
27 Vs. Bucks, Win: Bulls win in last home game before nine-game trip starts.
29 @ Heat, Loss: James and Wade get last laugh in this one.
30 @ Wizards, Win: Flip Saunders stays in misery.
February
1 @ Sixers, Win: Bulls pick up a win in Philly, something they struggled with last year.

2 @ Knicks, Loss: The back-to-backs are starting to catch up to the Bulls.

4 @ Milwaukee, Win: Bulls are halfway through tough stretch.

6 @ Nets, Win: The Bulls' depth wins them another game.

8 @ Hornets, Win: Unless the Bulls are partying on Bourbon Street the night before, they will win.

10 @ Bobcats, Win: The Bulls sleepwalk to a win in this one.

12 @ Celtics, Loss: The end of the trip catches up with Tom Thibodeau's team.

14 Vs. Kings, Win: Bulls struggle to get a win in first game after long trip.

16 Vs. Celtics, Win: Noah gets the best of Kevin Garnett in this one.

18 Vs. Nets, Win: Will Dwight Howard be playing for the Nets at this point?

20 Vs. Hawks, Win: Kirk Hinrich plots his move back to the Bulls from the Hawks' bench.

22 Vs. Bucks, Win: Brandon Jennings is in Rose's shadow ... again.

28 Vs. Bobcats, Win: Bulls pick up first win after the All Star break.

29 @ Spurs, Loss: San Antonio isn't the same team it used to be, but the Spurs are still pretty good.

March
2 @ Cavs, Win: Hamilton has another good shooting night for the Bulls.
4 @ Sixers, Loss: Bulls continue their Philly struggles.
5 Vs. Pacers, Loss: The Bulls can't win them all at home, right?
7 @ Bucks, Win: Rose refuses to allow his team to lose three in a row.
8 Vs. Magic, Win: The odds are slim that Howard will still be playing for the Magic at this point.
10 Vs. Jazz, Win: When all else fails, give the ball to Rose and get out of the way.
12 Vs. Knicks, Win: Bulls win an exciting battle at the United Center.
14 Vs. Heat, Win: The most electric atmosphere of the season to date.
16 Vs. Blazers, Win: The hits just keep on coming at home.
19 @ Magic, Win: Who will the new Magic star be at this point?
21 @ Raptors, Loss: The Bulls are due for a letdown against a bad team. It happens to everybody.
24 Vs. Raptors, Win: Thibodeau gets his team back on track.
26 Vs. Nuggets, Win: Are all the Nuggets back from China yet?
28 Vs. Hawks, Loss: The Hawks play an inspired game against a tired Bulls team.
30 Vs. Pistons, Win: Seriously, the Pistons are bad.
April
1 @ Thunder, Loss: Bulls lose a potential Finals preview.

2 Vs. Rockets, Win: What will the injury situation look like at this point?

5 Vs. Celtics, Win: The Bulls get up for a big one against Boston.

8 @ Knicks, Win: Rose and company take care of business against an improving Knicks team.

10 Vs. Knicks Win: Another win against Carmelo and friends.

12 Vs. Heat, Win: Another Eastern Conference finals preview.

15 @ Pistons, Win: The Bulls take advantage of a few days off before this one.

16 Vs. Wizards, Win: Nick Young wonders what might have been in Chicago.

18 @ Bobcats, Loss: The Bulls can't find the effort on this night.

19 @ Heat, Loss: Dwyane Wade comes through in the clutch in this one.

21 Vs. Mavericks, Win: The Bulls respond with a nice effort against the defending champs.

25 @ Pacers, Loss: The Pacers defeat a Bulls team that has already locked up its postseason seed.

26. Vs. Cavs, Win: Thibodeau's team ends on a regular season high note.

Projected final record: 49-17
December, 6, 2011
12/06/11
6:26
PM CT

By Nick Friedell
ESPNChicago.com
Archive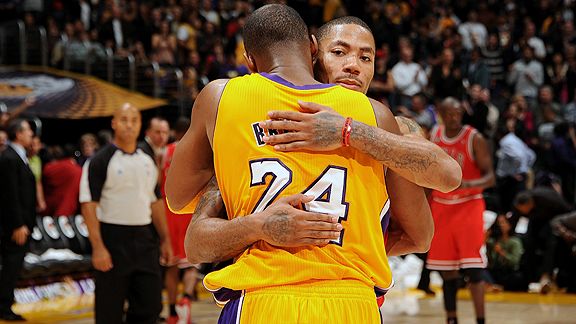 Andrew D. Bernstein/NBAE/Getty ImagesThe Bulls will open their season against Kobe Bryant's Lakers on Christmas Day.
The Bulls' schedule is out and it isn't all that easy. Let's take a look at the highlights:
The five most anticipated games
1. Bulls at Lakers, Dec. 25
This is the NBA's showcase game on Christmas Day. Derrick Rose versus Kobe Bryant. This contest is the only matchup between the Bulls and Lakers this season.


2. Grizzlies at Bulls, Jan. 1
The Bulls' home opener features a very interesting matchup between two of the league's youngest and most exciting teams. Memphis guard O.J. Mayo is a player the Bulls have been rumored to be interested in.


3. Bulls at Celtics, Jan. 13
The Bulls didn't win a game in Boston last season. Will that change this time around against Kevin Garnett & Co.?


4. Bulls at Heat, Jan. 29
The first of four meetings between the two teams that squared off in the Eastern Conference finals.


5. Mavs at Bulls, April 19
A late-season tilt with the defending NBA champions in Dallas could serve as a playoff tune-up for Derrick Rose & Co.


Toughest stretch of games
Jan. 29-Feb. 12:The Bulls will embark on a nine-game road trip that starts in Miami and ends in Boston. This will be one of the toughest stretches in recent memory for a Bulls team that figures to be exhausted after the first week, given it'll play four games in the first five nights.
Easiest stretch of games

Most of January: After a short three-game trip to Detroit, Orlando and Atlanta, the Bulls begin what figures to be their most relaxed portion of the schedule. Starting with a home game against the Pistons on Jan. 9, the Bulls will go on the road only four times until a Jan. 29 showdown at Miami. In the meantime, they face a large chunk of teams that didn't qualify for the playoffs, including Washington, Toronto, Cleveland and New Jersey just to name a few.
Who's missing?
The only Western Conference teams the Bulls will see twice are Sacramento, Memphis, New Orleans. Every other Western Conference team they will see only once. The Bulls play the Heat and Celtics four times. They'll see the Magic three times.
Road weary


Every NBA team will have room to complain about the condensed schedule, but the nine-game road trip is brutal for the Bulls. Luckily for Thibodeau and & Co., they have only one back-to-back-to-back stretch Jan. 9, 10 and 11 home against the Pistons, at Minnesota and back home against the Wizards.
The Bulls will play 33 home games and 33 away games. Although it's hard to look too far ahead with this schedule, the Bulls should be able to at least catch their breath at the end of April. They'll have three days off before a back-to-back to finish the season at Indiana and then home against Cleveland.
The Bulls will play 17 pairs of back-to-back games and one set of back-to-back-to-back games.