Chicago Bulls:

New Orleans Hornets
February, 19, 2013
Feb 19
11:57
PM CT
NEW ORLEANS -- As the
Chicago Bulls
got set to open up the second half of the season Tuesday night, coach Tom Thibodeau's main message was simple: Play with more intensity.
[+] Enlarge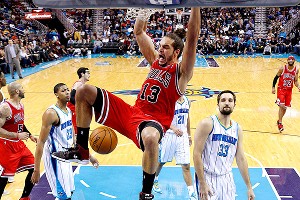 AP Photo/Jonathan BachmanJoakim Noah opened the second half of the season with 15 points and 17 rebounds against the Hornets.
After grinding out a 96-87 victory over the
New Orleans Hornets
, the Bulls, who had lost four of their past five coming in, delivered for their coach.
"I thought the level of intensity was very good," Thibodeau said. "I loved the pace to start the game. I thought our defense was solid. The ball was hoppin', making quick decisions, not shortcutting things, making the extra pass, setting good screens, I thought overall it was very good. Joakim (Noah) was everywhere, multiple effort plays and that was probably one of his best screening games since I've been here."
Noah set the tone and led the way with 15 points, 17 rebounds and five assists. Thibodeau chided the media before the game while discussing Noah comments after Sunday night's All-Star Game in which he said that he hadn't slept in three days after enjoying his time in Houston. Thibodeau never doubted that Noah would come back in the second half of the season and play well.
February, 19, 2013
Feb 19
9:24
PM CT
NEW ORLEANS -- Here's a quick look at how the
Chicago Bulls
earned a 96-87 win over
New Orleans Hornets
on Tuesday at New Orleans Arena.


How it happened:
Luol Deng
had 20 points and five rebounds to help lead the Bulls.
Carlos Boozer
added 17 points and pulled down 10 rebounds while
Joakim Noah
almost pulled off another triple-double with 15 points, 17 rebounds and five assists.
Eric Gordon
led the Hornets with 17 points.
What it means:
After losing for of their past five, the Bulls needed this game to get back on track. Tom Thibodeau wanted his team to play with more intensity from start to finish and it appeared as if they listened to him. As usual, Deng and Noah helped lead the way on both ends of the floor. The issue Thibodeau will have is that his team looked rusty for long stretches and did not always play the methodical style that Thibodeau prefers. What Thibodeau will be pleased with is the fact that
Kirk Hinrich
is back in the lineup and provided the offense with the kind of stabilizing force it has been looking for. With Hinrich back, the Bulls had a much easier time getting into plays and shots appeared to come easier for Hinrich's teammates. If he can stay healthy -- and that's a big if given all the injuries he's dealt with this season -- Hinrich will provide the Bulls with the type of offensive structure they have missed over the last few weeks.
Hits:
In six minutes of play,
Nazr Mohammed
knocked down two jumpers and gave Noah a much-needed break. If he can keep doing that in short bursts Thibodeau may decide to use him more.
Misses:
Nate Robinson
was just 2-for-9 from the field.
Stat of the night:
The Bulls did not shoot a free throw in the first half.
What's next:
The Bulls get ready for a Thursday night showdown against the
Miami Heat
.
November, 5, 2012
11/05/12
11:29
PM CT
DEERFIELD, Ill. -- When
Luol Deng
's name is announced at the United Center this season, the introduction will sound a little different. That's because Deng has decided to be introduced from his home country, South Sudan, not Duke University.
[+] Enlarge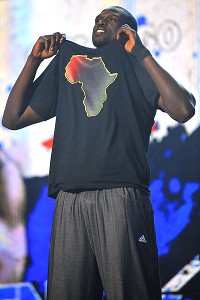 David DowNBAE/Getty Images Luol Deng, who held up a shirt with the outline of Africa in the All-Star Game last season, has incorporated his home country of South Sudan in his player introduction.
It's a decision that makes the veteran forward very proud.
"I love Duke, it's nothing against Duke," Deng said after Monday's practice. "Me and Coach K are friends, everything is fine. I just felt like I didn't get to do it last year, but after we got our independence, being from South Sudan, I wanted people to recognize South Sudan. A lot of times we'll still say South Sudan and a lot of people you're in Sudan, but we're our own nation now. So (as a way) of recognition, whoever's sitting in the crowd, or listening at home on TV and hears that, they can go and Google it. South Sudan is it's own nation, so I'm proud of that."
Deng, who memorably held up a shirt with the outline of Africa at the All-Star Game last season in Orlando, admitted that the first time he heard the introduction from South Sudan was something he won't forget.
"It was great," he said. "It felt great, honestly. I've never done it my whole life, it was a great feeling."
Where to go without Derrick?:
The Bulls struggled to find a go-to guy in Saturday's surprising loss to the
New Orleans Hornets
.
Richard Hamilton
,
Carlos Boozer
,
Joakim Noah
and
Kirk Hinrich
combined to go just 8-for-38 from the field, leaving a longing for the days when
Derrick Rose
used to swoop in and save the day for the Bulls. While Tom Thibodeau doesn't seem outwardly concerned, it's clear in listening to him, and watching them try to execute late, that the Bulls are still searching for the answer.
"It's not just Derrick," Thibodeau said. "Luol (Deng) has hit a number of big shots for us, Kyle (Korver) has hit a number of big shots for us. Of course Derrick has as well, but the game dictates who's going to take the shot. So if there's a double team, someone else has to step up and take the shot. Carlos (Boozer) has made a number of big shots, Rip (Hamilton) has made a number of big shots throughout his career so we have a number of guys that can make big shots."
Deng hopes that the Bulls will be able to figure out the right game plan without Rose down the stretch.
"Find ways," Deng said. "Derrick is doing what he's got to do to come back and when he gets back we're going to be a lot better. You can say in the game (Saturday) there's guys we had in the past that would have done certain things. It's just totally a different team and we got to find our own ways of winning those games. There's a lot of ways, we just didn't get it done the last game. You could say it's a learning process, a getting to know you process ... different nights it's going to be different guys on the floor, I think the more game we play we'll get familiar with each other and guys get familiar with each other on the floor."
Magic play hard ... like Bulls:
The
Orlando Magic
have played only two games under new coach Jacque Vaughn, but their style reminds Thibodeau of the one he's put in place in Chicago. The Magic, who come to Tuesday's game against the Bulls a surprising 2-0, play hard the way Thibodeau always preaches to his own team.
"They're an excellent team," Thibodeau said. "They're 2-0, they're leading the league in scoring right now. And if you're not ready they can burn you. (Arron) Afflalo is a terrific player,
Glen Davis
is playing at a high level, (Nikola) Vucevic is playing at a high level,
E'Twaun Moore
is a guy that a lot of people don't really know about and he's an excellent player ... the guys they have stepping in they're playing hard, they're playing together, they're playing smart, so we have to be ready."
Thibodeau believes the Magic could surprise some people this season.
"I coached Glen Davis I know how hard he plays," he said. "E'Twaun Moore I've heard a lot of good things about. (J.J.) Redick is someone I'm familiar with, he's a hard playing guy. Afflalo has got a great reputation for playing hard so they've done a good job. They're a little bit under the radar, but if you study them, they shouldn't be under the radar. They played very well in the preseason, they scored the ball very easily, so you can't let your guard down and you have to be ready from the start."
The last word:
Thibodeau on why the Bulls struggled so much on Saturday against the Hornets --
"We didn't play well. From the start of the game, the end of the second quarter, the start of the third quarter, and then the fourth quarter we did not play well. We rebounded the ball very poorly in the second half, we had 30 bobbles on rebounds and catches. We had a number of missed layups so it was a compilation of things."
February, 28, 2012
2/28/12
9:32
PM CT
CHICAGO -- Let's take a quick look at how the Chicago Bulls pulled out a 99-95 win over the New Orleans Hornets on Tuesday night at the United Center.


How it happened: Derrick Rose hit a running floater with 19.4 seconds to play that gave the Bulls a lead they wouldn't relinquish. The Bulls won a game they tried to give away at times. Rose finished the game with 32 points and nine assists. Joakim Noah had another solid performance, going off for 15 points and 16 rebounds. Luol Deng and Carlos Boozer each scored 14 points.
What it means: Tom Thibodeau is never very happy with the way his team performs after games, but he certainly won't be pleased with the way his team closed this game out. They played well at various points, especially with Rip Hamilton on the floor, but the Bulls defense was lacking at times and they got outworked by a scrappy Hornets team that never gave in. Obviously, the Bulls were working off some rust from the All-Star break. But Thibodeau knows his team is going to have to play a lot better in order to win Wednesday night against the San Antonio Spurs. Aside from Rose, the Bulls struggled to find consistent offense and went through too many scoring droughts. That kind of play is not going to be enough against the upper echelon teams the Bulls will be facing over the next few weeks.
Stats of the night: The Bulls outscored the Hornets 60-46 in the paint.
What's next: The Bulls next take on the Spurs, in a matchup between two of the NBA's best teams. Thibodeau has a lot of respect for the way the Spurs play, so it will be interesting to see how prepared his team is on the second night of a back-to-back.
February, 8, 2012
2/08/12
11:03
PM CT
NEW ORLEANS -- Listening to Tom Thibodeau speak after games this week is like listening to a rickety old juke box that plays the same song on repeat over and over again.
[+] Enlarge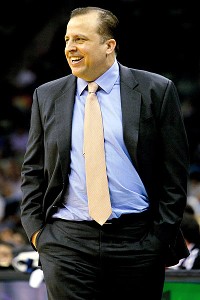 Derick E. Hingle/US PresswireTom Thibodeau's Bulls have been dominating inferior foes lately.
For Thibodeau and his players, the tune continues to sound just fine. Yet again they came out and absolutely dominated a terrible opponent on Wednesday night, crushing the New Orleans Hornets 90-67. Even Thibodeau, ever the perfectionist, is pleased with the way his team is playing. It's not even so much that they continue to win -- it's that the Bulls come out from the jump and just break team's wills.
"We try not to change our approach from game to game," Thibodeau said. "Practice, every practice the same. The challenge is to study, prepare, and when the ball goes up, know your opponent well. And know what you're going to try and get accomplished. I think if you build that habit, then you continually work on it and do the right things every day, the results will take care of themselves."
The Bulls have won the past three games against the Milwaukee Bucks, New Jersey Nets and Hornets by a combined 67 points. They've played suffocating defense at various stretches and they have getting clean looks at the basket most of the night.
"We're learning how to play with the lead," Bulls' forward Luol Deng said. "There's times when teams get a run, but we're better at it now than we were last year. There's a lot of times where we played well and we let teams get into it. And there's times when we played bad and played from behind. But I think guys are more comfortable, you're more confident when you come out and play with a lead."
So how have the Bulls, who have coasted at various points in games against bad teams earlier in the year, seemingly turned the corner? The players believe it all comes back to having the right mental approach.
"Staying focused," Bulls' point guard Derrick Rose said. "Knowing that we're on a mission and we can't take any steps back. It takes us playing with a lot of energy in the beginning, getting a comfortable enough lead that if [the starters] are out of the game, the bench can come in and do what they have to do."
As usual, the Bulls' bench gives Thibodeau a weapon most other teams don't have -- depth. Led by Taj Gibson, who had 14 points, the Bulls' reserves combined for 39 points and 19 rebounds. Not to mention the fact that the team's defense is as crisp as it's been all year. For a team that is now 22-6, the thought that the Bulls are actually getting better is a scary one for the rest of the league.
"We're learning," Rose said. "That's something that we had to work on. For the last couple of games, we've been jumping on people. And that's the right way to be."
February, 8, 2012
2/08/12
9:20
PM CT
NEW ORLEANS -- Let's take a quick look at how the Chicago Bulls cruised to a 90-67 win over New Orleans Hornets on Wednesday night at New Orleans Arena.


How it happened: Carlos Boozer had 18 points and six rebounds to pace the Bulls. Joakim Noah added 13 points and 10 rebounds as the Bulls rolled to another win against a bad Hornets team. The key for the Bulls once again was that their defense was on point. The Hornets struggled to find open looks all night.
What it means: For the third game in a row, the Bulls blitzed a bad team and didn't give them any chance to get in a game. That's a credit to Tom Thibodeau and his coaching staff for getting his team mentally ready to play. Meanwhile, Derrick Rose's back is clearly still bothering him. He played just 22 minutes and scored just six points. It will be interesting to see whether Thibodeau decides to rest him on Friday night or not.
Stats of the night: The Bulls outscored the Hornets 58-40 in the paint.
What's next: The Bulls continue their nine-game road trip Friday night when they take on the Charlotte Bobcats.
February, 8, 2012
2/08/12
12:28
PM CT
March, 7, 2011
3/07/11
9:48
AM CT
By
ESPN.com news services
Chris Paul
left the court on a stretcher in the Hornets' 96-81 victory over the
Cleveland Cavaliers
on Sunday night. The Hornets said the four-time All-Star was taken to the Cleveland Clinic, where tests showed that Paul had a concussion.
Paul rejoined the Hornets at the arena and accompanied them on their charter flight to Chicago. He will miss Monday's game.
Read the entire story
.
February, 12, 2011
2/12/11
11:26
PM CT
NEW ORLEANS -- Tom Thibodeau gets so excited, so nervous, so into the game that his team is involved in that his right hand usually shakes continuously during the game.
For the veteran coach, the constant motion in his hand must serve as a type of stress reliever; he so desperately wants his team to do well that the twitch must ease the nerves just a little bit. After the Bulls gave up 53 points to the New Orleans Hornets in the first half, those nerves had to be frazzled.
[+] Enlarge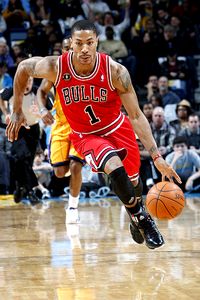 Layne Murdoch/NBAE via Getty ImagesDerrick Rose was aggressive on both ends of the court in Saturday's win.
In the final game of a two-week, five-game road trip, his team looked like it was ready to pack it in and go home. But Thibodeau wouldn't allow his players to settle for anything less than the high standard he has set for them. They made the proper adjustments in the second half and limited the Hornets to just 35 points for the rest of the game, proving once again that this Bulls team has completely bought into the defensive principles that the veteran coach has been selling since he was hired in the summer.
"We take pride in our defense," Thibodeau said after his team's 97-88 win. "And we know that to be a really good team and to be the type of team we want to be we have to be consistent with that. We're still not where we want to be and there's a lot of work to do, and you never have it all figured out, so it's something that we've got to work on every day. We got to keep trying to build the habits that allow us to be successful so when you go on the road, or the nights in which you're not shooting well, you still have a chance to win. The Utah game I thought our defense was a lot better. And I thought tonight our defense was solid, but we still have a lot of work to do in that area."
Pride may not even be the right word as far as Thibodeau is concerned when describing how he feels about his team's defense. Passion may be more like it. He realizes that his team is learning how to shut down games on the defensive end of the floor, and he enjoys the progression that it's making.
That's why he is so demonstrative on the sideline and seems as if any minute he could barrel on the floor. That's why his hand shakes. Thibodeau knows the big secret in the NBA -- he knows that if you want to win championships, you've got to be able to play defense. While the Bulls may not be at that kind of level yet, he knows they are on the right track. So do his players.
"We have a lot of confidence," Bulls forward Luol Deng said. "We know our first thing is defense. Our offense is fine, we're going to score, we got guys that can put the ball in the hoop. But when our defense is there we're really tough to beat and we're starting to realize that. And we've been playing great D. I thought we had two games that we didn't play great D, but like I said before, even when we lost two games, it's no time to panic. It's no point in worrying, we've been playing great and things like that are going to happen. It's a long season."
The confidence the players have in their defense speaks volumes to the way they have listened to Thibodeau throughout the season.
"With Thibs, you don't get complacent," Bulls guard Ronnie Brewer said. "You're always trying to work to get better. You're never really content where you're at, so every day we work on it and it can always get better. So that's our motive and that's how we approach every game."
In terms of approach, nobody has seemed more focused on the defensive end more than Derrick Rose over the past two games. After being called out by Portland swingman Nicolas Batum on Monday night for his lack of defense, Rose has stopped Utah guard Deron Williams and New Orleans guard Chris Paul in consecutive games. The pair was just a combined 8-for-23 in both games. While Rose has continuously tried to downplay the comments, there's little doubt they had an impact on him.
"I'm not even paying attention to what [Batum] said," Rose said. "I know that with our defense and the way we've been playing, I'm not worried about that. With our defense, we over-help with everything so if one guy is out of place our whole defense is out of place. And we've just been getting on right page right now, getting on the right rhythm, where a guy is driving we're stepping in front taking charges trying to go for the block. And in the Portland game and the other game that we lost [against Golden State] we weren't doing that."
Now they are. But you can bet that Thibodeau, ever the perfectionist, won't let his team rest on its laurels. Or the fact they just completed another West Coast trip with a winning record.
"We're not caught up in the record as much as we are looking at where we are," Thibodeau said. "And are we getting better? And are we improving? And are we making the necessary steps? And we feel if we do the right things the results will take care of themselves. We feel that we're a lot better than we were a month ago and we know that to be a really good team that we're going to have to continue to improve as we go forward."
February, 12, 2011
2/12/11
9:46
PM CT
NEW ORLEANS -- Let's take a quick look at how the Chicago Bulls upended the New Orleans Hornets 97-88 on Saturday night at New Orleans Arena.


How it happened: Derrick Rose had another big night scoring 23 points as the Bulls ramped up their defensive pressure in the second half and seemed to break the Hornets' will. The Bulls' bench played quality minutes. Ronnie Brewer and C.J. Watson combined for 16 points and Omer Asik added 11 rebounds. Even Keith Bogans chipped in with 11 points of his own. From a team-wide standpoint, it was one of the Bulls most complete victories of the year.
What it means: Not that the Bulls' players didn't know this before, but they realize more and more every night that they can shut teams down every night defensively. After giving up 53 points in the first half, Tom Thibodeau's team locked down the Hornets and frustrated them throughout the rest of the game. When the Bulls play defense in the second half the way they did on Saturday night, they have the ability to beat any team in the league.
Stats of the night: The Hornets scored just 35 points in the second half. The Bulls outscored the Hornets 36-20 in the paint.
What's next: The Bulls have a day off before hitting the practice floor on Monday. Given the momentum they've built over the last two games on this trip, it will be interesting to see how they respond on Tuesday night at home against the Charlotte Bobcats.
January, 30, 2010
1/30/10
12:38
AM CT
NEW ORLEANS --The old Bulls and the new Bulls both made an appearance on Friday night.
The new Bulls, who came into the contest having won four in a row, controlled the action for much of the game and it appeared for a while as if they would easily stroll to a victory and cap off a seven-game road trip in style. The old Bulls re-appeared late in the game though, as the team squandered a 15-point lead and went on a prolonged scoring drought in which they managed just four points over an almost 12-minute stretch.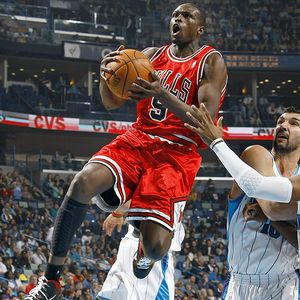 Layne Murdoch/NBAE/Getty Images
Luol Deng scored 26 points as the Bulls beat the Hornets in overtime.
Del Negro's team was exhausted and emotionally drained from all the time and travel of the past two weeks. All the confidence the team had built up during its surprising road trip appeared to be lost. Luckily for the second year head coach, though, his new and improved group found a way to claw its way back into the game and gutted out a 108-106 overtime victory over the Hornets.
After all the ups and downs the Bulls have experienced, there's no question Friday marked the team's highest point of the season thus far. More importantly for the Bulls head coach, it appears as if his more confident team is here to stay.
"We battled," Del Negro said after the game. "Our guys didn't give up. We showed some toughness and just found a way. We made plays when we had to. We got a big steal in regulation to get it to overtime and converted. And then in overtime, we were able to make a couple more plays than them. We'll take it. It's been a long trip. But I'm proud of the way the guys battled and hung in there."
The Bulls entire mindset has changed since dropping the first two games of this trip. They are playing like a completely different team than they were in the beginning of the year and it's clear that the players enjoy the metamorphosis which is taking place.
"It changed a lot," Bulls forward Luol Deng said of the team's mentality. "It's a long season. It's not like a college season where it's 30 games. If it was 30 games, our season would have been terrible. But [the NBA season] is so many games that you could have a bad month or two and turn it around. We've shown that right now. We're way better right now than we were at the beginning of the year."
If the Bulls go on to bigger and better things this season, this road trip will serve as the turning point.
"It just shows how close we're getting to each other," Bulls point guard Derrick Rose said of team's recent play. "This road trip was a great one. In the beginning it was kind of bad, but we stuck it through. Played good basketball. Rebound the basketball and play our usual way of up-tempo type game."
"Guys have been stepping up," Del Negro said. "Different guys. I thought Tyrus [Thomas] gave us good minutes again [Friday night]. Brad Miller stepped up in the Houston game. Different guys all the time making plays and that's what it comes down to. Understanding your role, executing it, being a team, being committed. And the guys are having fun.
"Winning breeds confidence. Hopefully we'll get back home, get some more rest. Now we got four [games] in five nights [coming up]. No easy games, no easy schedule, just take them one at a time."
If the Bulls continue to play the way they have been lately that shouldn't be a problem.
"We're playing really good basketball," Bulls center Joakim Noah said. "The positive is when there's adversity out there, we're finding ways to win basketball games. We just got to keep it up. Keep fighting and good things are going to happen for us."
If the past week and a half is any indication, they already have.