Chicago Bulls:

Nikola Mirotic
December, 4, 2013
Dec 4
11:21
AM CT
CHICAGO --
Derrick Rose
's latest injury may have closed the
Chicago Bulls
' championship window this season, but GM Gar Forman does not believe the window is closed for good.

"From a long-term perspective, we still feel like we're in a really good place," Forman said Tuesday on "The Waddle & Slvy Show" on ESPN Chicago 1000. "I say that because we still feel we've got good players that are in their 20s in
Taj [Gibson]
,
Joakim [Noah]
,
Jimmy [Butler]
and
Tony [Snell]
, who we're really high on and is playing well. We've got a Charlotte pick coming [from the Tyrus Thomas trade in 2010]. We've got all our picks into the future.
[Nikola] Mirotic
at some point in the future. And then we will have a level of flexibility that we haven't had under this new CBA because we had a lot of contracts from this previous CBA that put us in a spot where there wasn't a lot of financial flexibility.
"So, long term, there's not a whole lot that changes. We already ... we've planned out some moves that we think we need to make and want to make going forward, and that's something we'll continue to evaluate as far as building this team to what our ultimate goal is -- to compete for a championship year in and year out."
As it pertains to Mirotic, Forman and the Bulls are still confident that the European star will be able to come over to the NBA next summer, but the process to get him out of his current deal is complicated.
"He's still under contract there [with Real Madrid]," Forman said. "But we've talked about once a guy is three years out from his draft class, then he's no longer restricted to the rookie-scale contract for the slot that he was picked. So that begins this summer, which means our hope is we'll be able to have dialogue this summer with the possibility of getting him over."
Cautious with Butler
: Butler still has not practiced while he recovers from turf toe, and Forman made it seem like he would continue to be out at least a few more days.
"We'll be conservative with his rehab," Forman said. "So far, he's making good progress. There hasn't been any setbacks. I think if we brought him back too early, it could be something that could linger. But there was nothing structurally wrong. It's turf toe, which is basically a sprain. So the big thing was getting the swelling out and now getting the mobility back and the strength back. It still is a week-to-week process, but he's making good progress."
The last word
: Tom Thibodeau, before Tuesday's game, on the progression of Snell:
"I think he's done a really good job, actually, from the point that we drafted him. He worked extremely hard all summer. He did a good job in the preseason, and even when he wasn't playing he was practicing well and he was really preparing himself to play. So, usually what happens with those guys when they work like that, and they prepare themselves that way, when the opportunity does roll around, they're usually ready for it, and he's done that. And he's not satisfied. Each day he comes in, he tries to improve. When he makes a mistake, he tries to correct it and not repeat the same mistake twice. He's done a good job for us."
November, 13, 2013
Nov 13
8:00
AM CT
CHICAGO -- John Paxson, Tom Thibodeau and Gar Forman sat halfway up on center court at the United Center on Tuesday night dreaming like the rest of the scouts, coaches and personnel directors in attendance at the Champions Classic.
The amount of talent on the floor was staggering. Julius Randle, Andrew Wiggins and Chicago's own Jabari Parker all made NBA people drool.

The reality for the
Chicago Bulls
is that they won't have access to any of the top-tier lottery players for a while because of their sustained success under Thibodeau.
Which brings up another intriguing question on any potential move the Bulls may undertake down the line: Will they make a deal for another star or future draft pick this season?
The safe money is no.
As much as the Bulls would love players like Randle, Wiggins or Parker, or another scorer in the league, the reality is that the Bulls aren't likely to make any kind of major deal.
The organization believes this team as it's currently constructed can contend for a title this season. Whether fans agree or disagree, the truth is the Bulls don't have a lot of moveable pieces that could bring back talent to instantly make them better.
Luol Deng
doesn't have nearly as much trade value, given that he is in the final year of his contract. It doesn't appear any team wants to deal for
Carlos Boozer
and the remainder of his contract.
Jimmy Butler
is valuable because he is on his rookie deal, but the Bulls don't want to move him if they can help it.
Forman always points to the fact that the Bulls have assets like
Nikola Mirotic
and the future first-round pick from the
Charlotte Bobcats
; but those are far from certainties. Mirotic has all the leverage in negotiations next summer and it's always hard for general managers to deal for a pick, like the Bobcats' selection, that still doesn't become unprotected for a few years.
For the time being, the Bulls' core is locked in place, and it isn't going to change much no matter how many times the Bulls' front office thinks about it.
What's next:
The Bulls practice at the Berto Center in the morning and will be on "hamstring watch." After an off day Tuesday, it will be interesting to see if the Bulls hold
Derrick Rose
out for a couple of days due to the right hamstring injury he sustained at the end of Monday night's win over the
Cleveland Cavaliers
. Paxson said Tuesday that Rose was feeling better, but the Bulls want to see how he feels after reiterating he was day-to-day. Given how cautious the Bulls have been with Rose, it would be surprising if he practiced on Wednesday.
Another shooter?
The Bulls worked out veteran swingman
Reggie Williams
on Tuesday, according to a source. Williams has been in the league for four years and is a career 37 percent shooter from beyond the arc. The Chicago Tribune had earlier reported news of the workout.
The last word:
Nazr Mohammed
,
Mike Dunleavy
,
Kirk Hinrich
, Deng and Boozer were all shown on the JumboTron at the United Center at various points on Tuesday night. Hinrich received the loudest cheers of all from the Kansas fans.
October, 25, 2013
Oct 25
3:04
PM CT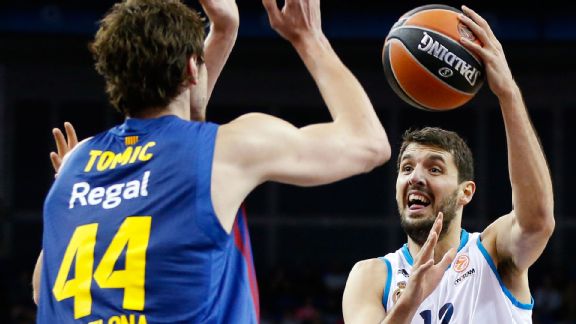 AP Photo/Lefteris PitarakisWhenever Nikola Mirotic joins the Bulls, he likely will face big expectations.
The
Chicago Bulls
hope
Nikola Mirotic
comes over from Spain next season, but the organization wants to make sure whenever he does make the move, the young prospect doesn't have to deal with huge expectations.
Mirotic, selected by the Bulls with the 24th pick in the 2011 NBA draft, was named ACB MVP after leading Real Madrid to a 30-4 record last season.
"He's doing great and we keep our eye on him," Bulls executive vice president
John Paxson
said Thursday on "The Waddle & Silvy Show" on ESPN Chicago 1000.
Paxson doesn't want Mirotic to go through the same thing former Bull
Toni Kukoc
experienced when he came to the NBA in 1993.
"I felt bad actually initially because I was a part of the process like when Toni Kukoc came over I was on the team and I saw that whole thing. The last thing we want to do is put undue pressure on Nikola when he does come over," Paxson said. "No matter when he does come over and what he's achieved over there, the NBA is a different game and he's going to have go through a learning process. And he's going to have to get his feet wet and himself acclimated to a new culture, all those things.
"So we have great hopes for him. He is a very, very good basketball player, but we're not going to bring him over here and all of a sudden say he's the next coming of whoever. He's going to be a part of our program when he does come over. We believe his skill level and character fit what we are about. So when the time does come he'll blend in with what we have and that's the route we're going to go."
The Bulls have always been hopeful that Mirotic would be ready to come to the NBA for the 2014-15 season but Paxson said there are a lot of different things that need to happen for the 22-year-old, 6-foot-10 power forward to come to Chicago.
"It depends," Paxson said. "These are all good questions, but they're not things we can answer right now because there are variables out there that haven't happened yet and we need to see how it all plays out. The good news is that he's in our pipeline and that at some point he will come over."
Aside from Mirotic, the Bulls are going to have several tough decisions to make next summer, including whether to re-sign All-Star
Luol Deng
and whether to amnesty the final year of
Carlos Boozer
's contract.
"You can't underestimate the power of this new collective bargaining agreement we have in place," Paxson said. "There are certain things that are going to prevent teams from maybe being as aggressive as they would want to be in putting their roster together. I think most of us are going to have to be patient and maybe let some things play out before we make decisions because if you do get caught in this new CBA making poor decisions you're going to be in trouble. You're going to get stuck with a roster that is difficult to move and you're going to be in a financial position that is not advantageous for you. So you've got to be patient and we're willing to play that game."
April, 25, 2013
Apr 25
10:43
AM CT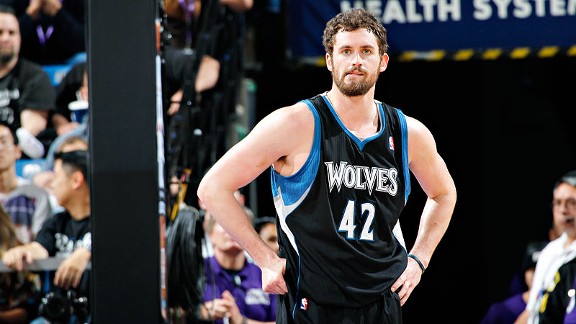 Rocky Widner/NBAE/Getty ImagesWould the addition of Kevin Love put the Bulls over the top against the Heat?
CHICAGO -- In the midst of the
Chicago Bulls
' preparations for Game 3 against the
Brooklyn Nets
on Thursday, Grantland's Bill Simmons offered up a reminder that no matter what happens over the next few weeks, the Bulls always must keep an eye on the future.
It's a reminder that the Bulls front office didn't need because it's been their motto throughout this season without
Derrick Rose
and myriad of injuries to key players.
In the second part of
Simmons' annual ranking of the NBA's top 50 players
, he comes to the 20th spot on his list:
Kevin Love
of the
Minnesota Timberwolves
.
He references the fact that Love has an opt-out clause in his current deal that would allow him to become a free agent after the 2014-2015 season. That's when the Bulls become involved, with Simmons noting that Love would very likely opt out of his deal. Simmons believes the Bulls are the likeliest suitor for Love:

"The Bulls have big contracts to make the trade work (Luol Deng on the enticing side, Carlos Boozer on the less enticing side); they're loaded with assets like Jimmy Butler (no. 49 on this year's list), the rights to Mirotic (a high lottery pick if he entered this year's draft), and the rights to Charlotte's future no. 1 pick (top-10 protected in 2014, top-eight protected in 2015, unprotected in 2016); and they're a big-market contender with a superstar in house (so they could keep Love for the long haul).
Simmons doubts the Wolves could turn down a deal that includes Boozer, Butler, Mirotic and the Charlotte pick.
There are a lot of different layers to this proposal. Let's break them down individually.
April, 11, 2013
Apr 11
6:41
PM CT
By
Staff
| ESPNChicago.com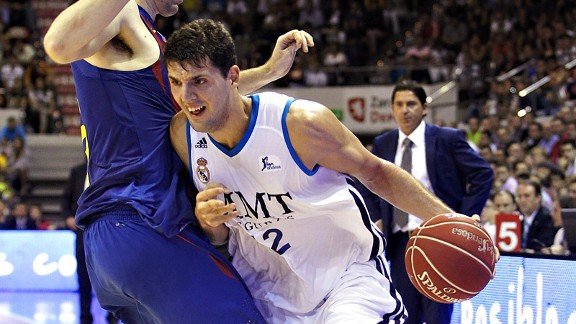 Elisa Estrada/Real Madrid/Getty ImagesNikola Mirotic has drawn some favorable comparisons to other foreign-born NBA stars.
Chicago Bulls
fans eager for
Nikola Mirotic
to join the team that drafted him with the 24th pick in 2011 will likely have to wait until the summer of 2014, general manager Gar Forman explained.
October, 9, 2012
10/09/12
9:00
PM CT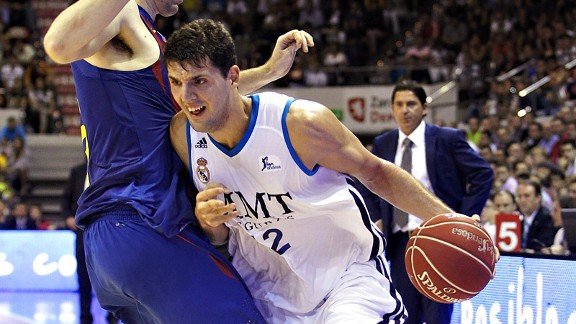 Elisa Estrada/Real Madrid/Getty ImagesThe Bulls hope Nikola Mirotic will continue to grow during his time with Real Madrid.
CHICAGO --
Nikola Mirotic
is probably at least two more years away from playing for the
Chicago Bulls
, but he already caught the eye of some of his future competition. That's because Mirotic has spent the last few days in the United States playing for Real Madrid against NBA teams. On Saturday it was the
Memphis Grizzlies
, the same team the Bulls faced on Tuesday night. Grizzlies All-Star
Zach Randolph
was impressed by what he saw from Mirotic.
"I didn't know that the Bulls drafted him 'til (Monday) night," Randolph said before Tuesday's game. "One of the workers told me at Grand Lux, I was eating. I like the kid, man. He's got a stroke on him, he can play smart, he's a little physical. I think he can make a statement in this league one day."
Could he play right away, though?
"Yeah, you got to put him at the right spot," Randolph said. "I don't think he could play four or five. I don't know how his ballhandling is so I couldn't say, but I know he can shoot like a 3. I know he could shoot very well so if you put him in the right situation and the right spots I think he could be effective."
Grizzlies head coach Lionel Hollins wasn't as outward with his praise, but he knows with a little more seasoning Mirotic has a chance to be successful.
"I think he's got a chance to be in the league," Hollins said. "He can shoot the ball, he knows how to play. Obviously, when we start talking about a kid that hasn't come over, that is still young, it's about getting stronger and learning the NBA game. The NBA game is so much more aggressive and physical and over there a lot guys just stand on the perimeter and shoot shots and that's it. But he'll have to be able to play both positions and it will be tough for him (at times). We went small and played
Rudy Gay
at four and he became a non-factor. If he's playing against a bigger four, obviously, he's going to have a little bit more of an advantage."
Privately, Bulls executives have been impressed with Mirotic's game. They are hoping to bring him over as soon as possible, likely in two years when the restrictions in his contract become a little easier to negotiate around. In the meantime, the Bulls are left waiting, and hoping, the Mirotic continues to develop into the player they think he can be.
"He reminds me of
Dirk (Nowitzki
) and a little bit of Gallo (
Danilo Gallinari
), just a little bit," Randolph said. "But I can see the Dirk comparisons. I can see why, definitely.
June, 27, 2011
6/27/11
4:54
PM CT
June, 23, 2011
6/23/11
10:47
PM CT
Player:
Nikola Mirotic
Position:
SF
Pick:
23
Background:
Native of Montenegro; played last season in the Spanish League with Real Madrid
Birth date:
Feb 11, 1991
Strengths: You can't teach size, and at 6-foot-10 with a 7-1 wing span, Mirotic has an abundance of it. Mirotic plays both forward positions for Real Madrid. His skill set, according to ESPN's Chad Ford, is typical for a European big guy. He shoots well from outside and is a creative passer. He possesses the ability to defend multiple positions. Ford rated Mirotic as the No. 5 small forward prospect in this year's draft.
Weaknesses: Mirotic's contract will likely prevent him from playing in the NBA for a few seasons -- but that might be a reason the Bulls drafted him. Ford indicates that Mirotic lacks athletic ability -- a fact that is evident when he struggles to rebound.
Career highlight: Mirotic gained notoriety with his strong showing -- a 14-point, seven-rebound effort -- at the 2010 Nike Hoop Summit.