December, 20, 2013
12/20/13
1:15
AM CT
OKLAHOMA CITY --
Taj Gibson
spoke for his teammates, his coaches and many
Chicago Bulls
fans late Thursday night while trying to put into words how difficult it is for his team to keep playing hard in the face of so many injuries this season.
[+] Enlarge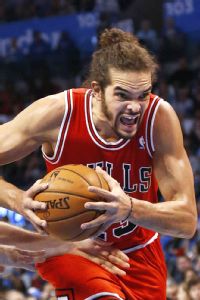 AP Photo/Sue OgrockiJoakim Noah sat out a game last week because of a knee contusion, a move that caught coach Tom Thibodeau by surprise.
"It's tough," Gibson admitted after the Bulls' loss to the
Oklahoma City Thunder
.
"Because these injuries that these guys are having are injuries that you really got to rest them. But the thing about these guys, everybody on this team, guys just keep pushing through injury. Instead of like any other team guys would just sit out, but these guys are still pushing, pushing the limit. No matter how hard it hurts they're still going. It's frustrating but things like that are going to happen. ... we don't know what else we can do, outside of going out there and keep playing hard."
That is the mentality the Bulls have had for the better part of four seasons under Tom Thibodeau. But as recent events show, that mentality, at least with regard to injuries, is slowly starting to change because the expectations surrounding this team have changed.
The players know that they are no longer championship contenders.
When
Derrick Rose
went down the Bulls' championship aspirations went down with him. After trying to battle through all the adverse circumstances, even the proudest of players see the writing on the wall. Unlike the tunnel vision of Thibodeau, the players know there is a bigger picture in play than what amounts to a relatively meaningless regular-season game in December. That's why it will be so interesting to watch how players deal with lingering injuries throughout the rest of another lost season.
Bulls players up and down the roster have played through various injuries the past few seasons because they knew they were always playing for something more. They were playing for the opportunity to win a championship. Now, unlike before, they are just playing out the string. That's why the past week has been so telling with regard to how proud veterans like
Joakim Noah
and
Luol Deng
have handled their own lingering injuries.