Chicago Bulls:

opening tip
April, 3, 2014
4/03/14
9:00
AM CT
ATLANTA --
Chicago Bulls
coach Tom Thibodeau and his players are creatures of habit. The opponents change night to night, but the team mentality never does:
Play solid defense -- especially late; take care of the ball; and hit clutch shots.
Rinse and repeat.
That was the formula again in Wednesday night's win over the
Atlanta Hawks
. And that's the way it has been since Thibodeau came to Chicago four years ago.
That's why it should come as no surprise that Thibodeau showed little public emotion when told of the fact he had racked up his 200th win.
When asked for his thoughts about the milestone, Thibodeau's expression barely changed.
"None," he said, before adding with a chuckle. "I got a good team."
Thibodeau has a good team, but he also has a team that cares.
Those two characteristics aren't always as intertwined as fans may think. Bulls executives Gar Forman and John Paxson have done a good job identifying players who are willing to work hard and sacrifice for the greater good of the team. For the past four years, Thibodeau has done a masterful job of meshing all those pieces together each year.
It's why guys like
D.J. Augustin
continue to thrive in big spots, as the diminutive guard did again, scoring 23 points against the Hawks.
"We're having fun, man," Augustin said. "Whenever you're winning, it's always fun. But at the same time, we're a real serious team. Once the lights come on we're serious and about our business; but we're having fun.
"I think when you're winning, everything is better."
Everything has been better for the Bulls since Augustin showed up in December. He has found his confidence again on the floor and his teammates believe in him. It's a combination that has proved lethal when combined with the hard-nosed defensive system Thibodeau has instilled within his team.
"He's been terrific," Thibodeau said of Augustin. "He's saved our season. He's a big shot-maker. He's made big plays. But not only his shooting, his playmaking, if you trap him he'll hit the open man.
"D.J. can beat you a lot of different ways. He can beat you with the shot. He can beat you with the pass. He can beat you with his penetration, so it's a big plus having him."
The play of Augustin and
Joakim Noah
have been huge positives for the Bulls.
But neither has been as big as the jolt Thibodeau gave this organization when he was hired in the summer of 2010. He has helped shape this team in his image, and he continues to push it to new heights. His players trust the plan he has put in place, and they believe in his system.
"We felt the pressure of trying to get that 200th win for him," Noah joked after the game. "We felt the pressure. It kind of hurt us in the beginning of the game. So it was just really important for us to relax and stay together, and we got it done at the end."
The jokes are a little easier to take when the wins pile up the way they have over the past four years.
January, 27, 2014
1/27/14
8:00
AM CT
CHICAGO -- In the middle of an arduous 82-game NBA season, every player is going to need an extra jolt here and there -- especially on the second night of a back-to-back.
Such was the case for the
Chicago Bulls
on Saturday night against the
Charlotte Bobcats
. Both teams looked tired throughout, but it was the Bulls who came through when it mattered most. Aside from the ability of coach Tom Thibodeau to continually get the most out of his players, the players themselves deserve a lion's share of the credit for continuing to push their bodies -- and emotions -- to the max.
[+] Enlarge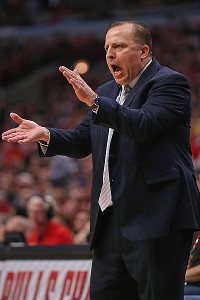 Jonathan Daniel/Getty ImagesTom Thibodeau takes criticism for occasionally letting his starters play too many minutes, but he has a knack for extracting full heart and effort from his roster.
"We'll be in these grind-it-out games, and, sometimes, it's so awkward," Bulls forward
Taj Gibson
admitted. "Sometimes, it's just, 'Who wants it more?' Then you've got a guy like
Joakim [Noah]
. He's yelling, 'Come on!' He's yelling and he's believing in you, and then when you see your teammates looking out for you guarding hard -- playing hard for you -- that makes you want to go hard for them. And we just play hard for each other."
Trade rumors don't stop the Bulls: One of the reasons the Bulls are so tightly knit is because Thibodeau and his players don't allow themselves to become distracted by outside perceptions. When asked about how trade rumors may affect his team, Thibodeau brushed off that talk quickly.
"They've gotten used to you guys," he quipped. "It's really the challenge, I think, of the league. When you lay out your plan in the beginning of the season, you talk about all the things that crop up during a season. There's injuries, there's trades, there's things going your way, not going your way, there's the schedule, there's early games, late games, back-to-back games. There's all that stuff. That's why I think it's so important to establish a routine: how you're going to prepare, what goes into each and every day, and you don't want to get away from that."
Thibodeau knows that veterans' names, especially those of
Mike Dunleavy
and
Kirk Hinrich
, will continue to pop up in trade rumors until the deadline -- but he isn't concerned about how they will handle the speculation.
"This league, it's very easy to get distracted," Thibodeau continued. "It is. If you want to look for an excuse to get distracted, you can find one every day. I think the important thing is to build the right habits so you can be ready to play each and every night, and I think the good teams do that. That's the challenge for every team."
Bulls not concerned about Butler:
Jimmy Butler
spent a portion of Saturday's postgame getting stretched out by a member of the Bulls' training staff. It wasn't one particular injury bothering the third-year swingman, just general soreness. After playing so many minutes over the past few weeks, Butler's body isn't the only thing that has been hurting. His shooting woes continued Saturday night, as he went just 2-for-7 from the field. This is the first prolonged shooting slump of his career, but Thibodeau is confident he will bounce out of it soon.
"This is probably the first time he's gone through something like this," Thibodeau said before Saturday's game. "He'll bounce out of it. Just come in every day, don't press. Like I told him, 'If it's your shot, shoot it. Shoot it. As long as you shoot it well, that's all you can ask for. If the ball goes in and out on you, it goes in and out.' Hey look, if you shoot great in this league you're missing half your shots. It's not an easy league to shoot in. I think a couple easy baskets will help."
The last word:
Mike James
' daughter, Amaya, sang the national anthem last Monday before the game against the
Los Angeles Lakers
. The proud papa was pleased with how well his young daughter performed in front of a packed United Center.
"It wasn't that I was nervous," he said recently. "I just wanted her to perform well, and I just wanted her to have fun. Sometimes, when a person puts too much pressure on themselves, they can't perform and that's from any age group to any environment. My biggest thing is, I don't think that [her] voice came from me. That's definitely God-given, but all I can do is help her in her confidence and help her believe in her ability. That's one thing -- if she don't get nothing else from her daddy -- she gets her daddy's confidence."
January, 13, 2014
1/13/14
8:00
AM CT
CHICAGO -- Until Tom Thibodeau ends up leaving Chicago, the rumors surrounding his coaching future with the
Bulls
are not going to stop. The latest one came Saturday night when he was asked about a New York Daily News report that suggested people in the Bulls organization believe he already has a deal lined up to coach the
New York Knicks
next season.

"Come on, now," Thibodeau said. "Come on. That stuff's ridiculous. It really is. First, I was being traded. I could care less about that stuff. I've said it before: I love this team. I love the guys that we have, and I love the fighting spirit of this team. So that's all I'm thinking about."
Thibodeau and the Bulls have done their best to push rumors regarding the coach's future as far away as possible, but this has become the new reality for the Bulls. Given the tenuous relationship between Thibodeau and the front office, any time a vacancy for a high-profile job opens up, Thibodeau's name is going to appear because he is one of the best coaches in the league. It's not a secret around the league that Thibodeau and the front office aren't always on the same page despite the fact that all parties involved say their working relationship is fine.
That fact came to the forefront again last week when Thibodeau admitted, without going into detail, that he did not agree with management's decision to trade
Luol Deng
to the
Cleveland Cavaliers
. No matter what happens in the future, both Thibodeau and the Bulls front office shouldn't be surprised whenever more rumors pop up in the coming weeks and months. Moves made by the organization in the past, specifically the decision not to bring back assistant coach Ron Adams last summer, have set the course for how the rest of the league views its relationship with Thibodeau in the future.
Rose kept out of the spotlight:
Thibodeau made it a point not to discuss the conversations he might have had with superstar
Derrick Rose
regarding the Deng deal.
"Derrick's good," Thibodeau said before Friday's game in Milwaukee against the
Bucks
. "He's locked into his rehab. He's dealing with things as he should, and we're just concentrating on our team and our improvement. … We talk about our team in general all the time. He's good."
Dunleavy trying to keep focus on the floor:
Mike Dunleavy
has been around the league long enough to know that anything is possible as far as trades are concerned. As his name continues to pop up in trade rumors, Dunleavy is trying to continue playing at a high level.
"You don't really react," he said after Saturday's win over the
Charlotte Bobcats
. "The amount of rumors that are out there versus the actual times somebody gets traded or something happens is so little that it's not even worth giving too much thought to. So that's kind of how you handle it. Nobody knows what's going to happen -- with this team, with this organization moving forward -- but we do know how we can go on the court and play and have a really good season. I think we're all kind of focused on that and not worried about off-the-court stuff."
Martin making most of opportunity:
Cartier Martin
made his first appearance as a Bull count on Saturday. He scored 11 points in 26 minutes and looked comfortable on the floor.
"A hard-nosed team," he said, when asked of his impression about the Bulls from the outside looking in. "I know Coach Thibs is very tough on guys here. These guys are a very good defensive team. But at the same time, they look to score the ball as well. I feel like it's a great fit for me."
The last word
: Thibodeau on the NBA's new nickname jerseys: "Well I'm waiting for them to do that with the media."
Does he have nicknames for the media?
"Oh, I do."
December, 30, 2013
12/30/13
9:00
AM CT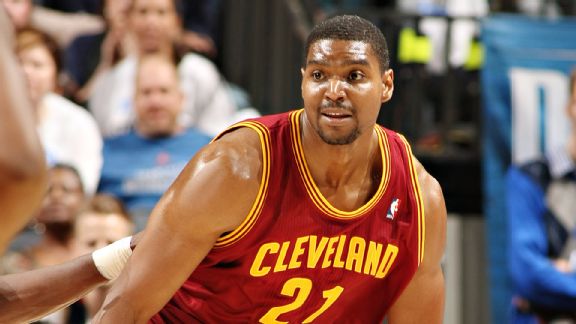 Kent Smith/NBAE/Getty ImagesThe Cavaliers have suspended Andrew Bynum and are looking to trade him.
CHICAGO -- Out of all the possibilities that have been thrown out in regard to what Gar Forman could get in return for
Luol Deng
, few expected
Andrew Bynum
's name to pop up in a potential deal. That changed Saturday when ESPN.com's Brian Windhorst reported that Bynum had been suspended by the
Cleveland Cavaliers
for conduct detrimental to the team and was on the trading block. As an example, Windhorst noted that the Bulls could be a destination for the oft-injured center given the way the numbers line up.
Allow him to explain
:
"As an example of how Bynum could be used in a deal, the
Chicago Bulls
are currently about $7.5 million over the luxury-tax line. They could trade free agent-to-be Luol Deng for Bynum and immediately waive him, which would save about $8 million off the cap and get the Bulls out of the tax. Such a trade would save the Bulls almost $20 million in salary and tax payments. Sources said the Bulls remain determined to hang on to Deng and hope to re-sign him even though the Cavs are interested. This is just how a trade for Bynum might work and what the motivations would be."

The ball remains in Forman's court. The Cavs could sell Forman on the fact that Deng may leave anyway at the end of the year and they could clear out space now and save the organization millions in another lost year without
Derrick Rose
. All along, the Bulls have wanted to acquire assets in the form of cheap contracts or draft picks. They didn't want to take back more money, but Bynum's uniquely structured contract allows them to look at things differently. Would they do the deal if a first-round pick was included and/or if
Dion Waiters
was included? Would the Cavs even want to include either of those pieces to try and move out Bynum quicker and bring Deng in for the stretch run?
This is where things remain complicated for Forman. If he really does want to re-sign Deng in the offseason, the idea of trading him now is a moot point. Deng and his representatives have shown no indication of offering a hometown discount, and the Bulls have shown no indication of paying him what he wants. The idea that Deng would take less money to come back to the Bulls after they dealt him is laughable.
Clearly, there are deals out there for Forman to consider. But the question he must ponder most of all isn't whether the Bulls should deal Deng now, it's how confident he is that Deng can play at the same level for the next few years and how convinced he is that the two-time All-Star will re-sign for closer to the range the Bulls are hoping for. The answers to those questions will determine what happens to Deng's future in Chicago. But the idea of being able to jump out of the luxury tax and save a boatload of money in the short-term has to be very appealing for a team that watched its championship aspirations die for the season the night Rose went down.
Bulls learning from injury-plagued past?
Deng remains questionable for Monday night's game against the
Memphis Grizzlies
although he admitted Saturday that his troubled Achilles was feeling better. The veteran forward says he believes the organization has taken a smarter approach to injuries this season.
"I think we learned from the past," he said. "I think the players, too. We talk to each other. In the past I would have been out there playing and then missing another month or so and I really don't want to do that. The other thing is I don't want to keep coming in and out. I think that's the last thing we need. We're trying to get going. We won two in a row. Guys are playing well, we're getting guys back, and I don't want to come in and then out again. But definitely I think we're being smarter this year."
The last word:
Deng, before Saturday's blowout loss to the
Dallas Mavericks
, on if better days were ahead for the Bulls:
"I really believe that. I really think so. I think we had just unbelievable injuries and guys have been in and out. And I think the addition of
D.J. Augustin
really helps us.
Kirk [Hinrich]
sits out and you get D.J. in, the flow of the game just keeps going. I'm really excited and I think we're better than what our record says. But at the end of the day you are what your record is. But I'm really looking forward to everybody being at full strength and see how good we can be."
December, 14, 2013
12/14/13
10:00
AM CT
MILWAUKEE -- The idea of intentionally losing games strikes at the heart of everything Tom Thibodeau stands for as a coach. He doesn't believe that any team should try to lose, so that's why it should come as no surprise that Thibodeau is against the idea that some NBA teams tank games to have a better chance at a higher draft pick in the 2014 NBA draft.
"There's all kinds of talk about that," Thibodeau said before Friday's game against the
Milwaukee Bucks
. "And, to me, as a coach, you put everything you have into each and every day. And that's what I love about our team. There's no quit in our team. We're going to play to win. I think once you start doing those other things, you're headed down a slippery slope.
"I think you put forth your best effort each and every day. I think every game is winnable, and then you're trying to build the right habits along the way. As we get guys back, I think we're going to be fine. I have great belief in our team, and that's the way you approach it. Some teams may not believe in it, but I also think [tanking] is risky. Everyone talks about the great player, but what happens to all the franchises that don't get the great player? If you look at history, it's not good."
Thibodeau's comments came in response to a question regarding what Syracuse coach Jim Boeheim said earlier this week in regard to this season's heralded draft class.
"There's no player that's out there on the horizon that's a
Tim Duncan
or a
LeBron James
," Boeheim told SNY.tv. "I've seen all these guys play. I think they're very talented players. They're not that kind of player. They're not transcendent players that are gonna make your franchise into a 10-, 12-, 15-year-winning franchise because you're there. I don't see that."
December, 4, 2013
12/04/13
11:21
AM CT
CHICAGO --
Derrick Rose
's latest injury may have closed the
Chicago Bulls
' championship window this season, but GM Gar Forman does not believe the window is closed for good.

"From a long-term perspective, we still feel like we're in a really good place," Forman said Tuesday on "The Waddle & Slvy Show" on ESPN Chicago 1000. "I say that because we still feel we've got good players that are in their 20s in
Taj [Gibson]
,
Joakim [Noah]
,
Jimmy [Butler]
and
Tony [Snell]
, who we're really high on and is playing well. We've got a Charlotte pick coming [from the Tyrus Thomas trade in 2010]. We've got all our picks into the future.
[Nikola] Mirotic
at some point in the future. And then we will have a level of flexibility that we haven't had under this new CBA because we had a lot of contracts from this previous CBA that put us in a spot where there wasn't a lot of financial flexibility.
"So, long term, there's not a whole lot that changes. We already ... we've planned out some moves that we think we need to make and want to make going forward, and that's something we'll continue to evaluate as far as building this team to what our ultimate goal is -- to compete for a championship year in and year out."
As it pertains to Mirotic, Forman and the Bulls are still confident that the European star will be able to come over to the NBA next summer, but the process to get him out of his current deal is complicated.
"He's still under contract there [with Real Madrid]," Forman said. "But we've talked about once a guy is three years out from his draft class, then he's no longer restricted to the rookie-scale contract for the slot that he was picked. So that begins this summer, which means our hope is we'll be able to have dialogue this summer with the possibility of getting him over."
Cautious with Butler
: Butler still has not practiced while he recovers from turf toe, and Forman made it seem like he would continue to be out at least a few more days.
"We'll be conservative with his rehab," Forman said. "So far, he's making good progress. There hasn't been any setbacks. I think if we brought him back too early, it could be something that could linger. But there was nothing structurally wrong. It's turf toe, which is basically a sprain. So the big thing was getting the swelling out and now getting the mobility back and the strength back. It still is a week-to-week process, but he's making good progress."
The last word
: Tom Thibodeau, before Tuesday's game, on the progression of Snell:
"I think he's done a really good job, actually, from the point that we drafted him. He worked extremely hard all summer. He did a good job in the preseason, and even when he wasn't playing he was practicing well and he was really preparing himself to play. So, usually what happens with those guys when they work like that, and they prepare themselves that way, when the opportunity does roll around, they're usually ready for it, and he's done that. And he's not satisfied. Each day he comes in, he tries to improve. When he makes a mistake, he tries to correct it and not repeat the same mistake twice. He's done a good job for us."
October, 31, 2013
10/31/13
4:03
PM CT
CHICAGO -- When it comes to
Derrick Rose
's injury status, days like Thursday are going to be the new normal. Any move the 25-year-old makes is going to be analyzed and put under the glare of a national spotlight. That was the case again at the United Center Thursday morning when Tom Thibodeau revealed Rose didn't go through shootaround and Rose said a few minutes later he had a sore neck.
Rose made it clear that he intended to play -- he is aware of all the hype surrounding his first game at the United Center in over a year and a half -- but even he admitted that he was bothered by the fact he is dealing with yet another injury concern.
"For sure, it's definitely frustrating," Rose said. "But can't get mad about it, can't get sad about it. I know I'm doing all the things to get back on the court as quick as possible and working my butt off."
There's no doubt Rose has put in plenty of work to get himself back on the floor. I've never seen Rose spend so much time after practice shooting baskets in the four years I've been covering the Bulls. He is confident that he'll be able to knock down shots again when it counts on Thursday night and beyond.
"I think my shots were on," Rose said. "It's just that I missed shots. For me, I know that I've had worse shooting nights than that in my career, and I know I might have a game where my confidence is totally high and it's going to be scary."
May, 1, 2012
5/01/12
7:17
PM CT
By Roman Modrowski
ESPNChicago.com
Archive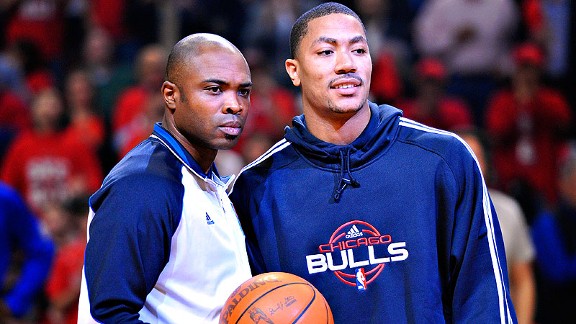 Rob Grabowski/US PresswireDerrick Rose received a rousing standing ovation before Game 2 on Tuesday.
The Bulls borrowed some Blackhawks enthusiasm for the National Anthem on Tuesday with soloist Jim Cornelison revving up the crowd, but that paled in comparison to the ovation for the person delivering the ball for the opening tip.
Derrick Rose
limped to midcourt with the ball as the United Center, including players and coaches for the
Philadelphia 76ers
, rose to its feet for a standing ovation.
Rose tore his left ACL at the end of Game 1 on Saturday.