July, 18, 2014
Jul 18
6:36
PM CT
CHICAGO -- Tom Thibodeau was noncommittal Friday when the topic of his opening night starting lineup came up. He's still not sure how he will divvy up the minutes between a much deeper frontcourt comprised of
Joakim Noah
,
Pau Gasol
,
Taj Gibson
and
Nikola Mirotic
. But the veteran coach did acknowledge that no matter what happens, Gibson's role on the team will not change.
"I don't think it changes at all," Thibodeau said. "As I've spoken with all three, they're all going to have significant roles. How it plays out, we'll figure that out. We won't know that until they're on the floor and we look at how they work together and what's best for our team. We're always going to do what's best for our team. But they're all going to have a significant role."
Thibodeau was asked specifically if Gibson would be used as a starter to begin the season.
"I'm not ruling it out," he said. "I want to see what happens. I want to see how it works together, what's best for our second unit, what gives us our best chance. How are we going to finish? How are we going to start? How are all the minutes going to work out? But they're all good problems to have."
July, 17, 2014
Jul 17
6:53
PM CT
By Staff
ESPNChicago.com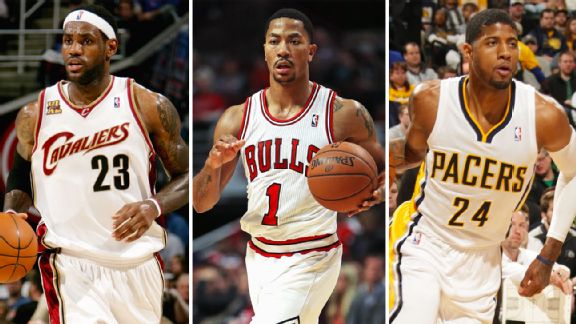 Getty ImagesWhose team will emerge as the best in the Central this season?
After a busy start to free agency, ESPNChicago.com's Nick Friedell is joined by ESPN.com's Scoop Jackson and ESPNChicago.com's Jon Greenberg to weigh in on three questions that are on the minds of Chicago Bulls followers.
1. Fact or Fiction: The Eastern Conference champion next season will come from the Central Division.
Friedell:
Fact. The Cavs, Bulls or Pacers will be at the top in the end. The Central Division is going to be competitive all season, and it's arguably the most interesting in basketball.
LeBron James
returns to Cleveland,
Derrick Rose
comes back from injury and the Pacers try to take the next step toward a title. Milwaukee brings
Jabari Parker
into the fold, while Stan Van Gundy attempts things in Detroit. It's going to be fun to watch.

Greenberg:
Fact. And with
Lance Stephenson
's exodus, it's between Chicago and Cleveland. You can't really handicap it until you know what's going on with the
Kevin Love
rumors. LeBron with
Andrew Wiggins
,
Kyrie Irving
and the rest is going to be a tough draw in the playoffs. But if Rose is healthy, the Bulls are going to be nasty.
Jackson:
Fiction, but only because I believe the
Washington Wizards
have a small/real chance of winning the East. Now, if Cleveland pulls off a deal and gets Kevin Love, then all bets are off. They will be the front-runners. Usain Bolt-like. But until that happens, I think the Bulls, the Wizards and the Cavs will finish 1-2-3 in the East. Just can't call in what order.
---
2. Fact or Fiction: The addition of Pau Gasol is bad for Taj Gibson.
[+] Enlarge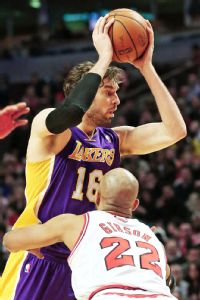 Jonathan Daniel/Getty ImagesTaj Gibson's clear path to a starting spot has been blocked by the addition of Pau Gasol.
Friedell:
Fiction. I don't think it's a bad thing for Gibson. Even if Gasol starts, Gibson is still going to get plenty of time, and he's still going to play the bulk of the crunch-time minutes. Gibson isn't going to complain about his role, and he's going to be able to continue to learn from Gasol.
Greenberg:
Fiction. It's not good, pride-wise, for Gibson that he could be a sixth man again, but he's already been paid, so that lessens the sting. Gibson won't be forgotten, though. Basically Tom Thibodeau has 96 minutes to split between those two and
Joakim Noah
. That's the beauty of this situation, with Gasol and Gibson able to play two positions. Given his salary and his ability, Gibson has to get 30 minutes a game somehow.
Jackson:
Faction. As long as Taj is cool with his role as sixth man (and as long as Thibs can continue to sell him on it), then all is good. But after the season he had last season, knowing that the Bulls were possibly going to amnesty Boozer, if Taj was looking at this season as his "come up," as the one where he broke into the starting lineup to shine brighter, then I'm pretty sure he's gotta be PO'd. Which is a bad thing for him.
---
3. Fact or Fiction: Nikola Mirotic will make a bigger impact as a rookie than Doug McDermott.
[+] Enlarge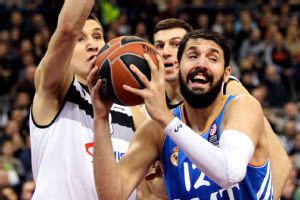 AP Photo/Darko VojinovicThe addition of Nikola Mirotic gives the Bulls another much-needed shooter.
Friedell:
Fiction. I actually believe McDermott is going to have an impact with the Bulls this season. Mirotic may become a better player over time, but the transition from Europe to the NBA can be tough. McDermott is going to have a big learning curve of his own, but Thibs will learn to love him quickly because of his shooting touch.
Greenberg:
Fact. I think McDermott will be very good, playing around 20 minutes a game. But Mirotic is used to playing with grown men, at a faster pace. I think he has more impact early. McDermott could catch, and even pass Mirotic, in terms of production. But I think Mirotic nudges him for the entire season.
Jackson:
Fiction. That's Stephen King, James Patterson, Nicholas Sparks-level fiction. That's J.R.R. Tolkien and J.K. Rowling fiction. That's Shonda Rhimes fiction. That's Frank Miller, Alan Moore, Stan Lee fiction. That's
Michael Bay
fiction. Get it?
July, 17, 2014
Jul 17
2:34
PM CT
By Staff
ESPNChicago.com

July, 14, 2014
Jul 14
2:51
PM CT
By Staff
ESPNChicago.com

LeBron James
has made the
Cleveland Cavaliers
relevant again, but Magic Johnson believes the
Chicago Bulls
are the best team in the East.
With all the moves being made in NBA Free Agency the Top 4 teams in the East are: 1. Bulls 2. Cavs 3. Pacers 4. Wizards

— Earvin Magic Johnson (@MagicJohnson) July 14, 2014
The Bulls lost out on
Carmelo Anthony
, who elected to re-sign with the
New York Knicks
, but they did land former
Los Angeles Lakers
center
Pau Gasol
, who tweeted Saturday that he will join the Bulls.
NBA Fans: With the Bulls picking up Pau Gasol & a healthy Derrick Rose they will be much better offensively this season.

— Earvin Magic Johnson (@MagicJohnson) July 14, 2014
Pau Gasol will make the Bulls players better with his scoring and passing ability.

— Earvin Magic Johnson (@MagicJohnson) July 14, 2014
July, 14, 2014
Jul 14
2:15
PM CT

By Dave McMenamin
ESPNChicago.com
Archive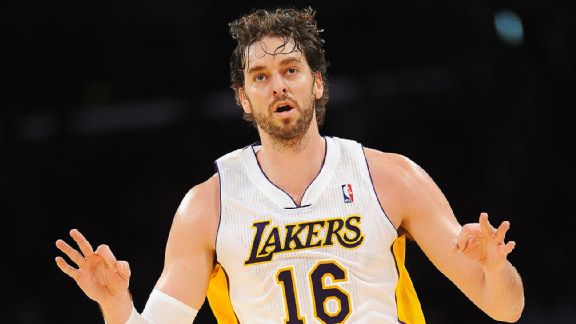 Noah Graham/NBAE/Getty ImagesPau Gasol helped the Lakers to three NBA Finals, winning two.
In the end, the way
Pau Gasol
left Los Angeles was almost as nondescript as the way he came in.
Six and a half years ago the Lakers -- off to a hot start to the 2007-08 season but treading water after
Andrew Bynum
went down with a season-ending knee injury -- swooped in like a burglar in the night and found themselves a shiny new pivot man from Memphis.
And then, on Saturday afternoon, smack dab in the middle of the World Cup consolation game, Gasol announced that the
Chicago Bulls
had landed his services and thus won the biggest consolation prize in this summer's NBA free agency. He might not be
LeBron James
or
Carmelo Anthony
, but that doesn't mean the Bulls aren't thinking that Gasol can do for them what he did for the Lakers a half-dozen years ago.
It was a sad day for Lakers fans, and not just because they came to the sobering reality that
Kobe Bryant
is now the lone remaining member of the 2010 championship team still on the squad.
For a guy who was nearly traded so many times over the past several years -- starting with the deal that David Stern undid that would have sent him to Houston in a three-team swap for
Chris Paul
, ending with the transaction that L.A. backed away from in February that would have saved the franchise untold millions by sending Gasol to Cleveland, and including potential trades for Amare Stoudemire,
Rajon Rondo
,
Josh Smith
,
Kevin Love
and others sprinkled in between -- it was hard to call the news surprising.
Gasol's departure seemed inevitable for quite some time now. Yet it didn't diminish the effect the news had on people when Gasol made his announcement.
[+] Enlarge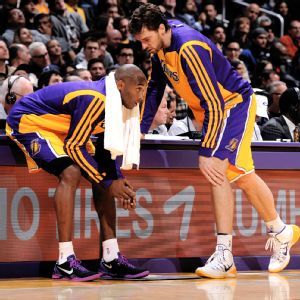 Andrew D. Bernstein/NBAE/Getty ImagesKobe Bryant and Pau Gasol made the Lakers, and each other, better during their six-plus seasons together.
Doing this job, you not only get to know the players, coaches and front-office personnel, but you become familiar with team staffers in every capacity. When it became official Gasol was saying goodbye, I started to notice reactions from many of those people.
Marko Yrjovuori, the Lakers' sports massage therapist, posted a photo of him and Gasol -- both of them wearing big, goofy grins -- to his Facebook account with the caption: "Thank You for the Good times Pau!"
Paul Nankivell, who worked for the Lakers' video department for years before joining their new television partner in Time Warner Cable SportsNet, also shared his appreciation on Facebook:
"Because of him, I got the chance to ride in parades, wear championship rings, and get champagne in my eyes after beating the
Boston Celtics
. But more importantly, I got to meet the kindest and most respectful NBA player I've ever come across. Good luck in Chicago Pau ... LA will miss you."
Ty Nowell, the mind behind the Lakers' web content on Lakers.com as well as the team's active Facebook, Twitter, Vine and Instagram accounts, texted me when he heard the news: "Honestly, the guy changed my life. He made the Lakers the Lakers again at a formative stage in my career. Besides being a better human than the rest of us, I'll always owe him that."
The outpouring of support might not seem groundbreaking considering Gasol was in L.A. for quite some time and accomplished so much during his stay -- namely two rings and three trips to the Finals -- but trust me, I've seen plenty of players come and go from the Lakers. This kind of response is rare.
Gasol wasn't just the guy leading the team with nightly double-doubles; when a staffer brought his wife or girlfriend or family to a game he was the guy who would say hello, engage in a conversation or pose for a photo.
For everything that Bryant's tremendous talents and undeniable will brought to the organization, Bryant was never that guy.
The two worked well together, however. Bryant made Gasol a better player, pushing and prodding him to spend more time in "Black Swan" mode, utilizing his skill set along with Bryant's own to create an unguardable tandem when they were clicking -- remember
Game 2 of the 2009 Finals?
Gasol made Bryant a better teammate, coming to L.A. on the heels of Bryant's most dominant individual run of his career and reminding him that he can't do it all alone, even if Bryant was one of only two men to ever score 80-plus points in a game.
It led to a deep appreciation between the two. Bryant wrote the foreword to Gasol's book that came out last fall, "Life/Vida," and penned, "If I could choose my brother," it would be Gasol. This was after Bryant's initial response to
Dwight Howard
spurning L.A. for the
Houston Rockets
, when he posted a photo of him with his arm wrapped around the big Spaniard with the hashtags #vamos, #juntos, #lakercorazon and #vino.
Bryant has been quiet about the Gasol news thus far. Maybe he's like the rest of us and trying to figure out exactly how Pau should be remembered for his time in the purple and gold.
Remember him for one game? That's easy. His 19 points, 18 rebounds and 2 blocks in Game 7 of the 2010 Finals will forever be cemented into Laker Lore (and the sheer magnitude of that Game 7 performance will forever overshadow his equally impressive 17-point, 13-rebound, 9-assist, 3-block masterpiece in a must-win Game 6 two nights before).
Remember him for one stat? The one that always stands out to me is the fact that after the Lakers acquired Gasol in February 2008, they played their next 225 games (regular season and playoffs combined) before losing three in a row. He automatically raised their standard of play.
Remember him for one reputation-building series? How about when the Lakers swept the Nuggets out of the first round in Gasol's first playoffs with the team in 2008? He averaged 22.3 points on 58.2 percent shooting, 9.0 rebounds, 5.0 assists and 2.8 blocks in the four games after going 0-12 in the first dozen postseason games of his career with the
Memphis Grizzlies
.
Remember him for one moment? For me it was talking to him about being recognized by the league as J. Walter Kennedy Citizenship Award winner following a shootaround back in May 2012 and seeing tears well up in his eyes as he spoke about his
charitable efforts supporting children in third-world countries
with malnutrition and no access to proper education.
"Every time that I visited, it's been an experience that stayed with me," Gasol said. "You always meet a patient or several patients that are very inspirational or get into you in a way that's shocking. So, every time there's a child, there's a family, there's several of them that are obviously facing a very tough situation, a very tough time in their lives and you're just there to contribute a little bit, make their day, get a smile out of them, inject them some strength, some energy so they can hopefully have a better chance. As much as you can do, nothing is really little. That's why I encourage everyone in their means to have an impact on somebody else's life."
I'll cover players who make game-winning shots again. I'll cover players who turn in nightly double-doubles. I might even cover players who bring a championship back to L.A. in the future. But I'm certain when I say that I'll never again cover a player so in tune with what matters in life that he tears up in a lavish gymnasium when taking a second to ponder the plight of others who are less fortunate.
That's the true measure of the man.
The truth is, as sports writers we're not always afforded the proper time or space to make sure that context is never lost on the reader.
Back in December,
I criticized Gasol
for not playing because of an upper respiratory infection when the Lakers went out and lost to a lowly
Philadelphia 76ers
squad.
I took plenty of flak for the piece, with readers chiming in and calling it a "hatchet job" and questioning my motives. Looking back at it, I stand by what I wrote -- Gasol could have played and he didn't, and that's not what guys like him get paid millions for -- but I suppose some context was lost in it all.
Gasol had been a true pro for years despite having his name twisting in the trade winds and seeing the Lakers hire coaches post-Phil Jackson who didn't put him in situations in which he could truly succeed.
[+] Enlarge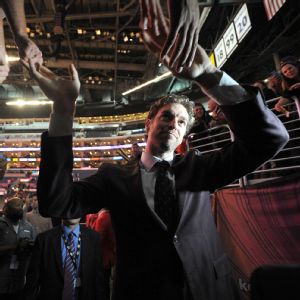 Andrew D. Bernstein/NBAE/Getty ImagesPau Gasol's departure has seemed inevitable for quite some time, but that didn't change how deeply the news affected those who've become close to him during his time in Los Angeles.
In the past he would have fought through an illness to play, but sometimes you get fed up with it all. I grew up as a Philadelphia Eagles fan and this was Gasol's "For who? For what?" Ricky Watters moment.
Everyone has the right to be fed up once in a while.
He tried to become re-engaged as the season wore on. Bryant revealed that Gasol was so mad after a loss to an 11-32
Orlando Magic
team in January that he threw his shoes in the locker room during a postgame tirade.
The following month, after a 20-point loss to Indiana, Gasol said, "I don't think there's a lot of discipline right now." Without naming names, he called out both coach Mike D'Antoni for not cracking down on selfish play and the freshly acquired
Kent Bazemore
for ignoring team play on a wild 8-for-19 shooting night.
You see, all of Gasol's worldly interests don't diminish his love for the game of basketball. But they do frame how he wants to see the game played.
Just as he strives to enrich the community around him, he seeks a basketball environment that is built on teamwork, sacrifice and pulling for the common good. Not one that purposely lessens the role of one player to appease the ego of another (as D'Antoni
admitted to me
that the Lakers did to Gasol when Howard was around). And not one that allows individual agendas to run amok as soon as wins become hard to come by.
He's hoping he can get back to that in Chicago, joining a basketball purist in Tom Thibodeau and a roster, headlined by
Derrick Rose
and
Joakim Noah
, that has something to prove.
Gasol wrote a blog post on his personal website on Saturday explaining his decision. Unlike James, who was celebrated for going the personal essay route and ticked off the names of guys like
Kyrie Irving
and
Anderson Varejao
whom he would be playing with, Gasol didn't mention any Bulls by name.
"While I take a new step in my career in the NBA, I have high hopes of playing with the Chicago Bulls and become an active person in the community of Chicago," Gasol wrote, translating his Spanish words into English.
With Gasol, you know that those hopes are more like a promise.
The Lakers never really got a chance for a proper farewell with Gasol. He missed 12 of the final 13 games last season dealing with a bizarre bout of vertigo. There was no sentimental send-off at Staples Center after he played his last game, just merely Gasol, in street clothes, sticking around to sign autographs for fans following the home finale.
Little did anyone know it at the time, but the last game Gasol and Bryant would end up playing together as teammates was back on Dec. 17 in Memphis, a game in which Bryant fractured his left knee, ending his season prematurely.
Gasol scored 21 points, Bryant scored 21 points. Gasol played 33 minutes, Bryant played 33 minutes. Gasol had nine rebounds and three blocks, Bryant had four assists and a clutch 3-pointer down the stretch. L.A. ended up on top 96-92.
Gasol and Bryant finished as winners together.
How do you properly remember Gasol's time in L.A.? Remember that.
July, 13, 2014
Jul 13
9:59
PM CT
LAS VEGAS -- When the final story of the 2014-15
Chicago Bulls
is written, this past weekend will serve as one of its seminal points in time.
It started Saturday afternoon a few hours before the Bulls' summer league team played its first game. That's when the organization came to the realization that
Carmelo Anthony
was staying in New York for sure and taking all the extra millions that came with that decision.
[+] Enlarge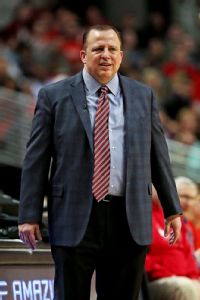 Jonathan Daniel/Getty ImagesTom Thibodeau will have an improved roster to work with in 2014-15 after the Bulls' busy weekend in free agency.
The Bulls were upset. They felt confident Anthony understood and appreciated their direction and the opportunity to contend for championships right away. But instead of sulking over the choice, they went into action with their contingency plans.
Pau Gasol
announced he was headed to Chicago soon after Anthony made his decision. The Bulls came to terms with veteran
Kirk Hinrich
on Sunday -- and then a few hours later, prized European prospect Nikola Mirotic tweeted out that he was headed to Chicago. In a 36-hour span, the Bulls improved a roster that was already solid.
Is it a roster that can contend for a championship? Only time will tell -- the Bulls still lack the type of create-your-own-shot scoring that Anthony would have provided -- but it is unquestionably deeper on paper than it was at any point in the past season. Obviously, the health of
Derrick Rose
hovers over everything the Bulls do, but the front office did a nice job of loading up the rest of the rotation with players who should be able to contribute in several ways.
Rose is the key, but
Joakim Noah
,
Taj Gibson
,
Mike Dunleavy
, Hinrich and Gasol are all proven veterans who know how to play.
Jimmy Butler
is one of the best defenders in the league and, if he develops a consistent shot, will make himself a lot of money.
Tony Snell
struggled at various points this past season but has played well to start summer league.
Rookie
Doug McDermott
has also looked solid to start summer league play and is being counted on to help the Bulls stretch the floor with his shooting prowess. Mirotic remains a bit of a question, in the sense that he has never played an NBA game, but the Bulls' front office has always believed he would produce at this level, and his length should help spread the floor for Rose.
That's 10 players Thibodeau should be able to count on to produce in some form this year. What is left for the front office in the coming weeks? They have to decide if they believe second-round pick
Cameron Bairstow
can make the roster this season. No matter what, they must continue to try to add another backup center to take a little pressure off Noah. Veteran
Nazr Mohammed
remains interested in playing for a third season in Chicago, but it it's unclear if he'll be back.
The Bulls must continue to evaluate backup point guard options. With their recent moves, they have the ability to wait and see how the market unfolds, but
D.J. Augustin
isn't an option anymore after agreeing on a two-year deal with the Pistons on Sunday. Bulls GM Gar Forman needs another veteran in the mix for this role and has had good luck filling that need the past few seasons.
No matter how the rest of the roster is filled, the Bulls' have their core in place. These are the players who will decide how far the Bulls go in the playoffs next season. These are the ones Thibodeau must mold into a contender over the next nine months. The Bulls badly wanted Anthony, but they did the best they could, given the circumstances. It's a tired refrain for frustrated Bulls' fans, but the belief within the organization is that this is still a team that has the ability to contend for a championship right away. The pieces are in place -- now it's time to find out if there's enough talent.
July, 12, 2014
Jul 12
8:05
PM CT
CHICAGO --
Pau Gasol
has already filled the role of
Carlos Boozer
for the
Chicago Bulls
in more ways than one. Forget for a moment the impact he will have on the floor -- Gasol is the consolation prize in free agency, like Boozer was in the summer of 2010. He is
a solid player who will make the Bulls better
, but he isn't the man the Bulls had their hearts set on. That man would be
Carmelo Anthony
, who
appears to be taking all the guaranteed money and staying
with the
New York Knicks
.
[+] Enlarge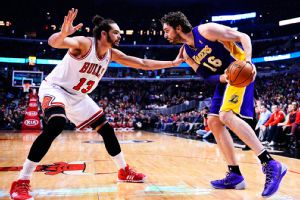 Mike DiNovo/USA TODAY SportsGasol's ability to score facing up or with his back to the basket adds an element the Bulls and Joakim Noah have lacked recently.
Gasol is going to be a solid fit in Chicago. By all accounts, he seems like a great teammate, he's an NBA champion, one of the best passing big men in the game and will fit in well in the Bulls' no-nonsense locker room. But as fans process the flurry of free-agent activity that started Friday afternoon when
LeBron James
announced his decision to go back to the
Cleveland Cavaliers
, the question now is how much better does Gasol make the Bulls? More importantly, does Gasol's addition give the Bulls a legitimate chance to win a title this season?
Gasol averaged 17.4 points and 9.7 rebounds for the
Los Angeles Lakers
last season, but he also just turned 34 years old and missed chunks of the past two seasons because of injuries. His ability to create space on the floor because of his passing and vision should mesh well with
Joakim Noah
. Gasol also gives the Bulls a back-to-the-basket scorer, something they thought they were getting when they signed Boozer four summers ago.
Gasol is absolutely a better all-around player than Boozer, but he has never been known for playing consistent, high-level defense. Like Boozer, there's a solid chance Gasol could end up sitting late in the fourth quarter of games as coach Tom Thibodeau decides to go with one of the best defensive combos in the league in Noah and
Taj Gibson
. While Gasol isn't as defensively challenged as Boozer, he isn't the best option to close down games on this roster.
The larger issue with the Gasol deal is the same one it was going to be with any player the Bulls landed who wasn't Anthony: Does Gasol -- and Nikola Mirotic, assuming the Bulls finally hammer out a deal with the European star -- put the Bulls that much closer to a title? The Bulls would be a better, deeper team with Gasol and Mirotic in the fold, but the issue for them is the same: Who scores late baskets for them in the playoffs?
Derrick Rose
is expected to come back in fine form to start the season and has looked great in summer league practices, according to several people who have seen him play, but the Bulls have seen before how this story ends.
The interesting wrinkle about the Gasol news is that it likely pushes the Bulls out of the conversation for a potential deal with
Minnesota Timberwolves
star
Kevin Love
for now. With Gasol, Noah, Gibson and Mirotic likely headed to the NBA, the Bulls are loaded with big men and will still try to add a backup center in free agency.
Still, even if Rose stays healthy -- which is a huge "if" given he's played only 49 games the past three seasons because of various injuries -- Gasol isn't the type of "create your own shot" player the Bulls have been lacking. He's a skilled offensive big man who is past his prime. The Bulls still have a chance to contend in the weak Eastern Conference -- but the goal is to find ways to win championships. Gasol's addition puts them closer to that goal, but not by much.
July, 8, 2014
Jul 8
1:04
PM CT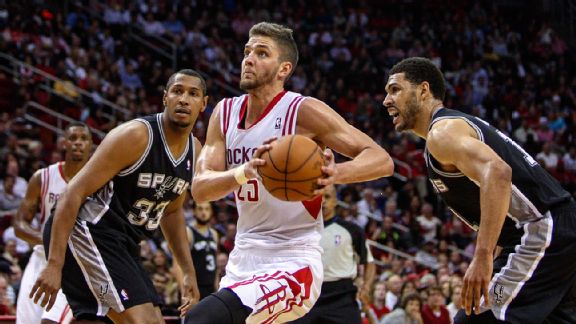 Troy Taormina/USA TODAY SportsChandler Parsons, a second-round pick in 2011, is in for a big payday this summer.
As the basketball world awaits a decision from the top stars in the NBA, the
Chicago Bulls
have to continue planning for the future despite the uncertainty of the present.
If
Carmelo Anthony
does not sign in Chicago, the Bulls are going to have a lot of choices to make in a short amount of time. Like many teams, the Bulls have money to spend but there is a lot of competition to land second- and third-tier free agents. Once the first big dominoes of free agency fall when
LeBron James
and Anthony make their decisions, everything else will come down quickly.
The Bulls have several contingency plans in order and they must act decisively if they are left at the alter by Anthony.
With that in mind, here are a few of the options Gar Forman and John Paxson will have to consider if Anthony passes on the Bulls:
It always seemed like Houston would end up matching whatever offer materialized for the restricted free agent. But if the Rockets end up landing
Chris Bosh
, maybe the game changes for a team like the Bulls. At 25, Parsons is sure to have many suitors -- the interesting aspect of his deal, as my colleague
Tim MacMahon from ESPNDallas.com noted
, is that any team that signs Parsons to an offer sheet may then have to wait three full days to see if the Rockets would match the offer.
If James still hasn't made his decision in a few days and Bosh is waiting to see what happens, would a team like the Mavericks or Bulls be willing to gamble on signing Parsons to the offer sheet, in the event that Anthony picks a team?

There are a lot of moving pieces in this scenario, but it's hard to envision the Bulls making that choice knowing that they may not end up with any of their targets if they tie up their money in the offer for three days and then Houston ends up matching anyway.
Parsons would fill a huge need for the Bulls in the form of outside shooting, but would the Bulls be willing to create enough cap space to land him? According to ESPN capologist Larry Coon, the Bulls would have about $13 million in available cap space if they use the amnesty provision to eliminate the final year of
Carlos Boozer
's deal and trade
Mike Dunleavy
. With Nikola Mirotic's arrival looming on the horizon, the Bulls wouldn't even come close to offering Parsons a competitive offer if Mirotic wants somewhere between $6 million and $8 million.
As Coon noted, the Bulls can't offer Parsons the same kind of "poison pill" contract the Rockets offered former Bull
Omer Asik
because Parsons has already been in the league for three years and is not bound to the same contract restrictions. Plus, if the Mavericks, or another team swoop in to sign Parsons to a big offer sheet, then the Bulls are out of contention anyway. Parsons is a close friend of Bulls center and fellow Florida product
Joakim Noah
, but that tight bond probably isn't going to be enough to bring him to Chicago.
Gasol
Gasol's name has been on the Bulls' radar for a while. The front office flew out to meet with Gasol last week in Los Angeles and he seems to be at the forefront of any non-Anthony contingency plan. As with Parsons, there are a lot of teams contending for his services. The Bulls don't figure to offer Gasol nearly as much as the Lakers will, but they can sell playing on a team that believes it has a legitimate chance to contend next season in the much weaker Eastern Conference. Still, landing Gasol is going to be tough because of the quality of suitors in the hunt for him.
Stephenson
The mercurial 23-year-old Pacers swingman has already turned down a five-year, $44 million deal from Indiana and
ESPN.com's Chris Broussard reported
Monday that the two sides are still "far apart on a deal." I still don't believe the Bulls will make a serious run at Stephenson because of his documented ability to upset a locker room, but if they whiff on other names, he remains a possibility, especially if the Pacers can't come to terms with him.
Deng
Don't hold your breath for a Deng reunion with the Bulls. Deng already turned down a three-year, $30 million deal last season. He and his camp were not happy with how the Bulls approached the contract process and there are still lingering feelings on both sides. Plus, adding Deng after potentially missing out on Anthony & Co. would not satisfy a fan base that already knows what kind of team the Bulls are with Deng in the fold.
Ariza
The
Washington Wizards
swingman would fit into the Bulls' system on many levels. He is a solid defender and can knock down open jumpers -- as evidenced by some of his performances in the Wizards' first-round playoff win over the Bulls. Washington would still like to re-sign him, but he could be an answer if the Bulls are willing to splurge a little.
As the Bulls' front office tries to filter through all the scenarios, the big problem they have is the same one every team is dealing with. Many organizations have a lot of money to spend this summer.
As the Bulls learned in the past with Carlos Boozer, and others, teams usually have to overpay in free agency. That's why it's more imperative than ever for the Bulls to target one big free agent and lock him up right away if Anthony isn't ready to come to Chicago. The Bulls aren't going to have time to wait and see what happens in a crowded marketplace.
July, 3, 2014
Jul 3
7:05
PM CT
CHICAGO --
Carmelo Anthony
remains the apple of the
Chicago Bulls
' eye. The organization continues to hope that Anthony turns down the financial security of a max offer, or near-max offer, from the
New York Knicks
as he makes his final decision on where to play in the coming days. While the Bulls remain confident in the recruiting pitch they gave to Anthony, Bulls officials understood that it was always going to be toughest to convince Anthony to leave New York. The feeling from many within the organization after Tuesday's pitch is that this is a two-team race between the Knicks and the Bulls.
The question, as has been the case all along, remains whether Anthony is willing to leave millions of guaranteed dollars on the table in order to chase a championship in Chicago. With the help of ESPN salary capologist Larry Coon, the Bulls' numbers, in regards to an Anthony deal, stack up this way. If the Bulls keep a preferred core of
Derrick Rose
,
Joakim Noah
,
Taj Gibson
and rookie
Doug McDermott
intact, they will be able to offer Anthony roughly $17 million next season. What that also means is they'd have to fill up the rest of the roster with a majority of minimum-salary players.
While the Bulls are holding out hope that Anthony decides to join forces with Rose and Noah, the feeling from several sources remains that Anthony will decide to stay with the Knicks. With that in mind, let's take a look at the next few options the Bulls will have if they do indeed miss out on their top target.
1. Make a push for Kevin Love again
The Bulls have kicked the tires on a Love deal with the
Minnesota Timberwolves
for several years. If they don't land Melo, expect them to make some more calls to Timberwolves coach and president of basketball operations Flip Saunders to see if they can work something out. Since Love wasn't moved before the draft, there's a solid chance that Saunders will try to persuade Love to stay one more time before potentially dealing him before the trade deadline in February.
2. Go for Gasol
The Bulls were scheduled to meet with
Pau Gasol
on Thursday in Los Angeles as he ponders his own future, according to ESPN.com's Marc Stein and Ramona Shelburne. Having made a little more than $19 million last season, Gasol figures to be in line for a pay cut, but interested teams have to figure out just how much of one he's willing to take. From the Bulls' perspective, Gasol would fill a need as a back-to-the-basket offensive weapon and a solid presence in a tight locker room. According to Coon, if the Bulls
amnesty
Carlos Boozer
and deal away veteran
Mike Dunleavy
, they would have roughly $13 million in available cap space.
With a number of high-quality teams
pitching for Gasol's services
-- and the fact that the Lakers can still offer big money -- the Bulls need to make a strong financial offer and tie it around the fact that they are ready to contend for a title right away. Even then, that might not be enough depending on the other offers Gasol figures to get.
3. Bring Nikola Mirotic over
[+] Enlarge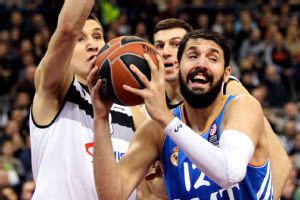 AP Photo/Darko VojinovicMirotic's Bulls future is bright, but he would be no substitute for Anthony if the team decided to sign him for the upcoming season.
There's been a lot of speculation regarding Mirotic's status in recent days, a fact that hasn't gone unnoticed by the Bulls front office as it tries to figure out its next move. For the moment, Mirotic's status with the Bulls this season is uncertain. The organization had always hoped it could land Mirotic for the midlevel exception, but now, in order to bring him over, it'll have to dip into its cap space to make it happen. Is Mirotic worth $7 million to $8 million per year? How much of an impact would he be able to have during his first season in the NBA? The Bulls remain high on Mirotic, but the idea that his addition would put the Bulls that much closer to a championship in his first season in the league is far-fetched at best.
4. Worst-case scenario
If the Bulls fail in Options 1-3, the frustration of the fan base will permeate throughout every aspect of the organization. Assuming they don't find any takers for a Boozer sign-and-trade, the Bulls could still amnesty the final year of his deal and move Dunleavy -- but what would they do with the $13 million left in cap space?
Lance Stephenson
appears to be a last-ditch possibility. I don't believe he would work well in coach Tom Thibodeau's locker room, but he has the type of talent that could continue to blossom in the right situation. The Bulls will keep tabs on
Chandler Parsons
, a good friend of Noah's, but it's hard to believe the Rockets will let him walk as a restricted free agent -- especially if they don't land Anthony or
LeBron James
.
The Bulls' biggest problem is the same one it faced as free agency began: There are some solid names and possibilities on this list, but if it doesn't land Anthony or Love, the organization can't feel confident in the notion that it would start the upcoming season as a legitimate title contender.
June, 28, 2012
6/28/12
12:51
PM CT
By Chad Ford and Marc Stein
ESPNChicago.com

The Los Angeles Lakers have been checking around the league this week to gauge Pau Gasol's trade value, according to sources briefed on the discussions.
Read the entire story.
March, 13, 2012
3/13/12
3:47
PM CT

By Marc Stein
ESPNChicago.com
Archive
The Chicago Bulls are exploring avenues to acquire Los Angeles Lakers forward Pau Gasol before Thursday's trade deadline, according to sources close to the situation.
Read the entire story.