Chicago Bulls:

Paul George
August, 13, 2014
Aug 13
10:57
AM CT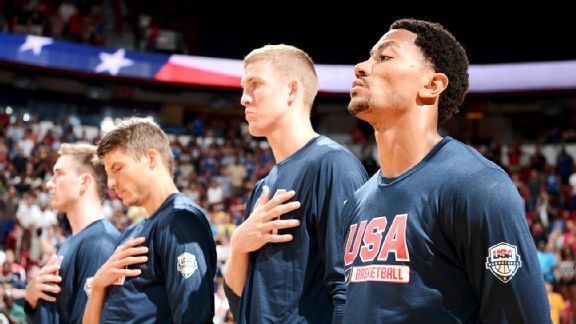 Garrett W. Ellwood/Getty ImagesDerrick Rose will have to take on a bigger role with Team USA after the loss of Kevin Durant and Paul George.
Tom Thibodeau spoke with a sense of relief during Team USA's training camp in Las Vegas two weeks ago. The
Chicago Bulls
head coach and Team USA assistant was ecstatic that
Derrick Rose
was back on the floor and performing at a high level, playing with the same speed and explosiveness that he had shown before his first knee injury in April 2012.
But most importantly, Thibodeau was relieved because he knew Rose wasn't going to have to be "the man" on a talented USA team as he takes the next step in his comeback from a torn meniscus suffered in November 2013. He wasn't going to have to be relied upon to carry the scoring load each game like he usually does with the Bulls.
"I think this is why [this camp] is so good for him," Thibodeau said on July 29, the second day of Team USA's camp. "Because of the talent level that's here. It's a chance for him to measure himself to see where he is. He doesn't have the burden to carry the load for a team."
Things have changed since then for Team USA -- and for Rose, who came to Chicago for practices Thursday and Friday before playing in an exhibition game against Brazil on Saturday at the United Center.
[+] Enlarge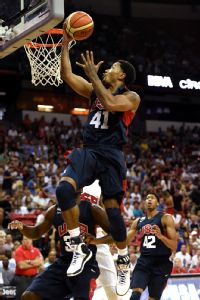 Ethan Miller/Getty ImagesDerrick Rose likely won't just be primarily a facilitator on offense for Team USA anymore.
Paul George
suffered a gruesome broken leg in Team USA's scrimmage a few days later. Then
Kevin Durant
left the team Thursday because of "physical and mental fatigue." In the span of just a few days, the dynamic of the next month changed for Rose. He has gone from a dynamic facilitator to a player whom Team USA head coach Mike Krzyzewski probably is going to have to lean on more offensively when the World Cup of Basketball starts Aug. 30 in Spain.
It's a challenge that Rose will assuredly embrace, but it's fair to say he wasn't expecting it just a couple weeks ago.
While there are plenty of scorers left on Team USA, including
James Harden
and
Stephen Curry
, both of whom have international experience, Rose will now be counted on more offensively. Although Thibodeau remains eternally confident in his star, it's a role that has to leave him a little uneasy given the circumstances.
Rose has only played in 49 games in the past three years because of all the injuries and just 10 in the past two because of two serious knee injuries. Thibodeau wanted to ease him back, but that doesn't appear to be as likely now -- and that's probably a good thing for the Bulls.
In the immediate aftermath of George's injury, some fans and undoubtedly some in the Bulls' organization had to wonder whether Rose should continue to play for Team USA this summer. What if he suffered another injury? George's misfortune was another reminder that injuries can occur anywhere.
Rose hasn't played much in three years, and Team USA has given him a platform to show what he can do on the world stage. It will be a great litmus test for him to see where he is mentally and physically heading into the Bulls' season with high expectations.
It will also give Rose a chance to prove to himself and to the rest of basketball that he can still be the go-to guy on a team when needed. Thibodeau and the rest of the coaching staff will continue to watch Rose closely, and they know that there will still be rust for the former MVP to shake off, but now he will have to shed it even quicker than expected.
If Rose's week in Vegas was any indication, that shouldn't be much of a problem. Players and coaches raved about how well he was playing, and Rose even acknowledged how much more fun he was having on the floor.
"I usually say whatever the game needs, that's what I'm going to put into the game," Rose said. "And I learned that by actually playing through my mistakes with the first injury. Just seeing that I was forcing everything, it wasn't the way that I was playing. I wasn't enjoying the game like I was before the injury. Now it feels like I appreciate it a little bit more and just enjoy being on the court and playing the game that I love playing."
He'll have even more chances to showcase his skills now that George and Durant are no longer on the roster. In the short term, that fact might make the Bulls and Thibodeau a little nervous, but it should pay off in a major way for the Bulls in the long term if Rose can stay healthy throughout the tournament.
November, 17, 2013
11/17/13
8:00
AM CT

By Doug Padilla
ESPNChicago.com
Archive
CHICAGO -- After finally getting humbled on the basketball court Saturday night, the one-loss
Indiana Pacers
had no choice but to be the same way off it.
The
Chicago Bulls
put together their best game of the season in a 110-94 victory at the United Center, dropping the Pacers to 9-1 on the season.
That talk from
Paul George
recently that this is the Pacers' time and that the Bulls' era was in the
Michael Jordan
days was not only not repeated, there was an attempt to put it into perspective.
"That was completely taken out of context," George said. "What I meant by that is ... I agree what
Derrick Rose
said. It's not rivalry. We haven't won a championship, the team to beat is Miami, of course. All of that was taken out of context."
George's quote last week sure sounded as if he were was calling the Bulls yesterday's news.
"We want to step away from that shadow as the 'little brothers' of this division," George said, according to NBA.com. "Their success is the Michael Jordan era. This is a new age, this is a new team. It's ours till they take it."
November, 8, 2013
11/08/13
12:34
PM CT
CHICAGO --
Joakim Noah
brushed off
Paul George
's assertion that his
Indiana Pacers
had supplanted Noah's Bulls as the Central Division's best team.
"It's all good," Noah said after Friday's shootaround before the Bulls take on the
Utah Jazz
. "It's game five of the season, man. It's a long journey. We'll see those guys again."
George and the Pacers dropped the Bulls to 1-3 after a 97-80 victory on Wednesday night in Indianapolis and then told NBA.com that Indiana is leading a new era in the league and the Bulls are old news.
"We want to step away from that shadow as the 'little brothers' of this division," George said. "Their success is the
Michael Jordan
era. This is a new age, this is a new team. It's ours till they take it."
Bulls star
Derrick Rose
said in the preseason that he didn't believe the Pacers were a rival to the Bulls, just the
Miami Heat
. On Friday, Noah didn't want to get caught up in the any kind of rivalry talk.
"To me it doesn't matter," he said of a potential rivalry with the Pacers. "They want the same things that we want. And anybody who wants what we want I don't really like at this point so right now it's not about them, it's not about anybody, it's about us. We got to get better. That's our mindset -- it starts with [Friday night]."
October, 4, 2013
10/04/13
4:19
PM CT
INDIANAPOLIS -- The significance of Saturday's preseason opener between the
Indiana Pacers
and the
Chicago Bulls
isn't lost on Frank Vogel.
"This might have more attention for a first preseason game than maybe any game in the history of the league," Vogel joked after Friday's practice. "With
Danny Granger
coming back and
Derrick Rose
's return … It will be exciting, but it still is just the first preseason game."
While that might be the mantra Vogel wants his team to remember, the young coach also acknowledges that he still considers the Bulls a rival.
"To me, any team that's competing for the East is a rival," Vogel said. "They're in our division, clearly our top competition to win the division again and repeat as the division champs, so, sure, I would say [they're still a rival]."
His players agreed with that assessment.
"I think Chicago will always be a rival," Granger said. "When you go to the United Center, it's crazy. They have a big home-court advantage there. They have a huge following, not only locally in Chicago, but nationally as well, and I think they'll always be a rival to us.
"We're really close, so a lot of times there's a lot of Bulls fans here, and vice versa. I think as long as we're in the division, we're going to be rivals."
March, 23, 2013
3/23/13
9:53
PM CT
CHICAGO -- Let's take a quick look at how the
Chicago Bulls
squeaked out an impressive win over the
Indiana Pacers
on Saturday night at the United Center.
How it happened:
Playing without
Joakim Noah
(foot), Rip Hamilton (lower back) and
Derrick Rose
(knee), the Bulls still found a way against an Indiana Pacers team playing without
Danny Granger
(knee) and
David West
(back).
Luol Deng
bounced back nicely from a tough offensive stretch, scoring 20 points and pulling down seven rebounds.
Carlos Boozer
added 18 points and 10 rebounds.
Paul George
led the Pacers with 23 points and 10 rebounds.
What it means:
These are the types of wins the Bulls have piled up under Thibodeau. Just when you think they look completely down and out, just when the injuries appear too much to overcome, Thibodeau and his team find a way to win games they aren't supposed to. The key for the Bulls in this game -- aside from Deng and Boozer's play -- was the impressive performance from
Nazr Mohammed
. The veteran center came in for Noah and scored 11 points and seven rebounds in 31 minutes. He played very well and gave the Bulls a solid presence to lean on in the middle. Only time will tell if the Bulls will be able to string together a few more wins with this group, but they got the type of contributions they needed on this night.
Hits:
Daequan Cook
knocked down a couple big shots down the stretch and made several nice hustle plays in his 18 minutes. He had nine points and five rebounds before leaving the game with a left thigh bruise.
Misses:
Kirk Hinrich
was 1-for-5 from the field and scored just two points.
Stat of the night:
The Pacers shot just 38.5 percent from the field.
What's next:
The Bulls are right back at it Saturday night when they face off against the
Minnesota Timberwolves
.
October, 25, 2012
10/25/12
8:10
PM CT
DEERFIELD, Ill. -- When the Bulls face off against the
Indiana Pacers
on Friday night in South Bend, Ind., they'll be filling a role they haven't had to play in about two years -- that of an underdog.
[+] Enlarge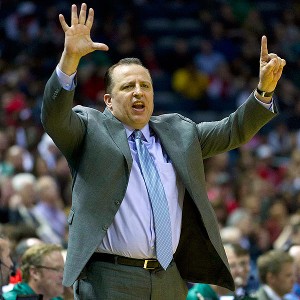 Jeff Hanisch/US PresswireTom Thibodeau expects his Bulls to focus on what's in front of them rather than embrace the underdog tag, but he admits the Pacers will be tough.
After dominating the Central Division the last two seasons to the tune of 112 regular season wins, the Bulls now face the reality that without
Derrick Rose
they don't have as much talent, at least on paper, to match up with the Pacers. It's a role that some players are embracing.
"We love it," Bulls guard
Richard Hamilton
said of the lowered expectations. "Because you love to be the underdog. You love to do stuff when people don't expect you to do anything. It makes you strive and makes you go out and want it even more."
While the players might appreciate the value of flying under the radar, Bulls head coach Tom Thibodeau isn't buying into the fact that expectations around his team will change, with or without Rose.
"It really doesn't mean anything," Thibodeau said after Thursday's practice. "To me, it doesn't matter what other people think. The only thing that matters is what we think. So whether you're being praised, criticized, that doesn't mean anything. It's what we think. And all I want them to concentrate on is exactly what's in front of them, improve every day, do the right things, concentrate, know your job, do your job, know when to shoot, know when to pass, stay disciplined. We do those things, we'll have a chance."
Thibodeau doesn't believe he should have to feed into his players' egos and motivate them by talking about critics. The veteran coach simply believes in hard work, and that's the motto he wants his players to hold onto.
"If you have the right type of guys, they're going to be doing the right things every day," Thibodeau said. "If you're relying on that type of stuff, I don't know how far that gets you. I'd rather have a team that's committed to doing the work, preparing the right way, doing the right things and just concentrate on that. That's how you have success."
April, 21, 2011
4/21/11
11:26
PM CT
By Mark Montieth
ESPNChicago.com
Archive
INDIANAPOLIS -- The Pacers drew hope from their overall effort on
Derrick Rose
in Game 3.
The Bulls guard scored 23 points in the 88-84 victory.
Rookie
Paul George
, five inches taller than Rose, and veteran
Dahntay Jones
, three inches taller, took turns defending him. George played off Rose to keep him from penetrating as much while Jones tried to keep him from catching the ball and played him physically when he did.
George, for one, believes he can continue to keep Rose in check.
"He got a good estimation of what I can do defensively," said George, who has hit 4-of-18 shots in the series. "It seems like it's in the back of his mind sometimes when he wants to drive. He's not as decisive as he was in Game I, I believe. Hopefully my length will continue to bother him."
Still, Rose had the last word with his game-winning layup, doing what the Pacers have failed to do throughout the series: close out a game.