Chicago Bulls:

Phoenix Suns
February, 4, 2014
2/04/14
10:48
PM CT
PHOENIX -- Let's take a quick look at how the
Chicago Bulls
pulled out a 101-92 win over the
Phoenix Suns
on Tuesday night at U.S. Airways Center.
How it happened:
Carlos Boozer
led the Bulls with 19 points and 12 rebounds, while
Joakim Noah
added 14 points and grabbed 14 rebounds.
Goran Dragic
led the Suns with 24 points and seven rebounds, but it wasn't enough for a Phoenix squad that struggled to get into a rhythm all night thanks to the Bulls' tenacious defense.
What it means:
Tom Thibodeau will be ecstatic with the way his team executed its game plan. The Bulls knew in order to beat the Suns they had to slow the game down; that's exactly what they did. They controlled the pace all night and played solid defense throughout. It was exactly what the Bulls needed after being embarrassed by the
Sacramento Kings
a night earlier. Thibodeau was more upset than usual on Monday night and stressed that his team had to stick together in order to get back on track. The Bulls took his words to heart against a talented Suns team.
What has to make Thibodeau even happier is that Boozer performed well after several poor showings in the past week.
Jimmy Butler
hit a couple big shots, and
D.J. Augustin
knocked down several clutch buckets in the final quarter.
Hits:
Augustin had a nice bounce-back game, scoring 18 points, 11 in the fourth quarter, and grabbing three rebounds.
Misses:
The Bulls and Suns combined for 40 turnovers.
Stats of the night:
The Bulls outscored the Suns 40-30 in the paint. It was the Bulls' fifth straight win in Phoenix.
What's next:
The Bulls have a day off before squaring off against the
Golden State Warriors
in Oakland on Thursday night.
January, 12, 2013
1/12/13
9:38
PM CT
CHICAGO -- Let's take a quick look at how the
Phoenix Suns
earned a 97-81 win over the
Chicago Bulls
on Saturday night at the United Center.


How it happened:
Luis Scola
led the Suns with 22 points and seven rebounds while
Michael Beasley
played his best game in weeks, scoring 20 points off the bench.
Carlos Boozer
had another solid outing, scoring 15 points and grabbing 10 rebounds, but it wasn't enough for the Bulls.
What it means:
The Bulls continue to play up and down to the level of their competition. After an impressive win against the
New York Knicks
on Friday night, the Bulls knew they had to play well against the Suns to really feel as if they had turned a corner in their season -- but that didn't happen.
It has to be starting to feel like Groundhog Day for Tom Thibodeau. He knows his team isn't performing well at home and he understands it is playing poorly against bad teams, but he can't do much to turn things around. The Bulls were tired, but that shouldn't be an excuse on this night given that the Suns were playing their fourth game in five nights. The Bulls aren't able to take the next step as a team because of their repeated inconsistency.
Hits:
Jimmy Butler
had a solid night off the bench, going 5-for-7 from the field for 13 points and giving the Bulls energy in spurts.
Misses:
Joakim Noah
,
Luol Deng
,
Nate Robinson
and
Marco Belinelli
combined to shoot 14-for-49 from the field.
Kirk Hinrich
took only three shots and missed all of them.
Stat of the night:
The Suns now are 3-17 on the road this season. The Bulls now are 10-10 at home.
What's next:
The Bulls take on the
Atlanta Hawks
on Monday night.
November, 25, 2010
11/25/10
1:12
AM CT
PHOENIX -- When asked before Wednesday night's game whether he was concerned about his team playing on the second night of a back-to-back against an up-tempo team like the Suns, especially after a hard-fought loss the night before against the Lakers, Bulls head coach Tom Thibodeau laid down a gauntlet of sorts for his players.
"This is what you prepare for," he said. "All your conditioning. All your work. Everybody plays back to backs. It's a good test for our defense ... our discipline will be tested."
After his team clawed its way back from a 23-point deficit to knock off the Suns 123-115 in double overtime, it's safe to say Thibodeau's bunch passed the test.
"This is our team," Thibodeau said. "There's no quit in them. They'll keep fighting. The challenge for us is every day we want to continue to improve. I think we're learning how to win. We're not there, we still have a lot of work to do, but I think we're moving in the right direction."
For the moment, that direction is straight up.
Quite simply, last year's Bulls wouldn't have been able to win a game like this. Sure, they may have clawed back, but they wouldn't have been able to get over the final hurdle, or worse, they would have folded up the tent all together. What's evident when you listen and watch this year's edition of the Bulls is that Thibodeau has instilled a confidence in them that is unshakeable. They never believe they are out of a game. And, like their coach, they are determined not to get too satisfied with any one performance.
[+] Enlarge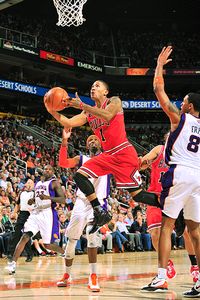 P.A. Molumby/NBAE/Getty ImagesDerrick Rose came through in the clutch for the Bulls in Wednesday's win.
"We're never going to stop," Bulls point guard
Derrick Rose
said. "We could be down 20 points, 30 points. We never want to be in that situation but if we're forced to be in that situation by the way that we're playing, we're willing to come back."
So where does the new-found confidence come from? Why is it that the team has bought into Thibodeau's system so quickly?
"I think it's just character," Bulls forward Luol Deng said after playing a game high 54 minutes. "We have characters that really care about the game and trying to win."
They proved that over and over again Wednesday night. Just when you thought the Bulls were out of it, they came back. Just when you thought they were completely out of energy, they found some more. It's the type of win that Rose and his teammates know could help propel them throughout the year.
"We already have confidence in each other, but it makes [our confidence level] higher." Rose said. "Knowing that we can win a game like this against a good team like that. We just got to keep it going. We know that we have two more games left on this trip."
There's that new attitude again.
Even in victory, the Bulls are always looking forward. That's a credit to Thibodeau and the culture he has created.
"To win on the road is tough," he admitted after the game. "I think you have to be mentally tough and you have to do the things to put you in position to win so. We always say there's three things we want to do, to get established on and that's defend rebound and be low turnover. We feel if we do that we'll be in position to win."
That's exactly what happened. The Bulls overcame a fatigued slow start and sloppy play in the first quarter to pick up their biggest win of the year.
"It was a huge win," Joakim Noah said. "It feels good to win right now. The thing that sucks about the league is we can't celebrate it for a week. That would have been great, to be able to celebrate a win like this for a week."
The Bulls will be back at it on Friday in Denver, but if they keep playing with the same purpose, there will be plenty for Noah and his teammates to celebrate down the line.
April, 2, 2010
4/02/10
9:47
PM CT
WASHINGTON -- The
Chicago Bulls
will take any possible win they can get at the moment, even if a particular win is uglier than some of the games they have lost this season.
That's why the general feeling hovering over the team's locker room on Friday night after a 95-87 win over the
Washington Wizards
was one of relief. After struggling through so many injuries and so many ups and downs this season, Bulls coach
Vinny Del Negro
was just glad to be able to talk about something positive. But, in truth, if Friday night's game showed anything, it proved why the Bulls probably aren't headed to the playoffs at season's end.
For the first time in almost two months they had a full compliment of players.
Luol Deng
returned after missing the past 11 games with a calf strain.
Joakim Noah
started for the first time in two months after battling plantar fasciitis. And
Kirk Hinrich
was back in the lineup after spraining his ankle on Tuesday against the
Phoenix Suns
.
But aside from a stretch in the fourth quarter, the Bulls really didn't play well at all.
Their defensive intensity was lagging all night and they looked discombobulated at times on the floor. Had it not been for
Derrick Rose
(24 points, five assists and four rebounds)
Taj Gibson
(14 points and 16 rebounds) and a few big shots by Deng, the Bulls would have lost to a Wizards team that came into the game having lost 16 of their past 17.
"It was definitely a game we really needed," a tired looking Noah said. "We didn't play great, but we got a 'W' and that's all that matters."
Maybe so, but the fact that this game was this close for so long has to concern Del Negro as his team heads into the final two weeks of the season.
"It wasn't our best basketball," Del Negro said. "But we found a way to win, and we got the defensive stops in the second half we needed."
With everybody back on the floor though, the Bulls should have coasted past a depleted Wizards roster. Instead of getting an added boost from having more healthy bodies, the Bulls appeared to go through an adjustment period at times -- a stretch that Del Negro knows his team can't afford with just seven games left to play.
"We don't have time for an adjustment period," he said. "We play [Saturday] night. Guys are just going to have to battle through it. We'll see who's healthy and who's feeling good [Saturday] and those are the guys that will be out there. But we're going to need everybody. Whoever can go will be out there, and we'll see how it comes together every day."
Del Negro better hope everything comes together quickly for his team, because if they play like they did on Friday night the mere idea of sneaking back into the playoffs will drift away much like the rest of the season has for the Bulls.
January, 25, 2010
1/25/10
4:06
PM CT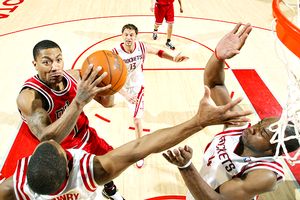 Bill Baptist/Getty Images
Derrick Rose is averaging 23 points a game in January.
SAN ANTONIO -- The Chicago Bulls werent running on empty on Saturday night like everyone thought they would be. They were just running.
Again.
Playing on the second night of a back-to-back, and without center Joakim Noah, most people figured the team would run out of gas and fade in the end.
But it didn't happen.
In fact, Vinny Del Negro's team picked up its second win in a row and proved yet again that they are at their best offensively when they are moving up and down the court like the Suns. They have an athletic lineup that can pull it off, and it's clear that the players have responded to the more up-tempo style.
"Yeah, that's something we've been trying to do all year," Rose told me after the Phoenix game. "Just pushing the ball. Getting people open. Rebounding and running. But we just got to play defense in order for us to do that."
The Bulls have played good enough defense to survive, but Del Negro doesn't sound as confident that a full-time fastbreak offense is going to become a mainstay.
"Every game is different," he said after Friday's win. "Every game presents different match-ups and different issues ... we just got to play hard, play smart. I thought we played a little bit smarter [Friday night]. We didn't make too many bad turnovers where it cost us in the open court like we did [Wednesday against the Clippers]."
Although it's certainly true that the Bulls, like most every other NBA team, have struggled at times this season with turnovers at crucial moments in games, it would be foolish for Del Negro not to at least consider the possibility of pushing the ball on a more consistent basis. The Bulls look and most importantly, play differently when it they are sprinting up the sides looking for a shot.
"They get in the open court, that's when they're good," Houston coach Rick Adelman said before Saturday's game. "I remember last year in the playoffs they were really difficult to guard ...
"I think when they're shooting and making shots and attacking they're a real difficult team and their energy level seems to get better at the other end."
The beauty of Del Negro's strategy over the past two games is that the energy really does seem to go up when the Bulls are flying up the court. They seem much more excited to play, and much more willing to get ready defensively so that they can get the ball back. The proof is in the 110 points they have averaged over the past two games.
"We're always saying we want to play a tempo," Del Negro said on Saturday. "But against certain teams ... you start taking quick shots against Phoenix for example [Friday] night, you take some quick shots and you're not making them, now they're on the break and they're a high scoring team for a reason.
"We shot the ball well [Friday] night. That was one of the big keys to the game. And we kept our turnovers down and didn't give them many open looks in transition. Quick shots are fine if they go in. If they don't, against teams that like to run and can spread you out, they can put a lot of pressure on your transition defense, and defense overall."
I see what Del Negro is saying, and respect the fact that he is still skeptical, but the recent surge in offensive productivity is too hard to ignore. At times this season, the Bulls' offense has been hard to watch. Now that it actually seems to have some life in it, why would you try to slow it down again?
January, 23, 2010
1/23/10
2:44
AM CT
PHOENIX -- Tyrus Thomas laughed as he walked back to the Chicago Bulls sidelines. He couldn't believe what he had just seen.
Joakim Noah sat at his locker about an hour later and reminisced with Brad Miller about what they had just witnessed.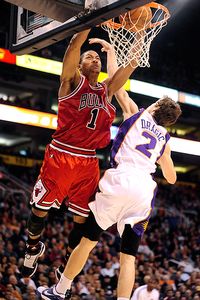 Mark J. Rebilas/US Presswire
Bulls guard Derrick Rose dunks the ball against Phoenix Suns guard Goran Dragic in the fourth quarter of Friday's 115-104 win.
An arena full of fans walked out of the Bulls-Suns game, which Chicago won 115-104, still buzzing about "The Dunk."
With just over six minutes to play and the Bulls desperately trying to hang onto a six-point lead, Derrick Rose came racing down the floor on a fast break and dunked it on top of the Suns' Goran Dragic. The play was so dramatic that almost everyone in the stands seemed to be in a state of shock.
"A terrible dunk," Joakim Noah joked after the game. "I don't understand what all the hype is about."
Even Noah couldn't keep a straight face.
"That was crazy," he said of Rose's slam. "A crazy dunk, man. I'm happy."
As for Rose, the reigning rookie of the year seemed shy when it came to talking talking about the sure-fire SportsCenter top-ten play.
"I got to see it," he said. "I didn't know [Dragic] was going to jump at first to tell you the truth. I was going to go up and just dunk it. He jumped, so I guess I put it back and I just put it in ... I guess I got up pretty high."
You can say that again.
"Derrick's athletic," Bulls coach Vinny Del Negro said about the play. "He's going to get those things. He has that ability. I see it all the time in practice or whatever. I'm more concerned with him running the team and creating off the dribble and his shot and all those things."
Del Negro didn't have much to worry about on this night. Rose scored 32 points and gave the Bulls probably their most impressive win of the season.
The thing is, the lasting memory that from this game won't be the fact that the Bulls won.
It will be that Rose threw down one of the most intense dunks in recent Bulls history.