Chicago Bulls:

plantar fasciitis
April, 11, 2013
4/11/13
6:10
PM CT
By Staff
ESPNChicago.com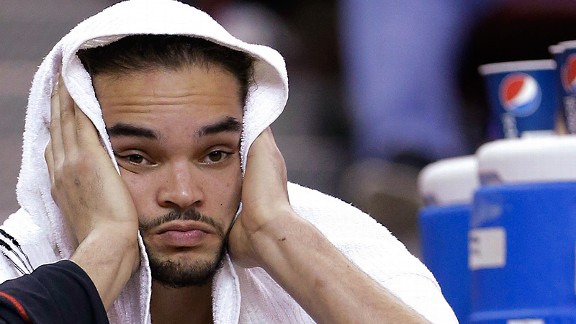 AP Photo/Rich PedroncelliJoakim Noah is likely to miss the final four games of the regular season to rest his foot.
Chicago Bulls
general manager Gar Forman admitted Thursday that
Joakim Noah
's plantar fasciitis in his right foot is a problem that's likely to linger into the playoffs.
"The concern now is more short-term," Forman said on "The Waddle & Silvy Show" on ESPN 1000. "I think this is the type of injury where we're trying to manage it and get him better where he's more comfortable.
February, 11, 2013
2/11/13
12:02
PM CT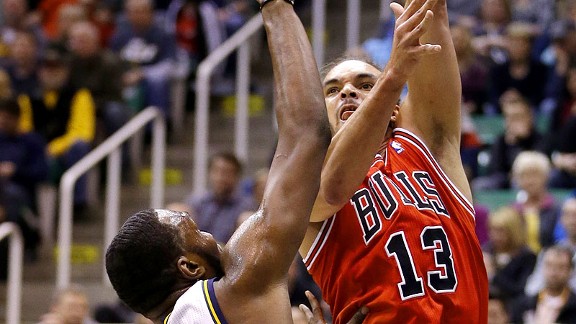 AP Photo/Rick BowmerJoakim Noah is considering missing the All-Star Game because of foot problems.
DEERFIELD, Ill. --
Chicago Bulls
center
Joakim Noah
is a game-time decision for Monday night's contest against the
San Antonio Spurs
because of plantar fasciitis in his right foot. Noah spent some extra time after shootaround, working on some of his post moves but Bulls head coach Tom Thibodeau said Noah didn't do much.
"We held him out most of it," Thibodeau said. "He did the walk-through part, did a little bit of shooting."
Noah missed three games last week before returning on Thursday night against the
Denver Nuggets
. He admitted on Sunday that he would consider missing the All-Star Game this Sunday if he felt it was necessary.
"To me, (the All-Star Game is) pretty important," Noah said after Sunday's practice. "I mean, it's not that important, but it's something I want to do. I also have to do what's right for the team. There's obviously a bigger picture than the All-Star game. We'll see."
Thibodeau understands that Noah's injury comes down to pain tolerance.
"He's had it before so we'll see how it goes," Thibodeau said. "He's fine."
Thibodeau reiterated that guard
Kirk Hinrich
would be out again Monday because of a right elbow injury. Backup guard
Marco Belinelli
will play as he continues to rehab his sprained right ankle that he injured last week.
April, 10, 2010
4/10/10
4:08
PM CT
[+] Enlarge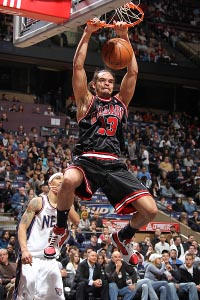 Nathaniel S. Butler/NBAE/Getty ImagesJoakim Noah wants to play despite his plantar fasciitis.
TORONTO -- There have been times when the Chicago Bulls' management and coach Vinny Del Negro haven't appeared to be on the same page, and that was never more evident than Friday night in New Jersey.
And if Del Negro is let go after the season, as many expect, Friday night's confusion over how long to play Joakim Noah in a crucial game against the Nets will be discussed -- especially if the Bulls' 127-116 double-overtime loss to the Nets costs Chicago a playoff berth.
Noah has been battling plantar fasciitis much of the season and was on a 35-minute limit. Del Negro said he played Noah just 12 seconds in the OT periods because he was at his time limit.
"He's at a 35-minute limit," Del Negro said. "I think he was at 35:50 or somewhere in there. I had to get him out of the game, and that's what I needed to do."
But after the game, Bulls general manager Gar Forman let reporters know that assistant coach Lindsey Hunter asked Forman during the game whether Noah could continue.
Forman called Bulls executive vice president John Paxson, who gave Forman the OK to continue to use Noah.
Read the entire story.
March, 23, 2010
3/23/10
7:26
PM CT
DEERFIELD, Ill. --
Taj Gibson
(plantar fasciitis) and
Brad Miller
sat out practice on Tuesday afternoon but both are expected to play on Thursday against the Heat.
"We just went over things," Bulls head coach
Vinny Del Negro
said. "We'll hopefully get everybody back, have a good practice [Wednesday]. We walked through some things about [Monday] night's game and just tried to drill on some things I thought were important for [Wednesday]."
The Bulls need Gibson and Miller on the floor as they chase down the final playoff spot in the Eastern Conference. The pair each had 10 points and 12 rebounds in Monday night's win over the Rockets.
February, 20, 2010
2/20/10
6:39
PM CT
CHICAGO --
Chicago Bulls
center
Joakim Noah
is expected to play Saturday night for the first time in more than two weeks.
Noah, who has been sidelined for the last seven games due to plantar fasciitis, will come off the bench and play limited minutes against the
Philadelphia 76ers
at the United Center.
Read the full story.
February, 9, 2010
2/09/10
10:45
PM CT

By NICK FRIEDELL
ESPNChicago.com
Archive
Joakim Noah
didn't even know what the procedure was called.
He wasn't sure exactly what the Bulls medical staff had done to him.
All he knew was that somebody had taken some blood out of his arm and put it into his foot and now he was wearing a black boot around his left leg.
[+] Enlarge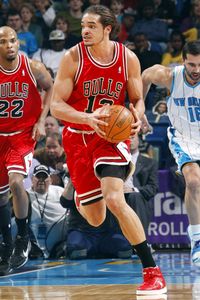 Layne Murdoch/NBAE/Getty ImagesJoakim Noah has been suffering from plantar fasciitis for most of the 2010 season.
As
the Sun-Times pointed out
, the procedure that Noah endured last Friday morning is actually called platelet-rich plasma therapy, or PRP, and is being used by athletes more and more over the last few years.
Having said that, there are still plenty of people within the medical field who have never even heard of the therapy, including Chicago-based physical therapist David Reavy. Reavy, who has spent several years putting NBA players' bodies back together as part of renowned trainer Tim Grover's ATTACK Athletics team wasn't familiar with the process when we discussed it during a Tuesday morning phone conversation.
However, he was well-versed when it came to discussing plantar fasciitis. He said that it's the most common injury basketball players deal with on a yearly basis, alongside knee problems.
But why has plantar fasciitis reared its ugly head this season with such prevalence, affecting Noah, Bulls rookie
Taj Gibson
and so many other players in the NBA?
"They're on the balls of their feet all the time, so they're always using that muscle," Reavy said. "Once they overuse that muscle, scar tissue forms. Adhesions form. Once you can't get that adhesion up then you start developing pain. You develop tightness before pain, so their feet are probably feeling stiff in the morning when they get out of bed."
That's for sure. Both Noah and Gibson have mentioned how difficult it has been for them to get up and walk in the morning. Over the past few weeks, Noah has appeared to be in tremendous pain walking to the bus after games.
"In the medical world, it's very hard to treat," Reavy said. "It's a very lingering issue."
Like any good therapist, Reavy is confident in his abilities. He believes he would only need a few sessions with Noah and Gibson to get back on track.
"Before I even look at the foot, I would address the pelvis first," he said. "I would find out if they have other issues -- back pain, knee pain, hip pain -- [and] address those issues first because those are bigger muscles. And then look at the foot."
Reavy figures that if Noah and Gibson could get the rest of their body aligned correctly, the plantar fasciitis would be much easier to treat.
"Your body is connected and intertwined with fascia," he explained. "If fascia is tight somewhere it's going to pull on another portion. The way I explain it to patients is that you have one string. Your whole body is one string. When you pull on one end, it's going to pull the opposite end."
The Bulls are just hoping that the new-age treatment they've chosen for Noah will get him back on the court quickly. The young center makes up one important string of the Bulls season that they can't afford to have break.