Chicago Bulls:

Ricky Rubio
January, 27, 2014
1/27/14
1:03
PM CT
CHICAGO --
Minnesota Timberwolves
All-Star
Kevin Love
is confident that his training partner,
Derrick Rose
, will come back stronger than ever after his latest knee injury.
[+] Enlarge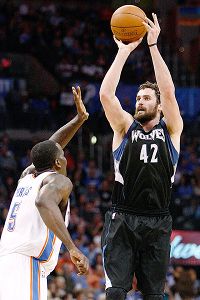 AP Photo/Alonzo AdamsKevin Love feels for his offseason training partner Derrick Rose.
Love, who has dealt with several serious injuries of his own, believes the
Chicago Bulls
star just needs a little luck to stay on the floor.
"I just think in a lot of ways you've just got to be lucky," Love said after Monday's shootaround. "We've gone through a lot of things with injuries, and we've been able to be relatively healthy this year. I have no doubt in my mind that he'll come back and be D-Rose."
Love and Rose have spent several summers training with personal trainer Rob McClanaghan in Santa Monica, Calif. Love was impressed by what he saw from Rose as he prepared for the season.
"He's one of the hardest workers in the game," Love said. "And that's why he's one of the best players in the game. He worked extremely hard, but he also worked extremely smart, too. There were a lot of things he did with his body to make sure that he was good to go. And also, he took certain days off and then hit it hard the next day. He's an extremely efficient hard worker, and I admire a guy like that."
Love said he hasn't had a chance to speak with Rose yet, but he can understand what he is going through.
"I'm sure like most people I'm just kind of giving him a little space, because it's tough to go through serious injuries like that," Love said. "I went through some of that last year with my hand and my knee. So I know that it's very tough, but Derrick's the kind of guy that's going to do everything he can to get back on the floor 100 percent as quickly as he can."
Timberwolves point guard
Ricky Rubio
can also empathize with what Rose is dealing with. He tore his ACL in March 2012 and had to go through the tedious process of rehab as he made his way back. Luckily for Rubio, he isn't dealing with another season-ending knee surgery as Rose is.
"It's painful," Rubio said of Rose's situation. "You know how it feels when you go down once. But when you go down twice it has to be hard. But all I can say is I know he's a warrior and he wants to come back and he's going to do it. And the best of luck for him."
As for Monday's game, the Bulls may be even more short-handed than usual. Center
Joakim Noah
is out with the flu and did not participate in Monday's shootaround. Veteran guard
Kirk Hinrich
(hamstring) is "likely out," according to Bulls coach Tom Thibodeau. Hinrich has missed the past week because of the injury, and his status for the Bulls' upcoming West Coast swing remains in limbo.
Love respects the way the Bulls continue to find ways to win despite all the injuries.
"They really persevere," Love said. "They play hard. Thibodeau's a great coach; he gets these guys to play every single night, no matter who they have on the team on any given night."
March, 24, 2013
3/24/13
7:24
PM CT
By Nick Friedall
ESPNChicago.com
Archive
MINNEAPOLIS -- With just 14 games left in the regular season, it's looking less likely that
Derrick Rose
will return this season.
The
Chicago Bulls
superstar did what he has done for the past two months Sunday night, going through a pregame workout which includes jump shots and cardio work, but he did not play in the game. On the other side of the floor,
Minnesota Timberwolves
point guard
Ricky Rubio
, a man who also tore his ACL last season, was busy playing in his 43rd game of the year.
As has been the case since Rose went down, many fans looked to Rubio for guidance in how a point guard handles rehab and when a return to the court should be reasonably expected. Once Rubio came back on Dec. 15, roughly 10 months after surgery, many fans expected Rose to follow the same path. Obviously, the players are different, but Rose's continued absence since he was medically cleared to play again weeks ago has left some fans in Chicago questioning his mental toughness for the first time in his career.
October, 19, 2012
10/19/12
10:24
PM CT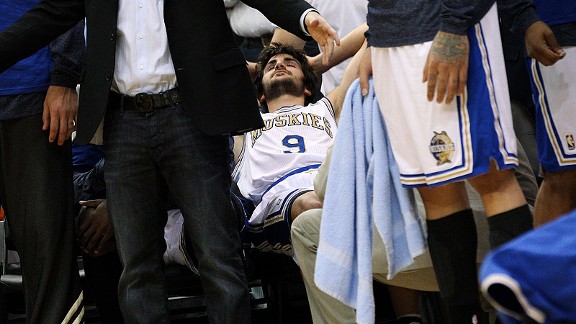 Jesse Johnson/US PresswireTimberwolves guard Ricky Rubio sits on the bench after hurting his knee in March.
CHICAGO --
Ricky Rubio
and
Derrick Rose
are living through the same nightmare.
Both young stars blew out the ACL in their left knee last season. Rubio had to have reconstructive surgery on his LCL as well. It's been a painful recovery at times for both men, and given the fact that Rubio's injury occurred on March 9, he is almost two months ahead of Rose in the healing process. The pair met before Friday night's preseason tilt between the
Minnesota Timberwolves
and
Chicago Bulls
and it's obvious that each man understands what the other is going through.
"It's tough and it's a tough injury," Rubio said. "You're like six, eight, nine months without playing your favorite sport and sometimes it's playing basketball where you forget about everything. I just wish him as healthy a recovery as he can and that's it."
January, 10, 2012
1/10/12
11:30
PM CT
MINNEAPOLIS -- Kyle Korver looks and sounds like every other Chicago Bulls' fan when he starts discussing Derrick Rose.
The veteran sharpshooter has seen a lot of basketball. Korver watches Rose closely game after game and he still can't believe some of the things that the 23 year-old reigning MVP can accomplish every night.
[+] Enlarge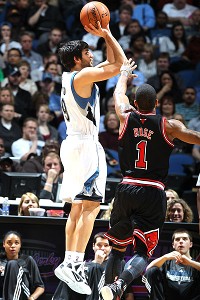 David Sherman/NBAE via Getty ImagesDerrick Rose got the last laugh in his showdown with Ricky Rubio on Tuesday.
"You don't want to take it for granted," Korver said of Rose's 14 point outburst in the fourth quarter of the Bulls' 111-100 win over the Minnesota Timberwolves. "You almost kind of expect it. He's done it so many times. He's unbelievable. To still have the explosiveness that he does with all the minutes he's playing in games and everything. He just hates to lose. He just takes over at the end."
Tuesday night's contest was supposed to be a battle between the present and future -- Rose vs. Timberwolves' rookie Ricky Rubio. It was supposed to be a showcase of two of the most talented and exciting point guards in the league. For most of the game it was. Rose went off for 14 points in the first quarter and the Bulls raced out to a 24-point lead.
Rubio followed that up with nine points and 11 assists combined during the second and third to tie the game again at the end of the third. But when the game was on the line, Rose started driving to the rim -- despite a painful turf toe injury he sustained at the end of the first quarter. He started attacking with speed and force. He didn't just match Rubio, he showed the young Spaniard that he sets the standard for every other point guard in the league.
"I just had to pick my spots," Rose said. "When I first came out there in the second half, I missed a couple of shots. But it just comes with just trying to play aggressive again. Missed floaters, missed a couple of lay-ups, then in the fourth quarter, I just got my touch back and tried to finish the game strong."
Rose gave the Bulls the jolt they needed. He finished the game with 31 points, 11 assists and three rebounds while continuing to show the rest of the league that he has improved as both a passer and a finisher.
"He's very quick," Timberwolves head coach Rick Adelman said. "He's very explosive. He can get to the basket. Creates a lot of opportunities for his teammates. Explosive is probably the best word for him."
That's also a good word to describe Rubio as well. Rose was very complimentary of the Timberwolves' star and it's clear that Rose will be looking forward to facing Rubio for years to come. He always plays a little differently against the best point guards in the league, and there's no question that Rose heard all the talk surrounding Rubio's arrival and brought a little extra to his game.
"He's good, man," Rose said. "This is my second time playing against him. You could tell that he has a lot of experience behind him. Playing, doing his job, getting people the ball. Putting them in a position to score, I would say, and do what they have to do. He's good."
The difference right now is that Rose is simply better.
January, 10, 2012
1/10/12
8:31
PM CT
MINNEAPOLIS -- Chicago Bulls center Joakim Noah did not have a shot attempt in Monday night's win over the Detroit Pistons, but Tom Thibodeau insists he's not concerned about his young center.
"The thing for him, to me, he's got to run the floor, rebound, play great defense," Thibodeau said before the game. "That's when he's at his best. When he's doing those things, his offense will come. He's a great runner of the floor, he's a great screener. He's a playmaker. So he can help us in a lot of different ways. He doesn't necessarily have to score. His scoring will come around, I'm confident in that. I just want him to think about his defense and his rebounding."
Does Thibodeau think the emotional Noah is starting to feel sorry for himself?
"He's fine," Thibodeau said. "It will come. He's already proven the type of rebounder he is. He's had some foul trouble to deal with and he'll be fine."
Thibs a fan of Love and Rubio: Like most critics around the NBA, Thibodeau is impressed by what he's seen from Ricky Rubio and Kevin Love.
"Great feel for the game. Great vision," he said of Rubio. "He keeps the ball moving for them. They put a lot of pressure on you. They've got great speed back there. Their bigs can shoot, they spread you out. But he's got a great feel for the game."


As for Love, Thibodeau sounds like a man who would love to coach the big man one day.


"Obviously, I thought he had a great year last year," Thibodeau said. "Each year in the league he's gotten better. You can see his confidence. He's an all-around player. He's getting to the line nine times a game. Obviously, he's a lot more comfortable with his three [point shot]. Now he's taking five threes a game, shooting 40 percent. He's got great post moves inside, the shot fake. His rebounding is just uncanny. Every game starts and it seems like in the first five minutes he already has six or seven rebounds. I think it's just his relentless pursuit of the ball. He's a multiple effort guy. He's a tough matchup."
Watson and Hamilton still out: Thibodeau said before the game that C.J. Watson (elbow) and Rip Hamilton (groin) were both improving, but neither played on Tuesday night.
While Hamilton remains day to day, Thibodeau reiterated that there is no timetable for Watson at the moment, although Watson has discussed possibly coming back early next week, if not sooner.
"I want to see him go through practice first," Thibodeau said. "He's doing a lot more. Once he can get through practice, then he'll be ready to go. But he's feeling a lot better."