January, 2, 2014
1/02/14
7:11
PM CT

By Scott Powers
ESPNChicago.com
Archive
CHICAGO --
Boston Celtics
coach Brad Stevens can remember the first time he met
Chicago Bulls
coach Tom Thibodeau and had a chance to talk basketball with him.
Stevens was still the head coach at Butler and met his friend Ron Adams, who was then a Bulls assistant, and Thibodeau. Stevens was impressed by Thibodeau then and is even more so now after he getting into the NBA himself.
"He is an elite coach," Stevens said prior to Thursday's game against the Bulls. "He's outstanding. Defensively, they're so sound in what they do. They can change what they do. They can tweak.
"Their players all know their roles inside and out. I said this yesterday in Boston: I admire the way they have the continuity of playing together. They're older guys. They know exactly what they need to do on both ends of the floor. I hope we can get to that point. I hope we can build that kind of continuity in Boston because you can tell how much it means to them on the court."
Earlier in the day, Thibodeau praised Stevens -- and the Celtics for hiring him.
"He's a great coach, period," Thibodeau said after the Bulls' shootaround. "Didn't surprise me. He's a student of the game. He's had great success at a high level in college. I thought it was a great hire for them."
Thibodeau, who previously worked for the Celtics, thought Stevens was the type of coach who could guide a Boston franchise in transition after the departures of
Kevin Garnett
,
Paul Pierce
and
Ray Allen
.
"[Celtics president of basketball operations] Danny Ainge saw what was coming," Thibodeau said. "This is part of what they wanted to do. It was a great run with Kevin, Paul and Ray. That came to an end. Now they're moving forward. They've got some really good young pieces.
"People tend to forget
[Rajon] Rondo
is out. Rondo is the type of guy who makes everyone better. They have good young parts. They got some good veterans. I like
[Brandon] Bass
a lot. He's a tough competitor.
Jeff Green
is a very good competitor. They have some good pieces in place."
Another valuable piece to these Celtics has been Adams, who left the Bulls after last season and was later hired by Stevens.
"He's been a longtime friend of mine," Stevens said of Adams. "He's been great. When I hired him, he kind of characterized himself as my editor, and I thought it was a really good phrase and I found it to be really true. 'What would work, what won't work. Yeah, why not try this? This might work.'
"It's been great to have him around. He's one of those guys in coaching, he's been doing it a long time. He's got so many experiences, and he's only doing it to help us all grow and get better, both staff and players."
July, 25, 2013
7/25/13
2:40
PM CT

By Nick Friedell
ESPNChicago.com
Archive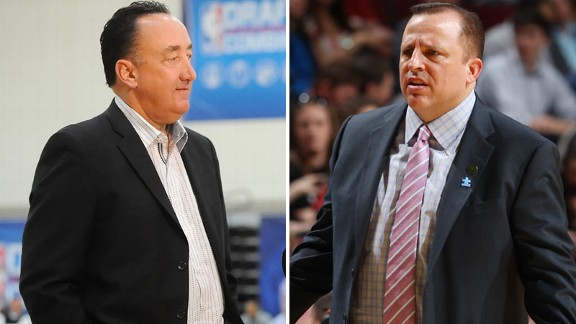 Getty ImagesThe relationship between Gar Forman and Tom Thibodeau will be under a microscope next season.
CHICAGO -- The mention of Ron Adams' name has become an uncomfortable topic for Tom Thibodeau and Gar Forman.
As much as both men want to move on from the messy departure of the popular assistant coach, the future of the organization could be shaped, in part, by the decision not to bring Adams back. When asked Wednesday about the notion that Forman and Thibodeau have the worst coach/GM relationship in the league, the coach didn't exactly quash that line of thinking.
"People are going to read into things the way they want to," Thibodeau said on ESPN Chicago 1000's "Waddle and Silvy Show." "We're fine. We're both thinking about next season and all we can do to win."
July, 1, 2013
7/01/13
5:36
PM CT
By Staff
ESPNChicago.com

Derrick Rose
camp about the dismissal of
Chicago Bulls
lead assistant coach Ron Adams, and the reaction was one of surprise.
"I got to tell you, this is ... and I talked to somebody in the Rose camp, and they said they didn't know what to make of this," Bucher said on "The Waddle & Silvy Show" on ESPN Chicago 1000. "They said this is a big story. And who knows where it goes.
"To me, I'm stunned. And some people have already suggested that this indicates a rift between Gar Forman and Tom Thibodeau. I don't know that. I have no sense of that. But it is a very, very peculiar move. Because Ron is highly regarded around the league, and he certainly is close to Derrick Rose. ... To me, this is something clearly to be watched and followed, because it's a very odd decision on the surface of it."
Comcast SportsNet Bay Area NBA Insider Ric Bucher said Monday he spoke to someone in the
July, 1, 2013
7/01/13
2:22
PM CT

By Doug Padilla
ESPNChicago.com
Archive
DEERFIELD, Ill. -- Chicago Bulls general manager Gar Forman confirmed Monday that he decided not to renew the contract of lead assistant coach Ron Adams, who is a close friend of head coach Tom Thibodeau, but Forman said his relationship with Thibodeau remains strong.

"Tom makes the decisions on the floor," Forman said. "He's our head coach and I think he's as good as any coach in the NBA. I think he does a great job.


February, 26, 2011
2/26/11
2:56
PM CT

By Nick Friedell
ESPNChicago.com
Archive
CHICAGO -- Confidence certainly isn't lacking for the Bulls as they head into the final two month and a half of the regular season.
C.J. Watson joined Jonathan Hood and myself Friday on "Chicago's Gamenight" on ESPN 1000 and responded this way when I asked him if the Bulls felt like there was a team that could beat them when they play defense they way they did just before the All-Star break and in the second half of Thursday night's win over the Miami Heat.
"I don't think so," Watson said. "Thibs says it all the time. When we're playing defense the way we play, the way we're supposed to play and the way we can play, we'll take our team any day, any time, anywhere. And I believe that. We're good defensively when we want to be, and when we actually do it we're good and hard to stop, and that makes our offense even better."
Asik getting better: If you were wondering why the Bulls decided to hang on Omer Asik instead of dealing him at the trade deadline, Bulls assistant coach Ron Adams shed even more light on that decision. He thinks Asik's ceiling is higher than most fans are giving him credit for. When asked earlier in the same show which ways Asik has improved most since the summer, Adams, as usual, was very honest in his assessment.
"He's a really bright kid and he's picked up the game really well," Adams said. "Defensively, I just think he's top of the line. I think he can be as good as any defensive player in this league. And he's getting close to it already. Offensively, he needs to relax a little bit. I think he's still a little hyper offensively. His free throw has really improved. His jump shot has improved; he doesn't shoot it in the game. And we really don't toss him the ball enough.
"I think he feels pretty well, he's open, we need to throw him the ball because he gets fouled most of the time and he's an extremely willing passer. He's not looking for his shot; he's looking to pass it to someone. So in those areas he's really improved. And then his strength; he was strong coming in, but [Bulls strength and conditioning coach] Erik Helland has done a great job with him in the strength room. He loves working out; he loves getting stronger, so I think that has been a big improvement in his game also."
As for something the Bulls can improve upon, Adams was quick to point out that the post defense hasn't been particularly great over the last couple of games.
"As far as our paint defense goes, I think it's an area we can really improve in," he said. "I'm not pleased with our help defense. Our best helpers are our bench guys right now and our starters have to improve in that regard, especially our bigs. There's a game within a game going on in every NBA game, and if you watch the two big guys, they have to be like best of brothers. And they're always covering for each other. We talk about big to big help. That's an area I think we can get a lot better with and as a team I think we can become a much better helping team."