Chicago Bulls:

Ron Harper
October, 17, 2011
10/17/11
8:53
PM CT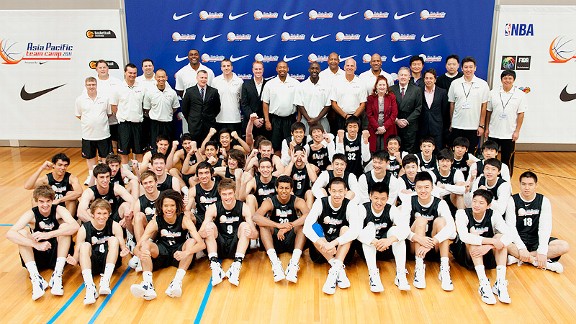 Courtesy of the NBAFormer Bulls Horace Grant, Ron Harper and Luc Longley were in Australia coaching as part of the 2011 Asia Pacific Team Camp.
DANDENONG, VICTORIA, Australia -- It's 7 a.m. on the other side of the world and I've just walked into a room full of rabid basketball fans. The Grand Final of Australian Rules Football is just one day away and the city of Melbourne is wrapped up in the celebration that comes with it, but the only thing on most people's minds on this morning is hearing the stories of a few former Chicago Bulls.
Horace Grant, Ron Harper and Luc Longley have been here all week as part of the 2011 Asia Pacific Team Camp presented by Nike. It's the first of its kind on this continent and it has brought together 40 of the best players in the southern hemisphere (The top ten youth players from New Zealand, Australia, Korea and China were invited.) The former Bulls have been coaching the young players along with Hall of Famer Alex English, former Toronto Raptors head coach Jay Triano and several other coaches with NBA ties.
After a week's worth of events, Grant, Harper and Longley all look like they could use a couple more hours of sleep, but the excitement in the room wakes them up quickly. Several men are decked out in Bulls gear, one gregarious fellow has even broken out an old Harper replica jersey for the occasion. We may be a long way from home, but there is no question that the popularity of the NBA is alive and well Down Under, a fact which does not surprise the guests of honor.
"The NBA is so global right now," Grant said. "They're going all over the world putting on camps and things of this nature to find that hidden talent, and there's some talented Australians over here."
[+] Enlarge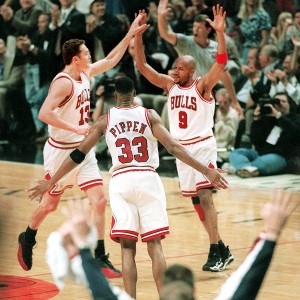 AP Photo/Mike FisherThe Chicago Bulls' Luc Longley (13), Scottie Pippen (33) and Ron Harper made an impression with the Bulls in 1997.
While some may be surprised that the NBA has a budding fan base in Australia, Harper is taking it all in stride.
"Not surprised at all," he said. "The NBA game is definitely a global game. The NFL is starting to become a global game. Baseball is probably starting to become one, too. Sports is where it's all at. We've got young kids like myself who was once that age, who love to play. When we see a pro player, we get them hooked fast and we take that and try to run and just try to be the best that we can be."
In so many ways, that's why the NBA has come all this way to put on a camp this week. Sure, they are looking for the next Derrick Rose, or in this case maybe Andrew Bogut would be a more apt description, but they want to spread the gospel of the game, and on this morning that's what's most important.
Fans ask the players all kinds of different questions about the league; Where would you rank Kobe Bryant? (Great, but not MJ) What was it like playing for Phil Jackson? (Interesting). Almost everything is up for grabs except for one topic ... the lockout. Still, it's an entertaining exchange that the players and fans seem to be enjoying. It's an exchange that Longley, the native Australian who still lives in Perth, might be enjoying more than anyone.
"Basketball in the nineties got really big," Longley says of where the sport was and is in Australia. "It faded for a while. And now it's resurgent. At a junior level, I just got told there's more kids playing basketball than Australian Rules Football in Victoria, which is enormous. [Aussie Football is] our national sport, so [basketball] is resurgent. I'm not surprised because it's such a great game. It's accessible to everybody. We've got great facilities in this country. I'm not surprised, but I'm stoked that it's back on the upswing. It's good timing for me to be involved."
Grant feels the same way. He doesn't seem to have any doubts that some of the kids he's tutored this week will be in the NBA some day.
"No question," he said. "What we saw [recently] was kind of the tip of the iceberg. But we feel that programs like this, and a great facility like this, the kids are going to come out."
Longley wants to believe in the ideal, but after spending some time recently working with the Australian National team, as well as his duties over the past week, he wants to lower the expectations a little bit.
"Look, I think we had some good kids in our camp," he said. "I think it would be a stretch for many of them to make the league. You just got to have the height, size, skill combination. There's a lot of tweeners in our camp; a lot of guys who are really good at stuff, but probably not big enough to be [NBA players right now] ... I got to say the right things, yeah, we had some good kids, but realistically I think Horace is dreamin'."
While the Pacific region may be a few years away from sending another All-Star the NBA's way, it doesn't diminish the fact that the game continues to grow all over the world. It's a fact that these veterans take great pride in as they get ready to head into one more training session.
"It's been an awesome week," Harper said. "When they said that I was going to be here with Luc Longley, Horace Grant, I just thought this would be a special, fun time. I haven't seen them guys in a long time and we talk about the things we've done and stuff we're doing now. It's just been a fun, great time and it's been an enjoyable time."
An enjoyable time that Harper and his Bulls brethren won't soon forget.
"It's been like we've been like three kids the whole time," he said of sharing some time with Grant and Longley. "We've just been enjoying it."
October, 14, 2011
10/14/11
6:38
PM CT
All these years later, Luc Longley still gets goosebumps when he talks about his time with the Chicago Bulls.
The Australian center reminicsed about his NBA days recently and admitted that the February 1994 trade that resulted in his being dealt from Minnesota to Chicago in exchange for Stacy King was like falling into "basketball heaven."
[+] Enlarge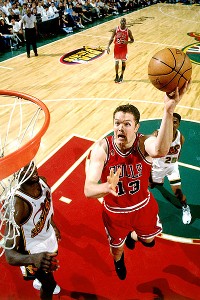 Nathanie S. Butler/Getty ImagesLuc Longley won three titles in five seasons with the Bulls.
"I just got [goosebumps] then when we started talking about [the Bulls]," he said after a breakfast celebrating the 2011 NBA Asia Pacific Team Camp at Dandenong Stadium last month. "[The memories] flood back. The fact that you say goosebumps is funny because that is exactly what happens. You get a rush of all that energy from the crowd and the stadium and the games. For me, the memories are still pretty fresh. I know it's a long time ago, but I value them a lot. It's all fresh for me."
So fresh that Longley, who returned to a Bulls game for the first time about 18 months ago, plans to visit the United Center again later this year -- if the lockout ends.
"I'm going back there this year," he said. "Took my wife to a Bulls game and she loved it. I'm going to bring the kids back to a Bulls game this year. Just that town; that town hasn't forgotten. They still treated me really well. I still haven't bought a beer in Chicago, going on 20 years now."
The big redhead seems content with where he's at in life and what he's been doing since he retired.
"Got four teenagers, so that's a job in itself," he said. "But they're all getting older now, so they're getting ready to leave the house. I've been living in Perth, haven't been very involved in basketball until recently. When I first left the NBA, I owned a pro team in Perth and I did that for about five years, but since then I really haven't had much to do with basketball."
That has changed. Not only was Longley present all week as part of the camp alongside former Bulls Horace Grant and Ron Harper, he's also started doing some work with the Australian National team, along with a few other ventures close to his heart.
"I've been doing a lot of marine conservation work, that's sort of my passion, I suppose," he said. "I've had a charter boat; we've done surf and dive charters up the coast west coast of Australia and into New Guinea, so that was good. That's over now and I'm just starting to move back into basketball. This NBA thing came up and actually I've been doing a little bit of coaching with our national team and working with the bigs."
Speaking of the National team, Longley is hopeful that locked out NBA players consider playing in Australia in the NBL, but he cautions that they better be mentally ready to accept the challenge of bringing it every night.
"It's always good for the game to get something different," he said of possibly bringing some NBA veterans down under, "The trouble is, if you bring an old NBA guy down here, he better be ready to play because it's a tough league and I think he needs to really dominate so the NBA brand stays [high]. Because right now, everyone down here thinks, and it's true, is a league in the sky somewhere. And [Andrew] Bogut will prove that right if he comes back because he'll tear it up. But someone that's older and not really on top of their game might struggle to tear up this league because it's a tough defensive league."
The power of Jordan: While there's no question the game continues to grow every year in Australia, there's little doubt that the explosion of popularity for the NBA happened during the 90s, thanks, in large part, to the greatest Bull of them all, Michael Jordan.
"Back then, it seems not long ago, but there wasn't as much digital media," Longley said. "There wasn't as much access. People had to stay up [until] three o'clock in the morning to see the games. It wasn't saturating the television like it was in America, but his brand is still just as strong. His legend's trickled down, especially now that they have access to all that. Kids are still going to watch their Michael Jordan videos on YouTube. It's alive and well, his brand down here."
Grant isn't surprised that Jordan's legacy, and the popularity of the Bulls in general, seems to have withstood the test of time so far away from home.
"When you play with, you can say the best player [who] ever played the game of basketball, and that's no disrespect to the guys before him and maybe some of the guys [that] are here now," Grant said. "Whenever you win championships like that, you're going to go down as one of the best teams in the history of basketball. When you say Michael Jordan, people know. And the rest of us really came along for that ride."
The last word: So what is Harper up to these days?
"I'm a stay home dad," Harper said with a laugh. "I get 'em up, get 'em fed and get 'em to school. Get 'em home and take them to play basketball. Take 'em to their stuff, just doing that and just enjoying it."
September, 30, 2011
9/30/11
4:00
PM CT
DANDENONG, VICTORIA, Australia -- Having won three NBA championships playing alongside
Michael Jordan
and
Scottie Pippen
, former Bulls guard
Ron Harper
knows all about how to fit in as a starting two-guard around superstar players.
[+] Enlarge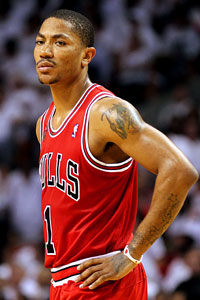 Getty ImagesDerrick Rose can rival the popularity of Michael Jordan and Dwyane Wade in Australia if he win a title, according to Luc Longley.
That's why, contrary to popular belief these days in Chicago, Harper believes his former team can succeed without the scoring two-guard that so many fans are clamoring for to play alongside reigning MVP
Derrick Rose
in the backcourt next season.
"They don't have to have a two-guard who scores," Harper said Friday morning after a breakfast at Dandenong Stadium. "They got Derrick and Derrick Rose scores enough. They need probably a two-guard who can demand respect [that] they can score, but they need a guy who's a fit and what his role is. That's what they need. When you've got a guard like Derrick Rose, you've got
Luol Deng
, you've got [Joakim] Noah. You've got guys that know how to play, and I think that's the key."
Harper, who along with various other former NBA players and coaches, has been in Australia all week serving as a coach and spokesperson for the league's first ever official camp on the continent, is convinced that the Bulls simply need more time to grow as a team.
"They're not missing anything," he said. "I just think they're not an experienced team. They've got a very great point guard. They've got a good two-guard and a small [forward] [in Deng]. They just got to just fit into the roles they have and once they grow into a team and figure out the roles they have. I think they're going to be all right."
That sentiment was shared by other former Bulls at the camp as well.
"I don't think they're missing much," former Bulls center
Luc Longley
said. "They're a young team, effectively. [Carlos] Boozer's not young. But they're young together, they've got young leaders. I just think they've got to be galvanized by going through the wars a little bit more. I think they did great last year.
"I think if you think about the Jordan/Pippen years, they had to be galvanized by going through the Detroit Piston thing. They got beaten up a couple times and that's what they need, and they'll be better this year."
Former Bulls power forward
Horace Grant
agreed.
"I think with the experience that they had in this particular playoff it's going to help them for the next year and the years to come," Grant said. "And I say that just because they didn't have that experienced level of NBA basketball play that they needed to get past a team like Miami."
While all three former Bulls agreed the future is bright, they acknowledged that it wouldn't hurt the Bulls to add another piece or two. Although nobody is quite certain which player would put them over the top.
"You can always add a piece," Harper said. "It wouldn't hurt them. It's good to have a 1-2 punch, but it's [better] to have a 1-2-3 punch, too. The more good players you have, it will not hurt your team I don't think."
Harper is convinced Rose can fill the role Jordan used to undertake as being the go-to guy for Chicago during multiple title runs.
"He's definitely the face of the Chicago team," Harper said. "He's the face of the NBA, too. He's a quality young man who knows how to play. I think that he can lead that team. I think the more players that they build around him, that will allow him to grow more, too. He is that No. 1 guy for the
Chicago Bulls
... when he plays good, they play good."
Longley believes that Rose's image in Australia will skyrocket if he is able to win an NBA title in the next few years.
"His profile isn't as big as some of the others [right now] ," Longley said. "There's a lot of [Dwyane] Wade and [LeBron] James out here, jerseys, getting around. To my way of thinking, he's one of the top 10 guys, but he hasn't taken over like a [Michael] Jordan did or a Wade did. But I think that's in him yet. I think [if he wins] a championship, he'll go through the roof."