Chicago Bulls:

Roy Hibbert
November, 17, 2013
11/17/13
8:00
AM CT

By Doug Padilla
ESPNChicago.com
Archive
CHICAGO -- After finally getting humbled on the basketball court Saturday night, the one-loss
Indiana Pacers
had no choice but to be the same way off it.
The
Chicago Bulls
put together their best game of the season in a 110-94 victory at the United Center, dropping the Pacers to 9-1 on the season.
That talk from
Paul George
recently that this is the Pacers' time and that the Bulls' era was in the
Michael Jordan
days was not only not repeated, there was an attempt to put it into perspective.
"That was completely taken out of context," George said. "What I meant by that is ... I agree what
Derrick Rose
said. It's not rivalry. We haven't won a championship, the team to beat is Miami, of course. All of that was taken out of context."
George's quote last week sure sounded as if he were was calling the Bulls yesterday's news.
"We want to step away from that shadow as the 'little brothers' of this division," George said, according to NBA.com. "Their success is the Michael Jordan era. This is a new age, this is a new team. It's ours till they take it."
October, 4, 2013
10/04/13
4:18
PM CT

By Nick Friedell
ESPNChicago.com
Archive
INDIANAPOLIS --
Roy Hibbert
has no doubt what kind of
Derrick Rose
will be on display Saturday night when his
Indiana Pacers
face Rose's
Chicago Bulls
.
"Same Derrick Rose from two years ago," Hibbert said after Friday's practice. "(I'm) happy he's healthy. (He's) a competitive person, and it's going to be a battle out there."
Pacers coach Frank Vogel said the NBA will benefit from the return of Rose, who will play Saturday in an NBA game for the first time since he tore his ACL on April 28, 2012.
"I think he's probably going to play great," Vogel said. "He's going to move great. From what I hear he's moving fantastic and he feels strong so I think (his return) is good for the league. I'm sure there might be a little bit of rust because he hasn't played game minutes in a while but I think he's going to move well."
December, 4, 2012
12/04/12
11:47
PM CT

By Scott Powers
ESPNChicago.com
Archive
CHICAGO --
Chicago Bulls
coach Tom Thibodeau described the play as a train wreck. Indiana Pacers coach Frank Vogel thought it was a great defensive play.
Bulls forward
Luol Deng
felt he was fouled. Pacers center
Roy Hibbert
felt the officials got it right.
What divided the two sides so greatly Tuesday was a last-second play which helped decide a 80-76 Pacers' win over the Bulls at the United Center.
October, 26, 2012
10/26/12
7:40
PM CT

By Scott Powers
ESPNChicago.com
Archive
SOUTH BEND, Ind. --
Indiana Pacers
center
Roy Hibbert
said Friday he and his teammates respect the
Chicago Bulls
with or without
Derrick Rose
on the court.
"I think their other veteran players like (
Carlos) Boozer
, (
Joakim) Noah
, they're going to try to take over, you know, and lead the team, pick up the slack a lot more," Hibbert said before Friday's game against the Bulls at the University of Notre Dame. "We just have to make sure we do a good job of containing those guys."
[+] Enlarge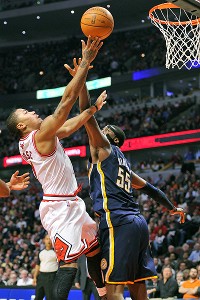 Mike DiNovo/US PresswireWith or without Derrick Rose, Roy Hibbert says the Bulls are a dangerous team.
The Bulls have finished ahead of the Pacers in the Eastern Conference Central Division the past two seasons. In 2010-11, the Bulls went 3-1 against the Pacers in the regular season and finished 25 games ahead of them in the Central. In the 2011 playoffs, the Bulls took an intense seven-game series 4-1 in the conference quarterfinals. Last season, the Bulls went 2-1 against the Pacers and finished eight games ahead of them in the division.
The Bulls and Pacers are considered the Central favorites again this season. The Bulls are expected to be without Rose for much of the season as he recovers from tearing his ACL in the playoffs last season.
Even with Friday's game being a preseason affair, Hibbert said the Pacers wanted to have a good showing against the Bulls.
"Obviously, we want to do well, extremely well," said Hibbert, who averaged 12.8 points, 8.8 rebounds and 2.0 blocks last season. "It's preseason, so we'll figure things out. You want to play to win, but you have to look at the fact these games don't count. But at the same time, we want to work on stuff and want to win. Ultimately, we know next week is when everything starts."
Hibbert did dance around the question of whether the Pacers or the Bulls were the team to beat in the Central this season.
"We just want to go out there and play our best and whatever happens, happens," Hibbert said.
October, 25, 2012
10/25/12
8:10
PM CT

By Nick Friedell
ESPNChicago.com
Archive
DEERFIELD, Ill. -- When the Bulls face off against the
Indiana Pacers
on Friday night in South Bend, Ind., they'll be filling a role they haven't had to play in about two years -- that of an underdog.
[+] Enlarge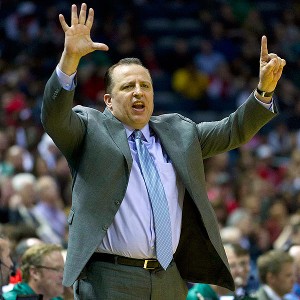 Jeff Hanisch/US PresswireTom Thibodeau expects his Bulls to focus on what's in front of them rather than embrace the underdog tag, but he admits the Pacers will be tough.
After dominating the Central Division the last two seasons to the tune of 112 regular season wins, the Bulls now face the reality that without
Derrick Rose
they don't have as much talent, at least on paper, to match up with the Pacers. It's a role that some players are embracing.
"We love it," Bulls guard
Richard Hamilton
said of the lowered expectations. "Because you love to be the underdog. You love to do stuff when people don't expect you to do anything. It makes you strive and makes you go out and want it even more."
While the players might appreciate the value of flying under the radar, Bulls head coach Tom Thibodeau isn't buying into the fact that expectations around his team will change, with or without Rose.
"It really doesn't mean anything," Thibodeau said after Thursday's practice. "To me, it doesn't matter what other people think. The only thing that matters is what we think. So whether you're being praised, criticized, that doesn't mean anything. It's what we think. And all I want them to concentrate on is exactly what's in front of them, improve every day, do the right things, concentrate, know your job, do your job, know when to shoot, know when to pass, stay disciplined. We do those things, we'll have a chance."
Thibodeau doesn't believe he should have to feed into his players' egos and motivate them by talking about critics. The veteran coach simply believes in hard work, and that's the motto he wants his players to hold onto.
"If you have the right type of guys, they're going to be doing the right things every day," Thibodeau said. "If you're relying on that type of stuff, I don't know how far that gets you. I'd rather have a team that's committed to doing the work, preparing the right way, doing the right things and just concentrate on that. That's how you have success."
April, 22, 2011
4/22/11
12:23
AM CT
By Mark Montieth
ESPNChicago.com
Archive
INDIANAPOLIS -- The
Indiana Pacers
have gone toe-to-hoof with the Bulls in their first-round playoff series, holding fourth-quarter leads in all three games and never trailing by more than seven points.
And yet they don't have a single win to show for their efforts. Thursday's 88-84 loss in Conseco Fieldhouse dropped the Pacers to a 3-0 deficit in the best-of-seven series. No NBA team has ever climbed out of such a hole to win a playoff series, and the Pacers can't become the first unless they manage to pass a crash course at finishing school before Saturday's game here.
[+] Enlarge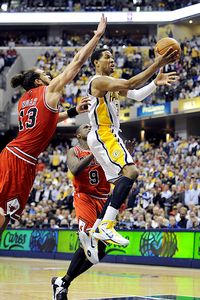 Jamie Rhodes/US PresswireDanny Granger led the Pacers with 21 points in Game 3.
The Pacers led 70-65 in the final period Thursday, only to have Chicago run off 10 consecutive points. The Pacers managed a tie at 84 with 1:42 left, but then offered a summary of their fatal flaw. They had two possessions to take the lead but
Danny Granger
and
Darren Collison
each missed jumpers, neither of which were quality shots.
Derrick Rose
then beat them for a left-handed layup with 17.8 seconds left, and Granger followed with a forced three-pointer that had little chance.
Pacers interim coach Frank Vogel has complimented his team's effort after each loss, and can't help but wonder what could be.
"It should be 2-1," he said. "Or maybe 2-1, us. Maybe 3-0, us. It's disappointing."
The Pacers' greatest offensive issue has been lack of ball movement. They had just 11 assists on Thursday, four in the second half. They give full credit to the Bulls, but believe they should be executing better, particularly in the fourth quarter.
The Pacers have been outscored by 16 combined points in the final periods of this series. They got a warning shot of what was to come in the final regular season game against the Bulls, when they were outscored 29-13 in the fourth quarter and had to go overtime to pull out a win.
"Kind of indicative of a young, inexperienced team," said Granger, who has led his team in scoring in all three games of this series, but has been ineffective in the most crucial moments. "When the game's on the line, we don't execute when we should. We took some bad shots and we missed some guys that were open when we did take the lead."
Pacers center
Roy Hibbert
, who scored just six points on 3-of-12 shooting and was limited to 22 minutes by foul trouble, was the most frustrated Pacer. Although nine of his 12 shots were within 10 feet, he complained afterward of his role in the offense.
"I'm not getting it where I want it," Hibbert said. "I don't want to shoot jump shots. I want to get it in the paint."
Hibbert, normally the team's most engaging interview, then turned sarcastic.
"It's on me," he said. "I don't have anything for you today," he added, cutting off the conversation.
Granger seemed to have a different opinion, believing the Pacers should have taken more three-point shots. They stayed in the first two games from the arc, but hit just 1-of-10 Thursday as the Bulls stepped up their perimeter defense.
"Sometimes as a team we go through those lapses where we're so focused on posting up and isolating players and we don't mix in a good healthy amount of threes," said Granger, who hit 1-of-5 three-pointers in the game. "And when we do they're not good shots. I don't think we had that many good looks. We'd like to get a better mix of postups and threes and we just didn't tonight."
April, 20, 2011
4/20/11
6:26
PM CT
By Mark Montieth
ESPNChicago.com
Archive
[+] Enlarge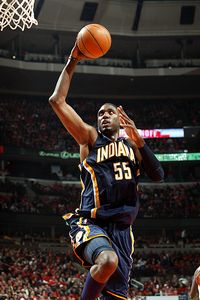 Gary Dineen/NBAE/Getty ImagesRoy Hibbert said the Pacers are excited to return to Indy.
INDIANAPOLIS -- They've stopped short of guaranteeing wins, but the
Indiana Pacers
remain supremely confident they can beat the top-seeded Bulls in their NBA playoff series.
The Pacers led Game 1 by 10 points with 3 ½ minutes remaining before losing by five points. They held five two-point leads early in the fourth quarter of Game 2, but lost by six points. Their 2-0 deficit heading into Thursday's matchup at Conseco Fieldhouse forces them to confront history, because no team has overcome a 3-0 deficit to win an NBA playoff series.
"We don't plan on losing this one," Pacers center
Roy Hibbert
said following Wednesday's practice at the fieldhouse. "Each game we want to come out even hungrier and more determined to get a win. Every game we're learning to hate Chicago even more, so we're trying to get that steam building up for [Thursday].
"We're really amped up for this game. We're boiling inside. We're going to play hard and physical."
The Pacers are the only team in the playoffs with a losing record, although they've had a winning record since interim coach Frank Vogel replaced Jim O'Brien on Jan. 30. They've surprised a lot people throughout the NBA by the way they've battled the Bulls so far, but Hibbert isn't satisfied with compliments.
"A lot of people say we're doing a good job, but we want to come out with a win," he said.
"It's like when you tell your kid he did a good job and give him a pat on the back. We don't want to be that little kid. We want to be big boys, you know? We want to get some wins. We're not satisfied."
Thursday's game has yet to sell out, but local television reporters did their best on Wednesday to elicit comments to arouse the fans.
"It's going to be mayhem, it's going to be crazy, it's going to be awesome, it's going to be the way Conseco Fieldhouse was meant to be," coach Frank Vogel said.