Chicago Bulls:

Shannon Brown
November, 12, 2012
11/12/12
8:23
PM CT

By Scott Powers
ESPNChicago.com
Archive
[+] Enlarge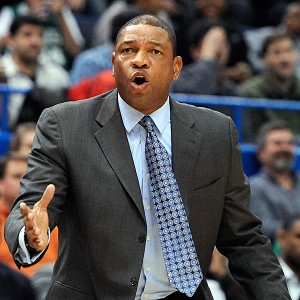 AP Photo/Jessica HillDoc Rivers keeps track of the continued success at Proviso East.
CHICAGO --
Boston Celtics
coach Doc Rivers may be 20-plus years removed from his playing days at Proviso East High School in Chicago's western suburbs, but he's still loyal to the program.
Prior to Monday's game against the
Chicago Bulls
, Rivers was asked how he felt about Proviso East being back on the rise after reaching the IHSA Class 4A state championship last season. It was the first return trip to the finals since 1992.
"What do you mean on the rise?" Rivers said in a harsh tone. "They're always on the rise."
Rivers was only joking, but he does really still keep close tabs on Proviso East. And the Pirates, for the most part, have been one of Illinois' most consistently successful programs. They've reached 14 state tournaments, won four titles and have produced past and present NBA players like Rivers, Jim Brewer,
Donnie Boyce
,
Sherell Ford
,
Michael Finley
,
Shannon Brown
,
Dee Brown
,
Reggie Jordan
and
Steven Hunter
.
June, 30, 2012
6/30/12
7:02
PM CT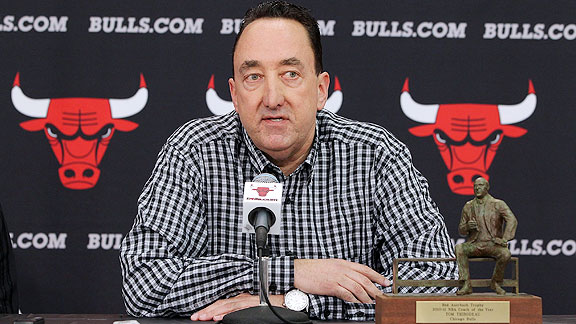 Gary Dineen/NBAE/Getty ImagesWith limited cap space, Gar Forman is going to need to get creative on the free agent market.
CHICAGO -- When trying to decipher what the Bulls' plan will be as they head into free agency early Sunday morning, one must first understand what is already in place as far as both personnel and financial figures are concerned. When broken down into individual parts the decisions that face Bulls' executives Gar Forman and John Paxson are easier to understand.
The Core
This is the group Forman and Paxson intend to build around heading into next year.
Derrick Rose: The superstar guard will be rehabbing his knee well into the season, but the organization likes the way his program is going. The team is hoping to have him back around the All-Star break or soon thereafter. The will be the first year of Rose's max deal he signed before last season.
Joakim Noah: The 27-year-old center continues to rehab the ankle injury he suffered during the playoffs, but he still expects to play in the Olympics for Team France and should be ready to go for the start of training camp. He will be in the second year of a $60 million dollar deal.
Carlos Boozer:The veteran forward has not lived up to his contract in his first two years in Chicago (in fairness, even if was putting up 20 and 10 every night it would be hard to live up to that bloated deal), but he will be counted on early in the season to score without Rose on the floor.
Luol Deng: Much has been made of Deng's decision to play in the Olympics. Most within the organization were resigned to the fact he would have to have surgery to fix a torn ligament in his wrist, but Tom Thibodeau went on "Waddle & Silvy" on ESPN 1000 Friday morning and said that he expected Deng to be ready for training camp. If that's the case, that is a huge emotional boost for the Bulls. Deng has two years and almost $28 million left on his deal.
Rip Hamilton: The veteran shooting guard struggled to stay on the floor all of last season because of various injuries. Given his track record the last few years, it will be hard to expect him to stay healthy for an 82 game season. He has another guaranteed year on his deal at $5 million.
Taj Gibson: One of the Bulls' most consistent players, Gibson is in the last year of his rookie deal; he is already in the early stages of talks about an extension. The Bulls hope to keep him around for a while.
Jimmy Butler: The second-year forward figures to see a lot more playing time this year. He is still in his rookie contract and will be a bargain for the Bulls if he can produce.
Marquis Teague: The newest Bull won't be expected to produce much early, but Thibodeau has stated he will let the 19 year old earn his playing time, especially with Rose out for a majority of the year.
The possible returnee


There's only one name in this group because it's the only one Forman seems insistent on keeping at this point.
[+] Enlarge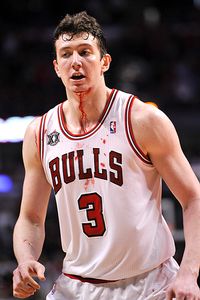 Rob Grabowski/US PresswireWill the Bulls match if Omer Asik signs an offer sheet elsewhere?
Omer Asik: Forman has repeatedly stated that one of the Bulls' top priorities this summer in re-signing Asik. The young center regressed offensively this past season, but he is still regarded as one of the best defenders on the team. He will be a restricted free agent beginning on Sunday. The Houston Chronicle reported on Saturday that Asik will be one of Houston's primary targets. The most a team can offer the big man in the first year of a new deal would be $5 million and a small increase in the second year. A team could really make it hurt is in years three and four of the deal, however. Re-signing Asik would put the Bulls right up against the luxury-tax threshold. While Forman has been consistent in saying the Bulls would make basketball decisions, not financial ones, the organization will do what it can to avoid going too deep into the tax.
The question marks: These players are likely on the way out because of their salaries, or because the Bulls are looking for an upgrade.
Kyle Korver:The long-range bomber improved defensively this season, but he hasn't been as consistent from beyond the arc as the Bulls would have liked. Given the financial constraints the Bulls are trying to impose on themselves, it's a stretch to think they would bring him back for $5 million. There aren't many pure shooters out on the market, though.
C.J. Watson: Even with Teague in the fold, the Bulls need to sign at least one more point guard with Rose on the mend. They have a $3.2 million option on Watson, but his inconsistencies in the playoffs, combined with his price tag, may have booked him a ticket out of town.
John Lucas III The diminutive, determined point guard wants to come back to Chicago and was well liked because of his work ethic, but the Bulls will likely look to upgrade before making a final decision on him. He is an unrestricted free agent who could get a raise.
[+] Enlarge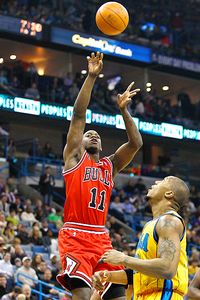 Derick E. Hingle/US PresswireWith Jimmy Butler a capable replacement, Ronnie Brewer's two-season run in Chicago appears to be coming to a close.
Ronnie Brewer: With Butler in the fold, the Bulls feel they have a younger, cheaper option who can replace Brewer on the roster. Thibodeau always liked Brewer's work ethic and approach but the swingman appears to be on his way out.
The potential targets:
This is where things get fuzzy for Forman and Paxson. The moves they make in free agency are contingent upon the moves they do or don't with the current roster.
For argument's sake, let's say they match an offer for Asik at $5 million coming into this season and decide not to bring back, Korver, Brewer, Watson or Lucas. That means they're still hovering close to the luxury-tax threshold, which is expected to be around $70.3 million, according to ESPN capologist Larry Coon.
With Asik in the fold, the Bulls would have nine players under contract after signing Teague. That also means they'll need to sign at least three more players to fill out the roster. Those players would have to come cheaply. With that in mind, let's take a look at some of the options the Bulls may look at heading into Sunday.
Kirk Hinrich: This is the man plenty of Bulls fans want to see back in the United Center. He would fit in well with what Thibodeau has built and would help bridge the gap until Rose returns. The reunion sounds nice on paper. The reality is that Hinrich, who made $8 million last season in Atlanta, would likely have to take a pay cut of between $5-6 million to return. If he's willing to do that, the Bulls would be happy to have him.
Andre Miller: He falls into the same boat as Hinrich. The Bulls would love to have him, but he made almost $8 million last season as well. It's doubtful he'd be willing to take that much of a pay cut next season for a team that doesn't appear to be built for a title this year.
Jonny Flynn: The former Syracuse star has struggled early in his NBA career, but he is still young and has listed the Bulls as a potential landing spot, according to ESPNLA.com. He would come cheaply and play alongside Rose when he returns.
Delonte West: The veteran guard comes with plenty of baggage, but he has been in the league long enough to know what to expect and he would also come cheaply. He only made $1.2 million last year in Dallas.
[+] Enlarge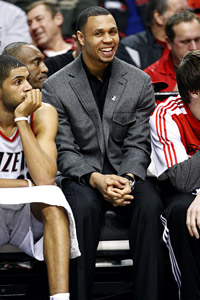 AP Photo/Rick BowmerReports indicate that the Bulls are interested in oft-injured shooting guard Brandon Roy.
Brandon Roy: Yahoo! Sports reported Saturday that Roy will meet with the Bulls this week and is one of the finalists for his services. The issues for the Bulls regarding the Roy are multi-faceted. Pending other moves, the most Forman would likely offer is in the $2-3 million range. Would Roy want to come to Chicago when he could make more elsewhere and may have a better shot to win a ring this season? Would the Bulls feel comfortable adding Roy and his chronic knee problems when they already have Hamilton on the roster?
Courtney Lee: He's been on the Bulls' radar for a while, and they could have had him a couple years ago if they were willing to part with Asik. If there isn't much of a market for Lee, who is a restricted free agent, the Bulls would likely be interested.
Danny Green: The Bulls would love to have the young forward in the fold, but as a restricted free agent, he figures to get a lot more than Chicago can offer.
Jamal Crawford: The former Bull did not have a solid season last year in Portland. Like the others on the list, if he was willing to take less money, the Bulls may be intrigued.
Shannon Brown: The Chicago native averaged 11 points a game last season in Phoenix. He was miffed a couple years ago when the Bulls didn't make a push to sign him. He would likely listen if Forman picked up the phone.
Maurice Evans: Evans is a veteran and made just over $1 million last season. He doesn't have the same athleticism he had early in his career, but he could come in and give Thibodeau spot minutes when needed while tutoring Butler.
December, 10, 2010
12/10/10
2:36
PM CT

By Dave McMenamin
ESPNChicago.com
Archive
CHICAGO -- In June 1998, 12-year-old Shannon Brown -- living in Maywood, Ill., 10 miles west of downtown Chicago -- was dreaming his future.
When he turned on the television, he saw the Chicago Bulls running toward their sixth NBA championship with his favorite player, Michael Jordan, taking the shots and coach Phil Jackson calling the plays.
Read the entire story.
December, 4, 2010
12/04/10
1:27
PM CT
The Bulls struggled mightily in Boston on Friday. Maybe it's just because they were still reveling in the fact they did so well on the annual "Circus Trip". Let's take one more look back at some of the behind the scene stories of the annual sojourn out West.
Monday, Nov. 15, 2010, the Berto Center, Deerfield, Ill., 2:07 p.m. CT
It's just about an hour and a half before the Bulls are scheduled to take off on their seven-game trip, and Derrick Rose is already nervous. The trip hasn't even started yet, and he's already late.
"I might get fined today," the 22-year-old All-Star says before he begins his obligatory media session.
He swears he hasn't even packed yet, but he has already loaded up two seasons worth of shows on his new MacBook Air computer.
"I just downloaded 'Dexter,' the first season," he says. "People was telling me about 'Dexter' and I just got 'The Walking Dead.' The new series that came on AMC. I just downloaded that first season so I can't wait to get to it, so it should be fun."
Why did he pick those kinds of shows?
"I get it from my mom," he says. "She likes those."
A few moments later, he races off. He knows he can't get through two weeks by just watching TV shows and eating candy.
Tuesday, Nov. 16, 2010, the Toyota Center, Houston, 9:42 a.m. CT
What are the essentials when you go on a two-week trip like this, Joakim Noah?
"What's very underrated is sometimes you can wear a pair of jeans twice," the 25-year-old center says to me. "That's pretty important. You can pack for two weeks you don't need a new pair of jeans for every single day. Bring two, three pairs; Once in a while you take them to the cleaners, you wash them. You don't need to bring eight pairs of jeans for two weeks, you know what I mean?
"You think there will be guys who wear the same pair the whole trip?" I ask.
"This is the NBA," he tells me. "I don't think the same pair." And then proving his point, he adds proudly.
"I brought two."
By the way, for those of you keeping track at home -- On the D. Rose scale of 1-5 stars, 'Dexter' has come through for Mr. Rose.
"It's like a four," Rose says. "I'm liking 'Dexter' right now."
Tuesday, Nov. 16, 2010, the Toyota Center, Houston, 11:14 a.m. CT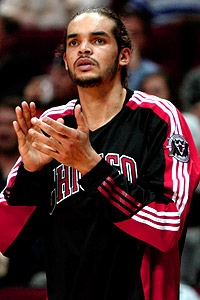 Brett Davis/US PresswireJoakim Noah and the Bulls reunited with former teammate Brad Miller in Houston.
After waiting to speak to
Brad Miller
for 30 minutes, I've finally had enough. I walk back down the hall outside of the Rockets practice facility and head towards the elevator which goes to the media center. When a co-worker and I get off the elevator and walk down the dimly lit hallway we are greeted by a familiar figure: It's Miller ... wearing yet another Chicago Cubs hat.
He is busy shooting the breeze with some of his former teammates. Taj Gibson is sitting on the side of the wall just taking everything in. James Johnson comes out to pay his respects; Miller gives him a hard time about his afro. The veteran big man is in his comfort zone -- he still has a nickname for all his old buddies.
"It's fun," he says of facing his old team. "Tajy Woo-Woo. [Taj Gibson]. Jo-kim Duck [Joakim Noah], J.J. [James Johnson], D. Rose, Sweet Lu [Luol Deng, so it will be fun."
While Miller doesn't come right out and say it, it's clear that he misses being a member of the Bulls.
"People always say Houston's always blessed with injuries at some point and I had mine," he says. "They said 'Welcome to the team,' when I turned my ankle. It just seems like the curse of this team, but guys just keep stepping up."
He's just hoping his old buddy Joakim Noah doesn't step up too large on this night.
He continues to joke with his former mates as he walks them up the ramp and back to his car underneath the Toyota Center. He's giving them a ride back to their hotel.
Wednesday, Nov. 17, 2010, San Antonio, Texas, 7:07 p.m. CT
Tom Thibodeau is a little late for his regular pregame media session, so the pack of writers takes a right into the Bulls locker room and bumps into a familiar face: Rose.
He's sitting on a Gatorade cooler calmly waiting for the game to begin. After scoring 33 points the night before, including 17 in the final quarter, he is asked how he was able to get so hot.
"Right before the game I was shooting and I was telling [assistant coach] Ron Adams, I was like, I never have a good shooting game in this arena," Rose said. "And I was missing every shot, almost every shot, I'm like, "Oh, this is going to be a long night." But during the game I guess they were just giving me shots and I was taking them."
So what's it like to be in that kind of zone.
"It feels good," he said. "Where almost every shot you throw up, goes in. The team gets into it. I had my brother and friend on the sidelines. It was a good feeling."
A few moments later, the topic of the length of the trip comes up and Rose is momentarily stumped.
"Actually, I don't even know how many games we play on this trip. Y'all know?"
"Seven," I say.
"That's a lot of games," Rose says.
Did he pack enough clothes?
"I packed. I knew how many days we were going to be gone. Seven is a lot of games, but we're just trying to take it one game at a time."
"You're buying us Thanksgiving dinner aren't you?" another writer jokes.
"Another year where I'm gone. It's going to be hard but I think I should be able to find something to eat in Denver."
Wednesday, Nov. 17, 2010, San Antonio, 11:22 p.m. CT
James Johnson has found something to eat. He wolfs down a Whataburger as the media enters a dejected locker room after the Bulls fall apart in the third quarter against the Spurs.
"The third quarter, we came out, we couldn't hit any shots," Rose laments. "Shots that we usually take we wasn't hitting. With a team like that, you can't do that."
The sky is not totally falling for Rose and the Bulls. There are more games to play, but Noah knows there are things the team must improve upon.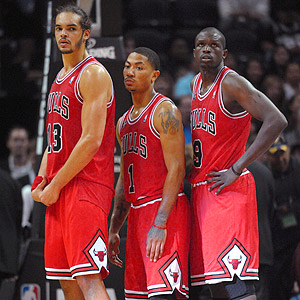 Brendan Maloney/US PresswireThe Bulls had a tough time solving the San Antonio Spurs in 103-94 loss.
"You got to give them credit," he says. "They played a great second half. There's a lot of things that I got to fix. I'm not happy with the way I played and just be ready to go the next game."
Friday, Nov. 19, 2010, American Airlines Arena, Dallas, 12:37 a.m. CT
Clearly, the Bulls learned from their mistakes. After once again falling into a huge hole early, the Bulls come all the way back to clip the Mavericks. Joakim Noah wants to celebrate. He walks into the shower and starts belting out Usher's latest hit, OMG. "OH, OH, OH, OH, OH MY GOD" you can hear bouncing off the walls.
On the other side of the room, Derrick Rose is in misery. Yes, his team won and he's happy, but he can't believe the cut he has on his nose courtesy of Dirk Nowitzki.
"My swag is a little down right now as you can see," he said in the happy locker room. "I don't like getting my face touched. I'm just mad right now."
When a reporter jokes that Rose's face is perfect no more, the 22 year-old pitchman responds quickly.
"I wouldn't say that," he said. "I'm easy on the eye."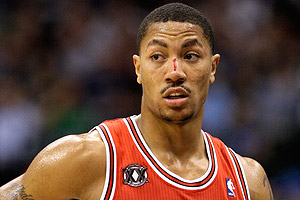 AP Photo/Tony GutierrezDerrick Rose's nose was a casualty of the Bulls' win in Dallas.
Everything feels a little better when your team is 2-1 during the Texas road swing -- even a bloody nose.
Nov. 21, 2010, the Staples Center, Los Angeles, 10:38 p.m. PT
Kobe Bryant is cruising through his regular postgame press conference with ease.
It's about an hour after the Lakers latest win, and the superstar is carving through answers like he did to the Warriors earlier in the night. Questions come his way, and he answers them with the countenance of a man who has been through this drill thousands of times. Short answers, brief soundbites; you know he just wants to get through the next few minutes and get on with his night. The American Music Awards have recently concluded just down the street at the Nokia Theatre and Bryant, dressed in a purple cardigan, probably has more important places to be than standing in front of his locker at the Staples Center answering questions about another lopsided win. The media horde surrounds his locker and hangs on every word, but Bryant doesn't seem to care.
All of a sudden, he hears a name from his past and everything changes for a moment.
When the reigning NBA Finals MVP, recalls the impact that Tom Thibodeau had on his development early in his career, Bryant's answers change for an instant. He actually thinks about what he wants to say and actually seems genuinely happy to be answering a question he must not hear every day.
"He was crucial," Bryant says. "He was with me when I was 16 years old. 16 or 17 years old. Just doing drills and just working on ball-handling and just teaching me the game. He was there from Day 1."
Obviously, Thibodeau knows what's coming when his Bulls face off against the Lakers in two days.
"His greatness is, you can play great defense, you just try to make him work, and he still has the ability to score big," the veteran coach says. "He's gotten to the point now where he can beat you a lot of different ways."
Thibodeau is just hoping he doesn't use all of them on Tuesday.
Monday, Nov. 22, 2010, Los Angeles, the Staples Center 6:02 p.m. PT
Vinny Del Negro sees a couple old faces from his past and literally stops in his tracks.
The new coach of the Los Angeles Clippers is happy to see a couple of familiar faces from Chicago before heading into a pregame press conference in which one of the first questions is: "Why are you guys so crummy?"
He's in a surprisingly positive mood as he walks out of the room 15 minutes later. He wants to know how Rose, Noah and Gibson are doing. And he wants people to understand that he has moved on from his tumultuous exit in Chicago.
"Obviously, the tradition and the history in LA compared to what Chicago's history is much different," he said. "The cities are much different, but I enjoy it, I really do. Is it difficult? Of course. Is it frustrating? Of course. But that's what gets me going. For whatever reason, I just enjoy the challenge of it all. Some guys do and some guys don't and I love basketball, it's been great to me. And I love the opportunity, I embrace the challenge and we'll see how it all works out."
He works out pretty well for him on this night. His Clippers pull off a surprising win over the Hornets.
Tuesday, Nov. 23, 2010, Los Angeles, the Staples Center, 10:34 p.m. PT
Shannon Brown just kind of smiles when the question is asked.
Did you have any contact with the Bulls over the summer when you were a free agent?
"I don't remember," he says, while standing in front of his locker stall.
He has just torched the Bulls for 21 points, and he is soaking in the moment. It sounds as if he would have liked to have played for the Bulls, but he isn't tipping his cards.
A few moments later, Thibodeau and the Bulls get their biggest compliment of the night. Yes, they lost, but Kobe Bryant sees a difference in the team from Chicago.
"They look really good," he says. "I think they play with a lot of energy. And they executed well. They had a lot of spacing and they kept coming."
Given what happens the next night, maybe Bryant has a future as a fortune teller.
Wednesday, Nov. 24, 2010, Phoenix, U.S. Airways Center, 10:49 p.m. MT
Noah is exhausted, but he's happy. His team just came back from a 23-point deficit to win in double overtime, and he's having a hard time describing what he's feeling at the moment.
"I'm pretty sore," Noah admitted. "Physically, I'm pretty low right now. But mentally [I'm] 150 percent."
Why shouldn't he be? His team just pulled off its most impressive win of the year.
"I think it's just character," Deng says. He's just played 54 minutes, but he looks like he could play a few more if needed. "We have characters that really care about the game and trying to win."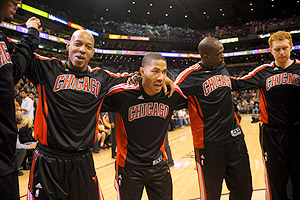 Mark J. Rebilas/US PresswireThe Bulls got off to a slow start in Phoenix but left with a win.
Noah agrees.
"It was a huge win," he says. "It feels good to win right now. The thing that sucks about the league is we can't celebrate it for a week. That would have been great, to be able to celebrate a win like this for a week."
"Still a great Thanksgiving day present, though?" another reporter says.
"It's not a week," Noah responds. "But we'll eat some turkey tomorrow."
Friday, Nov. 26, 2010, Denver, the Pepsi Center, 9:40 p.m. MT
Kyle Korver sits in front of his locker with his feet resting in a vat of ice. Like some of the other players in the Bulls locker room, he is just shaking his head.
"We should have won that game," he mutters. "And we didn't even play that well. C.J. played well, but ..."
The C.J. he would be referring to is C.J. Watson, the man who stepped in for Rose because the Bulls' star could barely move his neck all day and spent the entire game getting a massage in the locker room. John Lucas III, who had already worked out for several hours earlier in the day, and was sitting at a Wing Stop restaurant in Houston when the Bulls called him at 12:30 that afternoon, just clanked two free throws that may have helped ice the game. Nuggets star Carmelo Anthony proceed to drain the game winner at the buzzer a few moments later and the team is left to wonder what might have been.
Noah gives some words of encouragement to Lucas before he leaves the locker room. Watson, who exploded for 33 points tries to put things in perspective.
"Coach put him in, and coach has faith in him," Watson explained. "So I know coach [trusts] him in that situation. I think [Lucas] just didn't make them, and that's how the ball falls sometimes."
The Bulls shuffle out into the Denver cold to catch their flight. Luckily for them, there is only one game left on the trip.
Saturday Nov. 27, 2010, Sacramento, Calif., 6:43 p.m. PT
Brian Scalabrine has plenty of energy left. He throws down a tomahawk dunk in the pregame layup line, which leaves his teammates in awe.
"What the [heck]?" Veteran forward Kurt Thomas says.
The Bulls just got an added jolt considering Rose says he is going to try to play, despite the fact that he is still having problems moving his neck from side to side.
"I'm just trying to stay positive right now," Rose says in the visitor's locker room. "Just thinking that I'm going to play the whole game. C.J. played great [Friday] so if I can't [play], I know that he'll back me up pretty good."
Rose gets a jolt from the horde of Bulls fans who stand behind the team's bench during warm-ups. He's ready to finish what he started.
Saturday, Nov. 27, 2010, 10:01 p.m. PT
After struggling for years on the annual "Circus Trip," Luol Deng can't hide his excitement at the fact that his team has just completed a 4-3 trip, the first winning trip since 1997.
"It's a good feeling," Deng says in the cramped locker room. "Our mentality this year is one game at a time. A tough one last night, I thought we were a little tired in the first half, but we keep fighting back."
It's evident something has changed in Deng through the early part of the season. He seems much happier on the floor and appears to enjoy playing with his teammates more than ever.
"I think a lot of people in the NBA just overlook [how a] team [is] getting along together off the court," he says. "I think a lot of times you try to put a bunch of individuals together because of what they're capable of doing on the court, but I just think our chemistry on and off the court has just been unbelievable and this trip was great for that."
As he walks toward the exit, I ask him one final question.
Just how much Tom Thibodeau switched the culture of this team over the first month of the season?
Deng smiles and chuckles a little bit.
"You can see it," he says. "He's been around for a long time, so he knows what he's doing."
With that he heads out the door and onto one more bus. The Bulls have to fly home one more time. Given what the Bulls have accomplished over the past two weeks, Deng may actually enjoy the long flight back for a change.
November, 24, 2010
11/24/10
1:54
AM CT
LOS ANGELES -- The most ironic part about the
Bulls' 98-91 loss
to the Lakers on Tuesday night is that they got beat, in part, by a player they could have had.
Shannon Brown
, a Chicago area native, rattled off 21 points and led the Lakers' bench to an astounding 39-10 advantage over their Bulls counterparts. For Brown, the opportunity to knock off the Bulls was even more special considering the team didn't really make much of a push for him in the summer.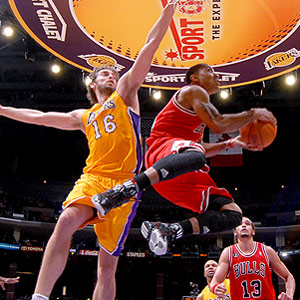 Andrew D. Bernstein/NBAE/Getty ImagesDerrick Rose scored a game-high 30 points to go along with eight assists against the Lakers on Tuesday.
"I actually played for the team for a second, but you always want to play well against the place where you come from," said Brown, who is averaging a career-best 11.1 points a game. "I grew up watching the Bulls. I grew up a Bulls fan, but it's great. I know everybody was watching on WGN Channel 9."
When asked directly if he had any contact with the Bulls this summer, Brown waited a few moments before answering. The tilted smile on his face said more than what actually came out of his mouth.
"I don't remember," he said.
The more he spoke the more you got the sense that he would have relished the chance to play in front of friends and family again. The more the Bulls watched him drain shots, they might have wished he would have ended up back home.
"I feel like Shannon Brown has really elevated his game,"
Joakim Noah
said. "He's playing at a really, really high level for them. You've got to give credit where credit is due when guys are hitting shots the way they are. Those were some contested shots."
But Brown's evolution against the Bulls only underscored the same re-occurring problem the team has had all year: They don't have a consistent bench.
Derrick Rose
(30 points, eight assists) Joakim Noah (19 points, 13 rebounds) and to a lesser extent
Taj Gibson
(16 points, 12 rebounds) are going to bring it every night. Until the Bulls get some more help off the bench they aren't going to be able to beat the elite teams, especially the Lakers. After playing well over the past week,
Ronnie Brewer
,
C.J. Watson
and
Kyle Korver
combined to go just 3 for 15 from the field.
"We just missed a bunch of shots and didn't play as well as we should have," Korver said.
The real problem for the Bulls is that when
Luol Deng
gets in foul trouble and disappears offensively, (two points in the last three quarters, none in the second half) and
Keith Bogans
continues to shoot poorly from the three point arc (1 for 5) the Bulls don't really have anywhere else to turn.
When you compare that to how well Brown played alongside
Matt Barnes
and
Steve Blake
, you have a recipe for disaster as far as Tom Thibodeau is concerned. The Bulls knew the Lakers bench was good; it was just that they looked even better comparatively.
"Everybody in the league knows their bench is like a transition team," Rose said. "Where they get out in the open and try to shoot a lot of [threes]. And they were hitting tonight."
The Bulls aren't always going to be able to rely on Rose to save the day. If they don't find some more consistency from the bench soon, the chances of them being able to knock a team like the Lakers in a seven game series are gone.
Maybe they should have called Brown.
November, 24, 2010
11/24/10
12:08
AM CT
LOS ANGELES -- Let's take a quick look at how the Lakers overpowered the Bulls late and won 98-91 on Tuesday night at Staples Center:


How it happened:
The Bulls hung right with the Lakers for three quarters. In the fourth though, the Lakers proved that they simply had more firepower.
Shannon Brown
and
Steve Blake
hit huge three-pointers off the bench while
Kobe Bryant
and
Lamar Odom
played their usual steady game.
Derrick Rose
,
Joakim Noah
and
Taj Gibson
all played extremely well for the Bulls, but as usual they had a hard time finding anyone else to step up.
Luol Deng
had 11 points in the first quarter and scored two for the rest of the game. Until the Bulls get more consistent production from Deng, and their bench, they aren't going to have enough to knock off the elite teams in the league, especially the Lakers.
What it means:
This game proved a point that anyone who follows the Bulls closely already knew -- the bench is lacking. As a group, they had been playing better, but against a team like the Lakers the difference in quality showed. Brown, Blake and
Matt Barnes
made a huge difference down the stretch for the Lakers. The Bulls' combo of
Ronnie Brewer
,
C.J. Watson
and
Kyle Korver
couldn't get the job done. The trio finished a combined 3 for 15 from the field. Throw in
Keith Bogans
' 1-for-5 effort and you have a better understanding as to why the Bulls lost.
Stat of the night:
The Lakers' bench scored 39 points to the Bulls' 10.
What's next:
The Bulls have to recover quickly considering they play in Phoenix on Wednesday night. The Suns will try to run them out of the gym, and it will be interesting to see how Rose and Co. respond. They're going to be tired, but they have enough talent to take care of Phoenix.