Chicago Bulls:

Shaquille O'neal
February, 27, 2012
2/27/12
4:32
PM CT
When asked on Sunday afternoon who he would have liked to play with the most if he could play with any All-Star,
Derrick Rose
hesitated for a second and then responded with one of the best big men of all time.
"I would say basically all of them because it's so hard to get up to this level," Rose said. "But if I had an opportunity, I think it would be Shaquille [O'Neal]."
As for which part of his game he is concentrating on the most right now, Rose acknowledged that he's trying to fight through the fatigue that has hampered lots of NBA players during this lockout shortened season.
"The mental part of the game," Rose said. "Right now, everybody's a little fatigued because of the season. But mentally you have to challenge yourself to go out there and play well."
The last word:
"I know it means a lot for our fans back in Chicago. It's bragging rights back in Chicago, where I think the reason why both of us play so hard and work so hard ... I know definitely me because I'm from there. [I want] to give the city something to brag about. We've been in a drought for a very long time. And we're just trying to bring the city back to what it was back in the day." -- Rose, on having both he and
Luol Deng
in the All-Star Game.
April, 17, 2010
4/17/10
7:21
PM CT
CLEVELAND -- The
Cleveland Cavaliers
were able to pull something off on Saturday afternoon that most teams couldn't do all season. It's the biggest reason why they knocked off the
Chicago Bulls
96-83 and lead this Eastern Conference quarterfinal 1-0.
They figured out a way to take a healthy
Joakim Noah
out of the game.
[+] Enlarge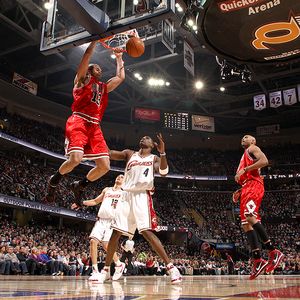 Liam Kyle/NBAE via Getty ImagesJoakim Noah managed only 10 points and eight rebounds against the Cavaliers in Game 1 on Saturday.
The Bulls' emotional leader was mired in foul trouble from the start and was not able to lead his team on the glass and in the paint the way he had over the past two weeks. He only played 35 minutes and managed this stat line in the process: 10 points, eight rebounds, five fouls, three assists and three turnovers.
"I wasn't really happy with the way I played today," Noah said. "I feel like I have to come out and bring a little more energy."
Did anyone really think you would hear that from Noah at any point during this series?
It's not that he wasn't playing hard. He was -- as usual. It's just that he and the Bulls were taken out of their respective games so early that by the time they had gotten back on track it was too late.
"It affected me a little bit," he said of the early foul trouble.
But what affected Noah and the Bulls more was the massive front line consisting of
Shaquille O'Neal
and
Anderson Varejao
. They not only got Noah in foul trouble, they also made him settle for jump shots instead of the short putbacks that he has made a living off of over the past few weeks.
The Cavaliers out-rebounded the Bulls 50-38 and seemed to break their will down low.
"I thought our effort going after the ball was terrific," Cavs coach Mike Brown said. "Coming up with extra possessions, which is a big thing in the playoffs, was good tonight. We were good in that area, but Noah and their other bigs logged a lot of minutes, and we feel that we have capable bigs that can go in and give each other a rest ... our bigs played a terrific game tonight."
Specifically, it was O'Neal who seemed to give Noah the most problems down low. After missing nearly two months because of a broken thumb, the future Hall of Famer seemed to frustrate Noah and bully him underneath.
"I think Shaq played well," Noah said. "I just felt like a few of those calls were a little questionable. But you are playing Shaquille O'Neal, somebody who has been here before. He's been in this position before, won championships. For being out that long, conditioning-wise, he wasn't that bad at all. He got his hands on a lot of basketballs. On my drives he got a few swipes down. He did a good job. But we'll be ready for Monday's game."
Plantar fasciitis is no match for a massive, future Hall of Fame center.
While Noah's optimism is honorable, if Shaq continues to torment the floppy-haired big man, the Bulls will not last past next weekend.
The Cavs didn't just win a game on Saturday, they laid down a blueprint.
If you can lock down Noah and limit his energy, the Bulls don't stand much of a chance of winning. The Cavs allowed Rose to take 28 shots and figured the rest of the team couldn't beat them.
They were right.
The rest of the team combined for just 55 points.
"We need [Noah] to be in the game with his strength and rebounding ability," Del Negro said. "Shaq is a big body. He's going to wear you down a little bit. We tried to get Brad on him to free Joakim up a little bit, but then you have to have Jo on [Antwan] Jamison who spreads him out a little bit and gets lifted on the weak side.You have to pick your spots with that.
"Joakim has been fantastic. He had a solid game, but he knows he can play better, and we're going to need him to."
His teammates know that they will have a hard time competing without him.
"It's tough," veteran guard
Kirk Hinrich
said of Noah's foul trouble. "He does a lot for us. He's one of our main energy guys, our leading rebounder, so of course we miss him when he gets fouls. But it's going to happen from time to time, and it's going to be very challenging for him to play physical and stay in the game."
"Jo's going to play hard," Bulls forward
Luol Deng
added. "We know that. [The Cavs] are going to do what they're going to do: dump the ball in, try to wear him out. We got to go in there and help them. We just got to keep battling."
The problem is that the Bulls don't have another option when Noah goes to the bench. Rose has the ability to take over games, and is definitely the most talented player on the team, but his teammates don't feed off his presence the same way they do when Noah is on the floor.
The big seven-footer realizes this, and that's why he knows he has to find a way to stay on the floor for Game 2 on Monday night.
"This is the way it is," he said of facing O'Neal and the Cavs. "I wouldn't have it any other way. We are playing against the best team, and we fought pretty hard tonight. We just have to stay positive and hopefully things will go our way next game."
The only way they will is if Noah can figure out a way to move the 330-pound immovable object and dominate the rim the same way he has done all season.
April, 17, 2010
4/17/10
11:52
AM CT
CLEVELAND --
Shaquille O'Neal
may be coming back to the
Cleveland Cavaliers
lineup on Saturday afternoon, but the
Chicago Bulls
feel as if they have the antidote that will counteract the powers of Superman Sr.
They plan on running him into the ground.
"That's definitely the goal," Bulls center
Joakim Noah
said. "Run him as much as possible. And try to make it a track meet."
[+] Enlarge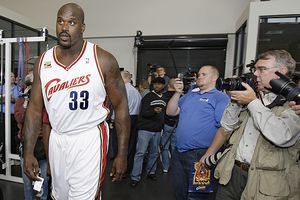 AP Photo/Tony Dejak Shaquille O'Neal has missed almost two months because of a thumb injury, and the Bulls plan on testing his conditioning.
O'Neal has missed almost two months because of a thumb injury, but don't think the Bulls are taking him lightly.
"We're going to try and move him around, obviously," Bulls coach
Vinny Del Negro
said. "But Shaq causes a lot of problems for you, just with his size and ability to clog the lane and things. All those things will pretty much get answered as the game goes. Knowing Shaq, he'll be ready to go."
Noah knows he'll be in for a challenge, but it's a challenge he believes he is in shape and ready for.
"Shaq's one of the best to ever play the game," he said. "He has a lot of playoff experience. He understands what it takes to win. I'm sure he'll be just fine. I'm just going to go out there and give it everything I've got."
No rust:
O'Neal has missed the most time lately, but
LeBron James
hasn't exactly been active much lately, either. James has taken the last four games off to rest before the playoffs start. While some people may think the Cavs will be rusty, the Bulls are preparing as if they will be as strong as ever. "You cant count on that," Bulls rookie
Taj Gibson
said. "No team's going to be rusty. Everybody's professional in this league. Shaq is a great player. I can't even say how many things he's done in his career. To have him out there and LeBron, it's going to be a tough matchup for us. But we just know our business and what we have to do. Players are not scared. We understand what we have to do."
Gibson's playoff debut:
Gibson admitted that he may have a few butterflies on Saturday, but he has no doubt that they will go away soon after the game starts. He also knows that the playoffs are completely different than what he experienced during the regular season. "It's really physical," he said. "Don't expect any calls. Don't let your emotions take over and just play your game. That's what Brad [Miller] and Joakim have been telling me the whole time in practice [Friday]. I'm just looking forward to playing in my first series."
Gibson is looking forward to seeing the intensity inside Quicken Loans Arena. It made an impression on him the first time the Bulls played there early in the season. "It was amazing," he said. "I had never been to Cleveland; that was my first time, so I was kind of stoked. But it's LeBron's house, and they're a great team, and it's going to be a good atmosphere."
Who's guarding LeBron?:
The short answer to that question is
Luol Deng
, but Del Negro knows it is going to be a group effort. "You have to mix up the coverages," Del Negro said. "There's not one guy that's going to be able to guard him. But you have to get into him a little bit. Try to take his easy scores away, which is very hard. You know he's going to attack the basket. He's going to shoot some threes." On the bright side for Del Negro, he said that Deng is starting to feel a little better. "The guys been fighting through his calf and knee [injuries]," he said. "He just needs to get some energy back like everybody."
The last word:
Noah, on how much different the playoff stage is compared to the regular season: "You'll see," he said. "You'll see on Saturday. It's going to be nuts in there. But that's what it's all about. That's why you stay in the gym at night. That's why you get to the gym early. All those sprints, all that hard work in the beginning of the year. All that adversity it comes down to this. This is what you play for."