Chicago Bulls:

Stan Van Gundy
August, 20, 2012
8/20/12
5:19
PM CT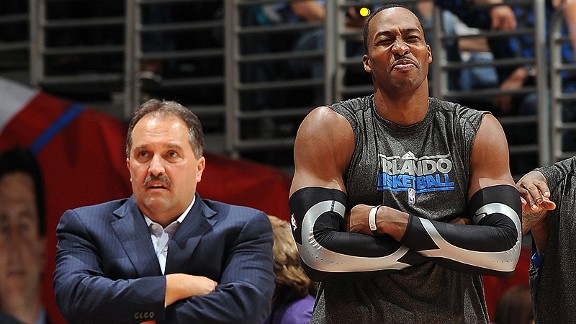 Noah Graham/NBAE/Getty ImagesStan Van Gundy wonders if Derrick Rose will follow Dwight Howard's blueprint at some point.
CHICAGO -- In an era when NBA superstars pair up for the easiest path to a championship, former
Orlando Magic
head coach Stan Van Gundy wondered Monday if
Derrick Rose
will be one of the next to look for greener pastures if the
Chicago Bulls
don't land another superstar or win a championship.
"I think the interesting one coming up in the future is going to be Derrick Rose," Van Gundy said on AM-740's "The Game" in Orlando. "I think Derrick Rose is a great, great representative of our league, and he's a great player. And he's got good players around him, very good players around him, but if (the Bulls) can't get another star there for him is he eventually going to look around and say, 'Hey, I've got to work this out on my own and I've got to find somehow to get somewhere else so that I will have a chance to play with another star.' The league has changed."
Rose, who tore his ACL during the Bulls' first playoff game last season against the
Philadelphia 76ers
, has stated that he plans to stay in Chicago for his entire career. He signed a five-year max extension before last season worth over $90 million. Van Gundy's point is that if Rose can't rebound from the injury and win a championship, even the most loyal player may start to look at other situations.
April, 5, 2012
4/05/12
2:38
PM CT
ORLANDO, Fla. -- Stan Van Gundy said he knows his franchise player, Dwight Howard, has asked that he be fired as coach of the Orlando Magic, and get this: Van Gundy claimed his sources are better than any reporter's.
Read the entire story.
March, 9, 2012
3/09/12
12:10
PM CT

By Jon Greenberg
ESPNChicago.com
Archive
CHICAGO -- It is common knowledge around the National Basketball Association that the road to the NBA Finals will go through Miami and Chicago.
Read the entire column.
March, 8, 2012
3/08/12
8:05
PM CT

By Jon Greenberg
ESPNChicago.com
Archive
CHICAGO -- A local reporter unfamiliar with Stan Van Gundy, the perpetually grousing coach of the Orlando Magic, asked what made him happy with his team.
[+] Enlarge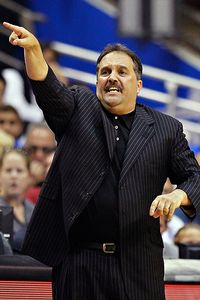 Kevin C. Cox/Getty ImagesStan Van Gundy's Magic have the third best record in the East, but he's unsatisfied.
After all, the Magic came into the game 25-15, the third-best record in the Eastern Conference, despite the lingering questions about Dwight Howard's future with the franchise. But here's the spoiler alert: Van Gundy is definitely not in love with his team. It sounds like he barely likes it.
"I haven't been real happy, I'll be honest," Van Gundy said before the game. " 'll say what's pleased me the most is we're a pretty resilient group. We'll have bad nights, we'll have bad periods in games and we will bounce back. We just have not established that we will play real hard and play together on a consistent basis.
"We're real up and down in the way we've played," he continued. "I think we're a group that's satisfied with where we are and not making the big push to really get better. While the record is fine and there's been some good things, but it's hard for me to be real happy with where we are right now."
On the other hand, Van Gundy had glowing words for the Chicago Bulls, who came into the game on an eight-game winning streak and with the best record in the NBA. It sounded like he was envious of their situation.
"[Tom Thibodeau's] team plays hard every single night," he said. "And they play very well together every single night. I think everybody over there deserves a lot of credit, but I think Tom obviously and the coaching job he's done over two years, there's been nobody in the league that's done a better job. There just hasn't."
While there has been questions about Howard's willingness to want to play with Rose, Van Gundy sounds like he'd love to make a straight trade of adidas pitchmen. After all, what coach wouldn't want Rose, an MVP who barely talks and never complains.
"And I think the other thing is they've got a great player in Derrick Rose, with a great attitude," Van Gundy said. "He's a guy who's just all about winning and making his teammates better. It's not about him, it's not about gaining publicity and attention, it's not about his numbers. It's just about winning games."
January, 6, 2012
1/06/12
8:36
PM CT
ORLANDO -- Usually it's Jeff Van Gundy who sings Tom Thibodeau's praises to anyone who will listen. After all, Thibodeau served as an assistant to Van Gundy in both New York and Houston. But before Friday night's game between the
Chicago Bulls
and the
Orlando Magic
, it was Jeff's brother, Stan, the head coach of the Magic, who went on about just how good -- and fortunate -- Thibodeau has been since landing in Chicago with the Bulls.
Stan isn't sure why it took Thibodeau so long to get a job, but he knows that the longtime assistant was lucky to get the job that he did.
[+] Enlarge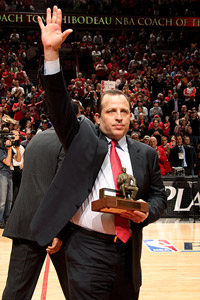 Nathaniel S. Butler/NBAE/Getty ImagesTom Thibodeau was named Coach of the Year in his first season with the Bulls.
"There's all kinds of different reasons people get jobs," Stan said. "I think in the long run, and I would hope Tom would see it this way, even though it took him a long time and he probably had some frustrating moments along the way, he was a lot more fortunate than most guys. Because when he got his job, he got a good one. And a lot of guys, particularly guys who are assistants, unless they sort of move up where they are, get bad jobs. And it's tough to win and they're not there very long and everything else. Tom had to wait, but he got a good job."
When joining the Bulls, Thibodeau was given a roster that had much talent on it already.
"He got a team that had just been in the playoffs and been in a hell of a seven game series with Boston not long before that," Stan continued. "These guys had had some success. He got a great young player in
[Derrick] Rose
. They went out in the offseason and got
[Carlos] Boozer
. Guys were starting to mature as players. He got a great job. And he's done a great job with it. It's not like he just got lucky. He took what was a good situation and made it great. I think he's as good as anybody in this league."
Thibodeau doesn't want Rose to change:
Rose said after Friday's shootaround that he wouldn't change his game against Howard, despite the fact that Howard knocked Rose out of two games two years ago. That's just the approach Thibodeau wants him to take.
"Bumps and bruises are part of the game," Thibodeau said before the game. "That's going to happen. I don't want him to change who he is. He's an attacking guy. He gets hit, he gets up and he goes. And he'll go again and again and again. That's who Derrick is. That's what makes him so special."
Stan believes Rose is special as well, but isn't sure just how much he has improved so early in the year.
"It's early," Stan said. "Look, the guy was the MVP last year. He's playing very well right now, but that's not like a big surprise. I'm sure he has gotten better and will get better because he's got a great work ethic and wants to get better. But I can't tell after seven games."
What he does know is that Rose probably won't be limited by his elbow injury.
"We'll try to chop at it as much as we can," Stan said sarcastically. "I don't know how you game-plan for an injury. I've never really understood that."
The last word:
Stan, on if his brother Jeff, will ever come back to coaching.
"50-50. He likes what he's doing now, but I think he misses [coaching]. I think he misses the competition and the whole process of coaching. So it's certainly possible."
March, 24, 2011
3/24/11
8:44
AM CT

By Chris Sheridan
ESPNChicago.com
Archive
May, 10, 2010
5/10/10
12:55
PM CT
ATLANTA -- Jeff Van Gundy isn't the only member of his family who thinks the Chicago Bulls handled the end of the Vinny Del Negro era poorly.
Orlando Magic coach Stan Van Gundy does not believe the recently fired Del Negro was given the proper backing from the Bulls front office, and Stan doesn't think Jeff will return to the coaching ranks next season for the Bulls or any other team.
Read entire story.