Chicago Bulls:

suspension
March, 13, 2010
3/13/10
7:45
PM CT
NEW YORK -- Chicago Bulls guard Kirk Hinrich has been suspended one game without pay by the NBA for making contact with a referee.
Read the full story
.
February, 9, 2010
2/09/10
9:54
PM CT
[+] Enlarge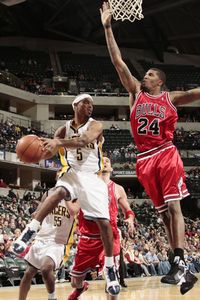 Ron Hoskins/NBAE/Getty ImagesT.J. Ford battles Tyrus Thomas Tuesday night at Conseco Fieldhouse. The Bulls defeated the Pacers 109-101.
Tyrus Thomas
said he had no problem putting his altercation with Bulls coach
Vinny Del Negro
and the ensuing one-game suspension behind him when he took the floor in the
Chicago Bulls
' 109-101 victory over the
Indiana Pacers
.
Thomas told reporters after the game that it felt good to get back on the court, adding, "I'm always ready to play."
The embattled Bulls forward, who has been the subject of
many trade rumors
this season, came off the bench and played 28 minutes -- the most playing time he's seen since Jan. 21, when he played 36 minutes against the
Los Angeles Lakers
.
Asked about his extended playing time, Thomas was characteristically curt in his answer to reporters.
"The more you're out there, the more you can do," Thomas said.
Thomas hit four of his five shots for nine points, grabbed seven rebounds and notched a block and a steal.
Thomas told the Chicago Tribune before the game that he had "no regrets" about the incident that led to his one-game suspension.
February, 8, 2010
2/08/10
8:51
PM CT
DEERFIELD, Ill. --
Vinny Del Negro
has lost all confidence in
Tyrus Thomas
.
[+] Enlarge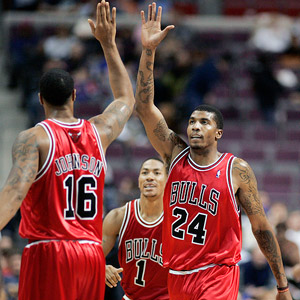 AP Photo/Duane BurlesonTyrus Thomas returned to practice after sitting out Saturday's game against Miami.
The Bulls coach didn't come right out and say that after Monday afternoon's practice, but he might as well have. It's been clear for a while that Thomas has fallen out of favor with the second-year coach and it is obvious that Thomas' frustrations are finally boiling over. As the Tribune first reported, Thomas went on a profanity-laced tirade aimed at Del Negro after Friday's game in Atlanta, which led to his team-imposed one-game suspension on Saturday night.
Monday's practice was the first time Thomas was back on the floor with his teammates since the incident, but it was clear nothing had really changed. "What happened, happened," Del Negro said. "It's over with. Hopefully, Tyrus learns from it and gets better. But, it's not the first thing that's happened with Tyrus. He's got to be smarter and he's got to be committed to the team. Today was a good practice -- not for him, but for everybody and now we've got to move on."
Moving on was the mantra of the day at the Berto Center, but it was clear that Del Negro isn't any closer to suddenly giving Thomas more playing time. The LSU alum, who declined to speak to reporters after practice, has played more than 20 minutes in a game just once over the past week and a half.
Del Negro was asked if he believes that the young forward has gotten the point. It was apparent -- in so many words -- that Del Negro didn't think he had.
"You hope so," Del Negro said. "Everyone handles things differently. Hopefully ... that's been expressed several times. But, different guys take it in different ways. No one guy is bigger than the team, but we got to move on from there. We got a game [Tuesday] night, let's focus in on that. For me, that stuff is in the past. We got to move forward and get ready."
Bulls point guard
Derrick Rose
told the media that Thomas apologized to all his teammates right after the incident, but his most revealing answer came when he was asked if anyone on the team had tried to talk to Thomas about keeping his emotions in check.
"Everybody," Rose said. "Everybody talked to him. People handle stuff certain ways. It seems like he's on the right path, so we're just going to leave him that way."
Rose may be one of the only people left on the team who believes Thomas is on the right path, because his head coach certainly doesn't seem to agree. It would surprise absolutely no one if the Bulls moved Thomas before the trading deadline, and it was clear in almost every answer Del Negro gave that he is sick of dealing with the former fourth-overall draft choice.
"Tyrus has got to run the court. Play hard. Execute the game plan. Hit open 15-foot jumpers. Be committed to the team. Same thing everyone else does," Del Negro said, while discussing what Thomas needs to do to earn more playing time. "Everyone has a job on this team. Certain guys do different things better than others. Everyone knows their role, knows what they need to do and now they have to go out and do it. And the guys that go out on a consistent basis and are coachable and want to buy into the team and give us the best chance to win -- those are the guys that are going to be out there. It's a very simple process."
It's a process that Thomas has not done well with up to this point in his career. No matter what he does from here on out with the Bulls, it's clear that he will not be able to maximize the potential that the franchise thought it was getting when they drafted him.
When asked later if the lack of defense was the key reason Thomas wasn't seeing the floor, Del Negro rattled off one more not-so-veiled shot at his forward.
"There's not one particular thing [keeping Thomas on the bench]," Del Negro said. "Whether it's running the court or executing the plan or taking the proper shots or being a good teammate, whatever the case is, for Tyrus or anybody else. Tyrus has the ability to change games with his athletic ability. But there has to be some type of consistency that you know what you're going to get from him."
Aside from the outbursts and the sometimes surly behavior, the biggest reason Thomas' Bulls career could be coming to an end is because he never found that consistency that Del Negro and so many others have been trying to get out of him.
February, 6, 2010
2/06/10
7:47
PM CT
Chicago Bulls
veteran guard
Lindsey Hunter
didn't get into specifics about
Tyrus Thomas
' one-game suspension, but Hunter, now in his 17th season, spoke in general terms about his teammate.
"As human beings we all get frustrated with everything in life in different situations, but you can't act out in your frustrations," Hunter said before Saturday's game against the
Miami Heat
. "At some point, you have to grow up and be a man about it, or a woman about it. Life is full of trials and tribulations. If you get frustrated every time you have [a problem] then you're going to live a pretty frustrated life."
Asked whether Thomas still has some growing up to do, Hunter said, "Of, course. We all do. We all have areas in our life we need to grow up in. As long as you realize it and you constantly work on those things, eventually you conquer your own demons. I think that's a battle within [Thomas] has to work on."
Hunter said Thomas, the fourth overall pick in the 2006 NBA draft, still has a chance to become a great player in the NBA.
"He has a really high ceiling," Hunter said. "He has the potential to be as good as he wants to be and it's just a matter of him taking initiative to realize what he is, what he brings to the table, slowing himself down and put his game in a box."
Hunter stopped short of saying the suspension will serve as a wake-up call for Thomas.
"We all struggle with different things," Hunter said. "Maybe it's a different process for him than it is for somebody else. We all do things in our own time and our own way. Maybe this will help him understand that he needs to get beyond some things."
February, 6, 2010
2/06/10
6:43
PM CT
Chicago Bulls
forward
Tyrus Thomas
has been suspended for one game for conduct detrimental to the team.
Thomas, who earlier in the season was sidelined seven weeks with a broken left forearm, will miss Saturday's contest against the
Miami Heat
at the United Center.
The team did not give specifics on the reason for the suspension.
Continue reading this story
.