October, 19, 2014
Oct 19
11:36
PM CT

By Nick Friedell
ESPNChicago.com
Archive
CHICAGO --
Taj Gibson
spoke for the entire
Chicago Bulls
' organization Sunday night when he described what it was like to have
Derrick Rose
back on the floor to close out games as he did in a win over the
Charlotte Hornets
.
"It's a dope feeling," Gibson said. "We know who's going to take the shot. Either Pau [Gasol], Derrick. We got Joakim [Noah] making solid plays. We got guys that's back in the rotation, and even with Derrick, he's stepping in and taking that strong midrange when he needs to take it, and it showed tonight."
Rose's stats were solid against the Hornets, but out of his 27 minutes played, it was the final 7:22 that were most crucial. That's because that marked the first time in almost a year that Rose was on the floor to close out a game. While the former MVP has downplayed the significance of being on the floor late for preseason games, it's clear his teammates and coaches were thrilled to see him back in the pressurized, late-game saddle on Sunday. They know they need him out there late and were happy to see his stabilizing presence on the floor as the final minutes wound down.
[+] Enlarge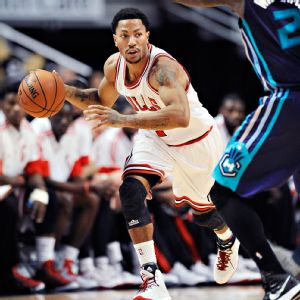 AP Photo/Paul BeatyDerrick Rose was on the floor in the fourth quarter Sunday -- a welcome sight for fans, teammates and coaches alike.
"I think it's a positive thing," Gasol said. "It's great that we can have him down the stretch. He also gets used to playing those minutes where every decision is important. So, yeah, it's nice to have him on the floor."
Rose still has a lot of rust in his game. It's noticeable on his drives to the rim and in some of his shots, and it will likely take months before he consistently feels like himself again with the ball. But the mental aspect of Rose's return is huge for both him and his teammates, and even if Rose isn't the same player he once was (right now), he's still a talented point guard who can create space -- and shots -- for his teammates. His ability to cut into traffic makes his teammates feel better about their chances.
That's why head coach Tom Thibodeau has to be pleased with what he saw Sunday. It was the best all-around performance his team has had in the preseason, and it ended the way he's hoping many games this season do -- with the ball in Rose's hands as the contest is coming to a close.
"The intensity's different," Thibodeau said of the fourth quarter. "The defense is different. You have to look at the strengths and weaknesses of the team, understand how they're defending you, what you can take advantage of, what the openings are. Who are they rotating to? How far off are they? And then you want to make them pay. Usually for a player like that, any time you put two [defenders] on him, there's somebody open. And he's got to have the ability to read that and make that decision quickly. I think that comes back by being out there."
Rose took another small but important step in his latest comeback Sunday. He closed out a game with the rest of the starters (
minus the injured
Jimmy Butler
) and remembered what it was like to take pressure-packed shots -- and make them. Thibodeau has said many times the past few months that the best thing Rose can do to knock the rust off is play.
Although Rose's confidence is still a work in progress, the confidence his presence breeds in those around him can't be overstated. The Bulls are hoping a lot more nights in the future end like Sunday did -- with Rose on the floor and a victory in hand.