Chicago Bulls:

Tracy McGrady
November, 17, 2011
11/17/11
5:18
PM CT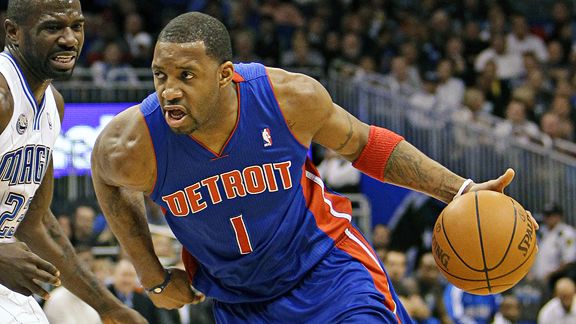 AP Photo/John RaouxTracy McGrady averaged eight points a game but played in 72 games for the Pistons last season.
CHICAGO -- ESPN analyst Stephen A. Smith dropped a nugget of information Thursday on "The Waddle & Silvy Show" on ESPN 1000 that surely caught the attention of plenty of
Chicago Bulls
fans.
Smith said as soon as the lockout ends veteran swingman
Tracy McGrady
will sign wth the Bulls. If that happens, I doubt McGrady in a Bulls uniform gets them that much closer to a title whenever the new season begins.
McGrady will be 33 in May and has been through the grind of 14 NBA seasons. He's coming off a season with the
Detroit Pistons
in which he averaged just eight points. Granted, he played in 72 games, but he is a shell of the player he used to be.
He's dealt with knee injuries over the past few years, including enduring the pain and rehabilitation that comes with microfracture knee surgery. He's never been a great defender so how would that mix with Bulls coach Tom Thibodeau who preaches defense first, second and third?
McGrady has a working relationship with Thibodeau from his days in Houston while Thibodeau was working on Jeff Van Gundy's staff. But that didn't make it any easier for McGrady to find a job on Thibodeau's Bulls last season. They passed on McGrady after he openly campaigned to come to Chicago.
"This was a great team, a pretty good team, without adding myself and
Carlos Boozer
, and some of the key players that they added this offseason," McGrady said last summer. "You bring a coach in like [Tom] Thibodeau, who's very defensive-minded, very smart and knows the game, knows what to get out of his players.
"I think we can be really good, I really do."
The organization wasn't convinced that McGrady was totally healthy after all of his setbacks, and they weren't sure how he would respond to playing a reserve role after so many years of being the go-to guy.
The Bulls loved their team chemistry a season ago and they weren't sure how McGrady's addition to the locker room would change things.
So what's the difference now? Is McGrady really the two-guard who can help the Bulls get past the
Miami Heat
? Is he a solid backup who could give them a spark off the bench and a jolt of offense when needed? I don't think there's much question that he's a lot more of the latter. Either way, I don't see how McGrady is much of an upgrade over
Ronnie Brewer
or
Kyle Korver
, the two guys he'd most likely be taking minutes from.
Whether McGrady ends up with the Bulls, it still doesn't get them much closer to the ultimate goal of winning a championship. The Bulls need a dynamic two-guard who can take some pressure off
Derrick Rose
, create his own shot and play solid defense.
McGrady would have fit that bill 10 years ago. He doesn't anymore.
November, 29, 2010
11/29/10
10:38
AM CT
By ESPNChicago.com
ESPNChicago.com

Tracy McGrady told the New York Daily News that LeBron James would have been better off going to the Chicago Bulls, and the reason why the Miami Heat are struggling is because James and Dwyane Wade both command the ball.
Read the entire story.
August, 10, 2010
8/10/10
9:24
AM CT
By Associated Press
ESPNChicago.com
Archive
July, 26, 2010
7/26/10
11:39
PM CT
By Chris Broussard and Marc Stein
ESPNChicago.com

Tracy McGrady
spoke like he was already a member of the
Chicago Bulls
when he addressed reporters Monday, using the word "we" as he described the team's prospects for next season.
"I think we can be really good," McGrady said, "I really do."
But McGrady hasn't completely sold the Bulls and might not get the contract offer he wants and expects, according to sources with knowledge of Chicago's thinking.
Read the full story.
July, 26, 2010
7/26/10
4:27
PM CT
By ESPNChicago.com
ESPNChicago.com

CHICAGO -- The newest Bull in an offseason of change would like to see
Tracy McGrady
follow him to Chicago.
Kurt Thomas
, whose signing was officially announced by the Bulls on Monday, said the two-time scoring champion would be a good fit in Chicago.
Read the entire story
.
July, 23, 2010
7/23/10
7:30
PM CT
July, 21, 2010
7/21/10
8:32
PM CT
LAS VEGAS -- Tracy McGrady wants to play in Chicago.
[+] Enlarge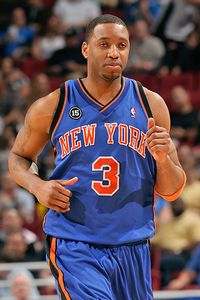 Fernando Medina/NBAE/Getty ImagesDoes Tracy McGrady have anything left in the tank?
I know he tweeted on Wednesday afternoon that the Bulls were one of four teams on his radar, including the Clippers, Lakers and Heat, but I'm here to tell you that if he had his pick he would love to play in the Windy City first.
What makes me so sure?
Obviously, he would love to play alongside an All-Star point guard in Derrick Rose and a solid frontcourt in Joakim Noah and Carlos Boozer, but McGrady's reasoning goes deeper than that.
There is a comfort level in Chicago that the other places he is considering can't offer. He moved to the city a couple years ago because it is where he decided to have his knee surgery done. He spent countless hours at ATTACK Athletics working with famed trainer Tim Grover and physical therapist David Reavy to get himself back in shape. It's the same place he flew off to when the Houston Rockets basically told him to go home last year.
"If I was from Chicago I would have been in here [from] Day 1," he told me last summer while discussing Grover's facility. "Without a doubt, I would have been in here Day 1."
A spot on the Bulls' roster would represent another homecoming of sorts for him, especially since he already had one in Orlando (his hometown of Auburndale, Fla., is about 45 minutes away) that did not end so well.
The real question in all of this does not revolve so much around whether or not McGrady wants to be a Bull, the question is do the Bulls want him?
The guess here is no.
McGrady is 31 years old and has been in the league 13 years. The wear and tear that his body has endured has been well-documented and you'd have to wonder if his body could hold up throughout an 82 game season. I can already hear what some people are saying, "But they don't need him to play 40 minutes a night anymore. He can play 15 or 20 off the bench, and score 10 each night and be fine."
OK, that's a fair argument. But here's why I still don't think the Bulls will pull the trigger: At his peak, McGrady was never known as a great defender. After several knee surgeries, it seems as if he's lost at least one step, probably two. Does that sound like the type of player that would fit right into new Bulls head coach Tom Thibodeau's system?
I don't think so.
Thibodeau has stated over and over that defense will be one of the biggest priorities on his team, and McGrady has never been considered a great defender. This deep into his career it would be tough to pull that out of him, but I guess if anyone could do it, it could be Thibodeau since he was the same man who is credited with turning Ray Allen and Paul Pierce into serviceable defenders.
The bigger reason I don't think a McGrady move would work is because no one has any idea how he'll respond in a reserve role. He clearly wasn't happy about coming off the bench in Houston and playing limited minutes, so what makes anyone think that will change now? McGrady has always been a starter, and always been happy playing the leading role on a team, so what happens when he has to step into the background? Sure, there is a chance that he could fit into the laid-back atmosphere of the Bulls' locker room, but the risk of him becoming a disturbance to the young core the organization already has in place may be outweigh any positives that McGrady's presence in a Chicago uniform could bring.
July, 21, 2010
7/21/10
8:09
PM CT
By Roman Modrowski
ESPNChicago.com
Archive
February, 17, 2010
2/17/10
3:39
PM CT
Tracy McGrady's trainer says if the Chicago Bulls pull off a trade for his client, the former All-Star could be ready to play against the Philadelphia 76ers on Saturday.


"If the Bulls make a trade for him before the trade deadline, on Saturday, the game against Philadelphia, you can put him in a uniform and throw him out there, and he will be extremely effective," Tim Grover, the famed athletic trainer whose clients have included Michael Jordan, said Wednesday on "The Waddle & Silvy Show" on ESPN 1000.