Chicago Bulls:

Tyler Hansbrough
October, 25, 2012
10/25/12
8:10
PM CT

By Nick Friedell
ESPNChicago.com
Archive
DEERFIELD, Ill. -- When the Bulls face off against the
Indiana Pacers
on Friday night in South Bend, Ind., they'll be filling a role they haven't had to play in about two years -- that of an underdog.
[+] Enlarge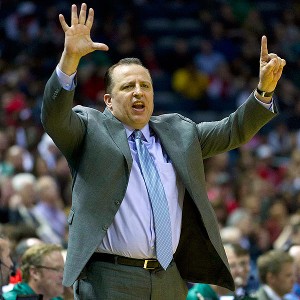 Jeff Hanisch/US PresswireTom Thibodeau expects his Bulls to focus on what's in front of them rather than embrace the underdog tag, but he admits the Pacers will be tough.
After dominating the Central Division the last two seasons to the tune of 112 regular season wins, the Bulls now face the reality that without
Derrick Rose
they don't have as much talent, at least on paper, to match up with the Pacers. It's a role that some players are embracing.
"We love it," Bulls guard
Richard Hamilton
said of the lowered expectations. "Because you love to be the underdog. You love to do stuff when people don't expect you to do anything. It makes you strive and makes you go out and want it even more."
While the players might appreciate the value of flying under the radar, Bulls head coach Tom Thibodeau isn't buying into the fact that expectations around his team will change, with or without Rose.
"It really doesn't mean anything," Thibodeau said after Thursday's practice. "To me, it doesn't matter what other people think. The only thing that matters is what we think. So whether you're being praised, criticized, that doesn't mean anything. It's what we think. And all I want them to concentrate on is exactly what's in front of them, improve every day, do the right things, concentrate, know your job, do your job, know when to shoot, know when to pass, stay disciplined. We do those things, we'll have a chance."
Thibodeau doesn't believe he should have to feed into his players' egos and motivate them by talking about critics. The veteran coach simply believes in hard work, and that's the motto he wants his players to hold onto.
"If you have the right type of guys, they're going to be doing the right things every day," Thibodeau said. "If you're relying on that type of stuff, I don't know how far that gets you. I'd rather have a team that's committed to doing the work, preparing the right way, doing the right things and just concentrate on that. That's how you have success."
April, 23, 2011
4/23/11
8:19
PM CT
By Mark Montieth
ESPNChicago.com
Archive
INDIANAPOLIS -- They finished the regular season with a losing record, they finish games as if they're wearing blindfolds and they nearly finished their season with an embarrassing collapse on Saturday.
Still, the Indiana Pacers press onward, with the outward confidence of the better team.
"I'm still upset it's 1-3," Pacers coach Frank Vogel said following his team's 89-84 victory over Chicago at Conseco Fieldhouse.
The Pacers held leads in the fourth quarter of all three of their losses to the Bulls before collapsing under the weight of playoff pressure and Derrick Rose. They nearly self-destructed again on Saturday, leading by as many as 17 points in the final period, and by 16 with 5:05 left, before missing five of their final six shots and committing five turnovers. So uncertain was their offensive demeanor that they committed two shot clock violations.
[+] Enlarge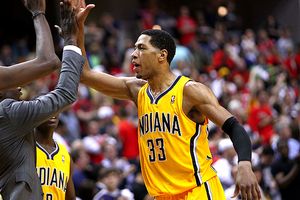 Michael Hickey/US PresswireDanny Granger's 24 points were the most of any player in Game 4.
The Bulls got within a single point with 15.3 seconds left, but
Danny Granger
hit four foul shots to prevent the Pacers from closing out the season with homecourt humiliation.
The Pacers continue to find silver linings to their sputtering finishes. They've consistently competed well against the Eastern Conference's top seed, and now they have a win to show for it. They'll take that as a reason for even greater confidence when they go back to Chicago for Game 5 on Tuesday.
"It really boosted our confidence," Pacers forward Tyler Hansbrough said. "Everyone feels like we can do this. We can pull games out in the fourth quarter and we can do what we need to do to win."
Some of the Pacers' confidence comes from their bench play. Their reserves have outscored Chicago's 128-84 in the series, including a 30-17 advantage on Saturday. They've also forced Derrick Rose into 10-of-40 shooting over the past two games, and appear to have solved the rebounding issue – at least on their home court. The Bulls outrebounded the Pacers by 39 combined rebounds in the two games at the United Center, but by just one at the fieldhouse.
"Sometimes all it takes is one game to get a team over the hump," said backup point guard A.J. Price, who scored 10 of Indiana's bench points. "Hopefully this will be the game for us. In terms of schemes there was nothing different in our game plan. We just happened to be up a little more.
"This series could very easily be different. It could be 2-2, 3-1 us, anything you want to say. We've played them tough and I know if we finish games better we'll have a chance to win games. That's how we're going to approach it."
April, 21, 2011
4/21/11
1:23
PM CT

By Nick Friedell
ESPNChicago.com
Archive
[+] Enlarge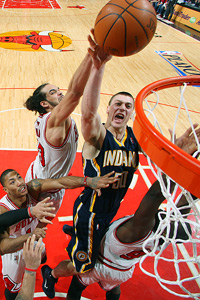 Gary Dineen/NBAE/Getty ImagesTyler Hansbrough hasn't made many friends with his emotional play in Chicago against the Bulls.
INDIANAPOLIS -- Like most NBA players, Joakim Noah respects players who play hard, the way he likes to play. So it shouldn't come as a surprise that the Chicago Bulls center has respect for the way Indiana Pacers forward Tyler Hansbrough plays the game.
When asked before Thursday morning's shootaround if Hansbrough is a dirty player, Noah said: "Like dirty as in he doesn't take showers?"

It's obvious Noah doesn't believe Hansbrough is a cheap shot artist.

"I don't think so," he said. "I just think it's the way the game's played right now. It's just the way it goes. Nothing easy to the basket. And when you have a little point guard going in there every time the way Derrick's going in, you don't want to be on a highlight reel, so you've got to give a hard foul. It's just the way of the game. Sometimes, yeah, it's frustrating because you never want Derrick getting hit like that, but it is the name of the game right now."

Noah appreciates that Hansbrough's motor is always running.

"Hansbrough, he's a helluva a competitor," Noah said. "He didn't shoot the ball as well as he did in the first game, we changed a little of what we were doing on him defensively. But overall, you know he'll be ready to play [Thursday night]."

The last word: "The only difference is the media. It's almost like the same thing. The way that we think about everything. We don't change anything. We prepare the same way. If anything, it's more detailed because you've got to know all their plays. That's about it." -- Rose on what the biggest difference is between being a No. 1 seed and being an eighth seed, as the Bulls were last season.
April, 20, 2011
4/20/11
5:53
PM CT
By Mark Montieth
ESPNChicago.com
Archive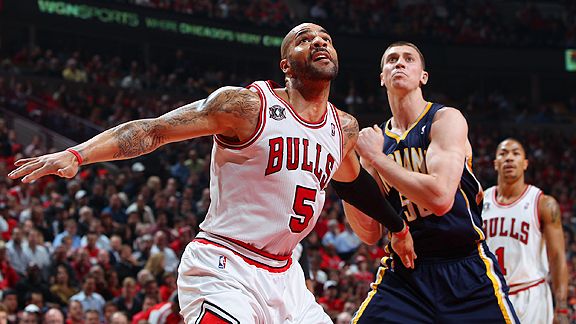 Gary Dineen/NBAE/Getty ImagesCarlos Boozer and Tyler Hansbrough received double technical fouls in Game 2.
INDIANAPOLIS -- One of the more intriguing -- and potentially adversarial -- match-ups in the Bulls-Pacers Eastern Conference quartefinal series has been between Bulls forward
Carlos Boozer
and the Pacers'
Tyler Hansbrough
.
Hansbrough outscored Boozer 22-12 in Game 1. Boozer bounced back with 17 points and 16 rebounds in Game 2 while Hansbrough hit just 2-of-12 shots and scored six points as the Bulls took a 2-0 series lead.
They were called for a double-technical foul in Game 2.
"It seemed like he wanted to talk a little more [in Game2] than [Game 1]," Hansbrough said Wednesday. "That's the way it is in the league."
Hansbrough declined to relate specifics of their conversation, although he confirmed it was about current events rather than their college rivalry. Boozer attended Duke while Hansbrough went to North Carolina.
"I'm not going to repeat anything; you'd have to use a lot of bleeps and then there wouldn't be much to say," Hansbrough said. "You try to limit [responses], but sometimes you get frustrated and slip up and say something you shouldn't have."