Chicago Bulls:

USA Basketball
June, 11, 2013
6/11/13
7:39
PM CT
Tom Thibodeau's appointment as an assistant coach for the USA Basketball team couldn't have come at a much better time for the
Chicago Bulls
. Not only is it a personal honor for one of the best coaches in the league, but it could also serve as a huge asset for an organization that wants to add another star to pair with
Derrick Rose
in the future.
Thibodeau has developed a reputation as one of the league's best coaches and All-Star players always sing his praises when asked about the Bulls. With Rose's knee injury looming over the start of last season,
Kevin Durant
said last summer he knew the Bulls would be just fine because of the veteran coach's presence.
"Thibodeau is an unbelievable coach," Durant said. "They have an unbelievable system. Their defense is great and they play together. So if you have that combination, no matter what, you're going to be a good team."
August, 14, 2010
8/14/10
6:20
PM CT
By Associated Press
ESPNChicago.com
Archive
NEW YORK -- Short on size, the United States showed off a surplus of speed.
Danny Granger
scored 22 points and the Americans sprinted past China 98-51 in a scrimmage Saturday at Madison Square Garden.
Read the entire story.
July, 22, 2010
7/22/10
10:34
PM CT
LAS VEGAS --
Derrick Rose
was asked again on Thursday afternoon if he would ever consider leaving Chicago the way
LeBron James
left Cleveland earlier this season. And in as many words, as he told me on Wednesday, he had the same response:
Why would I?
"It would be bigger for me to win another championship [in Chicago] than to win somewhere else," he said. "The city would love me. It would be bigger for me to even get to the second round, so imagine a championship."
Rose taking tips:
Denver Nuggets
point guard
Chauncey Billups
has always spoken highly of Rose's talents, so it should come as no surprise that Rose is taking as much advice as he can from the NBA veteran.
"Chauncey, he's a veteran guy, if anything I try to learn that speed isn't everything," Rose said. "With him, he gets things done using basic little moves, using his strength and using his experience on the court and I know it's going to take me a long time to get used to it, but I think that I should be there one day."
Coach K showing no favoritism:
I asked Team USA head coach Mike Krzyzewski if it meant any more to him that Rose, like himself, was a Chicago native. The longtime Duke head coach stressed that he wasn't about to play any favorites.
"I just know Derrick very well because of his Chicago roots," Krzyzewski said. "But it doesn't mean any more to me for Derrick to be here than
Russell Westbrook
or
Stephen Curry
because I like all of them. There's no favoritism or anything like that. Even if I like the Bulls or whatever ... Everyone's treated the same, they all have USA on their jerseys."
July, 22, 2010
7/22/10
9:55
PM CT
[+] Enlarge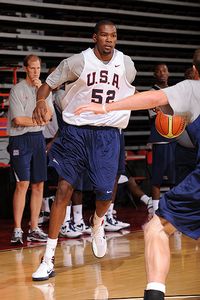 Andrew D. Bernstein/NBAE via Getty ImagesKevin Durant drives to the hoop during a USA Basketball team practice in Las Vegas.
LAS VEGAS --
Kevin Durant
sat in a folding chair in the middle of one of the practice courts at the Cox Pavilion after Team USA's third day of practice and just started laughing.
The question I had just posed to the Oklahoma City forward made him realize yet again how lucky he is to be in a position to play with such a great player and good friend in the Bulls'
Derrick Rose
.
It's nice to have Rose on your team as compared to trying to play against him.
"Yeah." Durant said chuckling. "Him and
Russell [Westbrook]
, if they make the team, are going to be phenomenal together. That's going to be a joy to watch and I just want to be on the same floor as those guys because it would be an honor to play with them."
Durant and Rose have developed a bond throughout the last few years and have worked out together at times in preparation for this training camp. The pair is excited that they finally have a chance to be on the same team.
"Me and Derrick are real cool," Durant told me. "I think our relationship on the floor is just going to grow even more with these last couple of days here. He's just like me, quiet, reserved, chill, laid back. I'm usually attracted to guys like that as far as being cool with them, so D. Rose is a very cool guy. I'm very happy for his success in this league and I'm sure people in Chicago are happy as well."
Rose is happy that the pair have formed a close bond already.
"We're real cool friends," he said on Wednesday. "He's a workoholic. A modest guy, humble, so why not be friends with him?"
Durant echoed the same sentiments, but neither man is willing to say that they are in the process of becoming the new face of USA Basketball, despite the obvious comparisons to national stars in the past.
"We just want to play team basketball," Durant said. "I'm sure Derrick feels the same way. Myself, I just want to play team basketball. I don't want to be considered higher than anyone else."
With the way both young stars have handled the process in front of them this week, it's easy to see why so many people around the league believe that the NBA is in good shape for years to come with these two guys at the forefront.