March, 13, 2012
3/13/12
7:38
PM CT
By ESPNChicago.com
ESPNChicago.com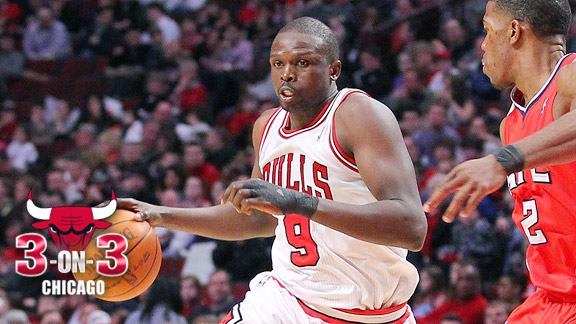 Dennis Wierzbicki/US PresswireLuol Deng decided to play through the pain. Was it the right call?
Our panel of experts discusses Luol Deng's sore wrist, the Bulls' trade prospects and Derrick Rose's MVP candidacy.
Fact or fiction: Luol Deng made a mistake by not having surgery immediately after injuring his wrist.
Nick Friedell: Fact. It's admirable Deng decided to postpone the surgery to help the Bulls win a title and play in the Olympics, but if he can't perform up to the same level he did before he tore the ligament, what's the point? Deng's wrist is obviously bothering him, and if he had the surgery right after the injury, there was a chance he would be ready to play at some point in the playoffs. He would have been fine for the Olympics. Now, whenever he takes a fall on the wrist the pain starts all over again. Plus, if he still decides to have the surgery, he would miss at least one month of the beginning of next season. Deng's heart was in the right place, but he might not have been doing the best thing for his team.
[+] Enlarge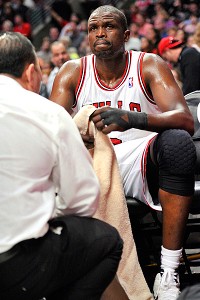 Rob Grabowski/US PresswireLuol Deng has played through much pain in his first All-Star season.
Marc Silverman: Fiction. Bottom line: If Luol Deng had surgery, there would be no guarantee that he would've even been available in time for the playoffs. Deng should be applauded for the way he's played through the pain. It's not easy, and there's going to be setbacks along the way -- such as the current situation, when he must rest the wrist and avoid contact. While his points and rebounds are down--Deng has never shot better from distance. When he returned from the injury, he shot 46 percent from 3-point land in February. So far in March that has increased to a white hot 52 percent. Even in "down" games, Deng was able to right the ship by hitting key shots on the road against the Spurs and 76ers. I'm OK with him missing a few games here and there much like an important pitcher who must miss a turn in the rotation. The Bulls aren't winning a title without Deng. Even with a torn ligament in his left wrist, I'm confident he'll provide outstanding defense, clutch shooting and overall smart play.
February, 27, 2012
2/27/12
8:10
PM CT
By ESPNChicago.com
ESPNChicago.com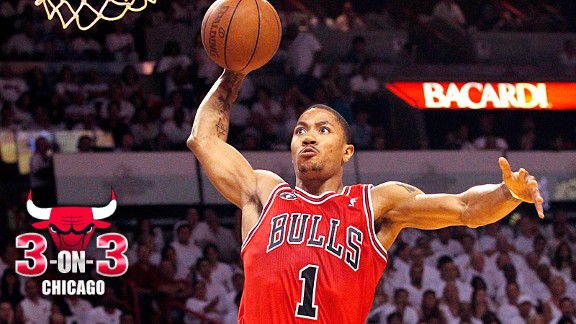 Charles Trainor Jr./Miami Herald/MCTAn appearance in the dunk contest could elevate Derrick Rose's profile even more.
Another underwhelming All-Star weekend has come and gone. Before the Bulls enter the season's second half, our experts debate dunk contest, Carlos Boozer's production and the team to beat in the East in this week's 3-on-3.
Fact or Fiction: Derrick Rose should be in the dunk contest next year.
Jon Greenberg: Fact. Rose won't do it for a variety of reasons, but I think he should consider it. Rose is the reigning MVP and one of the most exciting athletes in all of sports. He sells shoes based on his aesthetic glory. But outside of dominating in the NBA Finals, and there's no guarantee he gets there while LeBron James is on the Miami Heat, Rose needs a singular moment. Michael Jordan's dunk contest performances were as important to establishing his eternal brand as his commercials. How much Gatorade did the free-throw line dunk sell? How many shoes? In Chicago, we see Rose dunk. NBA fans see his ability too. He's already the star of Madison St. But a dunk contest performance could make him a crossover star on Madison Ave.
[+] Enlarge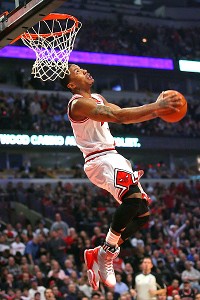 Dennis Wierzbicki/US PresswireDerrick Rose, one of the NBA's elite athletes, has never participated in the dunk contest.
Nick Friedell: Fact. But he's never going to do it. Derrick has told me repeatedly that he doesn't feel he's creative enough to pull off dunks in the contest. There's no question his shoe company, adidas, would love the exposure that comes with having their MVP in the contest, but this is a pipe dream that isn't going to happen.
Melissa Isaacson: Fiction. Absolutely not, are you kidding? I'm not sure why any NBA star who does not want to risk a career-ending injury would want to leap over a motorcycle, a medium-sized hip-hop mogul or even a small child, for that matter. OK, maybe I'm being a little over-protective of the Bulls' most valuable resource, and obviously it's not like a normal person attempting a similar stunt (though the point is, these are not normal people). And yeah, yeah, Michael Jordan competed as a young player. But that was before the advent of inanimate and human props and either way, it's ludicrous that we're debating whether Rose should have even played the game with a sore back and then consider whether he should practice and then perform such a stunt.
---
Fact or Fiction: Carlos Boozer will be able to maintain his recent level through the postseason.
[+] Enlarge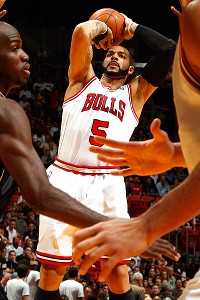 Issac Baldizon/NBAE/Getty ImagesCarlos Boozer has averaged 17.5 points and 7.5 rebounds in 12 games this month.
Greenberg: Fact. Boozer has shown no signs of slowing down. You can fault him for his, well, faults, but you must concede that he's doing what he does -- old man at the Y moves, defensive rebounding -- at a pretty high level. He's also been remarkably healthy. I think the lockout was good for Boozer. He seems healthy and his mind is right, especially now that he's not getting benched in the fourth quarter anymore. Boozer isn't the perfect player, but he's looking like the best Boozer he can be.
Friedell: Fiction. Boozer has been pretty consistent this year because he's managed to avoid the injury bug. The past few seasons have shown us that the odds do not favor Boozer staying on the floor for the rest of the year without dealing with some kind issue. Even if he does though, the teams that usually give Boozer the most trouble are big, athletic teams. The exact kind of teams (Miami, Indiana, Philadelphia, Atlanta, Boston) that the Bulls will be seeing in the postseason.
Isaacson: Fiction. Sure, it's possible. And he has already defied the odds and predictions of many, including yours truly, that he would even make it this far still healthy and playing well. But history suggests that while Boozer is certainly capable, when the team is back at full strength and his services are seemingly not needed as much, that he goes back to his inconsistent and less-than-passionate ways. Thing is, most Bulls fans would take it if there was the guarantee that Boozer would play to his potential in the playoffs.
---
Fact or Fiction: The Miami Heat remain the team to beat in the East.
[+] Enlarge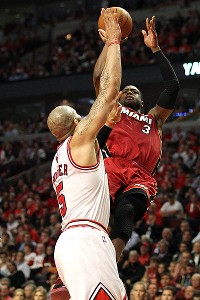 Jonathan Daniel/Getty ImagesDwyane Wade and the Heat are primed to defend their Eastern Conference crown.
Greenberg: Fact. Last season the Bulls swept the season series, took the first game of the Eastern Conference finals and then got swept. I don't think there are too many people who think Miami is worse than last season, especially when LeBron James is playing as well is he right now. If/when the Bulls have Rip Hamilton if/when they face Miami in the playoffs, I think it'll be a little closer this time around. But I don't see any reason to rank Chicago ahead of the Heat right now.
Friedell: Fact. The Bulls have improved this season, but not as much as the Heat have. Miami's bench is deeper than it was last year and they are playing better defense. They also have two superstars to give the ball to in crunch time with LeBron James and Dwyane Wade. Not to mention Chris Bosh has played very well. Derrick Rose is great, but he is only one player. He can't overcome Miami's talent by himself. Boozer, Luol Deng, Joakim Noah, and (when healthy) Rip Hamilton are very good players, but they can't take over games on their own. When James switches onto Rose defensively, the Bulls still don't have an answer.
Isaacson: Fact. A few Eastern Conference teams have been playing well of late -- the Knicks and certainly the Bulls, periodically without the services of their best players -- but the Heat have clearly hit their stride and are simply steamrolling through their schedule with a dominance of a future champion. It is still early and things happen and no one wants to peak early (arguably, that happened to the Bulls before last postseason). Also, come playoff time, it will be appropriate to re-open the discussion of how much they can count on LeBron James in the most pressure-packed moments. But as of the break, the Heat ranked first in points scored (107.9), fifth in points allowed (96.9); third in field goal percentage and first in three-point shooting and look like the best in the league.
February, 14, 2012
2/14/12
5:43
PM CT
By ESPNChicago.com
ESPNChicago.com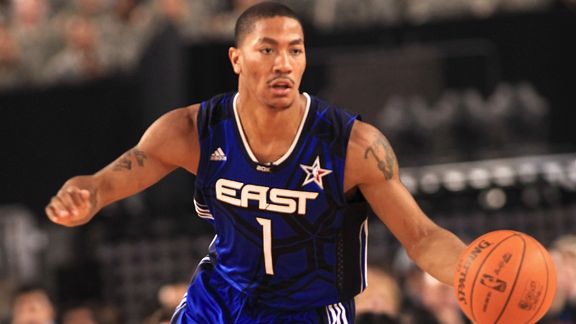 Glenn James/Getty ImagesWould Derrick Rose be better served resting his bad back and turf toe during All-Star weekend?
Should
Derrick Rose
, who's sitting out his third game in a row with a bad back, play in the All-Star Game?
Would
Jeremy Lin
and the Knicks give the Bulls problems in the playoffs?
Those are two of the topics our panel tackles in 3-on-3.
1. Fact or Fiction: Derrick Rose should not play in the All-Star Game
Scoop Jackson: Fiction: Rose needs to be in Orlando and hear his named called during the introductions. Playing in the game battling for MVP honors with a bad back would not be smart, but breaking a sweat and breaking Russell Westbrook or CP3's ankle while they are trying to guard him for the helluv it is worth it. How many minutes he plays will be up to Thibs once he gets the nod as East head coach. Plus, Rose needs to at least be there to share the maybe once-in-a-career experience with Deng.


[+] Enlarge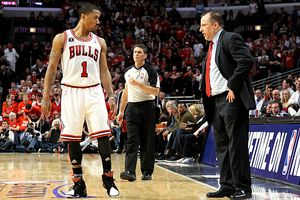 Mike Ehrmann/Getty ImagesIf Tom Thibodeau is the East's All-Star coach, maybe Derrick Rose would be inspired to play.
Melissa Isaacson: Fact: Even if the rest and treatment Rose is now receiving puts him in a playable condition come All-Star weekend, the Bulls should highly discourage it and Rose should listen. It's easy to feel for him. Rose loves to play in the All-Star Game and that's but one of the reasons he is so popular with fans. Also, for business purposes, the many companies he represents will no doubt exert as much friendly pressure as they can for him to play. But these are special circumstances and it's not worth the risk that even the slightest tweak will set him back again. If it were up to me, I wouldn't let Rose make the trip at all, even to shake hands -- why sit on a plane, sleep in a hotel bed and stiffen up on the bench?


Nick Friedell: Fiction: The All-Star Game is an exhibition. All anybody does is run up and down the floor. No player is really exerting himself. If you'll recall, there were a lot of people who didn't want Rose to play in his first All-Star Game a couple years ago in Dallas because he had fallen hard after taking a shot from Dwight Howard right before the break and bruised his hip. He ended up being fine. If he's well enough to play in a week, he'll be well enough to run up and down the floor for 20 minutes in the All-Star Game.


---
2. Fact or Fiction: Bulls can't get by Boston without Derrick at 100 percent.
[+] Enlarge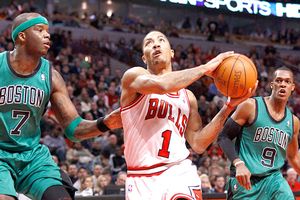 Mike DiNovo/US PresswireDerrick Rose didn't face the Celtics on Sunday and Rajon Rondo had a triple-double.
Scoop Jackson:
Fact: Especially if the Celtics are at full strength. More than other teams, the Celtics may benefit from the crazy sporadic-ness of the season. The shorter the season, the better for them. Time breaks them down not games played. If the Bulls are without Rose, Rajon Rondo will have a series of games just like the one he had on Sunday. He won't mess around and get triple-doubles, he'll make them the norm. As long as the Celtics have their core and Doc Rivers is their coach they are going to be one of the toughest outs in the league. As we say on the block: They ain't no punks. The Bulls need all hands, wrists, feet, legs, etc. on deck against them. Or else, the Bulls will catch the same fate the Knicks caught last year against the C's once their point guard went down.


Melissa Isaacson:Fiction: They almost did the other day in Boston and in a game much more important for the Celtics to win than the Bulls. With Rose even close to full-strength -- and obviously the Bulls are counting on him being 100 percent come playoff time -- the Bulls are clearly a superior team. Another factor: the ancient Celtics are bound to show more wear-and-tear by then than a team like the Bulls.


Nick Friedell: Fiction. Rose doesn't have to be feeling great, he just has to play. It would be a long series, but the Bulls would have enough depth and talent to push past Boston in the end. Now if Rose can't play at all, then things may be different. The Celtics have done a good job on Luol Deng and they decided (at least last Sunday) to let C.J. Watson beat them from the outside. He couldn't do it. If Rose plays, even at 75 percent, he still has the ability to break down defenses and get open looks for his teammates. The Bulls will be fine as long as he can be on the floor.


---
3. Fact or Fiction: Jeremy Lin and the Knicks can give the Bulls trouble in the playoffs.
Scoop Jackson:Fiction: Only saying this because we have not seen the "ShaoLIN" Knicks at full-roster strength to see 1) how Mike D'Antoni is going to make this work 2) if he can make it work with his newfound savior at the point and the return of the $200M duo of Melo and Amar'e or 3) if Baron Davis proves to be the most dangerous sixth man in the playoffs next to James Harding. If things fall in place for the Knicks and they are able to establish some chemistry and continuity and win their division, then the answer above changes. Not that the Bulls won't win the series, but a 10-deep Knicks team on a roll with nothing to lose come playoff time could be nothing but trouble.


[+] Enlarge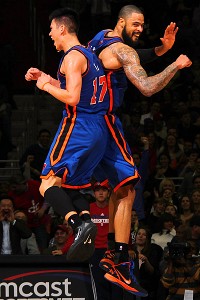 Ned Dishman/NBAE/Getty ImagesWould Jeremy Lin and Tyson Chandler give the Bulls trouble in the playoffs?
Melissa Isaacson: Fact: The Knicks were capable of giving the Bulls a run in the playoffs before the Jeremy Lin phenomenon. But giving them a little trouble and getting past them are two different things, and even with Lin, the Knicks are still not the team the Bulls are. Yes, Lin is a great story right now, but let's not get too carried away too soon. By the postseason, opponents -- and particularly Tom Thibodeau -- is likely to have a better handle on how to stop a player no one was prepared to play. And that's providing that Lin doesn't run out of steam on his own by then.


Nick Friedell: Fiction. The Bulls are deeper than the Knicks and they play much better defense. Those two factors would overwhelm the Knicks in a seven-game series. Sure, the Knicks have Carmelo Anthony, Amare Stoudamire, and Lin is definitely playing well -- but the Bulls have Rose and they have a defense that adapts well over the course of a game. The Knicks are a good story, the Bulls are a great team.