Chicago Colleges:

Atlantic-10
November, 22, 2012
11/22/12
8:58
PM CT
LAHAINA, Hawaii -- For the first two games of the EA Sports Maui Invitational, the
Butler Bulldogs
looked like giant-killers, circa 2010 and 2011.
A buzzer-beater versus Marquette followed by a thumping of North Carolina in the semifinals set them up for another magical run, this time in Maui.
Unfortunately for coach Brad Stevens and his upstart Bulldogs, Illinois had other plans.
The Fighting Illini, behind strong performances from guards
Brandon Paul
,
D.J. Richardson
and
Tracy Abrams
, defeated Butler
78-61
in Wednesday's championship game.
While the game itself was periodically tight, the Illini led the entire way. With 10 minutes, 49 seconds left to go in the first half, they got their first double-digit lead and the Bulldogs got it down to single digits for only a brief stretch in the second half.
The win was a major validation for new coach John Groce, who led Ohio to the Sweet 16 last season and has brought his trademark aggressive offensive and defensive schemes to Champaign this season. The team looks completely transformed from Bruce Weber's past few underperforming squads.
"I need to take a deep breath," Groce said after the game. "You see the names that are on that trophy and it really puts it into perspective. The quality of this tournament. I think it's the premier preseason tournament."
"The thing I was probably the most proud of was our toughness," Groce added. "Whenever you play Butler, you have to be tough. They are just so tough mentally and physically. They never beat themselves. … We're excited. We're not done. I think it's a tremendous start for our basketball program. But we can still get better."
[+] Enlarge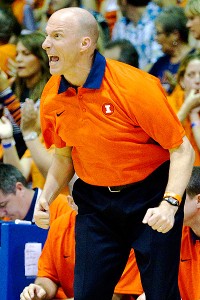 AP Photo/Eugene TannerJohn Groce is off to a 6-0 start in his first season as Illinois coach after the Illini handled Butler.
Asked to describe his style in one word, Groce responded, "Attacking."
Stevens, for one, was impressed.
"Very rarely when you have a new coach come in, do the pieces fit to that system that well," Stevens said. "It's so perfect the way that John likes to play and the way they spread the floor with four shooters and the way that they can shoot the ball. Anyone who thinks that's a middle-of-the-pack Big Ten team, I would argue with that."
The Illini got great shooting and rugged defense the entire tournament. They shot 40 percent from 3-point territory and made an impressive 20 of 21 free throws in the final. And the Bulldogs, who shot the lights out against North Carolina, struggled against UI's suffocating defense. Butler shot just 36 percent from the field for the game and was 7-of-28 from beyond the arc. Somewhere, Roy Williams is wishing that Bulldogs team had shown up Tuesday night.
Paul led all Illini scorers with 20 points and was named tournament MVP. Abrams added 17 while Richardson scored 14 and grabbed 9 rebounds.
While Illinois got another balanced effort on this night, Paul was the clear leader of the team. He hit a number of clutch jumpers, and when his shot quit falling, he began driving to the basket. After several years of being a player with pro potential, he's finally performing at that level every night. What's different this season?
"I think coach Groce's offense really opens it up for us," Paul said. "Not only that, just lots of work on the offseason, not only as a team but individually, and I think it's starting to show."
"Brandon Paul's a pro," Stevens said. "He's a big-time pro. Not only because he shoots it, the way he shoots it, he creates distance on his drives. I think he's as good of a pro prospect as there probably was in the tournament."
Butler's
Rotnei Clarke
, who plays the game reminiscent of BYU's Jimmer Fredette, produced a game-high 27 points on 6-for-13 shooting from 3. Clarke, a transfer from Arkansas, was named to the all-tournament team and had, by far, the most memorable moments of the tournament. From his buzzer-beating 3-point heave to defeat Marquette, to his off-balance 3-point barrages against UNC and Illinois, he has given the Bulldogs a glimpse of what's to come this season.
"He's got the green light," Stevens said. "If he's not feeling it, he's got the same green light. I think there aren't five guys that have played college basketball in the last 10 years that have put in as much time as him. So he deserves to shoot as much as he wants."
For Butler, it'll return in a month to a tough Atlantic 10 Conference. With Temple, Xavier, Saint Joseph's, Virginia Commonwealth and Saint Louis all in the league, the Bulldogs are going to have their hands full. But they are also showing again that they can hang with anyone.
For Illinois, it'll return to an even-tougher Big Ten. Indiana, Michigan, Ohio State and Michigan State are all contenders for the national title, while Wisconsin, Minnesota and Iowa are solid as well. With the strong play of the Illini in this tournament, they should be right in the mix with those last three Big Ten teams for a NCAA tournament bid.
November, 19, 2012
11/19/12
11:19
AM CT
This year marks the 30th anniversary of the game that tiny Chaminade (then an NAIA school) upset Ralph Sampson's top-ranked Virginia team on Dec. 23, 1982 -- leading to the creation of the Maui Classic (now EA Sports Maui Invitational). Because there are plenty of teams in the field with plenty of question marks and plenty to prove, there may be plenty of room for an upset or two this season.
The basics:
Nov. 19-21 at Lahaina Civic Center in Maui, Hawaii
The set matchups:
Monday -- Butler vs. Marquette, 3:30 p.m. ET; Mississippi State vs. UNC, 6 p.m.; Texas vs. Chaminade, 9:30 p.m.; USC vs. Illinois, midnight. (Consolation games and semifinals on Tuesday; consolation games and championship game Wednesday.)
The favorite:
North Carolina.
Although the 11th-ranked Tar Heels are still getting their bearings after losing four starters from last season's Elite Eight team, they've got some talented pieces to meld together, beginning with sophomore forward
James Michael McAdoo
and junior wing
Reggie Bullock
. This three-day tournament will be an important test, though, for UNC's ballhandling (freshman
Marcus Paige
is the starter), scoring (it has struggled in stretches) and confidence. If any falter, so could the Heels.
FIVE PLAYERS TO WATCH
Javan Felix, Texas
-- With
Myck Kabongo
sidelined (see below), the point guard is one of three freshmen to start for the Longhorns. He's struggled with his shooting over two games (5-for-18), but even more worrisome is that he's struggled to hold on to the ball. He recorded 11 turnovers to go with 10 assists in wins over Coppin State and Fresno State, and he'll need to be more efficient this week.
Trent Lockett, Marquette
-- The former Arizona State forward transferred to be closer to his ill mother and adds a scoring threat to a team that lost last season's leading scorers, Darius Johnson-Odom and Jae Crowder. After averaging 13 points and 5.8 rebounds for the Sun Devils last season, he's averaged 7.5 points and 4.5 rebounds this season.
[+] Enlarge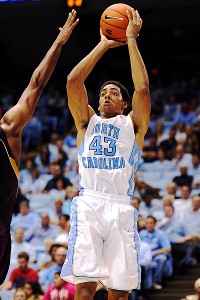 Cal Sport Media via AP ImagesJames Michael McAdoo has been the leading scorer and rebounder for the Tar Heels in each of their games so far.
James Michael McAdoo, UNC
-- Everyone wondered whether the sophomore could consistently pick up where he left off in March -- and he has. The forward has been both confident and focused, and is leading the Tar Heels with 21.3 points and 11 rebounds per game over their first three wins. With his team's inexperience in the post, he'll need to continue to come up big for UNC to be successful.
Omar Oraby, USC
-- The 7-foot-2, 260-pound transfer from Rice was granted an NCAA hardship waiver to play this season just before the regular-season opener, and he has taken advantage of the opportunity. He averaged 10.5 points, 6.5 rebounds and 1.5 blocks off the bench in the Trojans' two wins and should be a physical post challenge for foes in this tournament.
D.J. Richardson, Illinois
-- The senior guard capped a 16-point rally with a buzzer-beating 3-pointer in overtime to top Hawaii 78-77 in the wee hours of Saturday morning. You might not have seen the play, considering the late timing. But the team's leading rebounder (5.7 per game) and third-leading scorer (11.0) needs to keep coming up big for the Illini to stay in the winner's bracket.
FIVE BIG QUESTIONS
Will Myck Kabongo do anything more than watch?
Texas' sophomore point guard was allowed to travel with the team to Hawaii, but he has not been cleared to play as the NCAA continues to investigate him for possibly receiving impermissible benefits during the offseason. His status could be a difference-maker in this tournament.
Will Butler start connecting from the outside?
Arkansas transfer
Rotnei Clarke
and freshman
Kellen Dunham
were supposed to help fix Butler's outside shooting woes from a year ago, when the Bulldogs shot worse than 30 percent from beyond the 3-point arc. But the duo are a combined 10-for-28 in two games (including 2-for-10 in a 15-point loss to Xavier) on 3-pointers, and the Bulldogs are shooting only 31 percent from long distance.
Can Mississippi State stay healthy?
It needs to, because the Bulldogs have only six healthy scholarship players with which to play three games in three days. Junior guard
Jalen Steele
, who recorded 16 points in MSU's season-opening loss, broke his wrist in the team's win over Florida Atlantic. The Bulldogs also suspended forward
Colin Borchert
last week for violating team rules, and freshmen
Jacoby Davis
and DeAndre Applewhite are also out for the season with knee injuries.
Can UNC keep its shooting sharp?
The Tar Heels, who need outside shooting to be a strength, finally started hitting from the outside during Friday night's win at Long Beach State, making 10 of 27 3-pointers, including six during a pivotal 23-7 second-half run. That was after beginning the season by making only a combined 7 of 27 3-point shots in their first two games. Wings Reggie Bullock,
P.J. Hairston
and
Leslie McDonald
need to keep connecting.
Will Chaminade pull another upset?
Probably not. But on the 30th anniversary, it's fun to wonder whether the now-Division II school could do it again ....
THE PICKS
Opening games: Marquette over Butler, UNC over Mississippi State, Texas over Chaminade, Illinois over USC
Semifinals: UNC over Marquette, Texas over Illinois
Championship game: UNC over Texas
July, 26, 2012
7/26/12
11:09
AM CT
Tournament bracket
for the EA SPORTS Maui Invitational
When and where:
Nov. 19-21 at Lahaina Civic Center in Maui, Hawaii
Initial thoughts:
This year marks the 30th anniversary of what many consider the greatest upset in college basketball history -- when tiny Chaminade, then an NAIA school, upset Ralph Sampson's top-ranked Virginia team on Dec. 23, 1982. The stunning upset (in what was supposed to be an easy stopover game for the Cavaliers, on their way home from Tokyo) spurred creation of the Maui Classic, now known as the EA Sports Maui Invitational. Chaminade, now a Division II school, still serves as host, and it will be interesting to see if there is a surprise or two this season. After all, North Carolina will still be rejiggering its lineup after losing four starters to the NBA draft; Texas has to figure out how to replace J'Covan Brown's 20.1 ppg; and Marquette will still be looking to see which members of last season's supporting cast will step up and stand out without
Jae Crowder
and
Darius Johnson-Odom
.
[+] Enlarge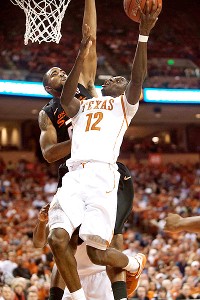 Brendan Maloney/US PresswireSophomore point guard Myck Kabongo will direct a talented group of freshmen at Texas.
Meanwhile, Illinois (John Groce) and Mississippi State (Rick Ray) will be breaking in new coaches; USC's Kevin O'Neill will be melding a passel of new players (including a couple of transfers and a couple of guys sidelined by injuries last season); and Butler will be trying to prove it can shoot the ball a whole lot better than 2011-12 (28 percent on 3-pointers). Chaminade, by the way, holds an all-time record of 6-76 in this tournament.
Matchup I can't wait to see:
Illinois-USC could be interesting just because everything is so new. After losing 12 of its final 14 games, Illinois fired Bruce Weber and replaced him with Groce, who led Ohio to the Sweet 16 in March. USC is also coming off a bad season, having won only one conference game. But a couple of transfers from Wake Forest (Ari Stewart and
J.T. Terrell
) and a high-scoring forward from UC Irvine (Eric Wise), plus the return of point guard
Jio Fontan
and center Dewayne Dedmon from knee injuries, have folks wondering if the Trojans can bounce back all the way to March.
Potential matchup I'd like to see:
UNC-Texas. Granted, these two are scheduled to play in Austin on Dec. 19, but why not a preview in paradise? The title game would feature a bunch of rookie big men --
Joel James
and
Brice Johnson
for UNC;
Cameron Ridley
,
Prince Ibeh
and
Connor Lammert
for Texas -- with a chance to make a big impact.
Five players to watch
Vander Blue, Marquette:
It's hard to get a whole lot of attention when you're in a starting lineup with guys like Jae Crowder and Darius Johnson-Odom. But now that they've gone to the NBA, the Golden Eagles need the junior to improve upon his 8.4 points and 4.4 rebounds from last season.
Rotnei Clarke, Butler:
The Bulldogs are hoping the senior guard -- who sat out last season per NCAA transfer rules -- will add some accuracy from outside. He averaged 15.2 points and made 43.8 percent of his 3-pointers during his junior season at Arkansas before opting out. Butler made fewer than 30 percent of its 3-point shots last season.
Myck Kabongo, Texas:
The Longhorns bring in a deep recruiting class, led by heralded center Cameron Ridley. But they'll need Kabongo, a sophomore point guard, to get him the ball. And to be a strong leader to the newbies.
Marcus Paige, North Carolina:
Whether the freshman point guard begins the season as a starter probably depends on how well senior
Dexter Strickland
has recuperated from February ACL surgery. Either way, the Iowa product (who also had foot surgery during the offseason) will be counted on to contribute quickly. And a lot.
J.T. Terrell, USC:
Trojans coach Kevin O'Neill is excited about the addition of Terrell, and the 6-3 guard will get a chance to show why. He averaged 11.1 points and 1.6 assists at Wake Forest in 2010-11, but played at Peninsula College in Washington last season. Terrell withdrew from Wake after he was arrested last September and charged with driving while impaired.
Title-game prediction
North Carolina over Texas. The Tar Heels preceded their last two national championships by winning the Maui Invitational. And although they don't have that caliber of a team this season, they do have some talented returning veterans (Dexter Strickland,
Leslie McDonald
,
Reggie Bullock
) already out to prove they are being overlooked.
Who others are picking:
Eamonn Brennan:
Butler over Texas
Andy Katz:
North Carolina over Texas
Jason King:
North Carolina over Texas
Myron Medcalf:
North Carolina over Texas
Dana O'Neil:
North Carolina over Texas