Chicago Colleges:

Big Ten-ACC Challenge
May, 14, 2012
5/14/12
1:13
PM CT
The Big Ten/ACC Challenge announced Monday that Northwestern will host Maryland on Nov. 27, and Illinois will host Georgia Tech on Nov. 28.
Northwestern is 6-7 and has won its last four games in the Big Ten/ACC Challenge. The Wildcats never have faced Maryland in the conference challenge.
Illinois also is 6-7 and has won its last three games in the Big Ten/ACC Challenge. It has never played Georgia Tech in the challenge.
Northwestern went 19-14 overall and reached its fourth consecutive NIT last season. The Wildcats return four starters and five of their top seven players. Northwestern also will add Louisville transfer
Jared Swopshire
and TCU transfer Nikola Cerina, who will both be eligible next season, and redshirt freshman
Tre Demps
, who sat out last season with an injury.
Illinois went 17-15 overall and was not invited to a postseason tournament. The Illini fired coach Bruce Weber following the season, and he was replaced by John Groce, who coached Ohio to the Sweet 16 last season. Illinois will return all but two players from last year's team and add Coastal Carolina transfer
Sam McLaurin
, who will be eligible next season.
March, 22, 2011
3/22/11
10:46
PM CT
EVANSTON, Ill. -- Northwestern sophomore guard Drew Crawford was full of energy following Northwestern's practice on Monday.
He was running around and grabbing rebounds with assistant coach Tavaras Hardy while teammate Michael Thompson shot around the 3-point arc. Crawford was laughing and joking around with them. He showed no signs of fatigue.
[+] Enlarge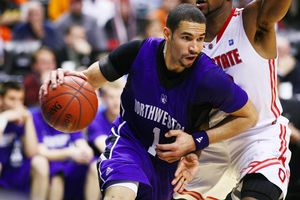 Michael Hickey/US PresswireDrew Crawford has played well down the stretch for the Wildcats.
A year ago, Crawford wouldn't have been so energetic after such a practice. He would have been searching for somewhere to take a nap and relieve all the throbbing he felt.
"Last year, it was like my body was really tired all the time," Crawford said. "My hip, my groin and back were hurting me. I was getting spasms."
Crawford's play suffered while his body suffered. He was held to single-digit points in seven of his last nine games last season. Northwestern lost six of those contests.
A year later, Crawford is feeling healthy and his production reflects that. He's scored in double digits in six of his last nine games and is coming off a 13-point game in Northwestern's win over Boston College in the second round of the NIT.
With Northwestern playing in its first NIT quarterfinal game on Wednesday, facing Washington State on the road, the Wildcats can use Crawford and his 12 points a game to come through again. He has no doubt his body will allow him to do so again.
"Big time, there's a difference," Crawford said. "I don't know what it is, but my body feels great this year. I think it might be that extra year of experience, a little more used to playing that full season.
"The injuries were holding me back last year. It's nice to be healthy -- knock on wood-- to finish this year healthy."
Crawford's current play is noticeably different than last year's in Thompson's eyes.
"He hasn't worn down," Thompsons said. "He's playing really well and consistently for us. We need him to continue to playing well for us to be successful."
Northwestern coach Bill Carmody has been pleased with Crawford's scoring production, but he also points to Crawford's overall play. Against Boston College, Crawford added four rebounds, four assists and two steals to go along with his 13 points. At the end of the Big Ten season, Crawford also had 12 points, 10 rebounds and one steal against Ohio State and 15 points, six rebounds and a steal against Minnesota.
Carmody likes to call such a full line as stat stuffing.
"I told him six weeks ago to start stuffing the stat sheet," Carmody said. "The other night I liked the way he played. He just seemed to be keeping ball alive. There's a higher activity level, and I think that has to do with him feeling good. He's not going down now. He's at least even and maybe going up in some of these games."
Crawford has also been displaying his athleticism more in recent weeks. He hasn't been settling for jump shots. He's been getting to the rim more often by utilizing his quickness and his leaping ability – two of his greatest skills – along with him improved ball handling.
"I told him I don't want him to be a suburban jump shooter," Carmody said. "The last month he's been trying to get to the basket. He's not always finishing, but at least he's getting the idea – be aggressive, let your athleticism show.
"If you don't try stuff, you turn into the stuff I can do. Catch it and shoot it."