Chicago Colleges:

Boston College Eagles
April, 19, 2013
4/19/13
5:56
PM CT
How many times have you heard fans and coaches shaking their fists at the scheduling gods whenever a new conference slate is announced?
Well, my friends, Friday's
Notre Dame-ACC scheduling announcement
should
not
be one of those times. Both the Irish and the league should be applauded for the way they handled an often maddening process to provide a win for all parties involved.


The schedules for 2014, 2015 and 2016 are perfectly balanced. Each season features one major high-profile game with national implications. Simply put, it was a wise move to have the Irish play
Florida State
in 2014,
Clemson
in 2015 and
Miami Hurricanes
in 2016.
Both the Seminoles and Tigers have elevated themselves back into the national spotlight and appear to be annual Top 25 programs again. Both the Irish-Noles and Irish-Canes rivalries are classics with huge national interest (even if the Miami game last season was decidedly one-sided).
In addition to those games,
Louisville
snagged a huge spot in Year One of the three-year rotation -- potentially adding two more Top 25 teams onto the Irish schedule from the ACC. Not a bad way for the Cardinals to start off their first year in a new league, especially with the subpar nonconference slate they have for 2013.
As for some of the games that had already been on the Irish schedule, Notre Dame was able to keep its two-game series with
Syracuse
intact. The Orange are actually the only one of the 14 ACC teams that will play Notre Dame twice in this three-year cycle. But, as expected,
Pitt
and
BC
will lose games previously set.
Pitt -- the ACC team that has played the Irish the most with 68 previous appearances -- remains on the schedule for 2015. That means its games against Notre Dame for 2014 and 2016 are off. Pitt will play
Delaware
,
FIU
,
Akron
and
Iowa
in nonconference in 2014.
Boston College remains on the schedule for 2015 as well. That means its game against Notre Dame scheduled for 2016 is off as well.
Folks in Pittsburgh and Boston have had time to come to terms with these expected changes as part of the ACC-Notre Dame partnership. Looking at the bigger picture, the ACC stands to benefit from what should be an overall stronger nonconference schedule -- especially since that is going to play such a large factor in the future playoff. Should Notre Dame continue what it started last season, the ACC benefits even more.
As for the Irish, their future ACC schedules are not totally daunting. On paper, 2014 looks to be the most difficult with Florida State, Louisville and
North Carolina
all on the slate. But the Louisville and UNC games are in South Bend. Even in 2016, both Miami and
Virginia Tech
play at Notre Dame.
Of course, predicting the ease or difficulty of future schedules is an exercise in the unknown, since teams change so much year-to-year. But at least today, the schedule split looks exactly right.
December, 4, 2012
12/04/12
6:25
PM CT
November, 11, 2012
11/11/12
7:59
PM CT
CHESTNUT HILL, Mass. -- Brian Kelly saw the question coming way before his team's
21-6 methodical thumping of Boston College
.
Did you tell them about Alabama?
"Oh no. No, no, no. Absolutely not," Kelly said with a chuckle Saturday night, minutes after his team improved to 10-0 for the first time in 19 years. "No, we didn't talk about Alabama. No."
Kelly, who has insisted he will not politick during the Irish's BCS title game run, would much rather stick to the course, relish his 24-hour rule and be glad he walked out of another game victorious -- a happy homecoming for the Massachusetts native.
Style points? Who needs them?
"No," he said when asked if he wished Notre Dame put on a better show for the beauty contest that is the BCS race. "We're going to work on wining against Wake Forest and take care of what we can take care of, and then when it's all said and done, we'll see where we are.
"So we really can't waste any of our energy. You see how hard it is to win in college football. We can't worry about those things. We have to focus on what we can do, and that is win it on the field. If people don't like us winning, I don't know what else to tell you."
[+] Enlarge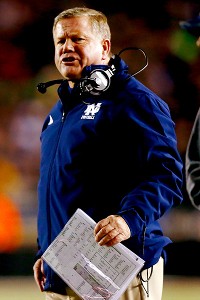 Jared Wickerham/Getty Images"Oh no. No, no, no. Absolutely not," Notre Dame coach Brian Kelly said. "No, we didn't talk about Alabama. No."
Kelly has been down this road before, getting shut out of the title game with a 12-0 Cincinnati team in 2009. That was his last Cincinnati team, as he made the leap to Notre Dame before the Bearcats' Sugar Bowl loss.
Logic says bigger benefits come with a jump from a resurgent Big East program to the most storied team in this sport's history -- and more than just the paycheck. But here Notre Dame sat entering this week at No. 4 in the BCS, trailing Alabama, Kansas State and Oregon.
At his weekly news conference five days before his team's 10th win, Kelly was asked if he could have envisioned the scenario the Irish are in this season after he left Cincinnati. He cited Alabama's and Oregon's recent track records in saying that no, he was not shocked those schools got the benefit of the doubt over an Irish team that has gone BCS bowl-less the past five years.
That BCS bowl streak is virtually assured of ending with this double-digit-win season, but is more on the way after the Crimson Tide fell to Texas A&M earlier in the day? The one school Kelly did not mention during his Tuesday presser, Kansas State, also improved to 10-0 Saturday and could be No. 1 when Sunday's BCS rankings are unveiled. Until the past 24 years, before Bill Snyder took over, the Wildcats' tradition was essentially the polar opposite of Notre Dame's.
For a man with a political background, Kelly's insistence on worrying about only his team has been pretty remarkable, and it looks to have had his desired effect on the players.
"We were focused on BC, so we didn't have time to concern ourselves with other games,"
Theo Riddick
said, "because if we lose, it's all out the window. We were focused on our game. To hear that [Alabama] lost, it is what it is."
The focus after Notre Dame's game was on a team that won a game as soundly as possible. Two lost fumbles were all that slowed an offense that moved efficiently for much of the night, as the Irish converted their first 10 third-down plays and engineered scoring drives of 90, 87 and 65 yards off their first four possessions.
That all three scores were touchdowns, not field goals, was a needed step for a Notre Dame team that's biggest weakness might just have been red zone efficiency, evidenced by last week's eight trips that yielded just three touchdowns.
The other big step came from quarterback
Everett Golson
, who continues to perform great on the road and seemed to pick up from where he left off last week when he led the Irish out of a 14-point fourth-quarter hole.
He, too, would rather discuss his eighth career start, which finished with a line of 16-for-24 passing for 200 yards and two touchdowns. He added 39 yards and a touchdown on 11 carries.
Golson conceded that not getting into the title game after winning every game would be disappointing. But he said he turned off the Alabama game earlier when the Tide were losing, and he is not thinking big picture as it relates to his team's improbable run in his first year under center.
"I believe so," he said of this being a special season, "but you can't really look forward to anything like that or you'll kind of drop the ball and not stick to the course. My head is just down, just sticking on, just preparing, trying to get the next one."
November, 11, 2012
11/11/12
10:00
AM CT
What do we make of the Irish after Saturday's 21-6 win at BC? Glad you asked.
1. The door to the BCS title game is slightly ajar
. If there was one undefeated team Notre Dame was
not
going to leap in the BCS standings, it was Alabama. Consider that obstacle out of the way after the Tide's home loss to Texas A&M and the Irish's win at Boston College. Kansas State and Oregon will likely stay ahead of Notre Dame in Sunday's BCS rankings, but the road to Miami just got a lot clearer for the Irish.
2. Everett Golson continues to progress
. If the redshirt freshman performs at home the way he does on the road, Notre Dame is going to be
very
tough to beat. (OK, at 10-0 the Irish already are, but you catch my drift.) Golson had another strong performance away from South Bend, managing an efficient offense and converting three red zone trips into three touchdowns. Most important, he did not turn the ball over.
3. The defense is responding
. There's something that comes with being undefeated and the talk of the town this late in the season, and that means facing teams that will unveil a whole lot of new tricks to try to knock you off. The Eagles tried that against Notre Dame, but the defense held its ground, surrendering just six points on the night, recording four sacks and forcing two turnovers when it was all said and done.
4. Daniels, Russell hurting
:
DaVaris Daniels
is likely lost for the rest of the regular season
following a shoulder injury.
KeiVarae Russell
's status is uncertain after suffering what coach Brian Kelly called a head injury in the second half.
November, 9, 2012
11/09/12
7:05
PM CT
Thanks to ESPN Stats & Info, along sports information directors, for these notes.
Notre Dame leads the nation with 14 scoring drives lasting five minutes or longer against FBS opponents this season. The Irish are second to Oregon with 19 scoring drives against FBS opponents with 10 plays or more. But … the majority of these drives end in field goals. The Irish lead the FBS with 14 red-zone field goals this season, including eight on drives with 10 or more plays. Overall, they have an FBS-high 10 field goals from drives with 10 or more plays.
BC's Nick Clancy averages 11.9 tackles per game this season, third-most in FBS and 2.2 more than Manti Te'o. Clancy has had at least 10 tackles in seven of nine games this season, including a career-high 24 (14 solo) against Northwestern on Sept. 15.
Everett Golson completed a career-low 30.8 percent of his passes when Pitt committed five or more players to the pass rush last week, including incompletions on all five of those passes in the fourth quarter and overtime. Entering the game, Golson completed 56.4 percent of his passes against the blitz.
Of Golson's 230 rushing yards the past four games, 158 have come from scrambles, including all three of his runs of 20 yards or more.
In the final 2:30 of games in which Notre Dame is tied or losing, Tommy Rees for his career has completed 18 of 25 passes, leading touchdown drives three times and field goal drives two other times. He has led two game-winning drives in his career. The only such drive Rees failed to deliver on came in last season's Champs Sports Bowl, when he got the ball with 13 seconds left.
The winner of each Notre Dame-BC game receives two trophies: the Frank Leahy Memorial Bowl, honored for the schools' history, and the Ireland Trophy, which is shaped like the country and is presented by the schools' student governments.
Eagles wideout Alex Amidon has 1,073 receiving yards this season, second-most in school history and within striking distance of record-holder Brian Brennan (1,149).
BC is tied with Northwestern for third among FBS schools in all sports' overall GSR (Graduation Success Rate). Notre Dame is first. Duke is second.
November, 8, 2012
11/08/12
9:00
AM CT
Upset special? Not a chance.
When Notre Dame has the ball:
Boston College ranks 116th nationally against the run. Who have the Irish faced that is worse? Miami (119th). How did that work out? Notre Dame rushed for 376 yards, including 197 in the third quarter, when the Irish ran the ball on 19 of 21 plays. The Irish have rushed for more than 200 yards in each of their past three games and should have a field day pounding it against the Eagles defense.
When Boston College has the ball:
Quarterback
Chase Rettig
is coming off a three-turnover performance in a loss to Wake Forest, but the Eagles average better than 289 passing yards per game. They will try to take advantage of
Alex Amidon
, who has six 100-yard receiving games this season, including the past three weeks. Their ground game ranks 118th nationally and has virtually no shot of making anything happen against the Irish's stout run defense.
Intangible:
Boston College is actually first in something -- punt returns, averaging 25 yards per return. The Irish's special-teams woes have been pretty well documented. BC also has the history on its side, ruining perfect Notre Dame seasons in 2002 and 1993, games current Notre Dame players have said are not on their minds. (Who can blame them?) Coach Brian Kelly, who has said that history will play no role with this year's team, will also be experiencing a homecoming of sorts in the Boston area.
Prediction
: Notre Dame 38, Boston College 6. This will be the Navy and Miami games all over again.
October, 29, 2012
10/29/12
7:23
PM CT
Notre Dame's Nov. 10 game at Boston College will air on ABC and kick off at either noon or 8 p.m. ET.

The start time will be determined by noon ET this Sunday.

If the game ends up being an 8 p.m. kick, it would mark the Irish's fourth night game of the season, with the start time for their Nov. 24 regular-season finale at USC yet to be determined.

Six of Notre Dame's 12 regular-season games last season kicked off at night, as did the Champs Sports Bowl.
September, 15, 2012
9/15/12
6:08
PM CT
EVANSTON, Ill. -- Here's a quick look at the
Northwestern Wildcats
' 22-13 win over the
Boston College Eagles
at Ryan Field on Saturday.


How it happened:
Northwestern kicker
Jeff Budzien
tied a single-game school record with five field goals Saturday to lift the Wildcats to their third consecutive win. Budzien made field goals of 42, 20, 29 and 41 yards in the first half and hit one from 19 yards in the second half. Northwestern running back
Mike Trumpy
put the game out of reach with a 27-yard touchdown run with 1:37 left. The Wildcats totaled 560 offensive yards and were 12 of 19 on third down. Boston College accounted for the game's first touchdown when
Chase Rettig
connected with
Johnathan Coleman
for a 31-yard score in the second quarter. Boston College kicker
Nate Freese
made field goals of 21 and 34 yards.
What it means:
The Wildcats improved to 3-0 for the first time since 2010. Last season, Northwestern lost in Week 3 and went on to have a five-game losing streak.
Outside the box:
Northwestern running back
Venric Mark
was on his way to his second consecutive 100-yard rushing game, putting up 77 yards before leaving the game with a lower-body injury in the second half. The last Northwestern running back to rush for back-to-back 100-yard games was Tyrell Sutton.
Up next:
Northwestern will host South Dakota (1-1) next week. Boston College has next week off before playing Clemson on Sept. 29.