Chicago Colleges:

ESPN Stats & Info
December, 13, 2013
12/13/13
10:31
AM CT
By
ESPN Stats & Information
Melina Vastola/USA TODAY SportsFlorida State fans have made their pick, but Jameis Winston is just one of six Heisman finalists.
Six Heisman Award finalists will head to New York for Saturday's ceremony, the most that have received invites to the ceremony since 1994, when there were also six. The last time there were more was in 1988, with eight.
Although the favorite entering the ceremony is
Florida State
QB
Jameis Winston
, all six have made a solid case of why they are the best player in the country this season.
QB Jordan Lynch, Northern Illinois

Although Northern Illinois' bid to be a BCS buster was ended in the MAC Championship Game, Lynch's dual-threat ability kept the Huskies in it all season. He had 321 rushing yards against Western Michigan, the most by a quarterback in FBS history, breaking his own record of 316 set earlier in the year against Central Michigan.
Lynch ended the season with 1,881 rush yards, also an FBS record for a quarterback.
QB Johnny Manziel, Texas A&M
Manziel's bid to join Archie Griffin as the only multiple Heisman winners saw a transformation of his game. While his 2012 season was built more on his legs, his 2013 campaign saw him develop as a passer.
Manziel added a yard to his yards per attempt (from 8.5 in 2012 to 9.5 in 2013). His touchdown percentage also increased from 6.0% in 2012 to 8.4% this year. Also in 2013, 63 percent of his completions this season have gone for a first down or a touchdown, compared to 57.6 percent last year.
RB Tre Mason, Auburn
Even after a 1,000-yard rushing season last year, Mason wasn't on the short list of Heisman contenders until he finished the season with five straight 100-yard rushing games, including 304 against Missouri in the SEC Championship Game, the fifth-highest total all-time in an SEC game.
Mason's 2,137 all-purpose yards this season broke the Auburn school record, previously held by Bo Jackson. Mason's 22 rushing TD this season also set a school record.
QB AJ McCarron, Alabama
This is McCarron's third season as Alabama's starting quarterback, and he's improved every season. His opponent-adjusted QBR was 76.7 in 2011, 81.5 in 2012 and 83.5 this season.
He was even better against the tough SEC competition. In SEC games, McCarron had an 86.4 opponent-adjusted QBR, tied for the best in the conference. Fellow Heisman candidate Manziel was third (85.5).
RB Andre Williams, Boston College

This season, Williams became just the 16th player in FBS history to run for at least 2,000 yards in a season, and the first since Donald Brown did so for Connecticut in 2008.
Williams also showed big-play ability. He had 26 runs of at least 20 yards, the most by an FBS player since Kevin Smith had 26 in 2007. His 11 touchdowns on such runs are the most for any player in the last 10 seasons.
QB Jameis Winston, Florida State
Winston is the clubhouse leader for the Heisman, and as the FBS leader in opponent-adjusted QBR (90.9), he has good reason to be. The leader in opponent-adjusted QBR in three of the last six seasons went on to win the Heisman, including Manziel last year.
Winston has also showed a clutch presence on the field throughout the year. On third downs, Winston has a 98.9 Total QBR, leading all FBS quarterbacks. Over the last 10 seasons, the highest third-down Total QBR in a completed season was also 98.9, by Andrew Luck in 2010.
October, 3, 2013
10/03/13
3:30
PM CT
By
Jungkyu Lee, ESPN Stats & Info
Getty Images, USA TODAY SportsKain Colter (left) and Trevor Siemian (right) have split QB duties this season for Northwestern.
There is an old adage in football that when a team has two quarterbacks, it has none.
Northwestern
might be the exception. The Wildcats are off to a 4-0 start, during which they have utilized two quarterbacks, senior
Kain Colter
and junior
Trevor Siemian
.
The Wildcats have a balanced offense, gaining 51.6 percent of their yards on the ground and 48.4 percent through the air. They are the only Big Ten team that averages more than 225 yards passing and rushing.
Yet, Northwestern's offense is drastically different dependent upon which quarterback is under center.
Colter (140 plays) and Siemian (141 plays) have split the team's snaps. The Wildcats have run the ball 75 percent of the time with Colter under center, including 82 percent on first down.
With Siemian taking the snap, Northwestern runs on 50 percent of its plays, including 51 percent on first down.
In Northwestern's season opener against
California
, Colter was injured after two plays. Since that game, he has taken almost 22 more snaps per game than Siemian.
The Wildcats have 52 offensive drives this season. The two quarterbacks have shared snaps on five. There have been only two drives on which they both took multiple snaps and one was in Week 1 against California when Colter was injured.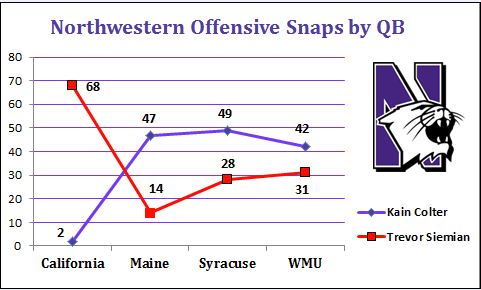 Colter is one the best running quarterbacks in the country. Excluding sacks, he averages 8.3 yards per rush, fourth most by any quarterback with at least 25 such attempts.
With him under center, Northwestern uses zone-reads on 60 percent of its running plays, compared to 28 percent with Siemian. The Wildcats average 7.4 yards on such plays with Colter and 5.3 with Siemian.
Siemian excels at the passing game. Colter does have a better completion percentage, but Siemian's average pass travels 4.4 more yards downfield. Colter has recorded almost 75 percent of his pass yards after the catch, compared to 34 percent for Siemain.
Siemian has completed 50 percent (10-of-20) of his passes thrown 15 yards or longer. Colter has one such completion in eight attempts.
In addition, Siemian has taken one sack in 78 dropbacks, compared to Colter's six in 51 dropbacks.
Northwestern will have a tough task against
Ohio State's
defense, which is allowing 17 points per game. The Buckeyes have one of the best run defenses, allowing just two rushing touchdowns all season. In addition, the Buckeyes are allowing the eighth-fewest rushing yards per game in the FBS.
June, 10, 2013
6/10/13
1:00
PM CT
By
Brett Perrotta
| ESPN Stats & Info
Ric Tapia/Icon SMIEverett Golson's departure from Notre Dame will have an effect on the rushing attack.
The loss of starting quarterback
Everett Golson
is major cause for concern at Notre Dame.
Though the offense in 2011 was slightly better with
Tommy Rees
at quarterback (2.3 points per drive) than it was with Golson last season (2.2 points per drive), the loss of Golson's rushing ability will be an issue.
Golson's departure means the Irish will be without their top three rushers from a year ago (Theo Riddick was a senior in 2012 and Cierre Wood left school early for the NFL). The only returning contributor from the backfield is
George Atkinson III
. He'll be joined by USC transfer
Amir Carlisle
(who missed 2012 due to injury) and
Greg Bryant
(No. 2 RB in 2013 ESPN 150).
After a slow start last season, Golson and the Irish rushing attack came into their own in October. The team averaged 3.8 yards per rush in its first four games, but that average jumped to 5.3 from that point forward -- and that includes the 19-rush, 32-yard performance against Alabama in the BCS National Championship Game.
Starting with the game against Miami on Oct. 6, more designed runs were called for Golson. He also took it upon himself to pick up yards with his legs more often. Golson's designed runs went from 2.0 to 5.1 per game, and his scrambles went from 1.2 to 2.9 per game.
In the first four games of the season, Golson rushed a total of 13 times for one first down and two touchdowns. After that, 23 of his 64 rushes resulted in a first down and he reached the end zone four times.
Rees simply does not have this element in his game. He has exactly one rushing play in his career longer than 8 yards -- a 12-yard run against Tulsa during his freshman season -- and has never had more than 6 net rushing yards in a game.
December, 4, 2012
12/04/12
7:48
PM CT
By
Tobin Petitpas, ESPN Stats & Info
US PresswireJohnny Manziel (left), Manti Te'o (center) and Collin Klein are the 2012 Heisman Trophy finalists.
Johnny Manziel finished the regular season with 3,419 pass yards and 1,181 rush yards. His 4,600 yards of total offense broke the SEC single-season record set by Cam Newton during his 2010 Heisman Trophy season. When Newton broke the record, he supplanted Tim Tebow's Heisman Trophy season of 2007.
Manziel has been responsible for 43 touchdowns this season, tied with Tajh Boyd and Jordan Lynch for the most in FBS. He had six games with at least two touchdowns passing and rushing. That's tied with Tebow in 2007 for the most such games in a season since 2000. Collin Klein is tied for second in FBS this season with three such games.
Manziel had 70 plays that gained 20 yards or more this season, 10 more than any other FBS player. He was tied for the eighth-most passes (52) and the second-most rushes (18) of 20-plus yards.
Manziel gained 784 rush yards on scrambles, the most in the SEC. He had 13 scrambles that gained at least 20 yards, including seven touchdowns. No SEC player had more total rushes or touchdowns of 20-plus yards, let alone scrambles.
Klein has scored a rushing touchdown in 11 straight games, the longest active streak in FBS. The only game that he did not have a rushing touchdown was against Missouri State, an FCS opponent. Since the start of last season, Klein has scored a rush TD in 23 straight games against FBS opponents. That is the longest such streak for any player in the last nine seasons.
Since the start of last season, Klein has an FBS-best 37 rushing touchdowns in goal-to-go situations. Klein has had at least one such touchdown in 22 of 25 games during that time period, including in his last 10 games in which he has at least one such attempt.
Klein has accounted for 69 percent of Kansas State's yards and 66 percent of its offensive touchdowns this season. Klein's percentages are slightly better than those of Robert Griffin III from his 2011 Heisman season at Baylor. Griffin accounted for 66 percent of Baylor's total and 61 percent of its touchdowns.
Manti Te'o has seven interceptions this season, tied for second-most in FBS and three more than any other linebacker. Te'o also has two fumble recoveries. His nine total takeaways are tied for the most in nation.
Te'o has 103 tackles this season, 42 more than any other player on Notre Dame. He has just two missed tackles all season. As a team, the Irish have missed 61 tackles this season, the third-fewest among AQ schools.
Notre Dame leads the nation in scoring defense (10.3 PPG) and is the only team that has not given up a touchdown drive longer than 75 yards this season. Every other FBS team has allowed at least three.
November, 23, 2012
11/23/12
5:45
PM CT
By
ESPN Stats & Information
Matthew EmmonsWith one more win, Manti Te'o (right) and Notre Dame will play for the right to be No. 1.
(USC hosts Notre Dame on Saturday at 8 p.m. ET on ABC.)
If the
Notre Dame Fighting Irish
can win on the road against the
USC Trojans
. History could, again, repeat itself.


Four different head coaches have been responsible for Notre Dame's eight national championships in the AP poll era (since 1936). All four captured their first national title in their third season at Notre Dame, and head coach Brian Kelly is in his third season at the helm in South Bend.
Notre Dame is one win from playing for the BCS Title thanks in larger part to its defense. The Irish have conceded a touchdown on 6.7 percent of their opponents' possessions, the lowest percentage in FBS this season.
Notre Dame's red zone defense also is the best in the nation, allowing a touchdown on 24.1 percent of their opponents' drives inside the 20-yard line. (Opponents have seven touchdowns and five turnovers in 29 red zone possessions.) That's the lowest percentage for any FBS team in the last eight seasons.
The defense is led by senior linebacker
Manti Te'o
. With two more tackles, Te'o will join Bob Crable as the second Notre Dame player with three 100-tackle seasons. Te'o also leads the Irish with six interceptions after not having any in his first three seasons.
Notre Dame's defense will be tested one more time, this time by one of the best wide receivers in the country. USC's
Marqise Lee
has more receiving yards (821) in his last four games than 52 FBS teams during that time span. Lee has gained more yards after the catch (837) than any player from any BCS-AQ school, and leads FBS with eight 100-yard receiving games. However, only one player this season has 100 yards receiving against Notre Dame,
Jalen Saunders
from Oklahoma.
However, Lee will not have
Matt Barkley
throwing to him – the senior quarterback will not play because of a sprained shoulder. Since 2002, USC's only loss to Notre Dame came in 2010 when Barkley (then a sophomore) had a sprained ankle and did not play.
Without Barkley, USC may turn to its running game. The Trojans are averaging 160 rushing yards per game, and has gained 10 yards or more on almost 17 percent of their rush attempts.
Curtis McNeal
has 324 yards in USC's last two games, but he'll face a Notre Dame defense that has allowed just three running backs to rush for 80 or more yards this season.
TOP 25 SCOREBOARD
Saturday, 12/20
Monday, 12/22
Tuesday, 12/23
Wednesday, 12/24
Friday, 12/26
Saturday, 12/27
Monday, 12/29
Tuesday, 12/30
Wednesday, 12/31
Thursday, 1/1
Friday, 1/2
Saturday, 1/3
Sunday, 1/4
Monday, 1/12