Chicago Colleges:

Missouri Valley
April, 19, 2013
4/19/13
4:49
PM CT
CHICAGO -- The Loyola Ramblers are on the move.
The school made it official Friday and announced it will move from the Horizon League to the Missouri Valley Conference, changing affiliations for the first time since 1979. Loyola will replace Creighton, which announced a move to the Big East in March.
"I think our brand will raise the profile of the institution and the fact that we're in the Chicago market place is going to do wonders for the Missouri Valley," Missouri Valley Commissioner Doug Elgin said at Loyola.
Read the entire story here
.
January, 15, 2013
1/15/13
6:47
PM CT
Early in the season, Illinois State appeared to be one of the Missouri Valley's true hidden gems. Tucked away in a league that was supposed to be dominated by Creighton, and overshadowed by the more recent success of Wichita State and Northern Iowa, Illinois State was the MVC team you had to dig in to appreciate.

But they were good. Forward Jackie Carmichael was one of the best rebounders in the country returning for his senior season. Tyler Brown was a star guard capable of taking on a scoring load. Bryant Allen, Johnny Hill and Jon Ekey were nice role players. The Redbirds played up tempo whenever possible, they defended well, and if someone asked a college basketball writer for an under the radar team in November, there was a decent chance we'd get around to Illinois State.
The nonconference season seemed to bear that out: ISU lost in overtime to Northwestern (before Drew Crawford's injury, mind you), were one last-second heave away from pushing Louisville to overtime at Louisville, and its only other loss came to Wyoming, which we soon saw run out to a 13-0 start. When Illinois State won at Dayton on Dec. 19, 74-73, I was hardly sure we could call it an upset. Before Dec. 30, the start of conference play, the Redbirds were 9-3. They looked like a real threat to at least push Creighton at the top of the league, and a likely candidate for a third or fourth Valley bid for the NCAA tourney.
And then the wheels came off.
When Illinois State lost to Drake at home Saturday, Dan Muller's team suffered its fifth (and probably its worst) loss in a row. Since Dec. 30, ISU has fallen to Indiana State, Creighton, UNI, Missouri State and the Bulldogs. On Wednesday, the Redbirds travel to Wichita State; it's hard to imagine them avoiding consecutive loss No. 6.
What, exactly, happened? For one, Brown was indefinitely suspended by Muller for conduct detrimental to the team Jan. 9, one day after ISU took that loss at Missouri State. For another, at the risk of oversimplifying, the Redbirds simply haven't played very good basketball. In their five conference games they're averaging .99 points per trip and allowing 1.08, both of which rank eighth in the MVC. Neither figure resembles what they did at their best early in the season, when they were a more efficient offense and a stingier defense. Mostly, ISU just hasn't made shots. Illinois State's effective field goal percentage this season is 54.4, but in its five losses it is shooting just 47.9. Sometimes, that's all it takes.
Unfortunately, that's also all it takes to knock a mid-major out of potential at-large tournament consideration. The Redbirds might have had a long-shot case at some point, depending on how well they played in the league. But to work their way into the NCAA tournament without having to best Creighton or Wichita State at Arch Madness? Now, that's their only hope.
October, 11, 2012
10/11/12
2:10
PM CT
This week, ESPN.com is breaking down the nonconference schedules of each and every team in a dozen of the nation's top leagues. On Monday, we began in the South with the
ACC
,
SEC
and
C-USA
. On Tuesday, we focused on the East with the
A-10
,
Big East
and
CAA
. Wednesday was all about the West with the
Mountain West
,
Pac-12
and
WCC
. Today we focus on the Midwest with the
Big Ten
, Big 12, Missouri Valley and the best of the rest.

BRADLEY
Toughest:
at South Florida (Nov. 20), Michigan (Dec. 1), Las Vegas Classic (Dec. 22-23)
Next-toughest:
George Washington (Dec. 4)
The rest:
Eastern Illinois (Nov. 9), Texas-Pan American (Nov. 12), at IUPUI (Nov. 17), Tennessee-Martin (Nov. 24), at Central Michigan (Nov. 28)
Toughness scale (1-10): 5
-- Considering it went 7-25 last season, Bradley certainly could've scheduled easier. South Florida will contend for a second-straight NCAA tournament berth and Michigan is a preseason top-10 team. The Braves will face Virginia Tech and either Colorado State or Portland in Vegas. George Washington won only 10 games a year ago but returns four starters.

CREIGHTON
Toughest:
Las Vegas Invitational (Nov. 23-24), at Cal (Dec. 15), BracketBusters (TBA)
Next-toughest:
North Texas (Nov. 9), Saint Joseph's (Dec. 1), Akron (Dec. 9)
The rest:
Presbyterian (Nov. 18), Longwood (Nov. 20), Boise State (Nov. 28), at Nebraska (Dec. 6), Tulsa (Dec. 19)
Toughness scale (1-10): 6
-- Although it's not as soft as last year's, the Bluejays' nonconference schedule is a bit underwhelming for a top-15-caliber team. They'll be challenged by Wisconsin and either Arkansas or Arizona State in Las Vegas, and a trip to Cal won't be easy. North Texas, Saint Joseph's and Akron all will pose threats in Omaha and will help the RPI. But Creighton's best nonconference game may be its BracketBusters showdown with a to-be-determined opponent in late February.
DRAKE
Toughest:
DIRECTV Classic (Nov. 22-25), at Nevada (Nov. 30), Saint Mary's (Dec. 5), vs. Iowa State (Dec. 15 in Des Moines)
Next-toughest:
at Detroit (Nov. 17), BracketBusters (TBA)
The rest:
William Jewell (Nov. 10), IPFW (Dec. 8), North Carolina Central (Dec. 19), Eastern Illinois (Dec. 22)
Toughness scale (1-10): 8
-- Kudos to coach Mark Phelps for building one of the conference's most challenging nonconference schedules. The Bulldogs travel to Horizon League favorite Detroit and will then face Cal and then either Georgia Tech or Rice in Anaheim. Nevada and Saint Mary's are stiff tests from out West. The schedule could play huge dividends for Drake in MVC play.

EVANSVILLE
Toughest:
at Notre Dame (Dec. 10), at Colorado State (Dec. 1), Murray State (Dec. 8), at Butler (Dec. 22)
Next-toughest:
Coaches vs. Cancer Classic (Nov. 15-17), at Tennessee Tech (Nov. 20)
The rest:
Alabama A&M (Nov. 26), Miami-Ohio (Dec. 5), Alabama State (Dec. 15), Oakland City (Dec. 18)
Toughness scale (1-10): 9
-- After opening on the road at Notre Dame -- an upper-echelon Big East team -- the Purple Aces play three straight home games in the Coaches vs. Cancer Classic. But that doesn't mean the wins will come easy. Buffalo, Yale and Western Illinois all return three starters from winning teams. Colorado State, Butler and Murray State will all contend for NCAA tournament bids. This schedule gives an improving Evansville program a chance to take that "next step."

ILLINOIS STATE
Toughest:
at Drexel (Nov. 15), at Louisville (Dec. 1), at Dayton (Dec. 19)
Next-toughest:
UC Santa Barbara (Nov. 12), South Padre Island Invitational (Nov. 23-24), Wyoming (Dec. 4)
The rest:
Delaware State (Nov. 18), Fairleigh Dickinson (Nov. 20), Western Michigan (Dec. 8), Morgan State (Dec. 16), Austin Peay (Dec. 22)
Toughness scale (1-10): 6
-- For a fringe top-25 team hoping to earn its first NCAA berth since 1998, this is a relatively weak nonconference schedule. Louisville is an NCAA title contender, Drexel returns four starters from a 29-7 team and Dayton is a tough place to play. Otherwise, there are no marquee matchups on the slate. The South Padre Island Field is weak with UAB, TCU and Northwestern.

INDIANA STATE
Toughest:
at UCLA (Nov. 9), New Mexico (Dec. 1), Diamond Head Classic (Dec. 22-25 in Honolulu)
Next-toughest:
at Ball State (Nov. 2), BracketBusters (TBA)
The rest:
Winthrop (Nov. 13), Truman State (Nov. 17), High Point (Nov. 25), at Morehead State (Dec. 8), IUPUI (Dec. 15)
Toughness scale (1-10): 7
-- This slate provides plenty of challenges for a program that lost four starters from an 18-15 team. Opening on the road against UCLA looks to be an insurmountable feat, but the experience will pay off in the long run. The Sycamores will also faced a much-improved Ole Miss squad in the Diamond Head Classic, which also features San Diego State, Arizona and Miami.

MISSOURI STATE
Toughest
: San Diego State (Nov. 17), at Oklahoma State (Dec. 8)
Next-toughest
: Hoops for Hope Challenge (Nov. 24-25 in Puerto Vallarta, Mexico), Oral Roberts (Dec. 1), Valparaiso (Dec. 15), at New Mexico State (Dec. 22)
The rest:
Philander Smith (Nov. 9), Jacksonville (Nov. 19), Alcorn State (Nov. 21), at Tulsa (Dec. 5), at Alabama A&M (Dec. 18)
Toughness scale (1-10): 8
-- The Bears will have plenty of chances to impress the NCAA tournament selection committee with this slate. The problem is that Missouri State will be loaded with new faces, making victories against postseason contenders such as San Diego State and Oklahoma State seem unlikely. A championship in the Hoops for Hope Challenge (where the Bears open against rebuilding South Carolina) would provide a nice confidence boost.

NORTHERN IOWA
Toughest:
Battle 4 Atlantis (Nov. 22-24), at UNLV (Dec. 19), Saint Mary's (Dec. 22)
Next-toughest:
at George Mason (Dec. 8), vs. Iowa (Dec. 15 in Des Moines)
The rest:
Wartburg (Nov. 10), Toledo (Nov. 14), North Dakota (Nov. 17), Milwaukee (Dec. 1), Northern Colorado (Dec. 5)
Toughness scale (1-10): 9
-- The Panthers open play against Final Four favorite Louisville in the Battle 4 Atlantis, one of the most loaded tournaments in recent memory. Duke, Memphis, Missouri and Stanford are also in the field. UNLV will almost certainly be ranked in the preseason top 25, and Saint Mary's -- last year's WCC champion -- features one of the nation's top point guards in
Matthew Dellavedova
. Iowa and George Mason will both contend for NCAA bids. What a schedule.

SOUTHERN ILLINOIS
Toughest:
at Saint Louis (Nov. 24), at Western Kentucky (Dec. 5), World Vision Classic (Dec. 20-22 in Logan, Utah)
Next-toughest:
Fresno State (Nov. 28), at Green Bay (Dec. 14), BracketBusters
The rest:
at New Orleans (Nov. 12), Benedictine-Springfield (Nov. 17), at SIU (Nov. 20)
Toughness scale (1-10): 6
-- Other than Saint Louis, Barry Hinson won't play many top-25 caliber teams in his first season at Southern Illinois. But the Salukis won't face many patsies, either. One of the most difficult tests probably will come three days before Christmas, when Hinson's squad squares off against host Utah State in the World Vision Classic.

WICHITA STATE
Toughest:
at VCU (Nov. 13), at Tennessee (Dec. 13)
Next-toughest:
Cancun Challenge (Nov. 20-21), vs. Southern Miss (at INTRUST Bank Arena in Wichita), BracketBusters
The rest:
NC Central (Nov. 10), Western Carolina (Nov. 15), Howard (Nov. 17), Tulsa (Nov. 28), at Air Force (Dec. 2), Northern Colorado (Dec. 8), Charleston Southern (Dec. 20)
Toughness scale (1-10): 7
-- Victories at VCU or Tennessee could go a long way toward enhancing the Shockers' NCAA tournament résumé, but there isn't too much to get excited about on the rest of the slate. It's a shame Wichita State couldn't schedule at least one marquee opponent to play at home. To be fair, teams from major conferences probably aren't too eager to face Gregg Marshall's squad on the road. Koch Arena is an incredibly difficult place to play, especially when the Shockers are on a roll, which they have been in recent years.
July, 20, 2012
7/20/12
12:10
PM CT
Tim Jankovich agonized over his decision to become Larry Brown's coach-in-waiting at SMU.
It took so long that it could have put Illinois State's 2012-13 season, which could end with an NCAA tournament bid, in jeopardy.
But the Redbirds saved face by finding an alumnus who was ready to become a head coach in Vanderbilt assistant Dan Muller.
Muller's first head coaching job, at his alma mater no less, has eased plenty of angst.
But his May 8 start date has been a challenge.
Here are five key issues he has had to deal with
.
July, 20, 2012
7/20/12
11:57
AM CT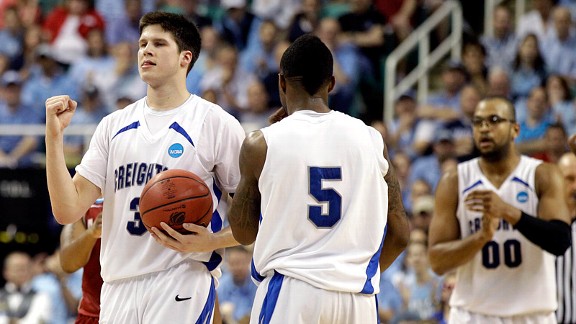 AP Photo/Chuck BurtonCreighton returns almost every contributor from a 27-win team that won the Valley tourney title.
Are Doug McDermott and Creighton the overwhelming favorite or can stacked Illinois State or reloaded Wichita State challenge? Let's catch up on news and notes from the Mountain West halfway through the offseason.
Click here to read the entire story
.
March, 11, 2012
3/11/12
9:32
PM CT
Illinois State was selected to play in the NIT on Sunday while Illinois' season came to an end without a postseason invitation.
Read the entire story.
March, 3, 2012
3/03/12
7:58
PM CT
ST. LOUIS — Before Saturday it was assumed that two teams from the Missouri Valley Conference would receive NCAA tournament bids.
Now there may be three.
Tyler Brown
swished a pair of free throws with 6.4 seconds remaining to catapult Illinois State to a
65-64 victory
over 14th-ranked Wichita State — the regular-season league champion — in the semifinals of the MVC tournament at the Scottrade Center.
The Redbirds can earn an automatic bid to the NCAA tournament by defeating the winner of Evansville-Creighton in Sunday's championship. Even if Creighton doesn't win, the Bluejays are expected to receive an at-large berth along with Wichita State.
"Most of the people watching the game probably turned off their TVs when we were down by 10," Brown said. "But we're not that kind of team."
Illinois actually trailed by 13 points late in the first half before shaving the deficit to eight, 36-28, at intermission.
A free throw by Wichita State's
Toure Murry
gave the Shockers a 64-63 advantage with 2 minutes, 51 seconds remaining. Neither team scored again until Brown's free throw with 6.4 seconds left.
"I blocked out everything," Brown said. "It was just me and the rim."
Wichita State still had two more chances to win, but a 17-foot jumper from Murry and a 10-footer by
Garrett Stutz
were both off line. Illinois State players and fans went wild as the final horn sounded.
The win snapped Illinois State's string of 24 straight losses against ranked teams, a streak that dated back to 1987.
The Redbirds — who don't feature a single senior in their rotation — haven't been to the NCAA tournament since 1998. They went 9-9 in the MVC this season and are 20-12 overall.
"This was one of the toughest, hardest-fought performances by any team I've ever been around," fifth-year Illinois State coach Tim Jankovich said.
Illinois State won Saturday despite shooting just 33.9 percent from the field and getting outrebounded 40-34. Jankovich credited his team's defense for the victory. The Redbirds held Wichita State to 34.9 percent shooting.
"I never ever would've thought we would've shot 33 percent and beat this team," said Jankovich, whose team lost to the Shockers twice this season. "I don't care how you slice it ... that was grit and toughness and all the things that are dear to a coach."
Illinois State will have to step up its game even more if it hopes to win on Sunday, especially if the Redbirds face Creighton. They lost their two regular-season meetings with Creighton by an average of 18.5 points. They'll certainly enter the contest with plenty of momentum.
"I've never felt something like this before," Brown said. "Even though we have another game to win, I've never been a part of something this big. This game meant so much to so many people."
Including the Shockers.
Most bracketologists had pegged Wichita State as a No. 4 or a No. 5 seed in the NCAA tournament. Now it could experience a significant drop.
Shockers coach Greg Marshall scoffed when asked how he planned to "fix" his team's problems before its next game.
"I don't think we're going to do much fixing," Marshall said. "We're 27-5 going [into] the NCAA tournament. I'm looking forward to [playing on a] neutral floor. I feel like we'll have just as good of a shot, if not better, than we had today."
Granted, Saturday's game was on a "neutral floor," too. But it was obvious Marshall wasn't happy with a handful of calls that went against his team. Marshall said the Shockers "didn't play well enough to overcome everything we needed to overcome."
"I saw some strange things out there today," he said. "It's pretty tough to win when you see some strange things like I saw today."
Brown scored 25 points for Illinois State while
Jackie Carmichael
added 12 points and 11 boards.
Joe Ragland
led Wichita State with 17 points.
Ben Smith
had 14 points and 13 rebounds.
"We've got to learn from this loss," Stutz said. "Every other loss, we've learned from and recovered well."
Wichita State had won nine in a row before Saturday.
"How can you learn from a loss?" Marshall said. "Well, you let it sit in the pit of your stomach until it makes you violently ill. Then you expel that feeling and then you go back to work. That's all you can do."
November, 1, 2011
11/01/11
9:17
PM CT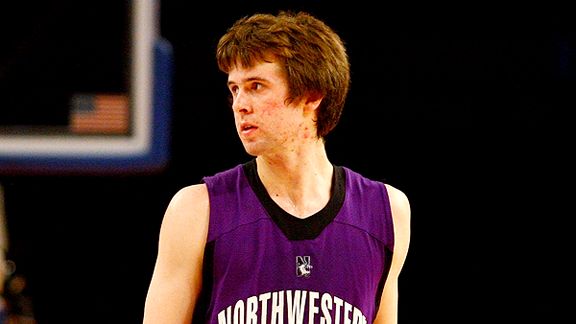 Chris Chambers/Getty ImagesJohn Shurna and Northwestern are seeking the program's first NCAA tourney bid.
Illinois college basketball has seen better days. It doesn't feel like that long ago the state was receiving multiple NCAA tournament bids. The truth is, Illinois hasn't had more than one team make it since 2007.
The 2011-2012 season likely won't be much different. While there is some hope for the future of a number of programs, the present isn't sunny. Illinois and Northwestern are likely the only two teams with a NCAA tournament shot this season, and neither is a given.
Here's a look at the state's preseason power rankings:

1. Northwestern: The Wildcats return the most proven talent in the state, bringing back four starters from last year's NIT quarterfinal team. Senior forward John Shurna leads that bunch. Shurna's numbers were as good as anyone in the country before he went down with an ankle injury last season. The expectations in Evanston are for him to return to form. Junior guards Drew Crawford and Alex Marcotullio should give them consistent production. Sophomore JerShon Cobb saw major minutes as a freshman. Big man Luka Mirkovic is a bit of wildcard, but he's shown improvement in early practices. The one lost starter – four-year point guard Michael Thompson – is a vital one. Northwestern will need to figure out whether freshmen guards Tre Demps and David Sobolewski can be reliable early in their careers or Marcotullio can fit the role. Depth is still an issue, too. Of course, this Northwestern team will be judged solely on whether it reaches the NCAA tournament or not. Another NIT appearance is no longer progress.

2. Illinois: This season's Illini feel a lot like a jigsaw puzzle you've just opened the box to and dropped the scattered pieces on a table. You begin with a lot of uncertainty over how it's all going to be put together, but you believe all the pieces are there to do it. Right now, Illinois' players are all over the table. Brandon Paul has the makings a Big Ten star, but he hasn't done anything to earn that title yet. Sophomore center Meyers Leonard is as athletic as any big man in the country, but he's yet to consistently utilize his gifts. Senior Sam Maniscalco appears he could be a veteran leader and a reliable point guard, but he is still coming off two ankle surgeries. Expectations are higher for Crandall Head and Tyler Griffey, but it's still only an assumption they can produce this year. Even D.J. Richardson, the most reliable player of the returnees, went through a horrid stretch last season. Throw in a highly-touted recruiting class of six freshmen, and you could be headed for an immensely fun or aggravating season. If everything works out, Illinois should be able to complete the puzzle and head to the NCAA tournament again.

3. DePaul: The Blue Demons just can't catch a break. First, it was point guard Shane Larkin, the most talented of their incoming freshmen, leaving the program in the summer for personal reasons. That news was followed by season-ending injuries to forwards Tony Freeland and Montray Clemons. Also throw in that freshman Macari Brooks has now left the program due to eligibility issues. With all those roster shakeups, DePaul lost its probable starting point guard and much-needed depth to its bench. DePaul is certainly more talented than last season's team, which went 1-17 in the Big East, but this is still likely a rebuilding season for coach Oliver Purnell. The Blue Demons will again heavily rely on the sophomore duo of Brandon Young and Cleveland Melvin. They'll both be Big East stars, but where DePaul ends up will depend on the production of Krys Faber, Donnavan Kirk, Moses Morgan, Jeremiah Kelly and the newcomers.


4. Illinois State: The Redbirds were as balanced a team as any in the country last season. They placed 10 players between 3.5-10.5 points a game. That's all good when you're winning, but Illinois State didn't win a whole lot last season. It'll be looking for someone to emerge as a go-to player this year and it'll likely be junior 6-9 forward Jackie Carmichael. He has the potential to be a double-double player. Around Carmichael, the Redbirds have a mixture of experienced players and newcomers. Anthony Cousin, Jon Ekey and John Wilkins all started a number of games last season. Junior college transfer Tyler Brown and freshman Johnny Hill could make an impact, too.

5. Southern Illinois: Salukis coach Chris Lowery was given another season to prove himself. This is likely the end for him if the Salukis don't start winning. Lowery isn't off to a great start either. He promised retention of players after a postseason press conference and soon after lost two more players from last year's roster. All together, he had four players depart the program after last season. The most significant one was Gene Teague, who left for Seton Hall. There is some talent remaining. Senior guard Justin Bocot and senior forward Mamadou Seck should be among the best at their positions in the Missouri Valley. Lowery's fate could be determined by all his newcomers, which include five freshmen and three junior college transfers.

6. Bradley: Braves coach Geno Ford lost a key piece when Sam Maniscalco transferred, but the cupboard wasn't left completely bare. Taylor Brown could be a double-double machine this season. Dyricus Simms-Edwards was lighting up the Missouri Valley late in the season. Walt Lemon continues to emerge as a point guard. The Braves were picked last in the Missouri Valley, but they have the potential to surprise some people.

7. Loyola: Ramblers coach Porter Moser has put his program in place to have a successful season in 2012-2013 by bringing in transfers Cully Payne and Devin Hill and a strong recruiting class, but that doesn't help the Ramblers this season. Loyola will likely struggle this year without a proven point guard and a whole lot of depth. Junior forward Ben Averkamp could emerge as one of the best players in the Horizon League and may be worth the price of the admission in the newly-renovated Gentile Center. If Jordan Hicks can get healthy, that should help the Ramblers, too.

8. UIC: The Flames could be in for a rockier season than coach Howard Moore's first year. Moore has committed the program to building from the bottom up, and that means youth this season. Moore welcomes eight newcomers, including seven freshmen, to the roster. UIC also graduated its two stars in Robo Kreps and Paul Carter. Toledo transfer Hayden Humes could emerge in one of their roles. Freshman Marc Brown is another newcomer to watch.

9. Northern Illinois: The Huskies are also undergoing a rebuild under first-coach Mark Montgomery. Northern Illinois has eight freshmen this season and could have had nine if Dre Henley didn't leave the team. The Huskies possess some talent in that class, especially Abdel Nader, but it's going to take some time. Tim Toler is the leading returning player.

10. Eastern Illinois: Like Chris Lowery, this could be an important season for Eastern Illinois coach Mike Miller. The Panthers have gone 63-113 in Miller's six seasons and are coming off a 9-20 season. Jeremy Granger is back for his senior season and that should help. Outside of Granger, Eastern Illinois will look to a number of freshmen and junior college transfers to step up. Former Connecticut guard Darius Smith is expected to join the team later in the season.

11. Western Illinois: Now entering his fourth season, Leatherneck coach Jim Molinari is still trying to turn the program around. Western Illinois has gone 20-60 in his first three seasons and went 7-23 last year. Injuries were costly a season ago. They do return multi-dimensional point guard Ceola Clark, Billy Molinari, Tommie Tyler and David Gebru all from injury.

12. Chicago State: The Cougars have restocked their team in coach Tracy Dildy's second season running the program on the city's south side. Dildy has nine new players. Jeremy Robinson, a former Illinois State player, is expected to lead the group. Northern Illinois transfer Lee Fisher is another newcomer who can make an immediate impact.

13. Southern Illinois-Edwardsville: The Cougars have to be excited for the return of junior forward Mark Yelovich. He suffered a broken foot in the season opener last season after leading the team in scoring his first two seasons. Corey Wickware, Kevin Stineman and a few of the newcomers, including freshman Charles Joy, should be able to assist Yelovich this season.
October, 12, 2011
10/12/11
11:08
PM CT
All week, ESPN.com has been breaking down the nonconference schedules of each and every team in a dozen different leagues. On Tuesday, we began with the
ACC
,
SEC
and
C-USA
. On Wednesday, we continued with the
Big East
,
Atlantic 10
and
Colonial
.

We devoted Thursday to the West, with the
Pac-12
,
WCC
and
Mountain West
. Friday is all about the Midwest. Let's begin with a look at the Missouri Valley...

BRADLEY
Toughest
: Chicago Invitational Challenge (Nov. 25-26), at Michigan (Dec. 22)
Next-toughest
: at George Washington (Dec. 15), at Drexel (Dec. 17), BracketBusters (home)
The rest
: UMKC (Nov. 13), Southeast Missouri State (Nov. 16), North Dakota (Nov. 19), Wofford (Nov. 22), at Wyoming (Dec. 3), Northeastern (Dec. 6), Western Carolina (Dec. 20)
Toughness scale (1-10): 7
-- The Braves get the boost from their Chicago Invitational opponent -- Wisconsin -- giving coach Geno Ford at least two top-25 opponents (Michigan being the other) in his first year at Bradley. The I-95 corridor trip to George Washington and Drexel also should be good tests, and the BracketBuster looms in February.

CREIGHTON
Toughest
: at San Diego State (Nov. 30), Northwestern (Dec. 22)
Next-toughest
: at Iowa (Nov. 20), Nebraska (Dec. 4), at Saint Joseph's (Dec. 10), at Tulsa (Dec. 19), BracketBusters (home)
The rest
: Dale Howard Classic (Nov. 11-13), Campbell (Nov. 25), Houston Baptist (Dec. 17)
Toughness scale (1-10): 3
-- The Bluejays will be a hot sleeper pick this season, but they haven't exactly built a schedule to match their reputation. There are no games here that will test how this team compares with its BCS brethren. Creighton, in fact, ought to be favored against the likes of Iowa and Nebraska. Northwestern is a decent test and the road trip to SDSU is part of the MWC/MVC Challenge. The BracketBuster could be entertaining, but even that lacks huge punch as the Bluejays drew a home game. The Dale Howard isn't exactly classic, either -- with North Carolina A&T and Chicago State as the early opponents.
DRAKE
Toughest
: Iowa State (Nov. 15), Paradise Jam (Nov. 18-21)
Next-toughest
: Air Force (Dec. 3), at Iowa (Dec. 17), at BracketBusters
The rest
: Cal State Northridge (Nov. 26), at Boise State (Nov. 30), Eastern Michigan (Dec. 8), Central Arkansas (Dec. 21)
Toughness scale (1-10): 6
-- With Ole Miss in the first game of the Paradise Jam and perhaps Marquette next, this schedule at least has potential. An improving Iowa State team adds some meat, as does a BracketBuster game on the road.

EVANSVILLE
Toughest
: Butler (Nov. 12), at North Carolina (Dec. 6)
Next-toughest
: Indiana (Nov. 16), BracketBusters (home)
The rest
: Oakland City (Nov. 19), at Illinois Chicago (Nov. 23), Alabama State (Nov. 29), TCU (Dec. 3), North Carolina A&T (Dec. 10), Tennessee Tech (Dec. 17), at Miami (Ohio) (Dec. 20)
Toughness scale (1-10): 8
-- The Purple Aces open their new downtown arena in style, bringing Butler to town. It doesn't get any easier after that, with a much-improved Indiana team in town four days later. And then there's that little December trip to Chapel Hill. That's a pretty nice schedule for an Evansville team that returns eight of its top players but still won just 16 games a season ago.

ILLINOIS STATE
Toughest
: Cancun Challenge (Nov. 17-23)
Next-toughest
: at Morehead State (Dec. 7), BracketBusters (home)
The rest
: at Fresno State (Nov. 11), Bethune-Cookman (Nov. 27), Chicago State (Nov. 30), UNC-Wilmington (Dec. 3), Norfolk State (Dec. 18), Arkansas-Little Rock (Dec. 20)
Toughness scale (1-10): 3
-- Granted, the Redbirds are still in growing-pain mode, but this isn't going to do much to impress anyone. The Cancun Challenge -- with Rutgers in the first game in Mexico and either Richmond or Illinois after -- is decent. Otherwise, a home BracketBuster is really the only big game on Illinois State's slate.

INDIANA STATE
Toughest
: Old Spice Classic (Nov. 24-27), at Vanderbilt (Dec. 17)
Next-toughest
: Ball State (Nov. 18), at BracketBusters
The rest
: Eastern Illinois (Nov. 11), at Louisiana-Monroe (Nov. 14), Green Bay (Nov. 21), at Boise State (Dec. 3), Maryville (Dec. 10), Louisiana-Monroe (Dec. 21)
Toughness scale (1-10): 7
-- The Sycamores upset their way into the NCAA tournament last season. They could earn their way in this season, particularly with a good showing at the Old Spice in Orlando. Indiana State gets Texas Tech in the first round there, with a potential strength-of-schedule pop from Minnesota in the next game. Going to Vanderbilt and a road BracketBuster will only improve their reputation. The lone question mark: a home-and-home with Louisiana-Monroe. Really?

MISSOURI STATE
Toughest
: at New Mexico (Dec. 3), Oklahoma State (Dec. 7), Las Vegas Classic (Dec. 22-23)
Next-toughest
: at Nevada (Nov. 11), at Arkansas State (Nov. 15), Tulsa (Nov. 26), BracketBusters (home)
The rest
: Emporia State (Nov. 19), at Oral Roberts (Nov. 30)
Toughness scale (1-10): 8
--
Kyle Weems
will certainly have plenty of opportunities to showcase his talent, particularly in Las Vegas, where the Bears face West Virginia and Saint Mary's. Traveling to The Pit is never fun, and will be even less so this season with the loaded Lobos and
Drew Gordon
. Nevada and Arkansas State could finish atop their leagues, too.

NORTHERN IOWA
Toughest
: at Saint Mary's (Nov. 15), at Iowa State (Nov. 30)
Next-toughest
: at Old Dominion (Nov. 12), Iowa (Dec. 6), at BracketBusters
The rest
: South Padre Island Invitational (Nov. 20-26), Colorado State (Dec. 3), Milwaukee (Dec. 10), Loras (Dec. 19), Ohio (Dec. 20)
Toughness scale (1-10): 7
-- The Panthers get a higher grade here for the sheer logistical tap dance they'll perform to open the season. Northern Iowa travels to Norfolk to face Blaine Taylor's always-reliable Old Dominion team, then hopscotches the country for a 2 a.m. ET tilt against Saint Mary's in the Tip-Off Marathon. And it's not like the Panthers are traveling from Chicago. Getting anywhere from Cedar Falls isn't easy. The South Padre Island Invitational lacks a little luster -- with Northern Colorado, Western Carolina, Rice and Providence making up the field -- but an away BracketBuster could be huge for a team expected to challenge in the Valley.

SOUTHERN ILLINOIS
Toughest
: at Western Michigan (Dec. 11), Diamond Head Classic (Dec. 22-25)
Next-toughest
: Saint Louis (Nov. 15), at BracketBusters
The rest
: Ohio Dominican (Nov. 12), at Northeastern (Nov. 19), Chicago State (Nov. 25), Western Kentucky (Dec. 7), at Northern Illinois (Dec. 17), Southern Illinois-Edwardsville (Dec. 19)
Toughness scale (1-10): 5
-- The pressure is on the Salukis to get back to their glory days. Some wins here would surely help. Diamond Head offers some good head-turning opportunities, with SIU opening against Kansas State and getting either Clemson or UTEP in the next game. Western Michigan is loaded, and Rick Majerus finally has a full roster at SLU.

WICHITA STATE
Toughest
: Puerto Rico Tip-Off (Nov. 17-20), UNLV (Dec. 4)
Next-toughest
: UAB (Nov. 25), at Tulsa (Dec. 7), at BracketBusters
The rest
: Charleston Southern (Nov. 13), Cal State Fullerton (Dec. 1), Utah State (Dec. 10), Chicago State (Dec. 14), Newman University (Dec. 19)
Toughness scale (1-10): 6
-- This isn't a bad schedule but for the Shockers, NIT winners a season ago and potential top-25 team this season, but it's a little light. The Puerto Rico Tip-Off could help. Wichita State gets to go after a BCS scalp in Colorado to start and a game against either Maryland or Alabama will give a real pop to the strength-of-schedule rating. UNLV at home provides a great opportunity to turn some heads, and a road BracketBuster game could be huge.
October, 12, 2011
10/12/11
11:08
PM CT
Here are five questions I can't wait to see answered in the Missouri Valley this season:
1. Is this the year the Valley returns to the glory years?
Before Butler ushered in the new power era of the mid-major, there was the Missouri Valley. In 2006, four conference teams earned NCAA tournament bids and two -- Bradley and Wichita State -- went to the Sweet 16. A year later, Southern Illinois rode a No. 4 seed to regional semifinals as well.
Ever since, the Valley has slipped, falling to the ranks of the one-bid leagues. There have been highlights, of course -- the name Ali Farokhmanesh still sends shivers down the spines of Kansas Jayhawk fans -- but the standard has dipped.
Until perhaps this season. The cyclical nature of basketball is turning in the Valley's favor thanks to rosters heavy with talented upperclassmen. Creighton and defending NIT champion Wichita State both could make a case for a top-25 preseason ranking. Then there is Indiana State, the Valley's NCAA rep a year ago. The Sycamores have stockpiled their nonconference schedule with enough meaty games to turn a few heads.
It all should make for an interesting conference battle and perhaps a richer March for the Missouri Valley.
[+] Enlarge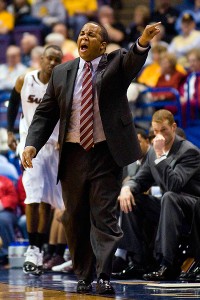 Jeff Curry/US PresswireChris Lowery's Salukis are just 58-67 since the 2007 Sweet 16.
2. Can Chris Lowery jump off the hot seat?
When Southern Illinois inked Lowery to a seven-year extension in 2007, it was smart business. On the heels of a Sweet 16 berth and three incredibly successful seasons, Lowery ranked among the hottest "it" coaches in the country. Now with that deal down to its final three years, Lowery is fighting to save his job. The once-powerful Salukis are just 58-67 since that Sweet 16 run.
Whether this is the year to turn things around remains to be seen.
Mamadou Seck
, the Valleys' leading rebounder a season ago, is back and SIU has a strong recruiting class to bolster its roster. But the Salukis need to rediscover their identity in order to succeed. In those first three years when everything was going so well, Southern Illinois allowed just 57.5 points per game. Ever since, the Salukis have given up 64.6.
3. Can McDermott & Son steal March?
Getting Greg McDermott to return to his Missouri Valley roots -- he led Northern Iowa to three NCAA tournament berths -- was huge for Creighton. Getting Greg's son, Doug, to follow dear old dad to Omaha was even bigger.
The younger McDermott was a stud freshman and is coming off an excellent summer with Team USA. And he's not the only standout for the Bluejays.
Antoine Young
and
Gregory Echenique
give Creighton three of the league's best players and the reason for the early expectations.
But you know how March goes. It's about great storylines and the father-son tandem taking Creighton back to the tournament would make for a heckuva tale.
4. How will following in Cuonzo Martin's footsteps pay off for Paul Lusk?
Following in Martin's wake already has paid off quite well for Lusk. Three years ago, Martin left Purdue to become head coach at Missouri State, making room for Lusk's job bump to associate head coach. This past offseason when Martin left for Tennessee, Lusk grabbed the opportunity by taking over the Bears.
[+] Enlarge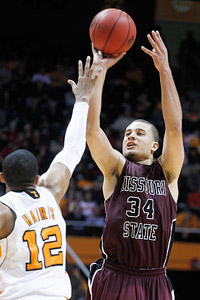 AP Photo/Wade PayneKyle Weems is the reigning Missouri Valley Player of the Year.
He inherits a team with both question marks and bonus points -- the bonus coming in the form of returning Valley player of the year
Kyle Weems
. The conference's most versatile player, Weems averaged 16 points and 6.9 rebounds per game. His supporting cast is gone, though. The loss of four starters means there is work to be done for Lusk, but in Weems the new coach at least has a good foundation.
5. Who will be the Valley player of the year?
Certainly not as interesting q question as who will win the league, but this race could be equally tight. Weems earned the honors last season and he's back in the fold, which should give him an early edge on the competition. But Weems will be playing for a retooling Missouri State team, which could either help or hurt his numbers.
Creighton's McDermott, Young and Echenique are three of the league's nine leading returning scorers. Together they could lead the Bluejays to special things this season, but they also could split the POY vote.
Jake Odum
, point guard extraordinaire, will have to play especially well for Indiana State to return to the NCAA tournament, but confidence is one thing Odum doesn't lack.
And don't discount a few sleepers: Mamadou Seck will have to put up big numbers if Southern Illinois is going to regroup, and at Evansville,
Colt Ryan
already has 125 3-pointers in just two seasons. The Purple Aces, who return the majority of their team and debut a new downtown arena, are on the uptick.
October, 12, 2011
10/12/11
11:07
PM CT
The minute he sat down for his first coaches meeting in the Missouri Valley, Geno Ford figured out what he was in for.
"You know they say in poker, you try to figure out who the sucker is,'' the new Bradley coach said. "Well, I looked around and there weren't any, so I'm just hoping it isn't me.''
Ford laughed when he told the story, but the reality is there's not much to giggle about in the Valley. The league has branded itself into the public consciousness, carving out its own special niche as a well-respected league that is neither BCS nor true mid-major. Winners are rewarded well thanks to the league's reputation, but winning among schools that have capitalized on the Valley's success isn't exactly easy.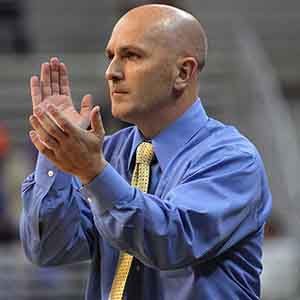 Kim Klement/US PresswireGeno Ford arrived in Peoria after three successful seasons in the MAC at Kent State.
Especially this season. By its own high standards, the conference has been down in recent years, earning just its automatic bid in each of the last four seasons. But all signs point to a return to the glory years, back when the Valley was sending as many as four teams to the NCAA tournament and a Sweet 16 berth was commonplace.
Not exactly an easy time for Ford to bluff at the table.
Bradley has never finished higher than fourth in the league and hasn't reached the NCAA tournament since 2006. That's why Ford is here and ex-coach Jim Les is now at UC Davis.
Ford had a good thing at Kent State -- he led the Golden Flashes to back-to-back Mid-American Conference championships. But he found the ceiling in the MAC hard to penetrate. Though he won those two regular-season titles and 20-plus games in each season, he had to settle for an NIT bid both times, done in both seasons by upset losses in the MAC tournament.
"We all play for the postseason,'' Ford said. "The hope is here, in this league, if you win the regular season, you're either in the tournament or in the major discussion. That's a big attraction, that if you have a special regular season you're rewarded.''
That's what pushed Ford to leave Kent after three years, but it wasn't an amicable parting. The former coach and his ex-employer are locked in a lawsuit that likely won't reach a court date until the summer.
Kent State contends Ford broke his contract -- a deal with four years left at $300,000 per year -- and consequently owes the school $1.2 million. Ford and his lawyers at Bradley contend that KSU granted Ford permission to interview, thereby prohibiting the school from seeking damages.
Ford said he has attempted to settle but has had no luck.
"Hopefully this will get resolved in a short amount of time,'' he said. "It's certainly unfortunate, but it will run its course and I'm looking forward to the conclusion.''
Fortunately lawyers have handled the brunt of the work on the lawsuit, allowing Ford to concentrate on basketball. He has a lot of work to do. Though the Braves have players back -- including
Dyricus Simms-Edwards
, who averaged 16 points in his final 10 games and Taylor Brown, who missed last year with a heart problem -- they also have no big man with experience (
Will Egolf
is out with an ACL tear) and five freshmen who will be put to work immediately.
It's not exactly the loaded cupboard needed to contend in a league top heavy with upperclassmen, but Ford believes it is a recipe he can work with.
"No transition period is a pleasure cruise and there will be bumps and bruises along the way, but if you have guys willing to take a shot, you can make it,'' he said. "We don't have a championship from last year to say, 'Here, if you buy in, this is the result.' So we have to ask them to trust us and trust our system.''
In other words, it's time for the Braves to go all in.
October, 12, 2011
10/12/11
11:06
PM CT
Before we get to the Blue Ribbon team-by-team previews for the Missouri Valley, here is Dana O'Neil's wind sprint through the league:
Blue Ribbon's in-depth previews of all 10 MVC teams:

Bradley
Creighton
Drake
Evansville
Illinois State
Indiana State
Missouri State
Northern Iowa

Southern Illinois
Wichita State
More Missouri Valley content
:
-- Dana O'Neil with
Five Things I Can't Wait To See
in the MVC.
-- Jay Bilas examines
five burning questions
in the league.
-- New Faces, New Places: O'Neil on
Bradley coach Geno Ford
and Diamond Leung on
Missouri State coach Paul Lusk
.
-- Andy Katz thinks Creighton is
primed for a return to its glory years
.
-- Creighton and Wichita State are the favorites, but Katz says
we shouldn't forget about Indiana State
in the MVC race.
-- Reggie Rankin gives us the
recruiting picture
in the Missouri Valley.
-- Let's take a team-by-team look at the
league's nonconference schedules
.
-- For more coverage of the Valley in the Nation blog,
click here
.