Ex-Wildcat Coble attempting pro comeback
March, 8, 2012
3/08/12
10:32
PM CT
[+] Enlarge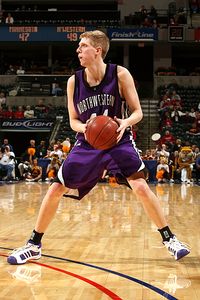 Jonathan Daniel/Getty Images Kevin Coble left Evanston amid some controversy, but he's not looking back.
Kevin Coble was done playing basketball, and that was fine by him.
After opting not to play at Northwestern last season, the former all-Big Ten forward returned home to Arizona and decided he would move onto the next phase of his life -- coaching. He had fractured his left foot the year before and having not played his senior collegiate season, he believed he had seen his last competitive basketball.
That was until he was persuaded otherwise.
Others saw what Coble didn't see -- he had some basketball left in him. The idea of playing again was implanted, grew with time and ultimately bloomed recently with him signing with the Fort Wayne Mad Ants of the NBA Developmental League.
"I needed to know at least one way or the other," Coble said. "I sided on the side of regretting doing something rather than regretting not doing something about it."
Coble left Northwestern prior to the 2010-2011 season after disagreeing with the school's medical staff on how to handle his foot injury. The Wildcats went onto to reach the NIT quarterfinals without him.
"I think about it here and there," Coble said of leaving Northwestern. "I've really tried to move on. I know my position and know what I did. I've made peace with it. It's not something I dwell on."
Coble said he still continues to follow and root for Northwestern. He recently sent Northwestern senior John Shurna a congratulatory email after he broke the school's career scoring record.
"It's been good to see those guys," Coble said. "I obviously don't harbor any resentment toward the players and wish them the best. ... "
Coble has so far played limited minutes in three games for Fort Wayne -- he is still getting his game back into form. He's been spent a lot of time working with Fort Wayne assistant coach Christian Laettner.
"He and I play 1-on-1 every day," Cole said. "We've been working on different things. We play on the wing and down in the post. Little things he's learned over the year he's passes on. He thinks some of the things I do [are] unorthodox and funny. He's always making fun of me how I make this shot or that shot and how I move my feet.
"The skill is going to fine. It's going to come down to a strength issue for me [as a professional player.] That's something I've struggled with. It's been hard for me to put weight on and continue what I do on the court."
Whatever happens in the future, Coble is glad he's giving a professional career an attempt.
"I'm very happy," Coble said. " It was disappointing how things ended with school. That left a bad taste in my mouth with basketball. This has kind of been a reboot. Getting back on the court, practicing every day and playing games every day, I think I'm in a real good place."