Weber's patience pays off at KSU
April, 5, 2012
4/05/12
5:25
PM CT
Bruce Weber had quite a week, easily the richest in his life and possibly the most hectic.
How many people can say they got to keep $3.9 million from their previous job (Illinois) and then were hired for a new gig (Kansas State) for $8.5 million over five years?
[+] Enlarge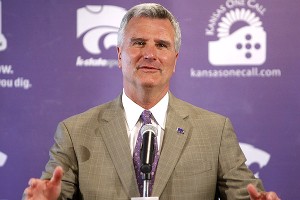 Bo Rader/Wichita Eagle/Getty ImagesBruce Weber was not unemployed for very long, out of a job for less than a month.
Well, probably only a handful of coaches in sports and Hollywood actors, among a few select professions.
"I had a good week last week," Weber said.
Weber was fired last month from Illinois. He said he was shocked over the way the season ended. But the Illini had floundered down the stretch and a blowout loss at Nebraska in February seemed to spell doom.
A season ago, he decided against pursuing openings at Oklahoma and Missouri. He wanted to stay as coach of the Illini and Meyers Leonard. His wife, Megan, didn't want to leave Champaign. Daughter Emily was finishing her freshman year at Illinois.
But the season spiraled out of control after a strong start that included wins over Gonzaga and Ohio State. Illinois lost 12 of its last 14 games.
Read the entire story
.
Senior college basketball writer for ESPN.com
22 years covering college basketball, including on TV
Former president of U.S. Basketball Writers Association
ABOUT THIS BLOG

Scott Powers
Powers is an award-winning journalist and has been reporting on preps, colleges and pros for publications throughout the Midwest since 1997. He joined ESPNChicago in May 2009 and lives in Chicago.

Adam Rittenberg
Rittenberg joined ESPN.com in 2008 after four years at the Daily Herald, where he covered sports at Notre Dame, Northwestern, DePaul and several other colleges. He lives in Chicago and writes for the Big Ten blog.

Brian Bennett
Bennett joined ESPN.com in August 2008 after nine years at The Courier-Journal in Louisville, Ky., where he covered college sports and the University of Louisville beat. He lives in Louisville and writes for the Big Ten blog.

Matt Fortuna
Fortuna joined ESPN.com in 2011 after working for MLB.com and the Pittsburgh Tribune-Review, where he covered college sports. He grew up in New York and is a Penn State graduate. Fortuna's Notre Dame blog is here.
2014 TOP ILLINOIS FOOTBALL RECRUITS
BLOG ARCHIVE:
CATEGORIES:
NDFootball Notre Dame Football
Our new field is almost done. Can't wait to play on it 8/30 before consecutive sellout No. 238! http://t.co/siNL8Be1mS
about an hour ago

coach_collins Chris Collins
Incredibly honored to be asked to coach USA Select team this week in Vegas! Feels great to be back with @usabasketball family!!
about 4 hours ago

coachbeckman Tim Beckman
Big 10 Media Day today with Jon Davis, Austin Teitsma, and Simon Cvijanovic. Go Fighting Illini!
about 7 hours ago

ajbulls Adam Jun
Noah: "Every day I work out that's all I think about, is just how great that party would be after we win the championship." - ESPN Chicago
about 16 hours ago

adidasHoops adidas Basketball
.@drose holding up two colorways of the #DRose5 at the #Boost launch event today in Vegas. http://t.co/9ThI7t5xzU
about 19 hours ago

coach_collins Chris Collins
Just wrapped up another July recruiting period! Really proud of my staff for the hard work they're putting in to find our future #B1GCats!
about 19 hours ago

ajbulls Adam Jun
Hey guys... "@Bballforeverfb: Just in case your forgot about D-Rose. http://t.co/60Z9Gb1C96"
about 22 hours ago

ajbulls Adam Jun
"Seeing those doubters out there, it's gonna be funny seeing them eat their words." - Derrick Rose http://t.co/gCkh69XvbN"
about 22 hours ago

JoeyThinCrust Joe Fernandez
Frank Thomas during his HOF speech: "Big thank you to Chicago. You guys made the Big Hurt who he was in the greatest sports city in America"
about 23 hours ago

ABC7Chicago ABC 7 Chicago
Frank Thomas, White Sox hitting legend, inducted into baseball Hall of Fame: http://t.co/1CEOuaBBA6
1 day ago

coachfitz51 Pat Fitzgerald
Slow down big fella..I saw you "throw" too.. MT "@coach_collins: Heard @coachfitz51 was a little wild on the mound today at Wrigley!
1 day ago

coach_collins Chris Collins
Heard @coachfitz51 was a little wild on the mound today at Wrigley! I will try to work with him for his next appearance!!
1 day ago

HowardSudberry Howard Sudberry
Great to have ole friend former #Bulls coach Doug Collins @Arlington_Park recently. He was red hot! @coach_collins http://t.co/VMRhmg1IVw
1 day ago

coachbeckman Tim Beckman
See everybody tonight at the Kickoff Party at the Schoolyard Tavern in Chicago! 5-7! http://t.co/DP3t2qAxjS
1 day ago

Addictd2Success Addicted2Success.com
"You will never change your life until you change something you do daily. The secret of your success is found in your daily routine."
1 day ago

SwagAir Daniel Poneman
As the July evaluation period comes to a close, I want to give a special mention to a friend and mentor @Howard_Moore http://t.co/CULai56vS3
2 days ago

DSpringd Coach Springer
Proud of former Wildcat receiver Jeremy Ebert!! Atlanta Falcons! #7 http://t.co/otlqmYrLFk
2 days ago

NUFBFamily #B1GCats Football
#NFLB1GCats RT @Mr_Mabin: Crazy how, today was the first time @Jebes11 & I ever lined up against eachother. #NU #ATL #RiseUp
2 days ago

ChicagoBears Chicago Bears
ICYMI: Check out highlights from the first practice of #BearsCamp. Watch: http://t.co/UNhleHkGED http://t.co/jVg0tOzVSU
2 days ago

JonGordon11 Jon Gordon
Instead of creating goals w/numbers I believe in having a vision and purpose that drives you to do more, be more, love more and care more.
2 days ago