Chicago Colleges:

2011 Big Ten tournament
March, 11, 2011
3/11/11
9:42
PM CT
INDIANAPOLIS -- Let the campaigning begin.
Over the next 48 hours, Illinois coach Bruce Weber will be on a mission to convince everyone that the NCAA tournament selection committee should include his Illini among the 68 teams in this year's bracket.
Weber will tout the Big Ten's wealth of talent. He will talk about Illinois' four top-50 RPI wins, six more top-100 wins and a 16th-ranked strength of schedule. He will also talk about Illinois passing the so-called eye test.
[+] Enlarge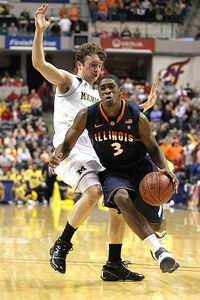 Andy Lyons/Getty ImagesIllinois' Brandon Paul drives against Michigan's Zack Novak in the Illini's loss Friday.
And Weber may get his way come Sunday. ESPN bracketologist Joe Lunardi still believed Illinois was in the NCAA tournament field as of Friday night.
But after watching an experienced Illinois team squander a 12-point lead in the final eight minutes Friday and collapse against another bubble team in Michigan, it's hard to walk away from the Illini' 60-55 loss and feel as if they really deserve to be in the tournament.
Friday's game against Michigan was thought to potentially be make or break for both teams, and Illinois broke under that pressure as it did last year when they missed the NCAA tournament cut.
With less than 10 minutes remaining in Friday's Big Ten quarterfinal, Illinois appeared as if it just might run away from the Wolverines. Illini sophomore
Brandon Paul
built their lead to 51-39 with a 3-pointer with 8:35 remaining.
It took five minutes, 32 seconds for Illinois to score again. And while Illinois was missing shots and turning the ball over possession after possession, Michigan climbed back into the game. The Wolverines closed the game out on a 21-4 run to ensure its own tournament chances.
"We kind of got tentative, we didn't attack the basket as much," Illinois senior
Mike Tisdale
said. "They make a few shots here and there. It's disappointing. We had a chance. They made plays and we didn't."
Fellow senior
Mike Davis
said: "It sucks we had the game. We had it controlled the whole game. … Just to a lose game, you're not supposed to lose. We had the game won. You let it slip out your hands. You just hope we don't let our postseason slip out of our hands, let the tournament slip out of our hands."
Like last season, Illinois had too much riding on the Big Ten tournament. The Illini didn't do enough again in the regular season to put its doubters to rest.
Last year, it was non-conference losses to Bradley and Utah and a 10-8 record in an average Big Ten that did Illinois in. This season it could be a horrendous loss to UIC at the United Center and an up-and-down 9-9 conference season, which included losses to Indiana and Northwestern in an improved Big Ten.
One difference from last season is Illinois' RPI is better. It was ranked 75th in RPI when the Illini were left out last year, but they are 38th this year.
"I feel like I we have done enough in the regular season to get us a strong bid," Paul said. "We feel like last year we might have got robbed a bit. Hopefully, this year will be a little different."
Tisdale was less optimistic after remembering what Illinois went through last year.
"That was our hope last year, and we're in the same spot," Tisdale said. "I don't really want to get the hopes up too high. I'm going to keep praying we do. It's out of our hands now."
There evidently will be a lot of praying going on in Champaign over the weekend.
"We just got to pray that we're in," Davis said. "I'm a little nervous right now. We're in the same spot as last year. We don't have 20 wins."
Weber didn't know what to think.
"You know, I feel that we played a tough non-conference schedule, we played quality opponents, we've beaten top-50 teams, you know, we competed in one of the best conferences in the country," Weber said. "But at the same time, we went through it last year, and you just don't know. You have to wait and see what happens over the next couple days, and if there are any upsets or anyone else sneaks in, because you don't know if you'll be the team to be left out.
"I thought if we would have won today, I would have been very confident that we'd be playing next week in the NCAA tournament. I still feel good, but at the same time we've just got to wait and see what happens with everybody else."
March, 11, 2011
3/11/11
9:09
PM CT
INDIANAPOLIS – Ohio State senior
David Lighty
laughed when asked if he was glad he wouldn't have to play Northwestern again in his career.
"Especially from this year, yes, I would say so," he said. "I'm happy about that one."
[+] Enlarge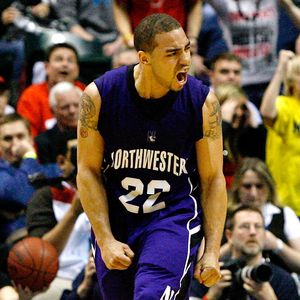 Chris Chambers/Getty Images Friday's loss was especially frustrating for senior Michael Thompson, who leaves with a goal unfulfilled.
Who would have thought Northwestern, which took Ohio State to overtime only to lose 66-61 on Friday at the Big Ten tournament, would be the team to give the country's premier team its greatest fits this season? Sure, Purdue and Wisconsin defeated the top-ranked Buckeyes, but both teams also lost by 20-plus points in their other meetings.
Ohio State never dominated Northwestern like that. The Buckeyes stumbled along in both their games only to find ways late to pull out narrow wins over Northwestern. The first time around they escaped with a one-point win in Evanston. And on Friday in the Big Ten tournament quarterfinals, they trailed by three points late in the second half, fought back to win in overtime.
For Ohio State, the wins were sighs of relief. But even if the Buckeyes had lost one or even both games, their season likely wouldn't have changed.
For Northwestern, they were two of the biggest missed opportunities in their program's history. Beating the nation's No. 1 team once or twice would have been major strides for an evolving program.
Instead, the Wildcats were left with that empty feeling of not reaching the NCAA tournament again coupled with two heartbreaking losses to Ohio State.
"Obviously two times this year, earlier on and this afternoon, it's just a devastating feeling," Northwestern sophomore
Drew Crawford
said. "Such a close game, especially against the No. 1 team in the nation, it's such a great opportunity, so it's always tough."
The disappointment was draped on Northwestern coach Bill Carmody's face in the postgame press conference. He shook his head more than once as if he replaying the game in his mind.
"Well, you know, very tough, tough loss for us," Carmody said. "You know, I thought as a team we did what we wanted to do going in and executed the way we wanted to at both ends. You know, just weren't able to quite get it done.
"I think we have a good team, so you'd like to win those games, and you could see it from the guys. They came here to win and thought they could, and we were right there. I'd say disappointment."
The loss was especially difficult for Northwestern's leader
Michael Thompson
. Losing Friday meant he would never play in a NCAA tournament game in his career.
Thompson tried to stay positive about it.
"Obviously we came down here to win it, not just to play teams close," Thompson said. "You know, but we just have to move past it. It's definitely going to be a long bus ride back to Evanston, but just have to move past it and focus on the next postseason."
Northwestern could be NIT bound for a third consecutive season, which would be a school record, but that won't be certain for the next few days.
"We're hoping for the NIT," Crawford said. "I love this team. I want us to be able to continue to play this year. I'm hoping we can make it."
March, 11, 2011
3/11/11
3:49
PM CT
INDIANAPOLIS – Here's a quick look at Michigan's 60-55 win over Illinois in the Big Ten tournament quarterfinals on Friday.
How the game was won:
Michigan trailed by as many as 12 points in the second half before coming on in the last eight minutes. Michigan's offense ignited, and Illinois' offense disappeared when the game mattered most. The Wolverines outscored Illinois 21-4 in the final 8:09.


Turning point:
Down 51-39 in the second half, Michigan was on the verge of being run out of the building. But then Evan Smotrycz gave the Wolverines life with a 3-pointer with 8:09 left. Darius Morris followed with a layup. Smotrycz drained another 3-pointer. Morris added two more baskets, and the game was tied with 3:31 left. Shortly later, Tim Hardaway Jr. made a 3-pointer to put Michigan ahead 56-53.
Stat of the game:
Illinois shot 8 of 24 from the field in the second half.
Player of the game:
Hardaway Jr. came through in the clutch. He scored 10 of his 16 points in the second half.
Illinois player of the game:
Brandon Paul's defense was stellar. He had five steals to go along with 10 points, six rebounds and four assists.
What the game means:
The win should put Michigan into the NCAA tournament, and the loss will have Illinois sweating for a second consecutive selection on Sunday. Michigan's comeback was impressive, but so was Illinois' collapse.
March, 11, 2011
3/11/11
1:29
PM CT
INDIANAPOLIS – Here's a quick look at Ohio State's 67-61 overtime win over Northwestern in the Big Ten tournament's quarterfinals on Friday.
How the game was won:
Ohio State has now broken Northwestern's heart twice (Ohio State won by one in Evanston), and this time around was especially excruciating. The Wildcats led by three points late in the second half and relinquished the lead to allow overtime. The Buckeyes, especially freshman
Jared Sullinger
, were dominant in overtime. Ohio State dropped the ball down to Sullinger, and he went to work. He was fouled five times and connected on all 10 of his free throws.


Turning point:
Northwestern center
Luka Mirkovic
was the hero when he drained a wide-open 3-pointer to pull the Wildcats within 56-55 with 3:40 remaining in overtime. At the other end, he changed that status. He fouled Sullinger, threw his mouthpiece to the floor in disgust, was called for a technical and fouled out of the game. Ohio State only capitalized by making two of the four free throws, but his absence on the floor freed up room for Sullinger. Ohio State closed the overtime on an 11-6 run.
Stat of the game:
Ohio State was unconscious from 3-point range against Wisconsin in the Big Ten regular-season finale, hitting 14 straight. On Friday, the Buckeyes returned to reality, missing their first seven and shooting 1 for 9 in the opening half. They finished 7 of 21 for the game.
Player of the game:
Sullinger wasn't especially effective scoring inside, but he got to the line and his free-throw shooting decided the game. He sank all 10 of his free throws in overtime and was 16 of 18 for the game. He finished with 20 points and 18 rebounds.
Unsung hero:
Aaron Craft
plays major minutes for the No. 1 team in the country, but he's not even the most famous freshman on his own team. But on Friday, Craft was nearly as good as freshman pal Sullinger. Craft scored 17 points and grabbed seven rebounds off the bench.
Northwestern player of the game:
John Shurna
looked like the dominant player he was early in the season. He scored a game-high 23 points in the loss.
SportsCenter highlight of the game:
Sullinger hasn't been humbled much this season, but he was during the opening half on Friday. Turning to his right and going up for a layup, Sullinger never saw Shurna approaching from the left. As Sullinger put his shot up, Shurna flew into the picture and swatted Sullinger's shot out of bounds.
What game means:
Ohio State is still the team to beat in the Big Ten tournament. The Buckeyes were sluggish at times Friday, but came through when it mattered most. For Northwestern, this one is tough. Its NCAA tournament hopes were dashed again. The Wildcats have never reached the NCAA tournament and will have to wait at least one more year to achieve that goal. Northwestern graduates four-year starting point guard
Michael Thompson
, but will return four of its starters. If invited, the Wildcats will play in their third consecutive NIT.
TOP 25 SCOREBOARD
Saturday, 12/21
Monday, 12/23
Tuesday, 12/24
Thursday, 12/26
Friday, 12/27
Saturday, 12/28
Monday, 12/30
Tuesday, 12/31
Wednesday, 1/1
Thursday, 1/2
Friday, 1/3
Saturday, 1/4
Sunday, 1/5
Monday, 1/6
TOP PERFORMERS