Chicago Colleges:

2011 Champs Bowl
December, 30, 2011
12/30/11
9:00
AM CT
1) Another quarterback controversy awaits:
Dayne Crist
beat out
Tommy Rees
going into 2011, then lost his job after one half.
Andrew Hendrix
replaced Rees after the first half of the last regular-season game, and neither impressed in shared action during the
Champs Sports Bowl
. Freshman
Everett Golson
sat out this season and figures to compete in the three-man offseason race that can play a big role in determining Notre Dame's 2012 season and beyond.
2) Turnovers are killer:
Evidently this wasn't learned, as Notre Dame began its season with a goal-line fumble and five-turnover performance in a loss and ended it with a pair of end-zone interceptions that proved costly in a game in which offensive opportunities were hard to come by.
3) The front seven has bright days ahead of it:
Five sacks, seven tackles for loss and four hurries have to get Notre Dame fans excited about the future of the front-seven, especially the young defensive line. In their first years playing, Aaron Lynch, Stephon Tuitt and Louis Nix all stood out, making life miserable for E.J. Manuel and the Florida State offensive line for three quarters. Throw in the return of Manti Te'o next season and the pass rush could be lethal.
4) Special teams actually played in ND's favor:
Few expected that given the teams' performances in the regular season. But
Michael Floyd
's 41-yard punt return was 38 yards more than Notre Dame's net punt return yards on the season,
George Atkinson
had a 37-yard kick return to open the second half that set up a touchdown drive and Ben Turk pinned FSU at the 1 when Notre Dame needed him to most. Of course, a 77-yard return by Lamarcus Joyner stings, but Notre Dame's defense made sure the Seminoles got only three points out of the field position.
December, 29, 2011
12/29/11
10:36
PM CT
ORLANDO, Fla. -- Here are the players who stood out in defeat, as Notre Dame closes it season with an
18-14 loss
to Florida State in the Champs Sports Bowl to finish 8-5.

Manti Te'o
: The junior could have improved his draft stock had he not already announced his intentions to come back. Te'o had a game-high 13 tackles and forced a fumble that Zeke Motta recovered and returned 29 yards for the lone score of the first half.
Michael Floyd
: The senior who re-wrote the Irish record books impressed in his finale, making a ridiculous 5-yard touchdown grab and returning the game's first punt 41 yards, which was 38 yards more than the Irish had amassed on punt returns the entire season. A dropped deep ball and an upper body injury that forced him to sit out much of the second half does not dent the night he had. The game captain had five catches for 41 yards.
Tyler Eifert
: The junior tight end still has not decided on his future yet, but if this was his last college game, he went out in style. Eifert caught a game-high six passes for 90 yards, repeatedly making Florida State pay over the middle.
Jamoris Slaughter
: The hybrid linebacker/safety recorded a pair of sacks, which were two more than he had his entire career entering the game. He helped a pass rush that sacked
E.J. Manuel
five times and made life difficult for the Seminoles offense for three quarters.
Aaron Lynch/Stephon Tuitt
: The freshmen ends were a force to be reckoned with all night, combining for eight tackles, three tackles for loss, 2.5 sacks and four hurries.
George Atkinson III
: The freshman return man had a 37-yard kick return to open the second half, setting up Notre Dame for its first and only touchdown drive. He then made a saving tackle on Lamarcus Joyner on the ensuing kick return, which went for 77 yards and set up an FSU field goal.
December, 29, 2011
12/29/11
10:35
PM CT
ORLANDO, Fla. -- One team surrendered five sacks, averaged 1.4 yards per rush and gave up a defensive touchdown.
This was the other coach after the game:
"We turn the ball over. And we cannot win football games at the highest level if we continue to turn the ball over. The coach has got to get better. The players got to get better and we have to solve this issue if we're going to be an elite football team."
That was Brian Kelly, because his Notre Dame team gave up four sacks, gave the ball away three times -- including two end-zone interceptions -- and was actually outgained by 10 yards in a Champs Sports Bowl that was anything but an offensive clinic.
Florida State emerged on the winning end of
an 18-14 contest
Thursday, bouncing back from an atrocious first half and a two-touchdown deficit to rattle off 15 points in the final quarter and finish 9-4 on the season.
Thirty minutes before the final horn, it looked like the Seminoles would have trouble even getting on the board.
Four sacks, two false-start penalties and a fumble that Irish safety Zeke Motta returned 29 yards for the half's lone score highlighted a less-than-inspiring offensive performance. Much of the third quarter played out in similar fashion, though Dustin Hopkins did manage a 42-yard field goal to get Florida State on the board -- after a 77-yard kickoff return was followed by a four-play, minus-3 yard drive.
But
EJ Manuel
scraped together the game's most impressive drive just as the third quarter was winding down, taking the Seminoles 84 yards in 10 plays, the last of which -- an 18-yard touchdown pass to
Bert Reed
-- kicked off a fourth quarter that the Irish will want back.
The second half of Notre Dame's two-quarterback system,
Andrew Hendrix
, threw an interception to Nigel Bradham three plays later, and Manuel capitalized two plays after that by connecting with game MVP
Rashad Greene
for a 15-yard score to make it 15-14. Greene finished with 99 yards on five catches.
[+] Enlarge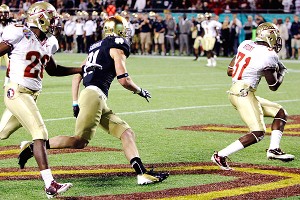 AP Photo/John RaouxThis interception by Terrence Brooks, right, ended Notre Dame's chances at a late comeback.
Field position, poor punting and a facemask penalty allowed Notre Dame to begin its second-to-last drive at Florida State's 28, but the Irish's chance went out the door when
Tommy Rees
' pass for the double-covered
John Goodman
was picked off in the end zone by Terrence Brooks.
Rees took the Irish to the Florida State 4 on the their first drive of the game, but was picked off in the end zone that time by Lamarcus Joyner.
Notre Dame entered with the plan to play both sophomore quarterbacks, and Rees saw most of the action. He completed 16 of 27 passes for 163 yards and a highlight-reel worthy touchdown, which
Michael Floyd
hauled in from five yards out after ripping the ball away from Greg Reid, bobbling it five times and hanging on for good while absorbing a hit from Bradham. Both Floyd (upper-body injury) and Reid (concussion) were hurt on the play and did not return.
Hendrix, who was used sparingly throughout the season, finished 3 of 8 for 24 yards.
"It's all those things -- frustrating, disappointing," Rees said. "It's not something you can hang your head on, though. As a quarterback and a leader you got to keep your head up regardless of the situation and be there for your teammates. The worst part is sending your seniors off with a loss, and a game that we had an opportunity to win makes it that much worse."
Kelly laughed at the notion that he started at Notre Dame in 2010 as an offensive guy -- "Well, I guess I'm not an offensive guy" -- and said earlier that the unit has some catching up to do after the performance his defense put forth.
"It's nice to be able to talk about a Notre Dame football team that plays championship defense, because they did that today," Kelly said. "Now we've got to get our offense obviously to play that level as well, and that will be the next step for our football program, is getting our offense to play at the same level that our defense is evolving to."
Coming off an 8-5 campaign, Notre Dame entered 2011 with BCS-bowl hopes and a quarterback controversy. On its first drive of the season, a goal-line fumble portended a two-week opening stretch that saw two close losses, 10 total turnovers and postseason goals all but go up in flames.
More than 16 weeks later, the campaign ended in a turnover-plagued slugfest that saw Notre Dame's final chance get picked off in the end zone.
"We see it as we could've run the table this year," Floyd said, "but with our mistakes and not being disciplined at certain times, we fell short."
December, 29, 2011
12/29/11
7:00
AM CT
A pre-January bowl meeting and regular seasons that failed to meet lofty preseason expectations have provided no hiding for Brian Kelly and Jimbo Fisher. Just look at Wednesday, when the second-year head coaches were asked during their final pre-bowl press conferences about restoring their respective programs back to glory.
No, a Dec. 29 finale in the Champs Sports Bowl is not what Notre Dame or Florida State had in mind when summer talk focused on BCS bowl berths and returns to greatness. But the pair of 8-4 teams have found consolation in the opportunity to take down the other and go into 2012 on a high note.
[+] Enlarge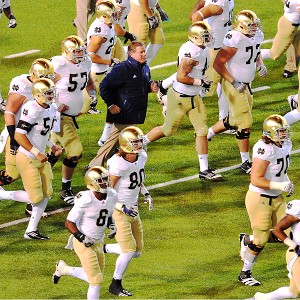 Matt Cashore/US PresswireNotre Dame coach Brian Kelly cited a bowl game's value in building team chemistry.
"I think it starts with the ability to keep your football team together for another month," Kelly said of what it will take bring Notre Dame back to its prominent status. "The ability to build more relationships and bonds with your players. You're still evaluating and giving opportunities to freshmen that may not have that chance to go out and prove themselves. I think there's a lot of things that go into having a bowl game. The game itself as a win/loss is not going to change the direction of your program. Certainly it's going to make you feel good about yourself going into the offseason, but all of those other things are much more important than actually singularly one game."
Said Fisher, in response to a similar question: "Recruiting, a little bit of luck, and staying healthy. You have to understand the culture. It's not been two years or three years since we've been on the top, it's been 10. That's something we have to change. I've said all year that I've been pleased with how our players practice. Their effort, their tenacity, they break out the distractions. And then the football gods have to be on your side a little bit, too. Sometimes the ball's got to bounce your way. We've got a good recruiting class this year and I think we'll have another great year next year. And hopefully a great game tomorrow."
Ten turnovers and two mind-boggling defeats to start 2011 all but sealed Notre Dame's fate for Orlando, Fla., from the early going. An 8-2 finish that featured a brief return to the national rankings showed what the Irish were capable of, but the sour taste from an 0-2 start lingered.
Florida State, meanwhile, saw a 2-0 start give way to three consecutive losses, dampening its BCS-bowl hopes and, like the Irish, leaving many to wonder what could have been.
The offensive-minded Kelly saw the Irish notch at least 500 yards of offense five different times this season, as they averaged better than 45 more yards per game than a season ago. But that was tempered by 26 turnovers and the fact Notre Dame is closing the season with another quarterback controversy (
Tommy Rees
or
Andrew Hendrix
), albeit a different one from the beginning of the campaign (Rees or
Dayne Crist
).
"I would look at it as we're still evolving," Kelly said. "From last year to this time there has been a process of evolution for our entire offense and it's still ongoing. It's ongoing as we speak relative to our offensive players understanding our system and of course in the recruiting area."
The Seminoles saw their growth on the defensive side of the ball, where they finished the regular season sixth in the nation in total defense, fourth in points allowed and second against the run — way up in all categories from last season (when they finished 39th, 24th and 26th, respectively).
"Are we disappointed about the wins?" Fisher said. "Yes, we wish we would've won more games. I mean, you'd like to win them all. But for a young football team to deal with distractions, with criticisms, the things that come with not winning as many games as you'd like to, they never lost faith in each other. In fact, it maybe made them closer. I feel very good about the future."
But the future must wait until this season is finished, and Thursday's matchup will provide one last opportunity for each side's seniors to end their careers on high notes.
And for Notre Dame, it's a chance to notch a nine-win campaign for the first time since 2006, before any current players came aboard.
"I feel like it's all that matters," senior end Ethan Johnson said of win No. 9. "It's all that matters. It's what we're focused on right now. Everyone says you take each game as it comes. That's very true. But there's a limited amount of time you can focus on each game in a season. And for this game we've had a long time to focus on it, and we're going to stay focused on it, and we're gonna continue to work and prepare and get ready to play our best football. And there's no reason why we shouldn't do that. No reason why we're not going to do that. We're going to do that.
"We're gonna continue to focus and practice hard and have fun while we're doing it. But yeah, it's really all that matters is getting this win, especially for the seniors. For the juniors, sophomores, freshmen, high school kids coming in — we're all pulling for it and we're all just gonna do the best we can because I came here my freshman year. And I'm a guy who believes you leave something better than it was when you came. I definitely wanna do that. I wanna leave this place better than when I found it."
December, 28, 2011
12/28/11
8:19
PM CT
Michael Floyd
will get to be a captain after all.
The senior wide receiver, who was slated to be a season captain before a third alcohol-related offense this past March landed him on probation, will join season captain Harrison Smith for the pregame coin toss before Thursday's Champs Sports Bowl against Florida State.
"I think I've said this before, but you're in this business because you really love being around 18-21 year-olds and their development: their development as football players and their development as young men because there is so much time that you invest," coach Brian Kelly said Wednesday. "In this profession, when you get to see a guy change his life after adversity, that's really what makes it special.
"He has exhibited all the things necessary that we have asked him to do. He's gotten his degree from Notre Dame, he's lived his life the right way and he's been extraordinary in his preparation and practice. Therefore we are going to name him the game day captain along with Harrison Smith for this game. He exhibits all those traits that we feel are important to be a game day captain."
Since Floyd graduated this month, he is technically off probation, which prevented him from being a game captain during the regular season.
December, 28, 2011
12/28/11
8:19
PM CT
SOUTH BEND, Ind. -- At some point during Thursday's Champs Sports Bowl,
Andrew Hendrix
will replace
Tommy Rees
. It might be for just a few plays, it might be for the rest of the game, but Rees' reaction will likely be the same regardless of the circumstance.
"When I went in versus Stanford, that was really the first time it had been switched," Hendrix said. "And just like I was supportive to him when he comes off the sidelines, I'll say stuff to him, I'll try to get him pumped up -- he could not have been more supportive in the Stanford game. When I went in he said, 'If there's anything you need. Even during a play look over, I'll try to help you out the best I can.'
[+] Enlarge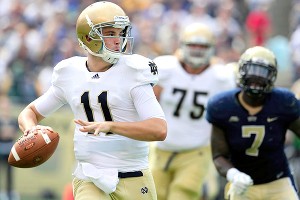 Jeanine Leech/Icon SMITommy Rees (11) and Andrew Hendrix remain close despite their competition on the field.
"And I really felt like that was maybe a defining moment for me in our friendship, is that this guy has my back no matter what."
The sophomore signal-callers are among the best of friends away from the field, a task that is considerably easier when they are not directly competing for playing time. But as Hendrix and Rees face Florida State and audition for next season's starting quarterback spot, the bond between the two has only strengthened.
"Yeah, we put that away," Rees said. "We don't really talk about football when we're not here. We joke around with each other a lot, give each other a hard time, and that's just kind of the relationship we've had. And it's definitely helped us out just kind of bonding and keeping the quarterback room close."
Hendrix befriended Rees, an early enrollee, from the beginning of his Notre Dame career. Last winter -- after Rees assumed starting duties following
Dayne Crist
's season-ending injury and while Hendrix bided his time during a freshman season relegated to the sideline -- Rees visited Hendrix and his family in Cincinnati. They went to a basketball game at Moeller High School, Hendrix's alma mater, and they visited Rees' sister at her school, Miami University of Ohio.
Rees returned the favor by hosting Hendrix in Lake Forest, Ill., last summer for Independence Day.
"It was fun. It was fun," Hendrix said. "Apparently the Lake Forest parade is something to celebrate. But it was fun. They had this big party on their lawn, so it was cool."
During down time together, the Irish quarterbacks have a less-than typical way of socializing.
"Sometimes we're singing," Hendrix quipped. "He's not very good."
As for Hendrix?
"I'm OK," Hendrix said. "I think I'm good but he says I'm not. He says I sing like a girl. We watch 'Glee' every Tuesday. That's kind of our show."
For now, the two have a much more serious competition taking place on the football field, though this battle is free of trash-talk.
"I think we were kind of forced to do it a little bit," Rees said of their relationship developing. "We had talked before we even got here, and both being the two quarterbacks in the class, and just being together so much within football, we just formed a really strong bond. I consider him one of my closest teammates and it's just something, he's a great guy and something that's kind of turned into a pretty good relationship."
December, 28, 2011
12/28/11
8:18
PM CT
Kez McCorvey still shows his players the catch 18 years later. In the film room of Bethel (Tenn.) University, the Wildcats' wide receivers coach focuses on the details of the play, "560 vertical," and not so much on the circumstances surrounding it, which NBC play-by-play man Charlie Jones summed up thusly:
"So the perfect season for the Seminoles, Bobby Bowden's shot at the national championship, coming down to this play. It is fourth down and goal to go. Twenty-yard line. 2:31 left."
Eventual Heisman Trophy winner and NBA point guard Charlie Ward took the shotgun snap from the 20, dropped three steps and fired a bullet over the middle that looked destined for the hands of Notre Dame safety Brian McGee. Instead, the ball dropped into McCorvey's hands for the touchdown, cutting the Irish's lead in half and granting Florida State new life in what was then the Game of the Century -- Nov. 13, 1993.
[+] Enlarge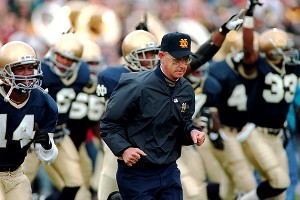 Photo/Joe RaymondLou Holtz's Irish team upset No. 1-ranked Florida State in 1993.
"My guys here, they'll get plays they think we just invented or something," said the 39-year-old McCorvey, who still gets on the practice field to demonstrate routes for his NAIA pupils. "And I'll tell them we've been running that play forever. 'Look here on YouTube. I'm old as dirt, we're not even doing a good job of doing it and I'm slow and old and I can score, so here.' "
The improbability of the play had McCorvey and his teammates thinking fate had intervened -- "I don't wanna make it sound like Florida State is all that and a bag of chips, but we'd just never been in a situation where we'd been out of a game, so we just never quit."
The celebration, however, was short-lived, one of many twists and turns of a season that saw No. 2 Notre Dame upset No. 1 Florida State, 31-24, only to watch the Seminoles be declared national champions less than two months later despite having the same number of losses.
The schools will renew their rivalry in Thursday's Champs Sports Bowl in Orlando, Fla., a smaller stage later in the year that will lack the 800-plus media members, dozens of fake credentials, coach's dinner party and rapid trash-talking that surrounded South Bend, Ind., that fall week in 1993.
The messages that week, at least from up top, could not have been any more different.
"Leading up to it, obviously Coach Holtz's thing was at the beginning that we may get beat by 50, and that was just Lou Holtz, that's just how he handled things," said former Irish safety Jeff Burris, who scored the Irish's last two touchdowns of the game as a running back. "And by Monday or Tuesday, 'We'll be happy to be in the game by halftime.'
"Just his mentality was that way, but he was always focused on, 'If we do this the right way it might be a game.' And by Thursday or Friday it was, 'We'll win this game, and this is how we'll win this game.' "
For Florida State, meanwhile, it was business as usual.
"I would love to tell you we did it bigger than the Miami game, but we didn't," said McCorvey, citing a win over the No. 3 Hurricanes a month earlier. "Nothing against Notre Dame, but we felt like since we beat Miami we could win the national championship, so we'd been accustomed to that type of pressure. Coach Bowden, too. It wasn't as big a deal going into games -- the pressure, game situations. So we didn't do a whole lot of things that we hadn't done before."
Yet McCorvey couldn't help himself during the week leading up to the game, making references to "Rock Knutne" and being quoted as saying: "I appreciate what Notre Dame has accomplished, but those old guys don't play anymore. You can't win with mojo or magic. Joe Montana isn't going to put on the pads and win for them."
"I think it was a little bit of ignorance with the Knutne comment," McCorvey laughed. "That was me being young."
Still, the scene was unlike any all parties involved had ever been a part of.
Tickets were going for $1,000. ESPN's "College GameDay" was making its first on-campus appearance, albeit in front of just a few dozen loyal fans stationed on the concourse of the Joyce Center, where Notre Dame's basketball team plays.
"You can tell this is not just a football game; this is a happening," host Chris Fowler said on the air. "Paul Azinger, Roger Clemens, Spike Lee — lots of folks are gonna be here. Al Gore. Andre Agassi. Some others got turned down. As further proof this is transcendent-game status."
Signs in the parking lot offered assets such as an Orlando vacation or a Mercedes-Benz for entrance into Notre Dame Stadium that day.
"When they said it was the Game of the Century," former Irish quarterback Kevin McDougal said, "it really was."
Two days before the game, Holtz and his wife, Beth, invited 50-60 media members stationed in South Bend over to their Woodland Hills home, 10 minutes from campus.
"My then fiancée and I arrived in South Bend on Thursday," Michael Messaglia, Holtz's son-in-law, said. "Expecting a quiet night at her parents' house, we arrived to a house full of reporters."
After Beth Holtz sent reporters out with cookies in napkins as they left, and after Holtz handed out small boxes of golf balls, the Boston Globe's Dan Shaughnessy wrote in his day-of-game column:
"That settled it. It doesn't matter if Florida State wins today by four touchdowns; I will write only good things about Notre Dame. I have broken bread with Lou. After today's game of the century, I will have only one question.
"What time is dinner before the BC game?"
Of course, the high of Shawn Wooden knocking down Ward's final pass of the Game of the Century was met the following week with a hangover against Boston College, as the Eagles engineered a 41-39 shocker that played a pivotal role in deciding the national championship.
Notre Dame beat Texas A&M in the Cotton Bowl on Jan. 1. Florida State won its last two regular-season games before topping undefeated Nebraska in the Orange Bowl the same day.
The Seminoles finished atop both The Associated Press and coaches' polls, giving Bowden his first national championship, though the regret wasn't limited to the Irish's side.
"You look back and you think you won the national championship, but you wanted to go 13-0," McCorvey said. "You wanted to not lose a game that whole year and leave your legacy as one of the best teams that ever played. The Notre Dame loss was something that kind of tarnished that a little bit."
December, 22, 2011
12/22/11
8:00
AM CT
SOUTH BEND, Ind. — Aaron Lynch and Louis Nix will end their first seasons of playing college football in Florida — just not the way each once thought he would.
The Sunshine State natives both committed to schools in Florida before switching their allegiances to Notre Dame. Lynch, from Cape Coral, was a Florida State commit; Nix, a Jacksonville native, had committed to Miami.
As the Irish prepare to face the Seminoles in Dec. 29's Champs Sports Bowl in Orlando, Fla., Brian Kelly has noticed the extra pep in the step of the pair of first-year players, along with the eight other Florida natives on Notre Dame's roster.
"They're so excited about the game, especially the Florida kids," Kelly said. "Listen, just wait until [Dec. 29], and wait for the game to speak. Don't go outside the realm here. So that's been really the only conversation that I've had."
Lynch and Nix, who were not available to the media in the lead-up to the bowl game, have burst onto the scene this season. Lynch, a true freshman, has started five games at end, recording 4 sacks, 5.5 tackles for loss and 13 quarterback hurries, by far the most on the team.
[+] Enlarge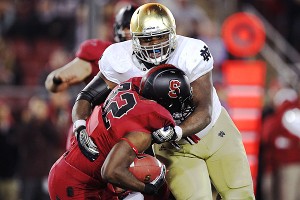 Ezra Shaw/Getty ImagesDefensive tackle Louis Nix is one of 10 Florida natives on Notre Dame's roster.
Nix is in his first season playing after sitting out his freshman season in 2010, losing more than 40 pounds along the way. Ten starts, 42 tackles and 4 tackles for loss have marked his sophomore campaign, which was much more eventful than anticipated as fellow nose guard Sean Cwynar battled a broken right hand in the first half of the season.
"I would say that all of them have stepped into a role that increasingly grew as the season went on based on injuries and based on the need for them to play," defensive line coach Mike Elston said. "I think that they've managed it very well and I think that they've handled the expectations that people have put on them — not necessarily the coaches, but that people have put on them. They've handled themselves really well and I think they're going to be very good players. They're not there yet, they have a lot of work to do. They know that and I'm excited about the progress right now."
Senior end Ethan Johnson, back at full strength following a right-ankle sprain that limited him for much of the season, can understand why the season finale might mean a little more for the younger linemen.
Throw in fellow freshman end Stephon Tuitt, a Monroe, Ga., native who has impressed this season, and the defensive line is in for quite the homecoming next week.
"Of course it's exciting for them to go home," said Johnson, a native of Portland, Ore. "If I was going to Oregon I'd be really excited. But I don't think it will affect the game at all. I'm sure they're gonna play just like they would if it was any other game, which is well. They're gonna play well.
"And they're gonna get after it and you always wanna leave the field, especially the last game, feeling like it was your best game, and I feel like that they're gonna do that — they're gonna have their best game of the year. There's no reason why they shouldn't in front of all their family, and it'll be a great experience for them."
December, 5, 2011
12/05/11
6:09
PM CT
Florida State Seminoles (8-4) vs. Notre Dame Fighting Irish (8-4)
Dec. 29, 5:30 p.m. (ESPN)

Florida State take by ACC blogger Heather Dinich:
As far as preseason expectations go, this is not where Florida State wanted to be or was projected to be.
Considering the turn the season took, though, it's exactly where the Seminoles should be. Florida State, which was ranked No. 6 in the AP preseason poll and predicted by the media to win the ACC title this year, enters the game against Notre Dame struggling offensively. FSU is No. 99 in the country in rushing offense, and No. 111 in sacks allowed.
Florida State has thrived this year, though, on its defense and special teams. FSU is No. 9 in the country in sacks, No. 5 in tackles for loss, No. 6 in total defense, No. 4 in scoring defense, and No. 2 in rushing defense. It also claimed another unofficial "state championship" this year, with wins over rivals Miami and Florida.
This marks the second appearance by FSU in the Champs Sports Bowl, as it defeated Wisconsin 42-13 in the 2008 game. FSU has a 24-14-2 (.625) record in 40 bowl appearances, the sixth-best percentage record by a school with 15 or more bowl appearances. The Seminoles will be facing the Fighting Irish for the seventh time, having won four of the previous six meetings, including a 37-0 win at South Bend in 2003.
---

Notre Dame take by Notre Dame blogger Matt Fortuna:
A season that began with BCS-bowl expectations, a No. 16 ranking and
Dayne Crist
as a starting quarterback will come to an end in the Champs Sports Bowl, unranked and possibly without Crist.
Notre Dame's 0-2 start made this Dec. 29 trip to Orlando, Fla., almost a foregone conclusion. Losses along the way to USC and Stanford confirmed it.
Tommy Rees
will start for the Irish against Florida State, his 12th straight start since replacing Crist in Week 1. Crist's release was granted by Brian Kelly, who said Crist's status for the bowl game is uncertain.
Andrew Hendrix
, who replaced Rees at Stanford, will see some time as well.
The Irish are led by receiver
Michael Floyd
on offense, as the senior will look to end his career with an exclamation point after rewriting the school record books. On defense, junior linebacker Manti Te'o is projected as a first-round pick and could be making his final appearance in a Notre Dame uniform as well.
The Irish will field a young team next season against a brutal schedule, and they will benefit from the extra practice time a bowl game brings, not to mention a test against one of the nation's toughest defenses in Florida State. A win would be No. 9 on the season and mark at least statistical improvement in year two under Kelly, who went 8-5 last season.