Chicago Colleges:

2011 NFL draft
April, 28, 2011
4/28/11
4:24
PM CT
Andre Holmes
was filling out his goal sheet following his second season at Division II Hillsdale College (Mich.) when he came across a question he didn't know how to answer.
The question read, "Football after college?"
Holmes had never considered playing professionally. He nearly gave up the sport because he didn't see a future in it as a sophomore at Conant High School in Hoffman Estates, Ill. Even when he began to show some promise as a 6-foot-4 wide receiver as a high school senior, no Division I schools bothered to give him a look.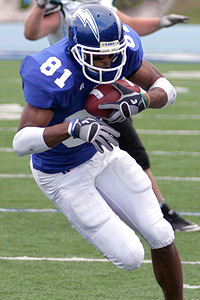 Courtesy of Hillsdale College Former Conant standout and Hillsdale College receiver Andre Holmes has the size (6 foot 4, 210 pounds) NFL teams love.
Holmes left the question blank and asked Hillsdale College offensive coordinator Barry Fagan for his opinion on his potential.
"He said, 'If you keep working, why can't you play at the next level?'" Holmes said.
With that, a light went on for Holmes. He began asking himself that same question. Why can't I play at the next level?
Three years later, Holmes is about to realize that goal.
Following junior and senior seasons where he combined for 181 catches, 2,444 yards and 17 touchdowns, crushing all of Hillsdale's records, and holding his own at the NFL draft combine, Holmes has given himself a shot to be selected in the NFL draft or at the very least be a team's free agent priority.
"I don't really have a clue right now," Holmes said of the draft. "It depends on how the cards play out. It could be anywhere from the fourth [round] to undrafted. My agent feels like I'll get drafted, and he's very confident with that. I know I'm going to get a call asking me to wear the jersey of some team. I'm going to come into training camp and work hard."
Holmes knows that path well. It's his work ethic that propelled him to where he is now.
The son of former DePaul basketball star Kevin Holmes, Andre was blessed with some natural athletic ability and size. Even in high school, Conant coach Bill Modelski saw Holmes' potential. That's why Modelski convinced him otherwise when Holmes contemplated quitting football for soccer.
"We were like, 'No,'" Modelski said. "I'm like, 'Listen, we have a plan for you, stick with it. Thank God he did. By his senior year, he blossomed into a very good receiver, and you could tell he wasn't done growing. He was going to keep developing.
"Some people missed the boat on him. There wasn't a lot recruiting interest in him. I made contact with several Division I-AA schools, and many never even called me back. Hillsdale College was interested, and the rest is history."
Hillsdale coach Keith Otterbein can understand why Division I schools weren't willing to give Holmes the time of day. Even at the Division II level, Holmes was a risk.
"There wasn't a large volume of tape on him to say he was a good player," said Otterbein, whose program also recently produced
Oakland Raiders
starting offensive tackle Jared Veldheer. "Even with his size, potential and upside, obviously a lot of people passed on him because it wasn't backed up with high school tape. What we did is take a chance on that potential to come through. Five years later, we look smart, but we were taking a chance."
Holmes arrived at Hillsdale as a 6-4, 180-pound freshman, and Otterbein's first move was to redshirt him. Holmes was going to need time if he had any chance to succeed.
Holmes understood that as well. It didn't take long before he was in the team's weight room, trying to add muscle to his lean frame.
With each year, Holmes took steps forward. He put on a few extra pounds. He gained strength. He added speed. When the team got together for its yearly weight-lifting competition, Holmes always beat his personal bests from the season before, and even has a collection of t-shirts to show for it.
"Every year we have a series of seven tests, and if you get five or more personal bests, you get a t-shirt," said Holmes, who is now 210 pounds. "Every time, I got a t-shirt. I kept progressing every year. It's basically you have that self-drive to get better every day. That's what I looked forward to. The motivation was I wanted to be a better player the next year."
On the field, he learned to utilize his added tools along with what he already had in height and athleticism. Once he put them all together, Holmes became an opposing defense's nightmare.
As a senior, he had 30 more receptions and 468 more yards than other wide receiver in his conference. In the first round of the playoffs, he had 16 catches for 208 yards.
The numbers caught NFL scouts' attention, earning himself an invitation to the NFL draft combine. There, he continued to impress. He ran a 4.53-second 40-yard dash, had a 35-inch vertical, bench-pressed 225 pounds 11 times and had a broad jump of 130 inches. His broad jump was one of the best at the combine, and his other results were competitive with the other wide receivers.
Holmes' performance led to a visit with the
Dallas Cowboys
, a private workout with the
New England Patriots
and a regional workout with his hometown
Chicago Bears
. The
Baltimore Ravens
have also expressed interest in him.
Holmes ultimately doesn't care who drafts him, but he admitted playing for the Bears would be special.
"There's a lot of teams who have contacted me for my contact information," Holmes said. "The Bears are one of them. I've talked to Jerry Angelo. I feel it's a definite possibility."
Otterbein hopes Holmes is drafted, but more importantly he believed Holmes will have to prove himself at an NFL camp to stick around.
"He'll either be a late-round guy or someone will get a steal as a free agent," Otterbein said. "I think he's good enough to play in the NFL. I'll put it that way. I really do.
"I hope he gets that one-day glamour of being drafted. The life-changing part isn't being drafted, but when he gets to go to a camp and gets the chance to prove he belongs. Whether he's a sixth-round pick or a free agent, it doesn't matter how he gets there."
Holmes felt at ease about his future and the draft.
"I'm not really nervous right now," Holmes said. "I'm not sure how I'll feel during the draft. I feel like I've done all I can do. I'm more excited about it and can't wait for the draft to come."
April, 27, 2011
4/27/11
10:28
PM CT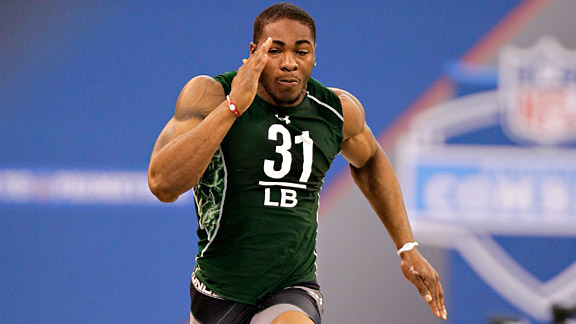 AP Photo/Michael ConroyIllinois linebacker Martez Wilson figures to be a second- or third-round pick.
Michael Whitehead has done enough worrying about his son
Martez Wilson
over the years.
From Wilson's childhood growing up in Chicago to attending Simeon Academy to going away to school to play football at Illinois to suffering a herniated disk in his neck in 2009, Whitehead feels as if he's been in a constant state of concern over his son.
"You worry about your kids," Whitehead said. "Anything can happen when they're at school or away from home. When he got injured, everybody was thinking, 'He's got to go under the knife.' As a parent, I was, of course, worried. Afterward, I was worried."
Come Thursday, Whitehead plans to stop worrying.
Whether Wilson, a 6-foot-4, 250-pound outside linebacker, is taken in the first round of the NFL draft on Thursday or has to wait a day to be selected, Whitehead is going to sit back and enjoy his son's success.
"I'm not worried about the draft," Whitehead said. "I know he's going to play football somewhere. That's all that matters. If it's not the first round, it'll be the second. If not the second, it'll be the third. I'm very proud of my son. It's like a dream come true."
Taking a cue from his father, Wilson also felt relaxed heading into the three-day draft. Even though he may not be picked in the first round on Thursday, he and his family are hosting a gathering of family members and friends at Simeon's alumni hall to view the draft.
"I've watched the draft in previous years sitting down with my uncle and pops," Wilson said. "I'll be in the same chair, but now it's my name that is going to be called. It's just an experience to go through with my family.
"I'm confident I'll go in the first round. Anyone would be disappointed if they aren't taken in the first round, but I'll still be happy."
ESPN's NFL draft analysts rank Wilson as the 59th best overall prospect and the fourth-best outside linebacker. Mel Kiper has Wilson going in the second round, No. 34 overall by the
Buffalo Bills
in his latest projections.
Wilson doesn't have a preference where he goes. He just wants to reward that team.
"My goal is to be the most complete football player in the game," said Wilson, who left Illinois a season early. "I want to learn from the veterans around me. I want to learn as much about the game as possible. My athletic ability is there. That will stay as long as I continue to work, and I'll do that. I think I can be a very successful player."
Whitehead believes it. He nicknamed Wilson "Wolverine" because of the way he trains and plays. He had no doubt that would continue to carry over to the NFL.
"He's like a wolverine," Whitehead said. "That's my son. It's just that simple. He's a strong man. He's fast.
"He loves football, and nothing's going to stop him."
February, 26, 2011
2/26/11
3:32
PM CT
INDIANAPOLIS -- We focused quite a bit Thursday on the Bears after news of coach Lovie Smith's extension broke, with general manager Jerry Angelo holding court in his hotel room just a couple of hours later.
So today, let's focus a bit more on some of the local prospects working out here at the NFL Combine at Lucas Oil Stadium.
We spoke with former Illinois linebacker Mikel Leshoure, a second-team all-American selection who rushed for a single-season school record 1,697 yards and 17 touchdowns, and was named Texas Bowl MVP after pounding Texas Tech for 187 yards and three TDs.
Here's what Leshoure, a potential first-day pick, said during his time with the media at the combine.
Did you come in weighing less than your playing weight from the season?
Mikel Leshoure:I actually did. I had about six weeks of training down in McKinney, Texas, with Michael Johnson Performance. I came in about 230 and I weighed in today about 227 (Leshoure's playing weight was 230 pounds).
Can less weight help with your time in the 40-yard dash?
[+] Enlarge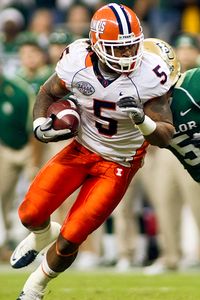 John Korduner / Icon SMIMikel Leshoure hopes to be the next Illinois running back to move on to NFL success.
ML:
I think it just makes my agility a lot better. My quickness a lot better and my stamina. My best time running at MJP was 4.57 and that was the third week of training. I definitely think those numbers could be better Sunday.
Former Illinois running backs Pierre Thomas and Rashard Mendenhall have gone on to become successful in the NFL. Does their success give you hope about your potential NFL career?

ML: Definitely. I don't think it's any added pressure or anything like that to me. I feel like if I continue to do what I'm doing, and what I have done at the collegiate level, I'll be just fine. But for those guys to have the success that they did at the NFL is a plus to Illinois football, and the running backs that came out of there.
Do you think the scouts will take those guys into account when evaluating you?

ML: I think it will help; the running backs that have come out of Illinois and what they've done so far.
You rushed for a school-record 330 yards and two touchdowns against Northwestern at Wrigley Field. Was that the game that helped solidify your decision to declare for the draft early?
ML: I would say just that game, but overall I felt like I exceeded my expectations for the season as far as my stats and, also my team goals. One of my goals was to make it to a bowl game and win. I feel like I did that and I was blessed to get MVP of the game. And as a running back, the time's running. You've got to go when the iron's hot, and I felt like this was the best time for me.
Have the Bears or Packers shown interest in you?

ML: I haven't gotten any special attention from those two teams or any one-on-one visits with those guys, just the meetings that we had with the 32 teams yesterday. That was about it.
Would you say you're a complete running back?

ML: I definitely feel like I'm a complete back. I feel like I can run, I can pass-block and I'm very confident with my hands, not only the short 5- and 10-yard routes, but I feel like I can beat some of the safeties and linebackers downfield. So me personally, I feel like I'm a complete back.
Do you think you can be the first back taken in April?
ML: Yes, I definitely think I can be the No. 1 back taken. That's my goal. Everyone has their own opinion. You hear a lot of different stuff and see a lot of different things on T.V. But with my versatility and the things I can bring to the table, it will show a lot of scouts and GMs that I can be their guy.
Would you rather juke a guy or run him over?
ML: It depends on how that guy's looking. You can look in his eyes and that will tell you a lot. I feel like I can do either one of those, and that's what makes me a different back. One of those guys might just have the quickness and can move, and another guy might have the power that can run him over. But I feel like I have a little bit of both.
Are you a smack talker?

ML: I've never been a smack talker. I do like to celebrate a little in the end zone and with my teammates, but I'm not the type of guy that goes out on the field and talks a lot of smack.
With character being such an issue with teams these days, how will you address questions about your character with these teams in interviews?

ML: I feel like I've grown as man from my first year to my junior year. I made some mistakes earlier in my collegiate career, but if you were to go act and talk to any of the coaches, from the strength and conditioning coach to the head coach about me, they'll tell you that I'm mature for my age and I've learned a lot from my mistakes. I'm a guy that they can count on and I'll be there for my team or my coaches.
Can you tell us a little more about the game against Northwestern?
ML: It was a good game. That game we had something to prove. Our coach [Ron Zook] came in that Monday of practice and told us a little quote that was said by the head coach [Pat Fitzgerald] of Northwestern. He called some of our guys a bunch of thugs and all of us would've gone to their school, but weren't academically eligible to do so. That fired us up. You could look in my guys' eyes, my teammates before that game started and you could tell that we all wanted it. We proved it that game.
You had some adversity growing up. Could you tell us about that?

ML: Growing up, I grew up without my father for about 16, 17 years of my life. It was just me and my mother [Jacqueline Jones]. I'm an only child, so it was just me and her. I learned a lot from that. I learned from an early age that I have to be the man of the house and take care of my mother and myself, and it taught me a lot of responsibility. It made me the man I am today.
So this has to be an exciting time for you and your mother, right?
ML: Definitely. It's been a dream of mine since I was a little boy. If you talk to my mom, she'll tell you that when I was little, I used to walk around with a Nerf football. So to finally get an opportunity at the biggest stage in football, it's a blessing and I just want to take advantage of it and work hard.
Why did you choose Illinois out of high school?
ML: I definitely had other options as far as which schools I wanted to go to. Unfortunately, I didn't take any other official visits, which I wish I would've done. It may have changed my decision. But I was happy with the decision I made. I was happy with my teammates, with the coaching staff. If I could go back and do it again, I would do everything the same.
Are there any running backs in the NFL you like right now in terms of rushing style?

ML: [Rams running back] Steven Jackson. I love the way he plays. He reminds me of myself. He's a big guy, but he's very versatile. He shows good hands and he shows toughness. He plays through injuries, and I feel like I can do all of those things.
February, 26, 2011
2/26/11
12:51
PM CT
INDIANAPOLIS -- For a program short on consistency, the University of Illinois has churned out an impressive amount of NFL talent the past couple of seasons.
[+] Enlarge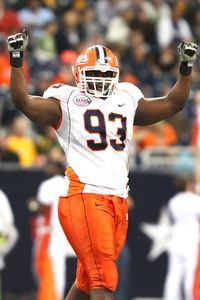 Thomas Campbell/US PresswireCorey Liuget was one of the Big Ten's top defensive players in 2010.
Three Illini products have been selected in the top two rounds in the last three years: RB Rashard Mendenhall (No. 23) to the Steelers in 2008, CB Vontae Davis (No. 25) to the
Miami Dolphins
in 2009 and WR Arrelious Benn (No. 39) to the
Tampa Bay Buccaneers
in 2010.
This year, even though Illinois finished 7-6, three members of the team could come off the board in the first round alone.
That list includes: defensive tackle Corey Liuget, running back Mikel Leshoure and linebacker Martez Wilson.
All three are underclassmen.
Liuget displayed excellent productivity from his interior line position, and recorded 12.5 tackles for a loss and 4.5 sacks his final year in Champaign. The defensive tackle had a banner performance in Illinois' 38-14 win over Baylor in the Texas Bowl, registering 5 tackles, 2.5 tackles for a loss and a sack.
Leshoure was a second team All-American selection who broke the Illinois single-season record with 1,697 rushing yards and 17 touchdowns. He ran for 187 yards and three touchdowns in the Texas Bowl and was named the games MVP.
Wilson, an athletic inside linebacker, may have the lowest draft stock of the three, but he was selected first team All-Big Ten in 2010 and led the Illini defense with 112 tackles.
January, 10, 2011
1/10/11
12:09
PM CT
Illinois junior running back
Mikel Leshoure
will announce whether he is entering the NFL draft at a press conference on Tuesday at Champaign Centennial (Ill.) High School.
Read the entire story
.
TOP 25 SCOREBOARD
Saturday, 12/21
Monday, 12/23
Tuesday, 12/24
Thursday, 12/26
Friday, 12/27
Saturday, 12/28
Monday, 12/30
Tuesday, 12/31
Wednesday, 1/1
Thursday, 1/2
Friday, 1/3
Saturday, 1/4
Sunday, 1/5
Monday, 1/6
TOP PERFORMERS