Chicago Colleges:

2012 Big Ten Tournament
March, 8, 2012
3/08/12
9:19
PM CT
INDIANAPOLIS -- On Thursday night, the
Northwestern Wildcats
didn't talk like an NCAA tournament team. They didn't look like one, either.
Somewhere within the vicinity of the Bankers Life Fieldhouse, the NCAA selection committee will finalize its bracket in the coming days. And the Wildcats should not be included.
They had their chance to impress and they squandered it.
"I don't know. Hopefully, I won't be disappointed on Sunday," said Northwestern star
John Shurna
. "But I guess we'll just have to wait and see. We'll be playing next week, and we like to compete no matter who we're playing against."
Don't get me wrong. I'm a sucker for good storylines, too.
Northwestern fans around the world will celebrate the program's first-ever bid if it happens. The buildup to NCAA tournament No. 1 will consume all of Evanston, Ill. The players within the program certainly put in the work to position themselves for a shot at history leading up to the Big Ten tournament.
But decisions have to be made without consideration of TV story packages. The selection process should answer only one question: Who's earned it?
And the Wildcats had to do more in Indianapolis to prove that they'd earned a ticket. Instead, they lost to Minnesota for the second time this season.
They led 61-57 with three minutes to play. But they missed three shots and committed two crucial turnovers in the final minutes of regulation. They then lost
75-68
in overtime.
I am not biased toward any particular program. But I do believe the best should earn bids.
And it's hard to see how that team -- which had to make a statement following an 8-10 record in Big Ten play and a 1-10 record against the RPI's Top 50 -- gets into the field of 68 after that performance Thursday.
[+] Enlarge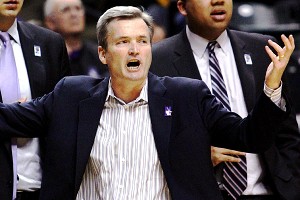 AP Photo/Kiichiro SatoBill Carmody's Northwestern squad hasn't answered the bell with an NCAA bid on the line.
Minnesota freshman
Andre Hollins
, who averages 6.7 ppg, scored 25 against the Wildcats. That was the sort of clutch performance that would have made more sense for a Northwestern player based on the circumstances. But Northwestern fumbled down the stretch.
In my opinion, the Wildcats got an F on the eye test against the Gophers. They had something to prove and didn't play like they knew it in crucial stretches.
They didn't execute like a tournament team desperate for résumé-boosting victories.
This is not just about Northwestern. This is about the entire field.
This is about Drexel, a team that's lost two games since early December. This is about Tennessee, a team that's won eight out of nine. This is about competition.
Teams deserve credit for their full body of work. Northwestern's portfolio put the Wildcats in a pool of schools with similar arguments for NCAA tournament invites.
But if the selection committee aims to create the most competitive bracket, then it should rewatch NU's effort Thursday night. It warrants scrutiny.
Every "must-have" performance within the bubblesphere does.
I watched the Northwestern-Minnesota game from press row at Bankers Life Fieldhouse. And I did not see a team that belonged in the Big Dance.
Perhaps the selection committee has already penciled in the Wildcats as a tournament team. Well, that's why we have erasers.
This is a great story. And it's easy to root for a Northwestern team that has never participated in the NCAA tournament. History can be quite cruel.
But that shouldn't factor into the decision to say yea or nay to the Wildcats on Selection Sunday.
They were presented with an opportunity to make a statement on national TV on Thursday. And the Wildcats ultimately offered an argument against their first bid.
"I'm still here. It's hard. It's disappointing, tough … but, you know, you come back," Northwestern coach Bill Carmody said after the game.
Northwestern's resilience has been well-documented in recent years. The Wildcats have approached NCAA tournament status in the past. But players admit they've never felt this close to a bid.
That determination is commendable. The annual conversation about if "this is Northwestern's year" is a familiar one for fans of any program that's struggled year after year.
But this can't be about sympathy. It has to be about quality.
And that means Northwestern -- just 8-12 since mid-December -- is an NIT team.
That might not seem fair to Northwestern or its supporters. But it's fair to the game and it's fair to other teams that will prove their worth in the coming days, something the Wildcats didn't do in their brief stay in the Big Ten tournament.
March, 8, 2012
3/08/12
6:59
PM CT
INDIANAPOLIS — Reaction from Minnesota's
75-68 overtime victory
over Northwestern:
Overview:
Northwestern entered its first-round matchup against Minnesota in the Big Ten tournament Thursday needing a win, maybe multiple victories, to earn its first-ever NCAA tournament invitation. But the Wildcats never made it past the Golden Gophers, suffering a loss that damaged their hopes of dancing for the first time.


The Gophers jumped out to a 15-5 lead less than seven minutes in, but the Wildcats were 9-for-20 from beyond the arc before halftime, which helped them climb back into the game and take a 36-34 lead at the break.
Andre Hollins
hit a big 3-pointer with 5 minutes to play that tied the game at 57. And he scored on a crucial drive with 55.2 seconds to play that established a 61-61 tie; that shot ultimately sent the game into overtime.
In the extra period, the Gophers played big.
Austin Hollins
hit a 3-pointer with just under three minutes on the game clock that put Minnesota ahead 68-64. Yet Northwestern was within one in the final 90 seconds of overtime before another Andre Hollins layup extended the lead to three.
A
Rodney Williams
dunk with 27.9 seconds to go put the Gophers ahead by five.
The two teams split their two conference games, with the Gophers taking a 75-52 victory in Minneapolis on Jan. 22 and Northwestern returning the favor in a 64-53 win in Evanston, Ill., on Feb. 18.
Turning point:
Andre Hollins' 3-pointer near the five-minute mark started a final push by the Gophers, who ended up sending the game into overtime. They were looking for a catalyst in the final minutes and they found one in the freshman.
Key player:
Last year, Andre Hollins was a star prep in the state of Tennessee. On Thursday, he looked like a young collegiate star as he carried the Gophers with clutch shots and big plays. He scored a game-high 25 points and went 5-for-10 from beyond the arc.
Key stat:
The Gophers outrebounded the Wildcats 41-24. Both teams shot 42.3 percent from beyond the arc.
Miscellaneous:
The Gophers played without injured center
Ralph Sampson III
… The two teams were 16-for-35 combined from beyond the arc in the first half.
What's next:
The Gophers will face Michigan on Friday night. Northwestern will sweat on Selection Sunday as it awaits its postseason destination.
March, 8, 2012
3/08/12
3:04
PM CT
As reporters huddled around Bruce Weber for what might have been one of his final news conferences as Illinois head coach, a Big Ten tournament official entered the room to say that time had nearly expired.
"Two minutes," he yelled.
Weber's team had just lost to Iowa 64-61 in the opening round of the conference tournament. The loss might have spelled the end of his tenure at Illinois, one that reached its peak with an appearance in the national title game in 2005. But in a win-now landscape, 12 losses in his team's last 14 games blemished his legacy.
[+] Enlarge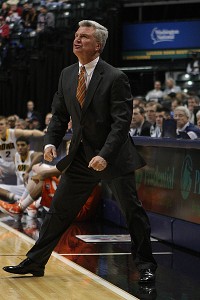 Cal Sport Media via AP ImagesIllinois head coach Bruce Weber couldn't get his team turned around late in the season.
"One minute," the tourney official announced.
Weber's flushed face, hoarseness and measured pace suggested that the trials of recent months had truly taken a toll. With each query, he tried to maintain a sense of normalcy.
But when asked about the support he's received throughout his challenges this season, Weber's eyes welled up, his voice cracked and tears collected on the bottom rim of his eyelids.
"I can't explain to you how many people have contacted me. I mean, literally thousands. Guys who don't even know me," Weber said.
"We're going to be closing the Illinois locker room," the Big Ten tournament official announced again.
Weber's remarks concluded with talk of a meeting with Illinois athletic director Mike Thomas. No specifics. A brief smile.
And with that, Weber walked into a room and closed the door, unsure of his fate.
March, 8, 2012
3/08/12
12:50
PM CT
Overview:
Both Iowa and Illinois entered the Big Ten tournament in need of a championship to earn a trip to the Big Dance. Iowa had managed to impress in stretches this season (the Hawkeyes swept Wisconsin) and was mentioned as a sleeper in the buildup to the Big Ten tournament. Illinois, however, had fallen on hard times. The Illini had lost 11 of their past 13 -- a stretch that might cost Bruce Weber his job -- prior to Thursday's 64-61 loss to Iowa.


After a back-and-forth first half that featured a 50 percent shooting clip for Illinois and a 46 percent mark for Iowa (Illinois had a 31-27 lead at halftime after a
D.J. Richardson
3-pointer at the buzzer), Illinois stormed out to a 40-33 advantage just minutes in the second half. But Iowa returned fire with a 22-8 run that gave the Hawkeyes a 55-48 advantage midway through the second half.
It was just a four-point game in the final minute, and a crucial Iowa turnover seemed to put Illinois in a position to change the outcome. But the Illini coughed the ball up before they could do anything with that vital possession.
Joseph Bertrand
hit a 3-pointer with 16.1 seconds to play, cutting Iowa's lead to one (62-61). But a pair of free throws by
Matt Gatens
put the Hawkeyes ahead again by three.
Turning point:
The Illini appeared to possess a little mojo at the start of the second half, but Gatens squashed that momentum with a pair of crucial buckets near the 14-minute mark. Gatens hit a deep three, then dunked off a turnover on the other end. The game turned off that stretch. Iowa began playing with more vigor, which led to the run that turned the game in the Hawkeyes' favor.
Key player:
Gatens was a star for the Hawkeyes. He scored 20 on 7-for-12 shooting. Beyond the box score, however, the senior stayed calm when Illinois started to pull away at the start of the second half. He also had three rebounds and an assist. He converted all four of his free throw attempts, including two in the final seconds.
Key stat:
The Illini committed 12 turnovers compared to Iowa's six. The Illini went 7-for-25 from beyond the arc.
Miscellaneous:
The Illini made this game far more difficult than it had to be with tough shots toward the end of the shot clock …
Meyers Leonard
scored 18 points in what might have been his final game at Illinois … Freshman
Aaron White
(13 points) could be a Big Ten star next year.
What's next:
Iowa moves on to face Michigan State at noon on Friday. Illinois will probably end up in the NIT. The bigger question is how long Weber will be on the sideline.
March, 7, 2012
3/07/12
3:55
PM CT
Here are four keys for Illinois in the Big Ten tournament this week:
[+] Enlarge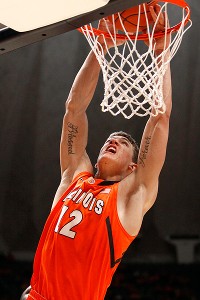 Ben Woloszyn/US PresswireGetting Meyers Leonard touches in the low post is key for the Illini in the Big Ten tournament.
1. Run the offense through Meyers Leonard in the low post:
When Leonard is getting touches in the low post, good things happen for Illinois. For one, he's often able to score inside or get open looks for others. But it also makes the big man happy, and that means he remains active defensively and on the glass. This was the case in Illinois' last win against Iowa when Leonard had 22 points and 14 rebounds, including six offensive boards. He needs to be a game-changer like that throughout the game.
2. Shoot less 3-pointers:
Illinois just isn't a good 3-point shooting team. Sure, the Illini have players like any team capable of hitting open 3-pointers and getting hot, but it's not something they should be banking on at this point of the season. The Illini are the worst 3-point shooting team in the Big Ten (98 of 332 from 3-point range for a .295 percentage during conference play), and Penn State is the only other team under 30 percent. Illinois has had only a few games where it could be deemed a good shooting performance. The Illini hit 11 of 18 in an upset of Ohio State and connected on 4 of 10 in a victory over Northwestern. Illinois needs to keep its shots inside the 3-pointer line this week.
3. The team needs to play defense, but especially Brandon Paul:
The Illini's defense has been suspect throughout the second half of the Big Ten season, and Paul has been included in that. Paul admits he needs to play harder on defense. As versatile as any player in the Big Ten not named
Draymond Green
, Paul can win games for Illinois, and he showed that against Ohio State. He also came through against Minnesota and Michigan State. Paul just needs to get his defense going first and then his offense will come.
4. Try to repeat history:
Illinois has traditionally succeeded in the Big Ten tournament, leading all teams with 23 conference tournament wins and a 23-12 overall record, including two championships and four second-place finishes. Even as a No. 10 seed in 2008, Illinois reached the championship. Only twice has Illinois lasted one game in the tournament, last season and in 2006.
March, 7, 2012
3/07/12
3:17
PM CT
Here are four keys for Northwestern in the Big Ten tournament this week:
[+] Enlarge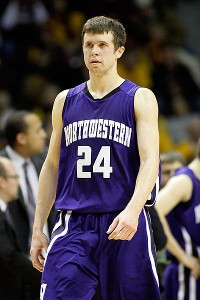 AP Photo/Paul BattagliaNorthwestern has to find offense from someone other than John Shurna and Drew Crawford in the Big Ten Tournament.
1. Stay competitive on the glass:
Northwestern isn't going to out-rebound most Big Ten teams. They've done so just twice in the last nine games. But what the Wildcats can do is strive to stay competitive on the glass. They can't be out-rebounded 44-18 like they did recently against Ohio State and still feel good about their chances. In a recent win over Iowa, Northwestern lost on the boards by two rebounds, but still won the game. Minnesota is a difficult matchup for the Wildcats in this respect. The Gophers out-rebounded Northwestern 77-42 in their two games this year.
2. Unsung hero has to emerge:
Drew Crawford
and
John Shurna
are going to get theirs. They averaged a combined 35.3 points a game in the Big Ten season. But someone else has step up behind them. When Northwestern upset Michigan State,
Davide Curletti
went off for 17 points. In a victory at Illinois,
Reggie Hearn
scored 20 points. David Sobolewski had 22 points in a win over Minnesota.
Alex Marcotullio
had his best game with 12 points off the bench in a one-point victory over Penn State. And in a win at Iowa,
JerShon Cobb
had his best game with 13 points.
3. Get seven or more steals:
Northwestern is 6-3 in Big Ten games it recorded seven or more steals this season. Those extra points off transition usually put Northwestern over the top. The three losses were to Illinois by one point, at Wisconsin by double digits and by two points to Ohio State.
4. Change Big Ten history:
Northwestern has never won more than one game in the Big Ten tournament since the tourney began in 1998. The Wildcats have to change that if they want to assure themselves of another accomplishment they've never reached -- the NCAA tournament.