Chicago Colleges:

2012 GoDaddy.com bowl
January, 6, 2012
1/06/12
9:34
PM CT
Before
Northern Illinois
first-year coach Dave Doeren could win a game, a MAC championship or a bowl, he realized he first had to win over his players. Doeren understood that wouldn't be easy, either.
He wasn't replacing a fired coach at a losing program. His predecessor, Jerry Kill, had led the Huskies to a school-record 11 wins and a bowl victory. The way Kill did things was proven and trusted by his players.
Doeren tried to keep around some of what Kill did to help the transition. At the same time, he also had his own way of doing things, and that wasn't negotiable. He felt out his players; his players felt out him. Eventually, the Huskies learned to trust Doeren just as they did Kill.
[+] Enlarge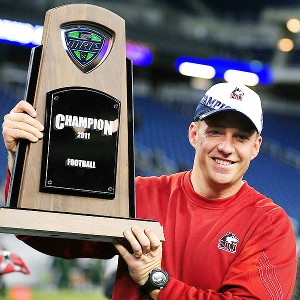 Andrew Weber/US PresswireDave Doeren led Northern Illinois to a MAC championship in his first season as coach.
On Sunday, Doeren and his players will go to battle together again when they face
Arkansas State
in the GoDaddy.com Bowl.
"It took time," Doeren said. "I told them that I needed them to be flexible. I'm not their old head coach. These coaches aren't their old assistant coaches. Some things were hard. Some things were easy. Everyone can now see they were good changes."
Senior offensive lineman Keith Otis felt he and his teammates did have a previous allegiance to Kill.
"Anything coach Kill said, once the senior leadership was behind it, everyone got in line," Otis said. "In his case, guys bought into things, but it was also because we were successful in those things."
Doeren's changes, such as speeding up the offense, were most difficult for Northern Illinois' seniors. They had become accustomed to Kill's style of play.
Northern Illinois senior wide receiver
Willie Clark
never resisted Doeren's changes, but he admitted they weren't easy to embrace initially.
"The big one was the no-huddle thing," Clark said. "We were running 10 plays more than we did last year. That's always a big thing. They're just different coaches with different philosophies on offense and defense."
The Huskies started to warm up to Doeren and his style a bit during spring practice and even more so in early goings of their fall camp. By the time the season rolled around, they were united.
Clark expected that outcome.
"It's always hard when you have someone new, and someone changes what had been working," Clark said. "At the same time, you don't have a choice. We had to buy into what our coaches were telling us. We bought it, and it's been a success for us. We won a MAC championship for the first time in 28 years. I definitely say we bought in."
Otis is optimistic their success is just the beginning for Northern Illinois under Doeren.
"I just really hope overall as a group of seniors we can continue to leave our mark as a class that laid the groundwork for a program that becomes special down the road," Otis said.
January, 5, 2012
1/05/12
7:20
PM CT
Northern Illinois senior offensive lineman Keith Otis could probably teach a class on college football bowl games at this point.
[+] Enlarge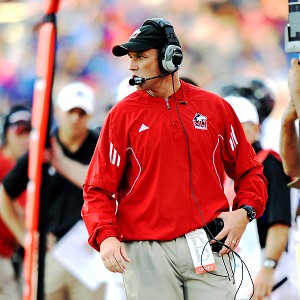 Peter G. Aiken/US PRESSWIREDave Doeren has led Northern Illinois to eight straight wins and its first Mid-American Conference championship since 1983.
While the Huskies have had wait until Sunday to face Arkansas State in the GoDaddy.com Bowl, Otis has been tuning into as many bowl games as possible. For one, it's helped pass the time. But he's also been studying each game and trying to gain any advantage he can for Northern Illinois.
So what's he learned?
"Looking at the bowl games during the bowl season, I know a big thing that happens is the defense that comes out and is ready to tackle more than the other has a big advantage," said Otis after a practice from Mobile, Ala., on Wednesday.
Otis couldn't speak for the Huskies' defense, but he wasn't worried about Arkansas State's defense getting the best of Northern Illinois. The Huskies rank 13th in the country with 38.3 points per game.
"As an offense, we've worked on our timing," Otis said. "Once you get a few possessions in, you're back in the rhythm offensively."
At least, Otis hopes it's that simple.
Preparing for the GoDaddy.com Bowl has been a unique challenge because of the length between the last time Northern Illinois played -- on Dec. 2 in the MAC championship game -- and Sunday's game. Only the national championship, which is on Monday, is at a later date than the GoDaddy.com Bowl.
The Huskies enjoyed their conference title for about a week, then practiced for two weeks, had a week off for the holidays and returned to practice on Jan. 2 before leaving for Mobile, Ala., on Wednesday morning.
A year ago, it was the opposite scenario. Northern Illinois had one of the earliest bowl games. The Huskies defeated Fresno State in the uDrove Humanitarian Bowl in the second bowl game on Dec. 18.
"Yeah, it's a little strange coming off last year," Northern Illinois senior wide receiver
Willie Clark
said of the long break. "I think the coaches handled it pretty well. They made us prepare and gave us time off. We don't think we've lost a beat."
"Coach [Dave] Doeren said it's like almost like the mid-major national championship being the day before the national championship," Otis said. "It definitely has an uniqueness playing so late. At the end of the day, we just want to go out as winners and champions."
December, 5, 2011
12/05/11
6:12
PM CT
Arkansas State Red Wolves (10-2) vs. Northern Illinois Huskies (10-3)
Jan. 8, 9 p.m. ET (ESPN)

Arkansas State take by college football blogger Matt Fortuna:
The Red Wolves' 45-14 win Saturday over Troy made them the first team in Sun Belt Conference history to win 10 regular-season games. Hugh Freeze became just the 14th FBS first-year head coach to win 10 regular-season games. In addition, by going 8-0 in conference play, Arkansas State is just the third school in Sun Belt history to go undefeated in conference play.
The Red Wolves have their first 10-win season since 1986 and are on a nine-game winning streak for the first time since 1975. They won seven games by double-digits, their most since 1987. And they have done it behind both sides of the ball, ranking 25th in total offense and 20th in total defense.
Wide receiver
Dwayne Frampton
has rewritten the school record book, amassing a school-record 1,125 receiving yards on 90 catches this season. His 159 career catches are a school record. His five 100-yard receiving games this year are tied for most in a single season in school history.
Defensively, the Red Wolves have held six opponents below 20 points and seven below 100 rushing yards, and have 18 interceptions, tied for fifth in the nation.
---

NIU take from Nation blogger Andrea Adelson:
Not again, right? Every time Northern Illinois had gotten into the MAC title game, it ended in disappointment for the Huskies.
They were back in it this year after losing a heartbreaker in 2010, and found themselves down 20-0 to Ohio at one point in the second half. But quarterback
Chandler Harnish
willed his team to a win, and the defense came up with huge plays as the Huskies rallied for a 23-20 victory, tying the largest comeback in school history. Northern Illinois can call itself conference champions for the second time, and have posted back-to-back 10-win seasons for the first time in school history.
Northern Illinois also is one of just five teams among the non-AQs to have at least six wins in five straight seasons.
Perhaps most impressive about the championship is this: The Huskies did it with a first-year coach in Dave Doeren and nine new starters on defense. Plus, they lost MVP running back Chad Spann. Without him, Harnish picked up his game and won MAC Offensive Player of the Year honors, setting a school record with more than 4,000 yards of total offense, and adding 37 touchdowns.
Harnish, always a threat out of the backfield, had more than 1,000 yards on the ground -- the 12th time in 13 seasons the Huskies had somebody go for more than 1,000 yards rushing.
Jasmin Hopkins
replaced Spann in the backfield and ran for 932 yards and 15 touchdowns. Linebacker Pat Schiller leads the way with 108 tackles, including 10 for loss. This is a team that is generally involved in some pretty entertaining and close games. Seven games have been decided by a touchdown or less -- five by a field goal or less.