Chicago Colleges:

2013 Big Ten tournament
March, 16, 2013
Mar 16
8:23
PM CT
CHICAGO -- When
Aaron Craft
spotted
Shannon Scott
in the corner, he instructed the sophomore from Alpharetta, Ga., in a relaxed tone that belied the urgency of the moment.
"Knock it down," Craft said as he flicked a pass to the underclassman in the second half of Ohio State's
61-58
win over Michigan State in the semifinals of the Big Ten tournament at United Center on Saturday.
That's not an unusual command from the veteran point guard.
Craft excelled in his typical role for the Buckeyes throughout the win.
He was the orchestrator and the distributor (nine assists, two turnovers). He was also the thief (four steals).
His emergence as the scorer, however, seemed odd but necessary.
[+] Enlarge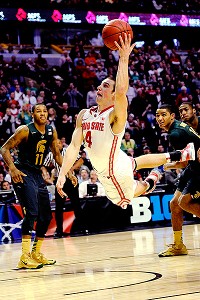 David Banks/USA TODAY SportsGuard Aaron Craft gave Ohio State the uplifting effort it needed to advance to the Big Ten finals.
As
Deshaun Thomas
wrestled with a Michigan State defense that harassed him in the second half, Craft recognized the void.
So he took more shots. He scored on layups. He hit a 3-pointer. He made jumpers, too.
In all, Craft registered 18 of his 20 points in the second half of a win that guaranteed Ohio State's fifth consecutive Big Ten tournament title game appearance -- the Buckeyes will play Wisconsin for the third time (1-1) this season.
"Just trying to believe in myself," Craft said. "I think we have a lot of plays that we can execute that either get me open shots or I can help create for somebody else, and tonight I found some openings and was able to knock down some shots and that definitely opened up other things … whether it was Deshaun [Thomas] or guys like LaQuinton [Ross] that can knock down shots as well."
In recent weeks, the chatter about college basketball's hierarchy has centered on the fluctuation toward the top of the rankings. Duke, Gonzaga, Indiana, Kansas, Georgetown, Miami, Louisville and Michigan have been submitted as candidates for "the best team in America" discussion.
Meanwhile, Ohio State continues to add to one of the country's most impressive current winning streaks. The Buckeyes have won seven in a row since suffering a 71-49 loss at Wisconsin on Feb. 17.
They've beaten Michigan State twice since that loss. They've defeated Indiana in Bloomington. They won the other four games by double digits.
They're quietly approaching the NCAA tournament as one of the hottest teams in the country.
"Man, Ohio State [doesn't] get respect sometimes," Thomas said. "But it's all good, though. Just like last year. Nobody knew we were going to get to the Final Four and we did."
But they nearly lost their mojo in Chicago.
They went 11-for-32 in the first half against the Spartans. But they were only down 29-28 after committing just two turnovers prior to the break (five turnovers overall).
And then, Craft happened.
He scored 13 points in the first 10-plus minutes of the second half. His 3-pointer with 11:48 to play gave Ohio State a 48-45 lead. His layup with 9:47 to go gave the Buckeyes a 51-47 advantage.
But the Spartans kept fighting.
Keith Appling
hit a 3-pointer that cut Ohio State's lead to three points with 3:24 on the game clock. Nix's layup and free throw, after he was fouled with 1:54 to go, reduced the deficit to one.
But Nix grabbed Craft on a drive at the 1:27 mark. Officials called it a flagrant foul.
And Craft made one of two free throws to extend Ohio State's lead to two points.
Thomas (16 points, 7 rebounds and 2 assists) came up with a crucial rebound in the last minute. And then he hit a runner with 22 seconds remaining in regulation. His shot -- he scored just five points after halftime -- extended Ohio State's lead to four points (60-56).
Sam Thompson
contested Keith Appling's layup in the final seconds, which essentially secured the win. Thomas capped the game with another free throw (
Denzel Valentine
scored Michigan State's final bucket).
Craft soothed his squad when Thomas struggled. He kept the Buckeyes in a rhythm even as Michigan State scored multiple buckets in the final minutes.
"You look at what he has accomplished thus far in his career at Ohio State and just the wins, the big plays that he's made …. In coaching, you don't get to coach a lot of guys like him just from A to Z and everything he stands for," Buckeyes coach Thad Matta said after the game.
The Buckeyes could be a perplexing case for the selection committee (Joe Lunardi listed Ohio State as a No. 2 seed in his 6:45 p.m. ET projection on Saturday evening), especially if they beat the Badgers on Sunday. In early February, they were just perplexing. They lost three of their first four games last month.
Craft was 3-for-11 from the 3-point line during that stretch.
But Matta still trusted him.
"He kind of makes us go on both ends of the floor, obviously when he's making shots, but a lot of people panicked when he wasn't scoring in the middle of the season, and I'm like, I don't have a problem with it, it'll come," he said.
Thomas couldn't find the rim on Saturday. But he trusted Craft enough to suppress his personal offensive urges and allow his teammate to lead.
"Probably two years ago or last year, I probably would have been like 'I need that ball, I need that ball' and going crazy," Thomas said. "Just me learning the game and being mature and knowing we've got guys who can plays also ... I trust [Craft] no matter what."
Craft embraces the responsibility even if it demands more shots and fewer passes. The workload doesn't matter.
The Buckeyes needed everything from their captain against the Spartans. He ran toward those expectations, not from them.
That's why Ohio State is playing its best basketball right now. When it matters most.
"Everything is going a lot better when you're knocking down shots," he said. "It kind of relaxes everybody else. It takes pressure off everyone."
And when Craft plays the way he did on Saturday, it puts more pressure on every team facing the Buckeyes.
March, 16, 2013
Mar 16
5:22
PM CT
CHICAGO --
Ryan Evans
' poor free throw shooting had become a semi-obsession. Wisconsin's senior leader began to think about free throws throughout the day. And then again at night.
It wasn't just his decline from a 73 percent clip his junior season to a 40 percent mark his senior year. It was the unpleasant feeling that seized his body every time he reached the charity stripe. It was the free throws that completely missed the rim. It was the embarrassment stemming from a problem he just couldn't fix.
As the slump persisted, Evans lost confidence.
So coach Bo Ryan decided to pitch a few unconventional ideas to the veteran after Wisconsin's loss at Minnesota on Valentine's Day.
"Well, it was A, B or C," Ryan said. "A was the jump shot, Hal Greer-style. Hal Greer [an NBA star in the 1960s] had a little jump [shot]. It wasn't quite as accentuated, for the older people in the room, as Ryan's is. Ryan's is his game jump shot. Hal had a little jumper, mini-jumper. B was Harlem Globetrotter, kick the ball in. Dropkick. You drop it down; you kick it up. And third was underhanded.
"So it was A, B or C. Ryan chose A. He's OK with it. His numbers are up."
[+] Enlarge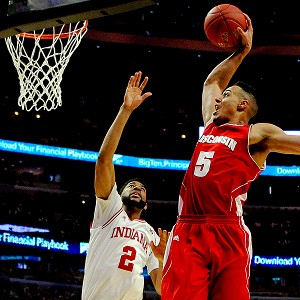 Dennis Wierzbicki/USA TODAY SportsRyan Evans had 16 points, 8 rebounds, 4 assists and 4 blocks against Indiana. He also made two of his four free throws.
Evans was initially reluctant but eventually accepted the change. It's certainly not a traditional approach, but it has helped. He's 6-for-10 from the free throw line in two Big Ten tournament games. And he's aggressive again.
"[Ryan] gave me the courage to go up here and try something new," Evans said. "I think it's been effective to this point. I'm no longer shooting 40 percent. So I mean, it's a good thing right now, and I'm going to stick with it for now."
On Saturday, he led the Badgers to their 12th consecutive win over the Hoosiers,
68-56
. Evans finished with 16 points, 8 rebounds, 4 assists, 4 blocks, 4 turnovers and a steal.
Jared Berggren
added 11 points and three blocks.
Ben Brust
scored 12 points, and
Sam Dekker
finished with 11 points.
Evans helped the Badgers corral
Victor Oladipo
(4-for-12, 10 points), and he helped Wisconsin maintain its edge, even as Indiana charged in the final minutes.
Wisconsin fans cheered whenever he made a free throw. Twice in four tries.
The switch is an extension of the principles that guide Wisconsin's program. The Badgers have a strong sense of their vulnerability. They're not the type of team that can give one guy the ball and expect him to make plays without help. Wisconsin needs everyone.
One missed defensive assignment, one poor pass or one botched free throw could change the outcome of a game and the entire season. And the Badgers know it. So Evans tweaked his free throws to boost his team's chances of overcoming its weaknesses.
Yet the Badgers are aware of their opponents' limits too.
On Saturday afternoon, they understood they were playing Indiana, not the Chicago Bulls who had won multiple NBA titles in this building. They weren't intimidated.
Not by Oladipo or
Cody Zeller
(Berggren's defensive effort against the future lottery pick changed the game) or the NBA scouts who traveled to Chicago to see them play.
"It's just the dynamics of our team. We can beat anybody, and we can be beaten by anybody," said
Traevon Jackson
. "But when we play together, I think that we're really tough to beat. And when we hit our shots and we do our defensive assignments and rebound, we're a tough team."
The Badgers closed the first half with an 18-9 run that allowed them to snatch the lead (34-31). The two teams were tight until Dekker recorded seven unanswered points (two layups and a 3-pointer) to give his team a 50-43 lead with 11:11 to play.
The Hoosiers responded with a 6-0 rally of their own. But Wisconsin's defense wouldn't budge.
Berggren blocked both Zeller and Oladipo in the final minutes of the game. Tom Crean's squad went nearly five minutes (10:02 to 5:04) without a field goal down the stretch.
"[It] just means we have a bunch of guys that want to play and play hard. Kind of how college basketball has gone this whole year," said
Mike Bruesewitz
. "I think we have had numerous times a change in No. 1, and I think it's going to make for a great NCAA tournament because I don't think a whole lot of 1-seeds are going to be making the Final Four. If they do, it's great, but it's a wide-open thing, and anybody can beat anybody on any night. We have to make sure we bring our A-game; otherwise we might be one of those teams."
Indiana's losing streak to Wisconsin was the least of Crean's concerns.
The only thing the Hoosiers wanted in Chicago -- other than a Big Ten tournament title, of course -- was a chance to prove to the NCAA tournament selection committee that they deserve a No. 1 seed and a slot in the Midwest Regional in Indianapolis.
It's no longer a guarantee after their third loss in six games. And the riddle that hails from Madison could be the culprit if they're disappointed on Selection Sunday.
"My mindset is you try to win every game and take the next one as it comes, and certainly we would have liked to have won it," Crean said. "But it doesn't undo what we have done to this point. It doesn't undo any of that. We have had an excellent season. There's room for growth; there's no doubt about that. But we would have liked to have played better today, no question."
The Badgers rarely discussed the postseason implications of their run to Sunday's Big Ten tournament title game. They were more focused on showering and preparing to watch game film.
As players rose from their seats and reporters gradually left the locker room, Evans continued to answer questions about his free throw shooting technique.
He said coaches have sent him text messages to thank him for a form that their teams have adopted. He even joked about the jump shot free throw becoming a "movement."
The awkwardness of it all? Evans isn't worried about it.
"I don't care what people are thinking too much," he said. "If I care what people are thinking too much, I wouldn't be out there shooting jump shots. But I don't. It's about knocking them down. It's about getting wins. And that's what we're doing at this point. So I feel great."
March, 15, 2013
Mar 15
1:14
PM CT
CHICAGO -- Here's a quick look at Indiana's 80-64 win over Illinois in the Big Ten tournament quarterfinals at the United Center on Friday.


<
How it happened:
Poor shooting coupled by the play of Cody Zeller led to a disastrous first half for Illinois. The Illini shot 7-of-27 from the field, and Zeller scored 14 points in the first half to give the Hoosiers a 35-21 halftime lead. The Illini's offense awoke in the second half, but their defense still couldn't find any answers for Indiana. The Hoosiers' advantage never fell to less than eight points in the second half. Brandon Paul and Tracy Abrams each scored a team-high 16 points for Illinois. Indiana's Victor Oladipo had 12 points and 11 rebounds. Indiana out-rebounded Illinois 38-26.
What it means:
Another win over Indiana could have helped the Illini for seeding purposes, but the Illini are still considered a lock for the NCAA tournament. They went 6-10 against top-50 BPI opponents and have high-quality wins at Gonzaga and against Indiana and Ohio State. ESPN bracketologist Joe Lunardi had Illinois as an eighth seed as of Thursday.
Player of the game:
Zeller was a factor, but not a huge one in the teams' first meeting this season. He stepped it up in Thursday's rematch. He finished with 25 points on 9-of-11 shooting and eight rebounds.
What's next:
Indiana moves onto the Big Ten tournament semifinals on Saturday. The Illini will return to Champaign and wait for their name to be called on Sunday.
TOP 25 SCOREBOARD
Thursday, 12/5
Friday, 12/6
Saturday, 12/7