Chicago Colleges:

2013 NFL draft
April, 26, 2013
4/26/13
8:05
PM CT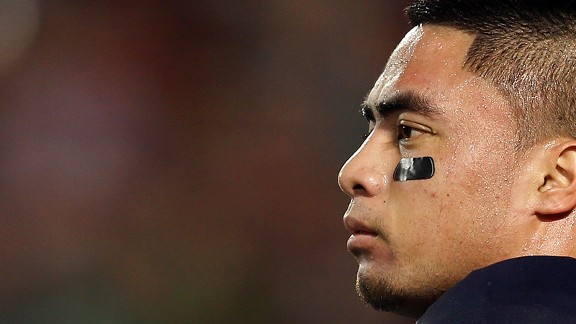 Mike Ehrmann/Getty Images"I like this pick 1,000 percent," new Chargers teammate Eric Weddle said of Manti Te'o.
Had the NFL draft been held the day after
Manti Te'o
and Notre Dame were handled in the national championship game by Alabama, the inside linebacker would have been considered a steal if he was a top-10 pick.
After all, this is a player who was considered the possible No. 1 overall pick last December -- one of the most decorated, praised players in the country during the 2012 season.
Fast-forward to the present, and the idea that Te'o lasted until the No. 38 pick is stunning. The Chargers sent the 45th and 110th choices to Arizona to move up and rock the draft with this selection.
"Great pick," San Diego safety and leader
Eric Weddle
said by phone moments after the Chargers' move. "We got better. He is going to help us win games. I like this pick 1,000 percent."
Te'o became a polarizing figure in January when the bizarre hoax involving a dead fake girlfriend became public. Te'o has said he had nothing to do with the Internet scheme, and the person behind the elaborate ploy has backed up Te'o's claims.
Fair or not, the hoax has defined Te'o. His once-sterling character has come into question, and there is no doubt it hurt his draft status.
Of course, the title game and a slow 40-yard dash at the NFL combine didn't help his cause. But let's face it, if the hoax hadn't happened, Te'o would have gotten the benefit of the doubt on those issues -- particularly since he generated great tape throughout his college career, had great character and improved his speed at Notre Dame's pro day.
With Te'o, it's all about the hoax.
That will stop, Weddle said. Indeed, Weddle brought up the issue himself.
"I could care less about that other stuff," Weddle said. "I'm sure everyone will think that way here."
It has been said that Te'o, the butt of national jokes the past few months, will face his harshest critics in his NFL locker room. Weddle said that won't be a problem in San Diego.
"If he wants to talk about it, we'll listen," Weddle said. "But it's not going to be a problem here."
I think Te'o is going to a perfect situation for him to achieve some normalcy. The Chargers have good leadership in Weddle, quarterback
Philip Rivers
, tight end
Antonio Gates
, center
Nick Hardwick
and linebacker
Jarret Johnson.
Indeed, Te'o told San Diego reporters Friday evening, Rivers had already called to welcome him to the team. This is a strong, business-oriented locker room. Te'o will be treated well.
Also, the team's brass knows how to deal with off-field issues. New San Diego coach Mike McCoy was at the center of Tebow-mania while with Denver. Nothing can match that. New San Diego general manager Tom Telesco was in Indianapolis last season during coach Chuck Pagano's public fight against cancer.
Distractions will not be a problem.
I also think Te'o will find friendly confines in the city. San Diego has a thriving Polynesian community, and one of the team's greatest players, late linebacker
Junior Seau
, was Polynesian. Te'o will be welcomed with open arms. San Diego is not far, in relative terms, from Te'o's native Hawaii, so that will raise his comfort level, too.
Plus, even though it is not so far from Hollywood, San Diego is laid back, and there isn't a huge media presence around the team.
Sure, the team and Te'o will probably have to deal with the curiosity of it all early in camp, but that will go away pretty quickly.
Plus, in my opinion, the hoax is over. What else can come of it? Whether he was involved or not, Te'o faced public humiliation, he saw his NFL stock drop and now the recovery begins. He can become a linebacker again.
Te'o is being brought to San Diego to play football, and it's a good fit.
San Diego is building a strong, young defense, and Te'o should be a nice piece in a linebacking corps that includes Johnson,
Donald Butler
and 2012 first-round pick
Melvin Ingram
. Add Te'o to a strong, young line and this is an intriguing group. Yes, Te'o has limitations in coverage, but San Diego will be versatile enough to highlight him on first and second downs, and he will be able to play to his strengths.
It's been a trying three months for Te'o, but his NFL career is starting on the right track even though it's from a draft slot several picks lower than expected.
April, 26, 2013
4/26/13
6:47
PM CT
Manti Te'o
is coming to the AFC West.
Te'o
The
San Diego Chargers
moved up seven spots to take the polarizing Notre Dame linebacker.
The highly decorated Te'o was long considered a top prospect but played poorly in the national title game against Alabama, was involved in a bizarre hoax involving a fake dead girlfriend and had a poor performance at the NFL combine.
Nevertheless, Te'o was highly productive in college and known for having good character. He should start on a promising San Diego front seven.
San Diego gave Arizona the No. 45 pick and its fourth-round pick (No. 110 overall) to get Te'o.
I will have more on this pick later.
April, 24, 2013
4/24/13
10:41
AM CT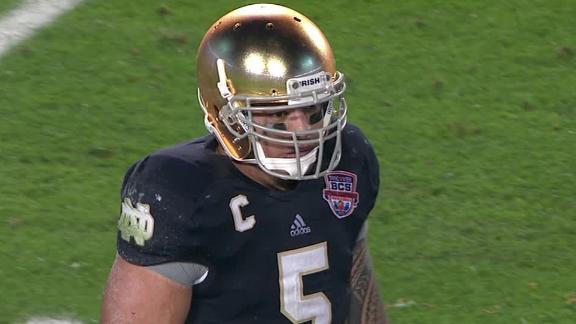 Darren Rovell discuss
Manti Te'o
's lack of endorsements due to the fallout from his girlfriend hoax and the linebacker's marketability heading into the NFL draft.
April, 5, 2013
4/05/13
9:00
AM CT
The
Chicago Bears
are the closest NFL franchise to Notre Dame, location-wise. Based on the fact that the Bears have the 20th overall pick in the April 25-27 NFL draft -- and on the fact that the Irish have two former players expected to go midway through the first round -- there seems to be a strong possibility of one of those players continuing his career just 90 minutes from South Bend, Ind.
That's certainly the vibe you get in looking at the latest mock drafts from Mel Kiper Jr. and Todd McShay, who both released their fourth versions of first-round mocks this week. Kiper has
Tyler Eifert
going 17th to the
Pittsburgh Steelers
, with
Manti Te'o
landing three spots later in Chicago

.
McShay, meanwhile,
has Eifert going to the Bears at No. 20, with Te'o getting scooped up five picks later

by the Vikings, where he would be in familiar company with all of the former Notre Dame players in Minnesota.
Eifert is up three spots to No. 12
on Kiper's 25-man Big Board

, with Te'o up three spots to No. 17.
Kiper says Eifert could add a new dimension to a Pittsburgh offense that loses
Mike Wallace
, while Te'o could end up a reliable long-term linebacker for a Bears team that currently has
Lance Briggs
, who turns 33 during the season.
Both players
remain atop their position groups in Kiper's top-5s by position

, with Stanford's
Zach Ertz
trailing Eifert and Georgia's
Alec Ogletree
trailing Te'o.
March, 15, 2013
3/15/13
9:00
AM CT
Mel Kiper Jr. released the third version of his mock draft this week, projecting that, for the second time in two years, Notre Dame will have two players taken in the first round.
Kiper projects
Tyler Eifert
to go
to Pittsburgh at No. 17

, with
Manti Te'o
going to the
New York Giants
two spots later. Kiper has the two back to back on his Big Board, which does not take into account NFL teams' needs. Eifert
is No. 16 there

, with Te'o at No. 17.
Both players
remain atop their respective position groups

on Kiper's top-five-by-position list.
Todd McShay, meanwhile,
released his tier rankings

, which break the nation's top 115 prospects down into seven different tiers.
Eifert and Te'o come in tiers 3 and 4, respectively, with Eifert the 17th overall prospect and Te'o the 26th.
December, 18, 2012
12/18/12
8:50
PM CT