Chicago Colleges:

Aaron Craft
November, 5, 2013
11/05/13
10:00
AM CT
In recent years, the Big Ten has boasted an assembly of athletes who have boosted the league to the top of college basketball's conference rankings.
Players who could've turned pro returned and granted the league a lineup of experienced players who carried their respective squads for multiple seasons.
Evan Turner
,
Trey Burke
,
Cody Zeller
,
Draymond Green
, Deshaun Thomas,
Jared Sullinger
, JaJuan Johnson,
Tim Hardaway
Jr. and others had opportunities to sign NBA contracts a year or two earlier than they did. Instead, they stayed and strengthened their teams and subsequently, the entire conference.
Prior to changes at Minnesota and Northwestern this past offseason, only four of the 12 Big Ten schools (Iowa, Nebraska, Illinois, Penn State) had changed head coaches in the previous five seasons. That continuity has fueled immense success for a league that has earned 20 total bids in the last three NCAA tournaments.
There are, however, more questions now.
Other than Michigan State, the Big Ten's membership enters the season possessing promise but also dealing with a rare uncertainty. Michigan and Ohio State return elite talent, but you can't ignore what both lost from last season. Indiana could blossom behind some youngsters, but how many teams improve after a pair of top-five picks turn pro? A fleet of seniors have left Madison. Iowa is still a "maybe" to many.
Illinois and Purdue? They'll either surprise or spend the year at the bottom of the league.
Even with four teams cracking the Associated Press' Top 25 preseason poll, the Big Ten is somewhat of a mystery as this weekend's tipoff to the 2013-14 season approaches. Still, there's plenty of hope for many squads in this league.
There's just a lot we don't know (yet) about the Big Ten.
The Contenders
[+] Enlarge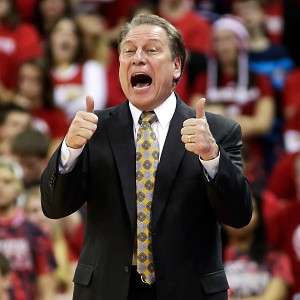 AP Photo/Andy ManisTom Izzo has a Michigan State team with enough talent to return to the Final Four.
Michigan State:
Tom Izzo has another capable crew in East Lansing this season.
Adreian Payne
and
Keith Appling
anchor the Big Ten favorite and national title contender.
Gary Harris
is a future lottery pick who could campaign for All-American honors. Whenever Izzo has this much talent and experience, his teams usually reach the Final Four.
Michigan:
The answer is no. No, the Wolverines won't replace Wooden Award winner Burke no matter how productive
Derrick Walton Jr.
is in his freshman season. But John Beilein's pillars --
Glenn Robinson III
and
Mitch McGary
-- and his stellar recruits should give Michigan State a serious shot at the Big Ten crown.
Ohio State:
Somehow,
Aaron Craft
is still eligible and available to squash the dreams of perimeter players throughout the country. Without Deshaun Thomas, the Buckeyes will probably spread the ball around more than they did last season. But
LaQuinton Ross
-- assuming we see the same player who lit up the Big Dance a few months ago -- might be the star Thad Matta needs to make a postseason run and snatch another Big Ten crown.
The (Possible) Contenders
Indiana:
If exhibitions are to be believed, then
Yogi Ferrell
has become a more dangerous threat from the field since registering a 45.4 effective field goal percentage last season. That matters, but not as much as the maturation of the rest of the roster does (will). How much production will
Noah Vonleh
and a bunch of inexperienced youngsters give Tom Crean? We'll find out soon.
Wisconsin:
Say it with me three times: "I will not doubt Wisconsin, I will not doubt Wisconsin, I will not doubt Wisconsin." Once again, however, there are a few reasons to doubt the Badgers, simply because they're entering the season without a trio of seniors (Mike Bruesewitz, Ryan Evans and Jared Berggren) who made a major difference last season, and they're depending on a point guard who's returning from a serious knee injury (
Josh Gasser
).
Sam Dekker
and Co. will probably maintain Bo Ryan's streak of 20-win seasons (10 in a row) and top-four finishes in the Big Ten.
Iowa:
The rebuilding phase is over, folks. The Hawkeyes return every meaningful player from a team that won 25 games and finished 9-9 in conference play during the 2012-13 season. It's time for Iowa to finally make some noise in the Big Ten race and get back to the NCAA tourney. Fran McCaffery has the pieces to achieve both.
The Questionable
Purdue:
The last thing Matt Painter needed was a bout of early drama involving young star
A.J. Hammons
. But that's exactly what he's facing after Hammons was recently suspended for three games after violating team rules. If Hammons gets his act together -- it's always if with him -- the Boilermakers could sneak into the at-large mix.
Illinois:
Same for John Groce's squad. Groce adds eight new faces to the program. This is a much different team compared to the one that reached the NCAA tournament last year. But if Groce can help transfer
Rayvonte Rice
become the star he was at Drake two seasons ago, Illinois might make a case for another berth.
The Bottom
Minnesota:
Richard Pitino has his father's last name and hair, but nothing resembling the players Rick Pitino used to win the national title with Louisville in April.
Northwestern:
Chris Collins is already making strides in recruiting, but he doesn't have the beef inside to compete in the Big Ten yet.
Nebraska:
The Cornhuskers have a new arena, but Tim Miles' squad has the same problems.
Penn State:
Tim Frazier
will have to carry a very heavy load. Again.
March, 16, 2013
3/16/13
8:23
PM CT
CHICAGO -- When
Aaron Craft
spotted
Shannon Scott
in the corner, he instructed the sophomore from Alpharetta, Ga., in a relaxed tone that belied the urgency of the moment.
"Knock it down," Craft said as he flicked a pass to the underclassman in the second half of Ohio State's
61-58
win over Michigan State in the semifinals of the Big Ten tournament at United Center on Saturday.
That's not an unusual command from the veteran point guard.
Craft excelled in his typical role for the Buckeyes throughout the win.
He was the orchestrator and the distributor (nine assists, two turnovers). He was also the thief (four steals).
His emergence as the scorer, however, seemed odd but necessary.
[+] Enlarge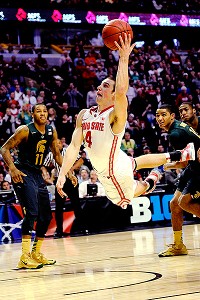 David Banks/USA TODAY SportsGuard Aaron Craft gave Ohio State the uplifting effort it needed to advance to the Big Ten finals.
As
Deshaun Thomas
wrestled with a Michigan State defense that harassed him in the second half, Craft recognized the void.
So he took more shots. He scored on layups. He hit a 3-pointer. He made jumpers, too.
In all, Craft registered 18 of his 20 points in the second half of a win that guaranteed Ohio State's fifth consecutive Big Ten tournament title game appearance -- the Buckeyes will play Wisconsin for the third time (1-1) this season.
"Just trying to believe in myself," Craft said. "I think we have a lot of plays that we can execute that either get me open shots or I can help create for somebody else, and tonight I found some openings and was able to knock down some shots and that definitely opened up other things … whether it was Deshaun [Thomas] or guys like LaQuinton [Ross] that can knock down shots as well."
In recent weeks, the chatter about college basketball's hierarchy has centered on the fluctuation toward the top of the rankings. Duke, Gonzaga, Indiana, Kansas, Georgetown, Miami, Louisville and Michigan have been submitted as candidates for "the best team in America" discussion.
Meanwhile, Ohio State continues to add to one of the country's most impressive current winning streaks. The Buckeyes have won seven in a row since suffering a 71-49 loss at Wisconsin on Feb. 17.
They've beaten Michigan State twice since that loss. They've defeated Indiana in Bloomington. They won the other four games by double digits.
They're quietly approaching the NCAA tournament as one of the hottest teams in the country.
"Man, Ohio State [doesn't] get respect sometimes," Thomas said. "But it's all good, though. Just like last year. Nobody knew we were going to get to the Final Four and we did."
But they nearly lost their mojo in Chicago.
They went 11-for-32 in the first half against the Spartans. But they were only down 29-28 after committing just two turnovers prior to the break (five turnovers overall).
And then, Craft happened.
He scored 13 points in the first 10-plus minutes of the second half. His 3-pointer with 11:48 to play gave Ohio State a 48-45 lead. His layup with 9:47 to go gave the Buckeyes a 51-47 advantage.
But the Spartans kept fighting.
Keith Appling
hit a 3-pointer that cut Ohio State's lead to three points with 3:24 on the game clock. Nix's layup and free throw, after he was fouled with 1:54 to go, reduced the deficit to one.
But Nix grabbed Craft on a drive at the 1:27 mark. Officials called it a flagrant foul.
And Craft made one of two free throws to extend Ohio State's lead to two points.
Thomas (16 points, 7 rebounds and 2 assists) came up with a crucial rebound in the last minute. And then he hit a runner with 22 seconds remaining in regulation. His shot -- he scored just five points after halftime -- extended Ohio State's lead to four points (60-56).
Sam Thompson
contested Keith Appling's layup in the final seconds, which essentially secured the win. Thomas capped the game with another free throw (
Denzel Valentine
scored Michigan State's final bucket).
Craft soothed his squad when Thomas struggled. He kept the Buckeyes in a rhythm even as Michigan State scored multiple buckets in the final minutes.
"You look at what he has accomplished thus far in his career at Ohio State and just the wins, the big plays that he's made …. In coaching, you don't get to coach a lot of guys like him just from A to Z and everything he stands for," Buckeyes coach Thad Matta said after the game.
The Buckeyes could be a perplexing case for the selection committee (Joe Lunardi listed Ohio State as a No. 2 seed in his 6:45 p.m. ET projection on Saturday evening), especially if they beat the Badgers on Sunday. In early February, they were just perplexing. They lost three of their first four games last month.
Craft was 3-for-11 from the 3-point line during that stretch.
But Matta still trusted him.
"He kind of makes us go on both ends of the floor, obviously when he's making shots, but a lot of people panicked when he wasn't scoring in the middle of the season, and I'm like, I don't have a problem with it, it'll come," he said.
Thomas couldn't find the rim on Saturday. But he trusted Craft enough to suppress his personal offensive urges and allow his teammate to lead.
"Probably two years ago or last year, I probably would have been like 'I need that ball, I need that ball' and going crazy," Thomas said. "Just me learning the game and being mature and knowing we've got guys who can plays also ... I trust [Craft] no matter what."
Craft embraces the responsibility even if it demands more shots and fewer passes. The workload doesn't matter.
The Buckeyes needed everything from their captain against the Spartans. He ran toward those expectations, not from them.
That's why Ohio State is playing its best basketball right now. When it matters most.
"Everything is going a lot better when you're knocking down shots," he said. "It kind of relaxes everybody else. It takes pressure off everyone."
And when Craft plays the way he did on Saturday, it puts more pressure on every team facing the Buckeyes.
March, 1, 2012
3/01/12
12:30
AM CT
EVANSTON, Ill. -- Was it too much to ask?
Was it too much to hope that just one time -- this time -- would be Northwestern's turn as fate's chosen beneficiary? Was it too much to think that maybe, despite all the reasons to believe the contrary, the Wildcats might just catch a break? Could Northwestern fans, besieged constantly by reminders of their program's historic futility, finally feel the freedom of belief?
The short answer? No.
"It's very tough," Northwestern guard
Drew Crawford
said.
"Disappointing," forward
John Shurna
said. "Kind of a tough way to go out."
Wednesday night was Shurna's senior night, an honor he shared with
Davide Curletti
,
Nick Fruendt
and
Luka Mirkovic
. Shurna & Co. are the school's all-time winningest class, one that also set a school record with three consecutive postseason appearances.
Of course, none of those postseasons has been of the NCAA tournament variety, which is why Wednesday night's game was so much more than a disappointing loss, so much more than an emotional senior night spoiled by a
75-73 defeat
.
January, 11, 2012
1/11/12
9:19
AM CT
CHAMPAIGN, Ill. -- He laughed, not out loud, but certainly to himself every now and again.
How could he not?
Not long ago,
Brandon Paul
was thinking he was going to stop taking 3-point shots. Maybe not altogether, but certainly cut them down -- go for more of a sure thing, such as drives to the hoop.
His confidence was somewhere near the curbside thanks to an abysmal outside shooting slump that started in the first game of the season and really hadn't abated since. Paul was shooting 28 percent from beyond the arc, down from 36 percent just last season.
Which is why, as Paul was shooting off his back foot with a hand in his face, beating the shot clock with a swish of the net, knocking down eight of 10 from beyond the arc and scoring 43 points in Illinois'
79-74 upset
of No. 5 Ohio State, he just had to chuckle.
[+] Enlarge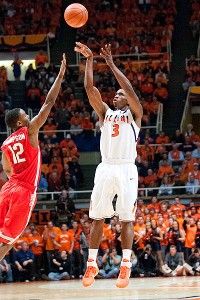 Bradley Leeb/US PresswireBrandon Paul's 43-point outburst was enough to take down OSU.
"I did laugh a couple of times,'' the 6-foot-4 junior said. "After the first few went in, I just decided I was going to keep on shooting. It was big for me because I'd been looking down on myself because the shots weren't going in.''
Clearly he was saving up.
Paul's 43 points were the third most by any player in Illinois history. According to ESPN Stats & Information, he's the only college basketball player over the past 15 seasons to score at least 43 points while attempting 15 or fewer shots. Now
that's
efficient.
Heck, his point total was only five less than his team scored in a game against St. Bonaventure earlier this season.
Yes, it was a no-he-didn't, oh-my-goodness jaw-dropper of a night, one that made you shake your head even when you watched it live.
Every shot Paul hit was crucial. He scored 10 points in a row to erase an eight-point first-half deficit and scored the final 15 of the game -- none bigger than his last 3 of the night.
With Illinois clinging to a 71-70 lead and less than a minute left, the Illini got the ball with just 4 seconds left on the shot clock. They inbounded to Paul, who somehow beat the disappearing clock to sink a 3 from the deepest corner of the baseline with
Aaron Craft
's hand right in his face.
"We wanted to make him shoot a challenged shot, and he did,'' OSU coach Thad Matta said. "It was a great shot. We were there. Aaron almost fouled him, but it was as big as an ocean for him tonight.''
Truth is, it's not Paul's final dagger that will haunt the one-time prohibitive Big Ten favorite Buckeyes, who now have dropped to 3-2 in league play. It's the two-minute span in which Paul didn't score a point. Ohio State led by 11, 48-37. The fans were groaning, sensing that the Bucks were about to cruise to victory and turn an entertaining game into a walkover.
Instead, the Illini scored nine unanswered points, with an exclamation 3 from
D.J. Richardson
after Illinois doubled player of the year candidate
Jared Sullinger
, forcing him into a turnover.
Illinois shot 61 percent from beyond the arc against a team that had allowed opponents to sink only 30 percent from long distance. Illinois also dropped 74 on a team that ranked sixth in the nation in scoring defense, allowing only 54.9 points per game.
Bruce Weber's team went toe to toe on the boards (28-27 edge to OSU) against a team that outrebounds opponents by an average of 8.7 per game.
[+] Enlarge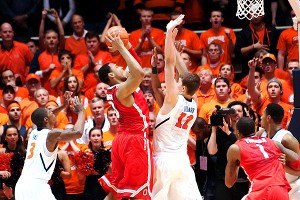 Bradley Leeb/US PresswireJared Sullinger, center, and Ohio State already find themselves with two losses in the tough Big Ten.
That span and those numbers are what will have Ohio State looking hard in the mirror.
That and the unkind bookends of history. Just a year ago, the Buckeyes rallied from a 13-point deficit against the Illini. Weber was quick to remind his team of that during a huddle after it had regained the lead.
No doubt Matta might offer up that bit of information in the future.
"You get to the round of 32 and then the Sweet 16, and you get comfortable,'' Sullinger said. "You get beat.''
It would be easy to write off this loss as a bad night for the Buckeyes and a ridiculously good one for Paul. It's not altogether inaccurate. But Matta looks a little more critically at his team and doesn't think anything is quite that simple.
He watched the film of Ohio State's 76-47 win Saturday against Iowa, a victory most viewed as a sign that OSU was back from its loss to Indiana, and saw things differently. He saw a team that made mistakes despite what looked like an overwhelmingly strong defensive effort. A team that is full of good kids but still needs a presence and a leader, especially at practice.
He's not ready to sound the alarm, even if his players are starting to ding it for him.
Somewhere in the middle is probably the right reaction. This isn't wholesale panic time in Columbus, not with three losses to three good teams. Yet in a league as deep and as difficult as the Big Ten, there's little room for error, especially with what stands as an even more crucial game against Indiana looming Sunday.
"We're not going to bite on fool's gold,'' Matta said. "We have to play better. Unfortunately the numbers [from the Iowa game] were a little bit misconstrued, and those got blown out of the water tonight.''
Certainly some of that was due to Illinois, or more specifically Paul.
There are some things no one can guard against, and that includes a guy who's turning a Division I basketball game into a game of H-O-R-S-E.
Paul's night started out about as horrifically as a night can begin. He coughed up four turnovers in the first seven minutes and didn't have a bucket to negate the miscues.
It wasn't exactly what Paul was imagining when he was roused from his pregame nap by a text from his coach that read simply, "This is your time. Be special."
"The way he started," Weber said, "he was special bad."
By the end, he was unforgettably spectacular. Laughing all the way to victory.
TOP 25 SCOREBOARD
Saturday, 12/21
Monday, 12/23
Tuesday, 12/24
Thursday, 12/26
Friday, 12/27
Saturday, 12/28
Monday, 12/30
Tuesday, 12/31
Wednesday, 1/1
Thursday, 1/2
Friday, 1/3
Saturday, 1/4
Sunday, 1/5
Monday, 1/6
TOP PERFORMERS