Chicago Colleges:

Ahmad Starks
September, 27, 2013
9/27/13
5:07
PM CT
Illinois senior guard
Ahmad Starks
is still awaiting a decision from the NCAA on whether he will be permitted a hardship waiver and be eligible to play this season, Illinois coach John Groce said on Friday.
Starks transferred to Illinois from Oregon State after the last school year to be closer to his ailing grandmother in Chicago. Starks's grandmother helped raise him. If Starks doesn't receive the waiver, he will have to sit out this season and will be eligible next season.
"Obviously, you always want to know," Groce said prior to practice Friday in a video posted by Illinois. "We continue to have dialogue back and forth with our compliance office and the NCAA. We want to know. The kid, most importantly, he wants to know. I feel for the kid. We're going to know sooner than later. We're finishing up a couple of things and should have a formal answer here soon."
May, 28, 2013
5/28/13
5:09
PM CT
Oregon State junior point guard Ahmad Starks said Tuesday he will transfer to Illinois.
Ahmad Starks' three-point shooting could prove to be a valuable weapon for Illinois.
Starks, a 5-foot-9, 165-pound guard, decided to leave Oregon State to be closer to his ailing grandmother in Chicago. He will seek a family hardship waiver from the NCAA and could be eligible next season. He also considered transferring to Bradley.
Read the entire story.
December, 20, 2011
12/20/11
6:59
PM CT
Don and Alisa Starks have traveled to the West Coast to see their son Ahmad play college basketball. They've flown to the East Coast to see him.
They've compiled thousands of air miles going all over the country to see Ahmad in his first two seasons at Oregon State.
[+] Enlarge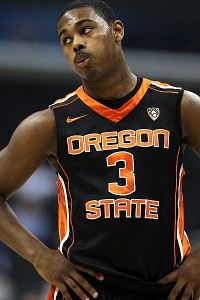 Stephen Dunn/Getty ImagesSophomore Ahmad Starks is is averaging 12.5 points for 9-2 Oregon State.
On Wednesday, Don and Alisa will be able to get in their car and drive less than 10 minutes to see Ahmad play. This time Oregon State is doing the traveling and will play in the Starks' hometown of Chicago against Chicago State on Wednesday.
"Each year we try to play in a few places -- one, we try to play in D.C. and then we try to play where we have a player from," said Oregon State coach Craig Robinson, who is also from Chicago and whose Washington D.C. connection is his sister, First Lady Michelle Obama. "Since we've had Ahmad, we've tried to get back to Chicago each year."
It's a homecoming Starks has been looking forward to since he found out about it this summer. He grew up in Chicago's South Side neighborhood of Jackson Park and starred at Whitney Young High School, which he helped to a state championship in 2009.
"I'm very excited about it," Starks said. "It's going to be a good trip, play back home again in front of friends and family in a gym I'm familiar with. I want to play well, but it's another game. I want to get the win."
A year ago, wins were hard to come by for Oregon State. Starks and his teammates couldn't find much consistency in their games.
That hasn't been the case this season. Oregon is off to a 9-2 start, and Starks has been a key reason. The sophomore is averaging 12.5 points, 2.5 rebounds, 2.5 assists and 2.1 steals in 30.6 minutes a game.
Starks was known for his offensive ability in high school, but he's made his strides on the defensive end in college. He ranks third in the PAC-12 in steals.
"When we recruited Ahmad, he rested on defense because he was needed on offense so much for Whitney Young," Robinson said. "To be an elite guy at the college level, you have to be able to guard. He's really worked on it. Everybody we've played so far, he's been able to stay in front of. That's terrific because that makes him more of a weapon."
His father Don couldn't be more proud. To have his son back in Chicago playing for a competitive PAC-12 team created a flashback for him.
"When he comes back here, everything he built from a 3-year-old, 7-year-old, biddy ball, small fry, Whitney Young, all those years in Chicago to now where he's an elite Division I player and producing," Don said. "In my mind, all that time is paying off, all the work. There was a lot of work to get to that certainly."
Starks plans to give his teammates' a tour of Chicago, too. Included in his must-stops will be Lou Malnati's Pizzeria and Harold's Chicken Shack.
"I want to show them around," Starks said. "I think it's the best the city in the world. They disagree with me. I want to prove them wrong."